Originating in ancient India, yoga combines physical, mental, and spiritual discipline to achieve mental clarity and a sense of well-being. Its incorporation of meditation and breathing techniques helps calm the mind and makes us more self-aware. With improved consciousness, we're more aware of our body, surroundings, actions, and our mind.
While the discipline and practice of yoga has been around for thousands of years, it's rise in mainstream health and fitness, especially in the West, only happened sometime in the 20th century. The growing interest in spirituality and physical fitness ultimately led many to recognize the wonder that yoga brings in aspects of both physical and mental health.
If you've always wanted to give yoga a try, these 38 yoga quotes can inspire you to embark on this amazing journey for greater self-awareness, which ultimately can contribute to your overall happiness and quality of life. You can also share these with your loved ones if you already practice yoga and have experienced the benefits firsthand.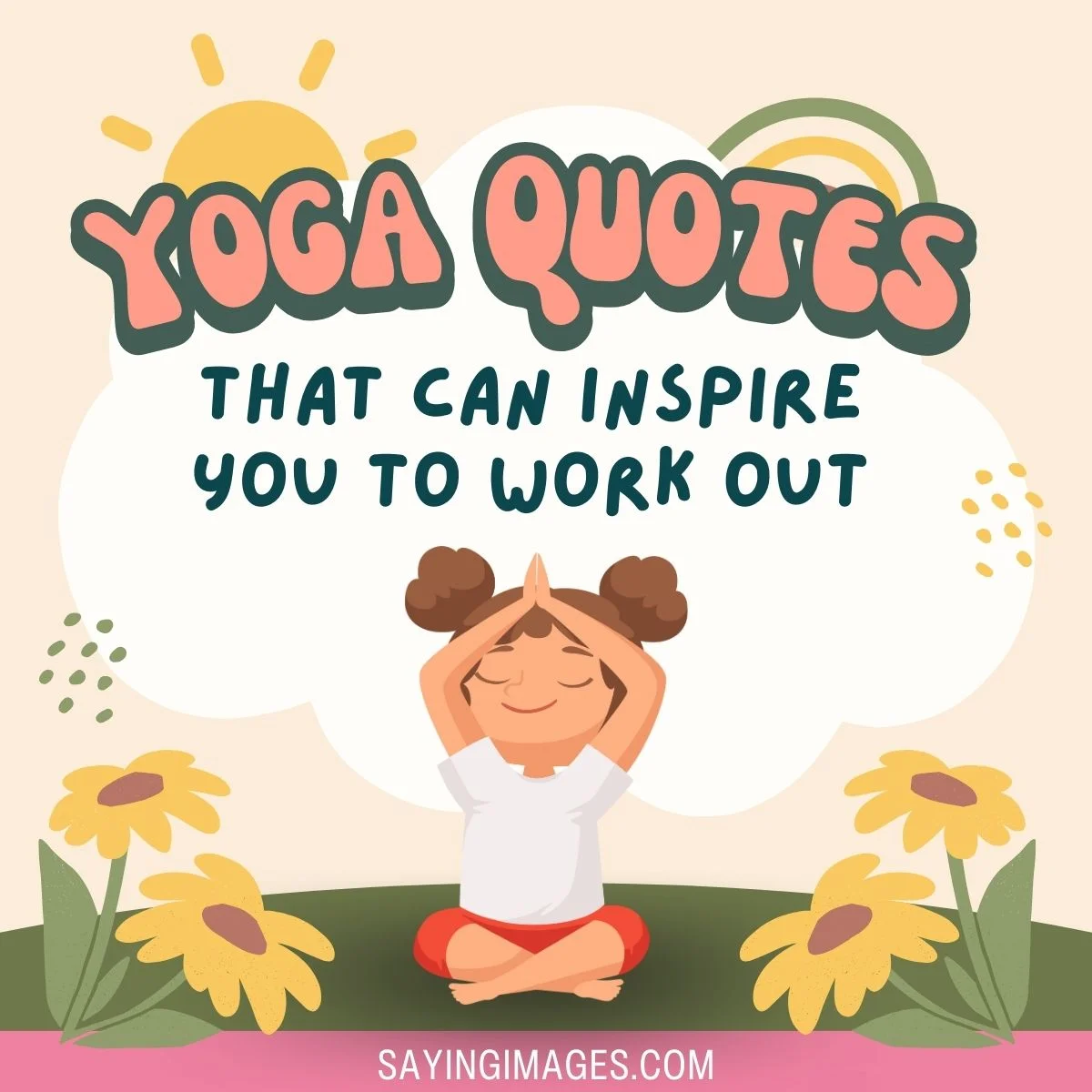 Yoga Quotes of The Day
Yoga is a dance between control and surrender — between pushing and letting go — and when to push and when to let go becomes part of the creative process, part of the open-ended exploration of your being.
Yoga is not a religion. It is a science, a science of well-being, a science of youthfulness, a science of integrating body, mind and soul – Amit Ray
The word yoga comes from Sanskrit, the language of ancient India. It means union, integration, or wholeness. It is an approach to health that promotes the harmonious collaboration of the human being's three components: body, mind, and spirit. – Stella Weller
Yoga is the stilling of the fluctuations of the mind.
Warrior pose battles inner weakness and wins focus. You see that there is no war within you. You're on your own side, and you are your own strength.
For me, yoga is not just a workout – it's about working on yourself. – Mary Glover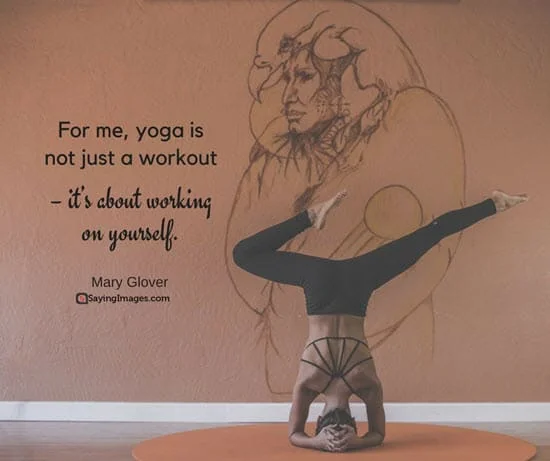 Yoga teaches us to cure what need not be endured and endure what cannot be cured. – B.K.S. Iyengar
Yoga is the fountain of youth. You're only as young as your spine is flexible. – Bob Harper
Mountain pose teaches us, literally, how to stand on our own two feet…. teaching us to root ourselves into the earth…. Our bodies become a connection between heaven and earth. – Carol Krucoff
When you find peace within yourself, you become the kind of person who can live at peace with others. – Peace Pilgrim
Yoga does not remove us from the reality or responsibilities of everyday life but rather places our feet firmly and resolutely in the practical ground of experience. We don't transcend our lives; we return to the life we left behind in the hopes of something better. – Donna Farhi
Yoga is the unifying art of transforming dharma into action, be it through inspired thought, properly nurturing our children, a painting, a kindness or an act of peace that forever moves humanity forward. – Micheline Berry
Yoga takes you into the present moment. The only place where life exists.
Chair pose is a defiance of spirit, showing how high you can reach even when you're forced down.
All unimportant matters drop off you in ragdoll pose. Very few things are genuinely important. The Truth sways before you. – Terri Guillemets
Tree pose grows confidence. It roots me to this world. – Terri Guillemets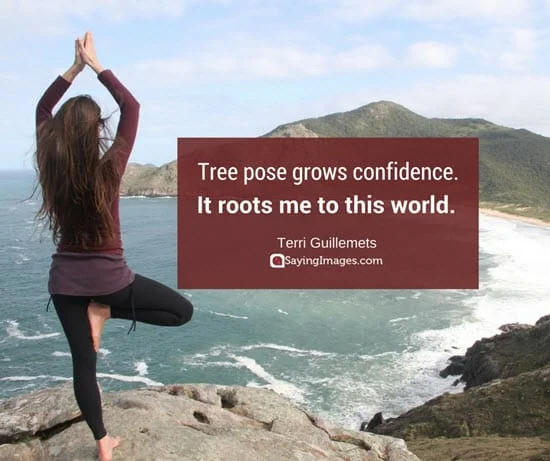 When I started doing asana, the yoga postures, I had a very strong feeling of many unnecessary things dropping away – especially tension and inadequacy. – Patricia Sullivan
I was in yoga the other day. I was in full lotus position. My chakras were all aligned. My mind is cleared of all clatter and I'm looking out of my third eye and everything that I'm supposed to be doing. It's amazing what comes up, when you sit in that silence. "Mama keeps whites bright like the sunlight, Mama's got the magic of Clorox 2." – Ellen DeGeneres
Meditation is not what you think it is. It's a method of accessing unerring wisdom from the superconscious mind so you can experience a happy, healthy and creatively rewarding life. – Leonard Perlmutter
Meditation is a way for nourishing and blossoming the divinity within you. – Amit Ray
In meditation and in our daily lives, there are three qualities that we can nurture, cultivate, and bring out. We already possess these, but they can be ripened: precision, gentleness, and the ability to let go. – Pema Chodron
Inhale, and God approaches you. Hold the inhalation, and God remains with you. Exhale, and you approach God. Hold the exhalation, and surrender to God. – Krishnamacharya
Master your breath, let the self be in bliss, contemplate on the sublime within you.
When the breath wanders, the mind also is unsteady. But when the breath is calmed the mind too will be still, and the yogi achieves long life. Therefore, one should learn to control the breath. – Hatha Yoga Pradipika
When you inhale, you are taking the strength from God. When you exhale, it represents the service you are giving to the world. – B.K.S. Iyengar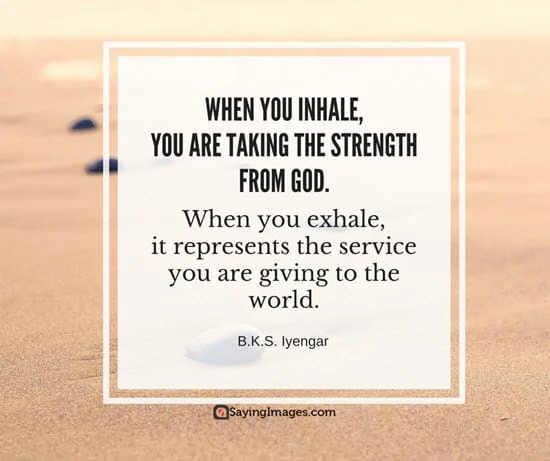 Yoga is 99% practice and 1% theory. – Sri Krishna
If I'm losing balance in a pose, I stretch higher and God reaches down to steady me. It works every time, and not just in yoga. – T. Guillemets
You cannot do yoga. Yoga is your natural state. What you can do are yoga exercises, which may reveal to you where you are resisting your natural state. – Sharon Gannon
You can enter yoga, or the path of yoga, only when you are totally frustrated with your own mind as it is. If you are still hoping that you can gain something through your mind, yoga is not for you. – Osho
Yoga is the practice of quieting the mind. – Patanjali
Anyone who practices can obtain success in yoga but not one who is lazy. Constant practice alone is the secret of success. – Svatmarama
See Also: 40 Best Quotes Ever About Life, Love, And Success
Yoga is a way to freedom. By its constant practice, we can free ourselves from fear, anguish and loneliness. – Indra Devi
This yoga should be practiced with firm determination and perseverance, without any mental reservation or doubts. – Bhagavad Gita
The most important pieces of equipment you need for doing yoga are your body and your mind. – Rodney Yee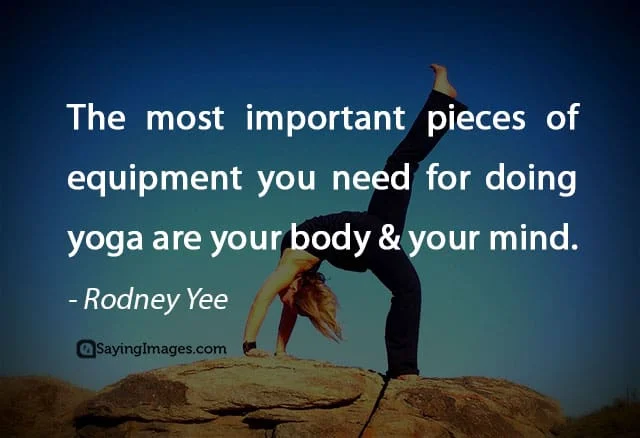 Yoga is essentially a practice for your soul, working through the medium of your body. – Tara Fraser
Through the practices of yoga, we discover that concern for the happiness and well-being of others, including animals, must be an essential part of our own quest for happiness and well-being. The fork can be a powerful weapon of mass destruction or a tool to create peace on Earth. – Sharon Gannon
Concentrating on poses clears the mind, while focusing on the breath helps the body shift out of fight or flight mode. – Melanie Haiken
Your mind is your instrument. Learn to be its master and not its slave.
Share these 38 yoga quotes with your loved ones to inspire them to try it.