Coming up with awesome birthday wishes for a friend is not as easy as it sounds. Even if you know the person really well, putting together the right words to make your friend feel extra special on this special day is still tough.
Don't worry, though! We collected all the best wishes and messages you can send from one friend to another. Scroll through our huge collection and find the words that fit so right they could have been written by you.
Birthday Wishes and Messages
Words alone are not enough to express how happy I am you are celebrating another year of your life! My wish for you on your birthday is that you are, and will always be, happy and healthy! Don't ever change.
Friends… The only thing you could never have too many of! Thank you for being my friend. May all your birthday wishes come true!
Words are too few to wish you a good birthday. It is your special day. Make it the best!
May all your wishes come true this year. Happy birthday to a wonderful person and friend. I hope many years of blessing follow you wherever you go. Happy birthday my friend!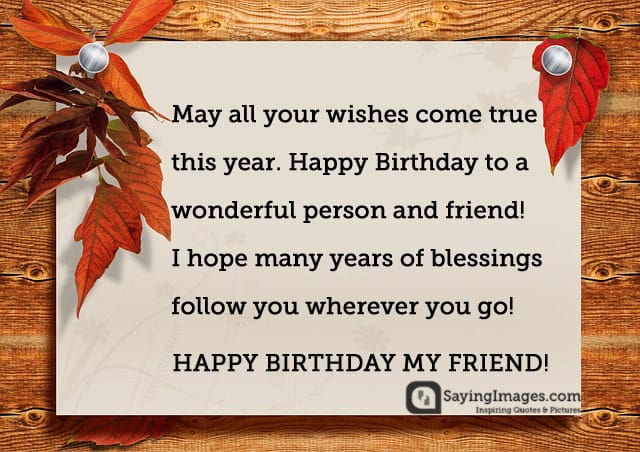 On your special day, I am recalling all the times we spent together. This always brings a sweet smile on my face! Happy birthday to my special friend who will forever hold a special place in my heart.
Sure, good friends remember your birthday and forget your age. But great friends remember your birthday and get you smashed to the point you forget your own age. Happy birthday! Let's party, BFF!
I wish you a very glorious and very bright life ahead. May your life be full of massive success. Our friendship is made of gold and it will stay precious forever. Happy birthday!
I wish that I could be the greatest friend in the world, but there is no way to be a better friend than you are. Happy birthday!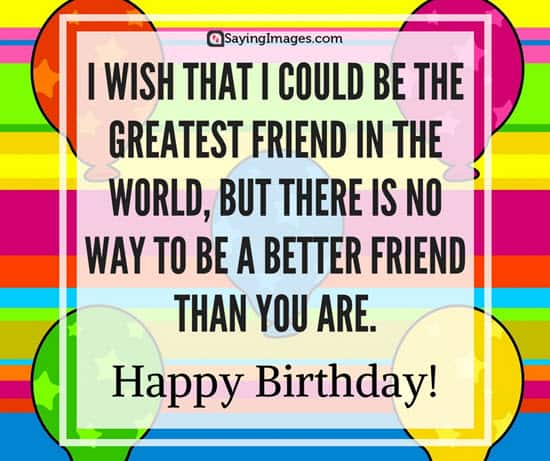 Having a friend like you has made my life so much easier. You are always there to carry me through my times of trouble. That's why today, your special day, is a great time to celebrate all that you have done for me.
You are such a special friend,
Who deserves a special day,
For being who you are and
Bringing joy in every way.
You make me smile and laugh,
With everything you do,
So today I get to send
A special birthday wish to you!
The worst part about being best friends with you is that everything becomes boring as hell when you are not around. Happy birthday!
Special friends are a rare find, but am I glad that you are one of mine! Happy birthday to a friend I'll never forget!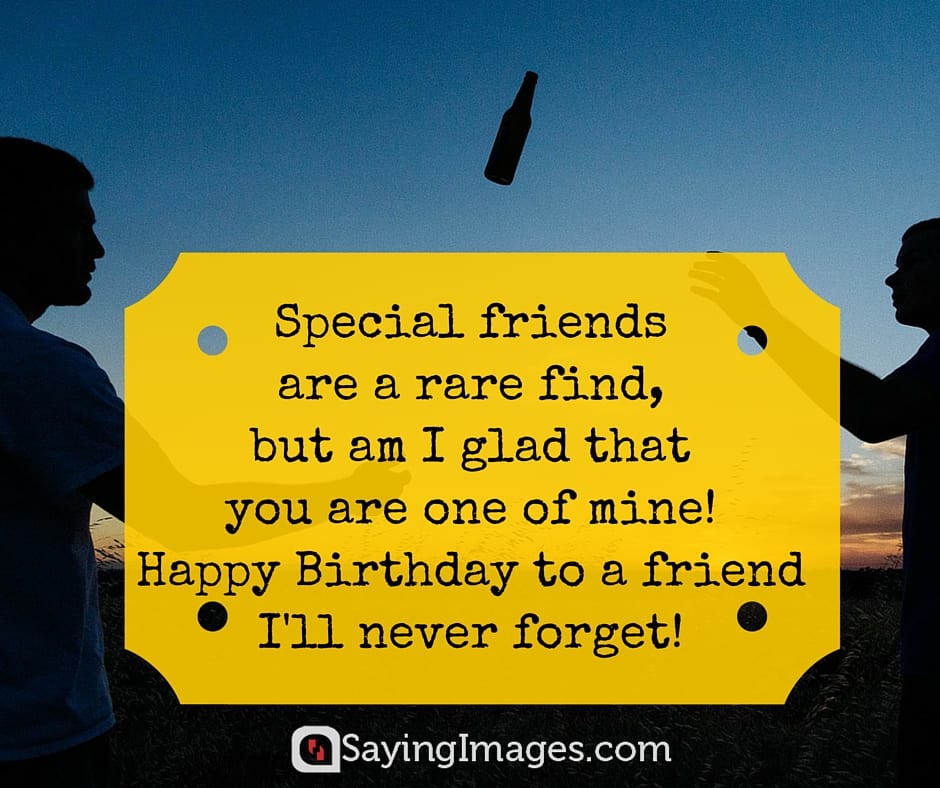 Friendship is not something that is written on paper, because paper can be torn. It is neither something that can be written on a rock, for even a rock can break. But it is written on the heart of a person, and it stays there forever. Birthday wishes and blessings are coming your way, my friend!
Finding your value in my life would be like finding water in the ocean – it's always there. Without you, I would be empty. Happy birthday!
Happy birthday to a true friend! You are such a special blessing to me and I want to wish you a birthday filled with love, laughter and the things you enjoy most.
Watching you grow as a person is such a good feeling. You always help the others in your life do the same. Happy Birthday to a great friend!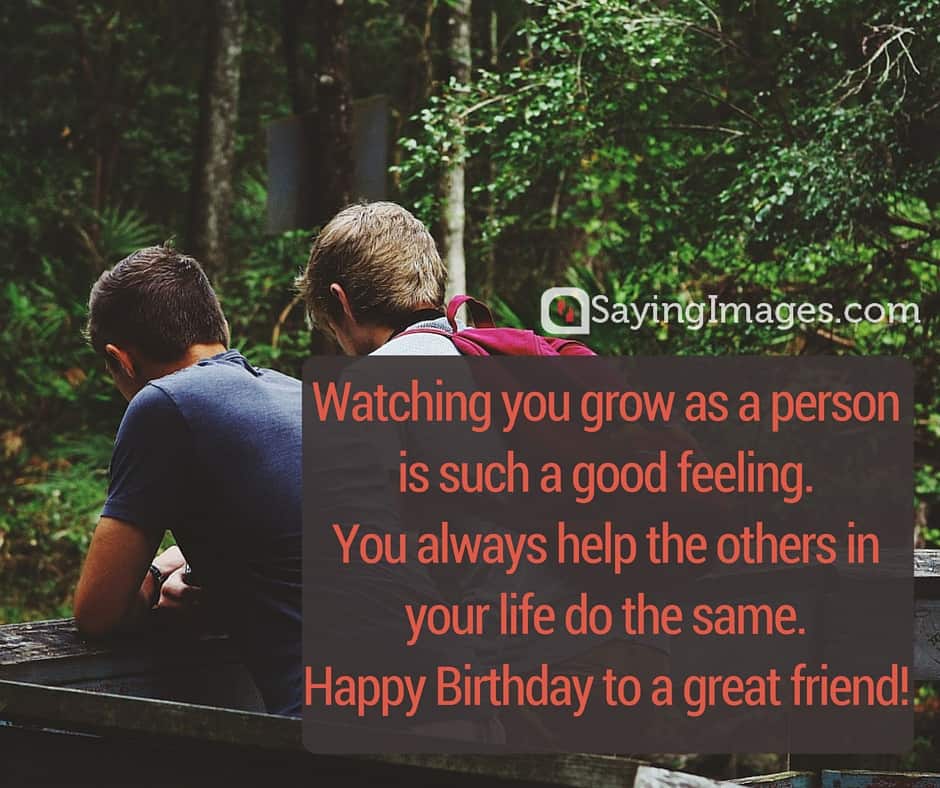 I have three wishes for you on your birthday. First, I wish that this Birthday teaches you something new and beautiful. Second, I wish that you have a day that you'll remember forever with a smile. And third, I wish that such days keep coming in every single day.
As you celebrate your day, I celebrate the beautiful friendship we share! Happy Birthday, dearest friend!
Happy birthday to my dear friend! Thank you for being always there for me during all ups and downs. May life bring you great happiness and true joy!
Life is what you make it. Keep making yours count each and every day. The skies are clear for you at all times. Happy birthday!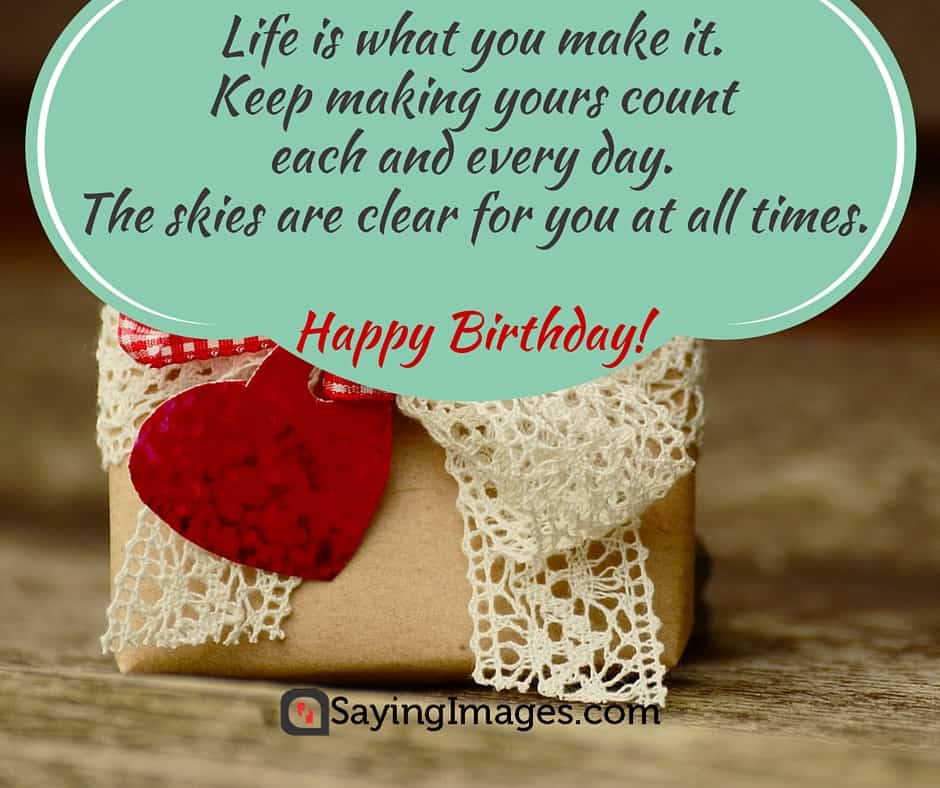 Finding a great friend is like looking for a four-leaf clover. But I did get lucky! Happy Bday! May beauty and happiness surround you today and beyond.
A friend like you is more priceless than the most beautiful diamond. You are not only strong and wise but kind and thoughtful as well. Your birthday is the perfect opportunity to show you much I care and how grateful I am to have you in my life.
The taste of happiness is truly heavenly and I've realized this when you stepped into my life. Happy birthday, buddy!
I have only one wish for a friend like you: may all your birthday wishes come true, adding up to 24 birthday hours of joy, wonder, warmth, hope, wisdom and, most of all, love.
Here's to hoping all of your birthday wishes will come true once you blow out those candles. If anyone deserves all the happiness in the world, it's you. Thanks for always being there for me.
Because I have a friend like you, every day feels like a holiday. I can't wait to celebrate your birthday like it's the most important day of the year!
It always feels great when you find your best buddy around you to have all the fun you were looking for. Wishing you a happy birthday!
Enjoy the music as your friends chant the lovely Happy Birthday song! Make the most of your big day today!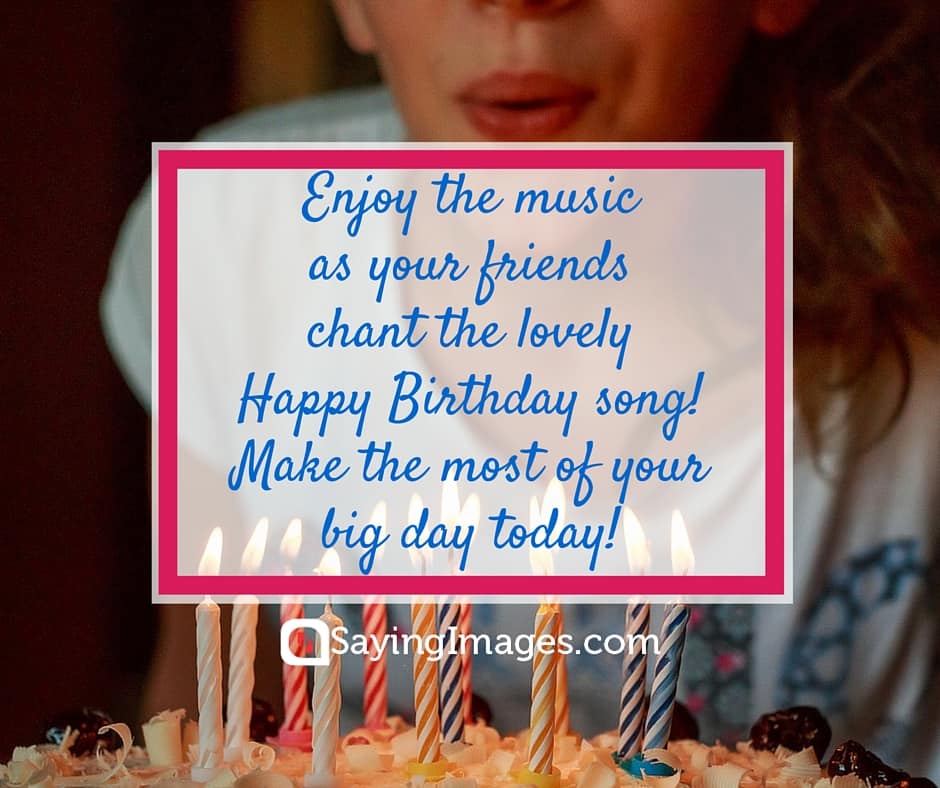 Today is a perfect day to tell you that you are a wonderful friend. Happy Birthday! Wishing you all the best today and throughout the coming year!
You are my friend. You are always there for me, supporting me, encouraging me, listening to me and all those other things that friends do. Happy birthday, friend!
Birthdays are a new start, a fresh beginning, and a time to pursue new endeavors with new goals. Move forward with confidence and courage. You're a very special person. May today and all of your days be amazing!
I will stay with you through and through forever and ever, We will be friends until the end.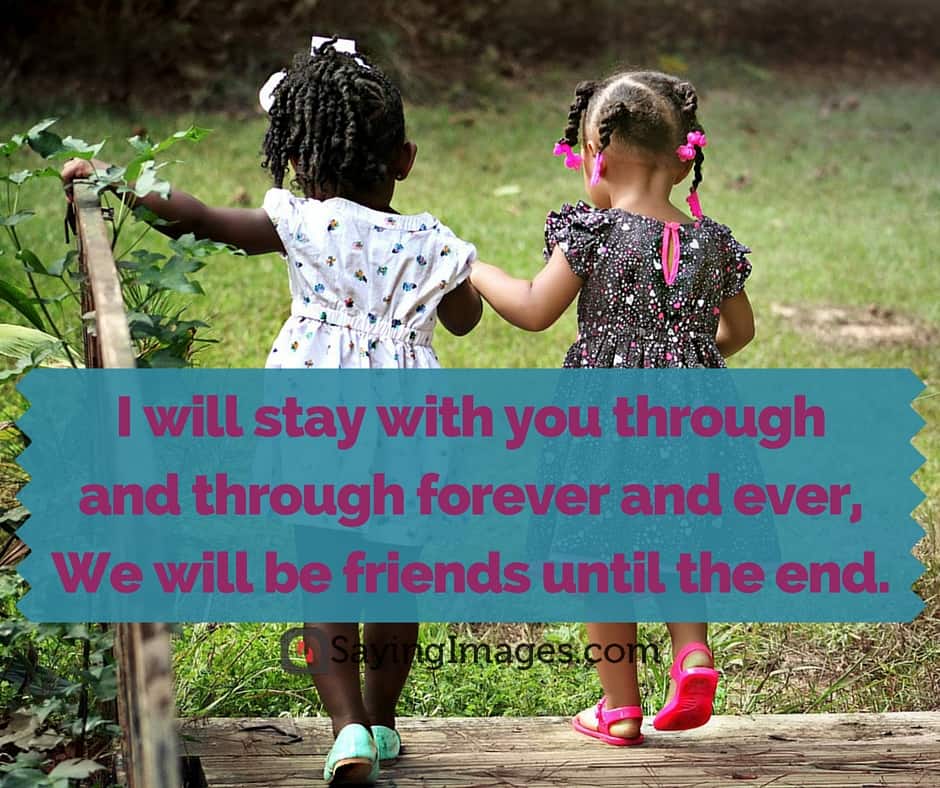 I just want to say, happy birthday
To you, my dear, dear friend
You have always been there for me
And our friendship will never end
You are such a wonderful friend that needs no description. I hope that many more blessings will follow you in the coming years.
I just wanted to wish you a happy birthday and to let you know that you are not alone.
Should you need someone to lean on, I will be here for you.
It's not where you live, it's how you live. Live well my friend and have a happy birthday.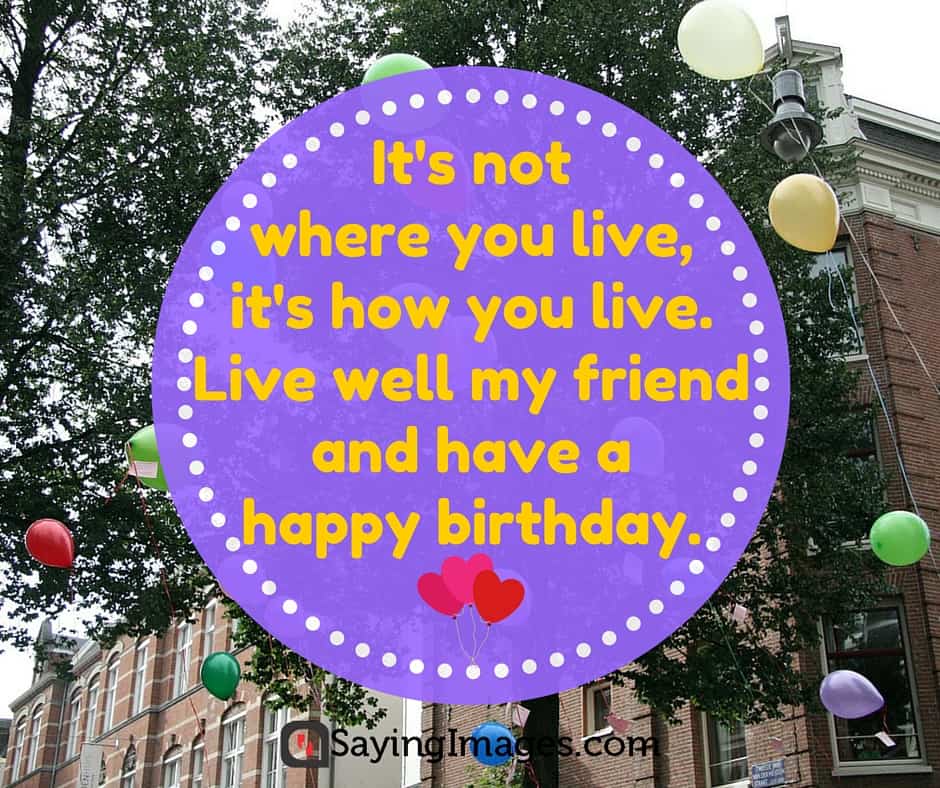 May you celebrate your birthday with as many good friends as it takes to get it right, get through it and/or get what you want. You can definitely count me as one of them. Now let's party!
I always wished to be a great friend like you. But there is no way to be a better friend than you in the world. Happy birthday!
My dear, dear friend, you have always been there for me. You and I redefine what friendship means. Happy birthday!
Now you're one year older. A bit of a grump. I just want you to know that I still care for you the same.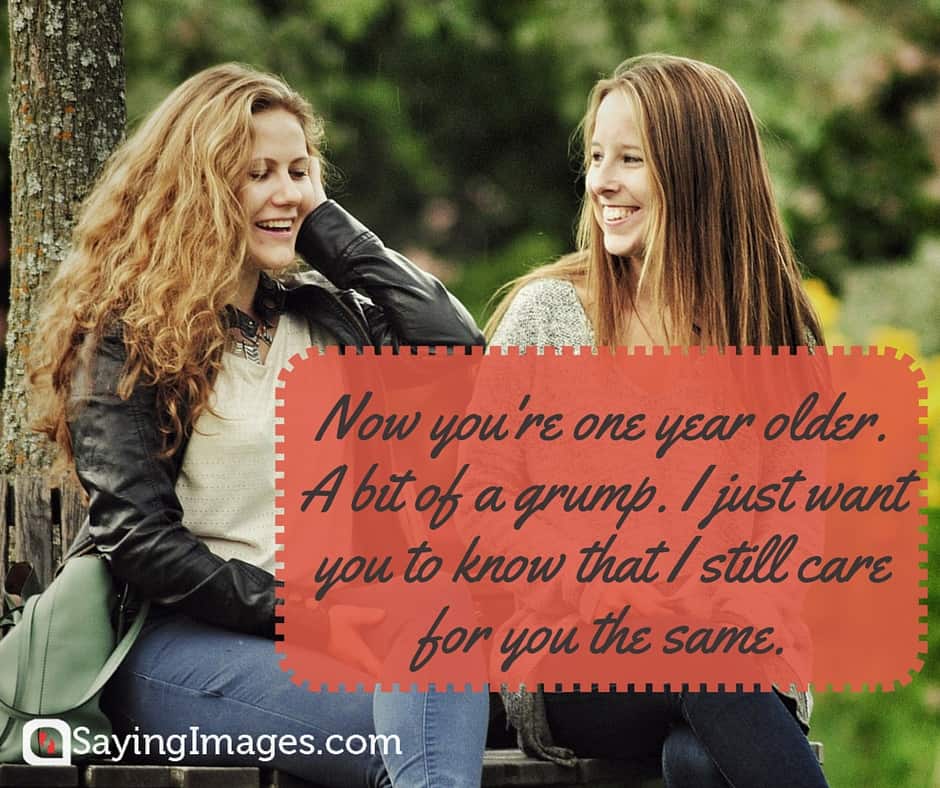 May the wind always be at your back, my friend! We will party on your birthday because a friend like you deserves the best party you could ever want.
Today is your birthday friend! May you receive even more blessings than you ask for, and may all good things continue to come your way. Happy birthday, my friend!
You are a true friend, so please don't change ever!  Best wishes on your special day my friend.
Let's make your birthday a day that you will always remember. Happy birthday, my friend! We have some serious partying to do, so let's get to it!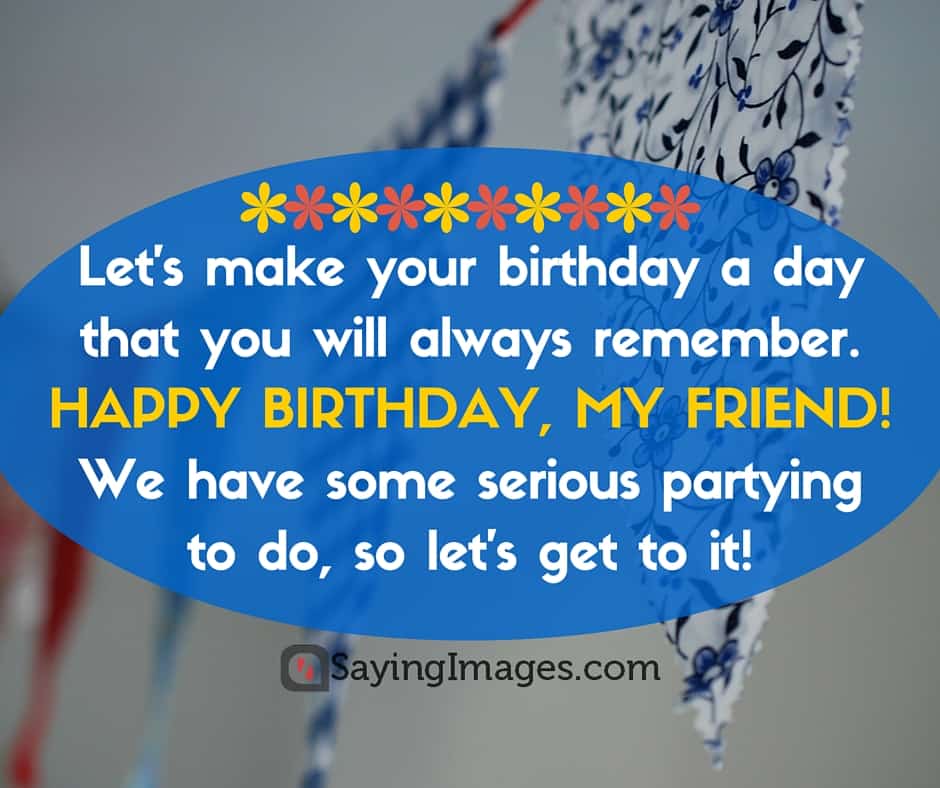 May my words bring you even a fraction of the joy you are. I think you are the most amazing person I have ever met! Happy birthday!
For your special day, I tried to find the right words to show you how I feel about our friendship. I could only think of one: amazing. To me, you're an amazing friend, more special than anyone I've ever known. Happy birthday!
My friend, it's time to pop the champagne, make some noise, dish out some food, throw some confetti and burst some balloons. Celebrate your Birthday, you deserve the best!
Funny Birthday Wishes
Happy birthday, dear friend. A friend in need is a friend indeed; I'm in need of your car, to have it as mine, can you give it to me as a mark of being a friend indeed?
Happy Birthday, you son of a really nice lady who deserves respect!
Happy birthday, my great friend. I wish you a long life, and I'm sure you love that wish. But, let me warn; the day you start buying anti-aging cream, you may intercept the long-life wish, because aging is the only way to live a long life!
Sweetheart, the older you are, the wiser you become. How about expediting your age, so that you can become the wisest person on earth? Best wishes on your birthday.
Happy birthday, buddy! Dang! Life isn't fair! You are not as wealthy as you thought you'd be by this age, and on top of that, you're old!
With friends like you, I could party every day as if it were your birthday. Happy Birthday!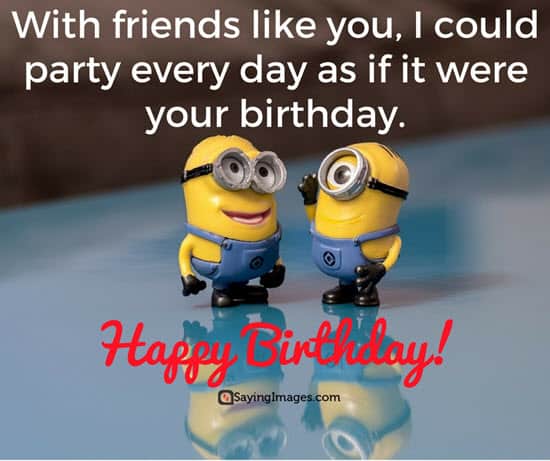 You might be tempted to feel sad about the fact that you have become older today, but you should take comfort in the fact that you are still blessed with hair on your head. There are many out there who can't boast of this. Happy birthday!
Wishing you a super-duper birthday celebration. My advice for you is this: Please be mindful of your dentures as you blow out the forest of candles covering your cake.
You are my friend, and I genuinely care about your happiness, which is why on your Big Day, I pray that God will make your bank account fat enough to always put a smile on your face. Happy birthday.
Happy birthday, bestie. I swear I didn't notice your birthday on the upper right corner of my page on Facebook!
If aging were a criminal offense, then you'd be one of the most dangerous criminals in the world. Happy birthday!
Remember when you were a kid and you thought someone turning 30 was so old? Well, now is your turn. Some kid somewhere sees Methuselah in you! Happy birthday!
Has anybody told you how young you look? No? Well, they never will! Happy birthday, oldie!
Life isn't the only thing that should be celebrated during one's birthday. We should celebrate friendships, too. Share these birthday wishes for a friend and let people know how special your friends are.
See Also: 20 Birthday Memes For Your Best Friend