If you looking for quotes & birthday wishes for your best friend, you've come to the right place. Best friends always stand by your side & support you during the hard time. They're often hard to find, however, when you meet them, they will never leave. Therefore, we want to give them the best, especially on our best friend birthday.
Quotes for Best Friend
There comes a point in your life when you realize who really matters, who never did, and who always will.
My best friend is the man who in wishing me well wishes it for my sake. – Aristotle
True friendship isn't about being inseparable, it's being separated and nothing changes.
Your true friend is always there, not just for a day or two, but forever.
Friendship isn't about whom you have known the longest. It's about who came & never left your side.
Everyone hears what you say. Friends listen to what you say. Best friends listen to what you don't say.
Friends are like a good bra, supportive, hard to find, and always close to your heart!
Good friends care for each other. Close friends understand each other, But true friends stay forever..beyond words, beyond distance, beyond time!
ALSO READ: BFF – Best Friend Quotes
Birthday Wishes for Best Friend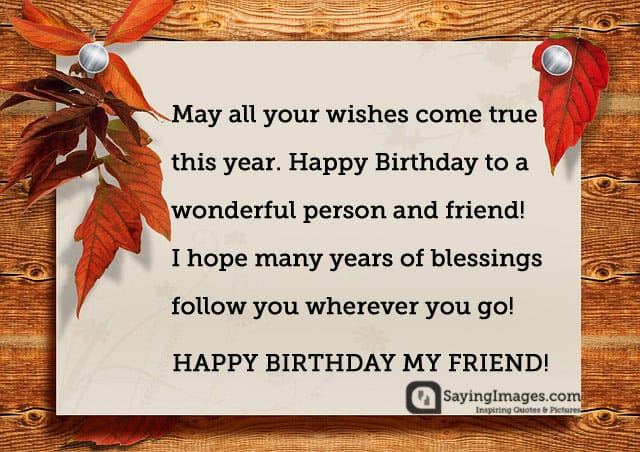 You came into my life and never left. I value our friendship more than you could ever imagine. Happy Birthday! This is your special day!
You truly are my Best Friend who I can share my secrets with. For all the support and trust I say thank you. Happy Birthday, Friend!
There are so many things about our friendship that I love. Your birthday is going to be the perfect time to celebrate your special day, and all that our friendship means to me. I look forward to showing you how much I care.
Happy Birthday to the friend who has been there through it all. I don't know where I would be without you. This is your special day, so let's make it memorable!
Sending bunches of birthday wishes to my best friend on one of the most importance days of the year. May you be blessed today and throughout the year with nothing but joy and happiness.
You have been there for me no matter what. I love you, my dear friend, and I am so excited to share your special day with you. Your birthday is going to be truly special.
Best friends are supposed to share everything with each other, so I am celebrating and sharing your birthday with you like it's my own. I celebrate the beautiful friendship we share! Happy Birthday, buddy!
I wish a very Happy birthday to my closest friend. May you be filled with joy and surrounded by people who love and appreciate you.
I hope you never forget that I am your best friend, and am always here for you. True friends are hard to find, but here we are. Happy Birthday! Enjoy your special day!
For many people, the word friend is just a sequence of letters. For me, it is the source of happiness and strength because of you. Happy Birthday, buddy!
My birthday wish for my best friend is that you continue to love life and never stop dreaming. May beauty and happiness surround you, not only on your special day, but always.
Happy Birthday, my dear friend. I don't know if I could ever convey to you just how much you mean to me. I can't imagine where I would be right now without you. You have changed my life for the better.
My dearest friend, today is your birthday, and I look forward all year to celebrating this day with you. I have planned so many wonderful activities and I can't wait to see your face light up when you see what I have in store for you.
Beside these birthday wishes & quotes, we also have funny birthday wishes for you to share with your best friend 🙂
Recommend for you: Best Birthday Wishes for Friends | Happy Birthday Quotes, Wishes & Cards