Love brings out the poet in each of us. When you're in love, your heart speaks more often so that everything around you stops being ordinary. Suddenly, everything is filled with wonder. Love inspires you to speak of pretty words and incredible possibilities, just like in poems.
If you're thinking of more ways to express your affection, you can always count on poetry. So here are romantic love poems that will make your special someone smile the sweetest.
Romantic Love Poems
I Love You with All I Am
I love you with all I am
And all I'll ever be.
You are my moon, my sun and stars,
My earth, my sky, my sea.
My love for you goes down and down
Beneath both life and death,
So deep it must remain when I
Have drawn my last faint breath.
Holding you for months and years
Will make Time disappear,
Will make your lips my lips, your face
My face, your tear my tear;
Will make us one strange personage
All intertwined in bliss,
Not man or woman, live or dead–
Just nothing–but a kiss!
Have I told you yet…
How much you mean to me…
Have I told you yet…
About all the happiness you bring!
Have I told you yet…
That you mean the world to me!
Just in case I haven't…
I want you to know that…
You're the best thing
that's ever happened to me!
I Love You!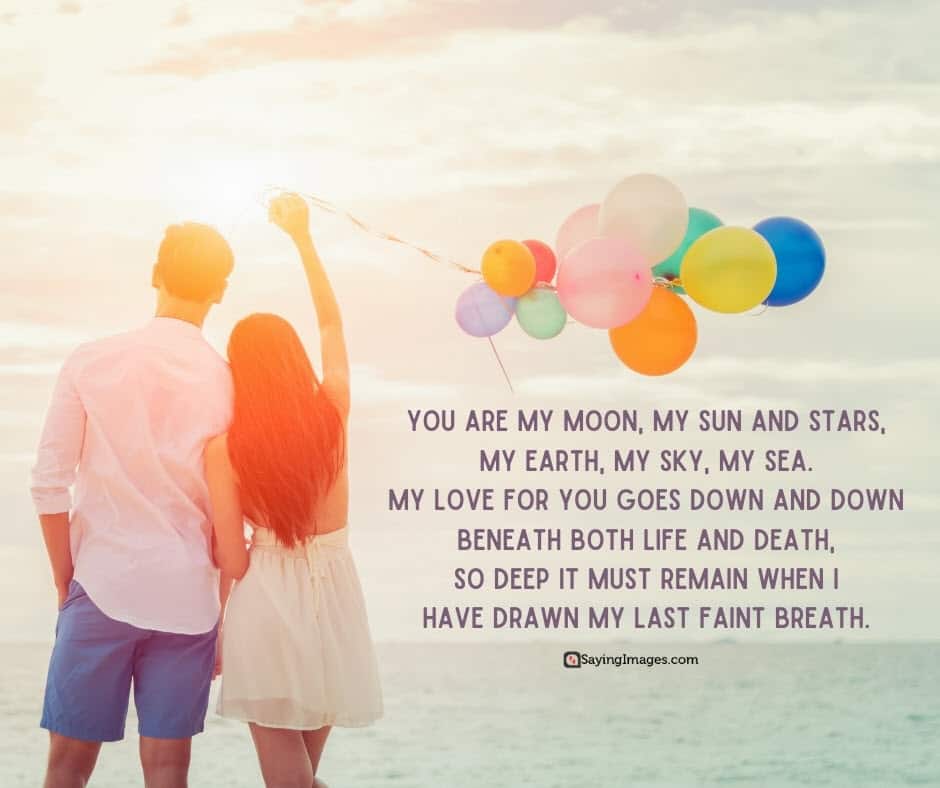 A Cute Poem For A Cute Girl
You changed my world with a blink of an eye
That is something that I can not deny
You put my soul from worst to best
That is why I treasure you my dearest Marites
You just don't know what you have done for me
You even pushed me to the best that I can be
You really are an angel sent from above
To take care of me and shower with love
When I'm with you I will not cry even a single a tear
And your touch have chased away all of my fear
You have given me a life that I could live worthwhile
It is even better everytime you smile
It so magical those things you've made
To bring back my faith that almost fade
Now my life is a dream come true
It all began when I was loved by you.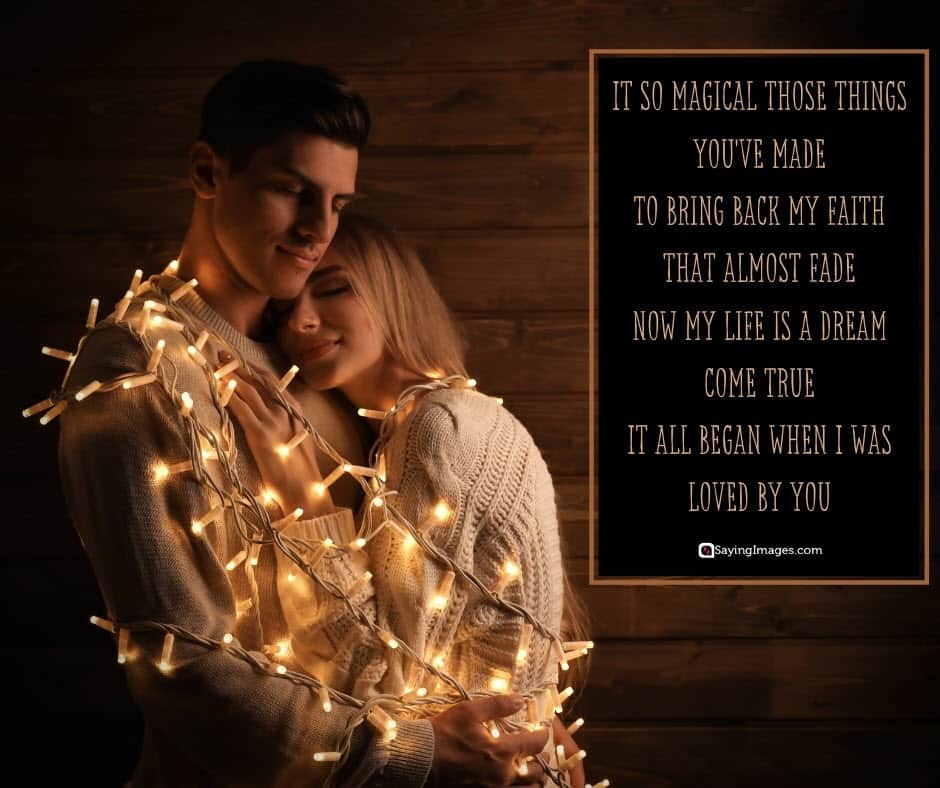 Now I have found what I am looking for…
It's you and your love and nothing more
Co'z you have given me this feeling of contentment
In my life something I've never felt
I wish I could talk 'til the end of day
But now I'm running out of things to say
So I'll end by the line you already know
"I LOVE YOU" more than what I could show.
Fires, Wine, Beach, And Time
Crackling fires and glasses of wine
a walk on the beach forgetting the time
this is all nice and things we should do
but these aren't the things that make me love you
Fighting for bed sheets and racing for the better car
aiming for my mouth with animal crackers from afar
tipping the canoe and watching lunch float away
these are the special things that make me want to stay
Slapping an insect from my arm onto yours
Holding everyone up taking pictures on tours
Forget about reservations there's a hostel in site
or maybe we'll backpack it and camp for the night
These are the special things that make me love you
Your educated, witty, funny and true
So next time you kiss me or take me by the hand
I want you to know just where I stand I don't need fires or glasses of wine
I don't need beaches to forget about time
And even though we have done that and more
It's your love that makes me stay, it is you I adore
I love you with all of my heart…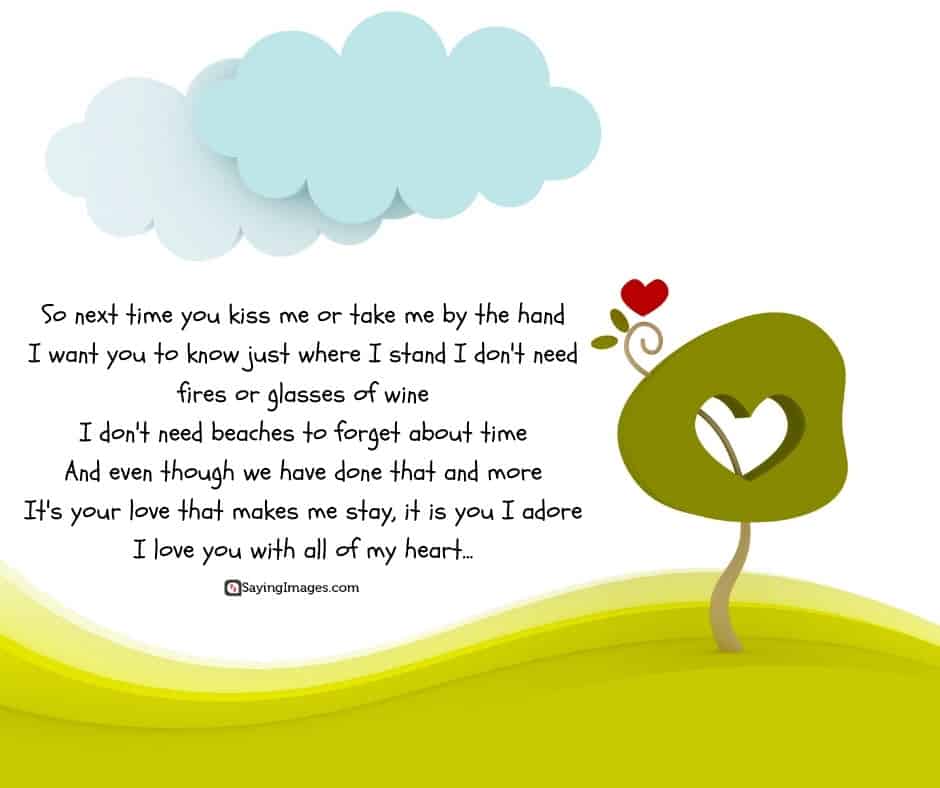 – Sylvia Stults
When someone speaks of love,
They have a smile on their face.
When someone speaks of love,
They think of a very special place.
When someone speaks of love,
It is done with fondness.
When someone speaks of love,
It is done in kindness.
When someone speaks of love,
It is not with dismay.
Won't you speak of love,
and brighten someones day.
A Special World
A special world for you and me
A special bond one cannot see
It wraps us up in its cocoon
And holds us fiercely in its womb.
Its fingers spread like fine spun gold
Gently nestling us to the fold
Like silken thread it holds us fast
Bonds like this are meant to last.
And though at times a thread may break
A new one forms in its wake
To bind us closer and keep us strong
In a special world, where we belong.
– Sheelagh Lennon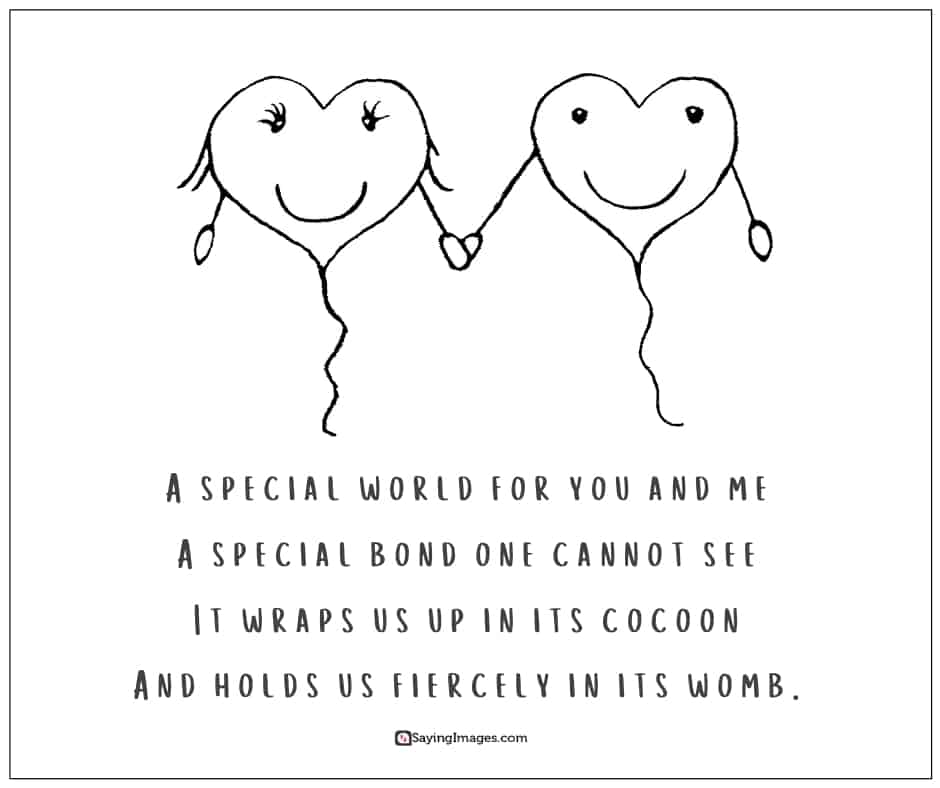 A Fine Romance
One day, your arms will possess me,
One day, you will ask for my hand,
One day, the ring will be shining,
In the sun as we walk thro' the sand.
One day, romance will caress me,
One day, the church bells will chime,
And we will go cruising together forever
For the love of my dreams will be mine.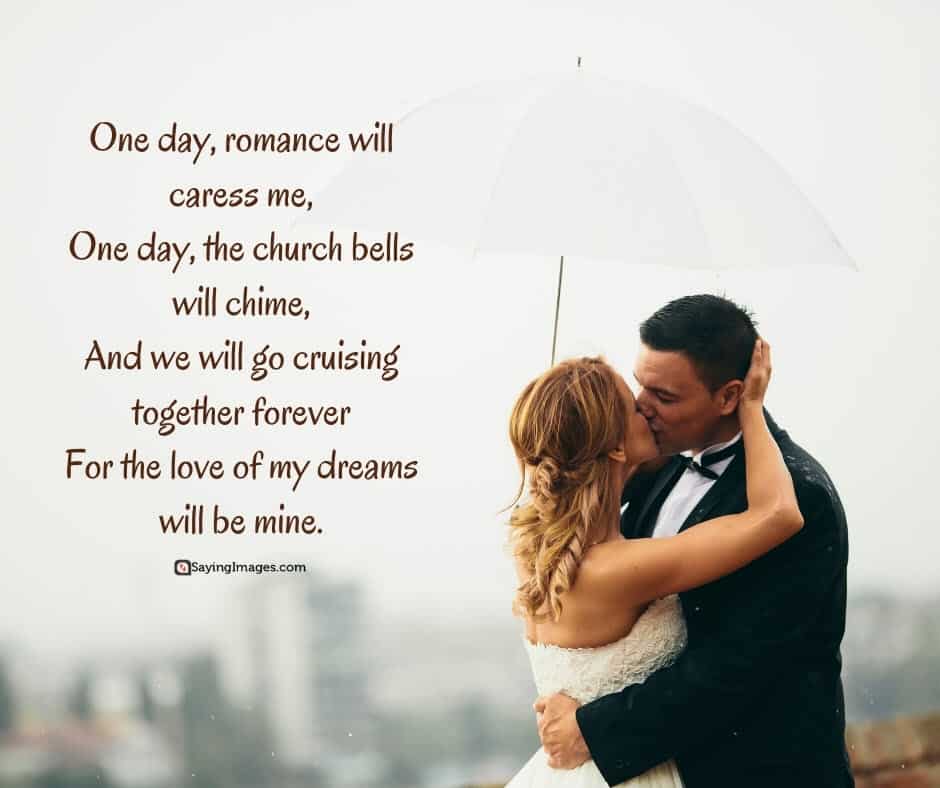 – Joyce Hemsley
I Know You
When I first met you
I felt like I had known you forever,
telling you my secrets
and what I didn't want ever.
you listened to me
I bet you thought I'd never end,
who would have thought
we would become more than just friends.
Over a period of time,
I got to know the real you.
A boy so caring and gentle,
with a heart so true.
You've survived your life
with hurt and loneliness by your side.
I told you I'd never leave
because of the feelings I have inside.
I know you
like no one I have ever known,
and sometimes I wonder
what I'd do if you were gone?
So I have decided
time answers all.
If it is meant to be
time will remove the wall.
I love the way we are together,
you can always make me smile.
Will it ever really be forever?
I guess I will have to wait awhile.
Time will reveal, what lies ahead
but always remember
what I have said.
Meeting you has changed my life
and I really love you so,
the feelings I feel for you
I am never letting go.
Remember me always
and I will too.
I always think of
me and you.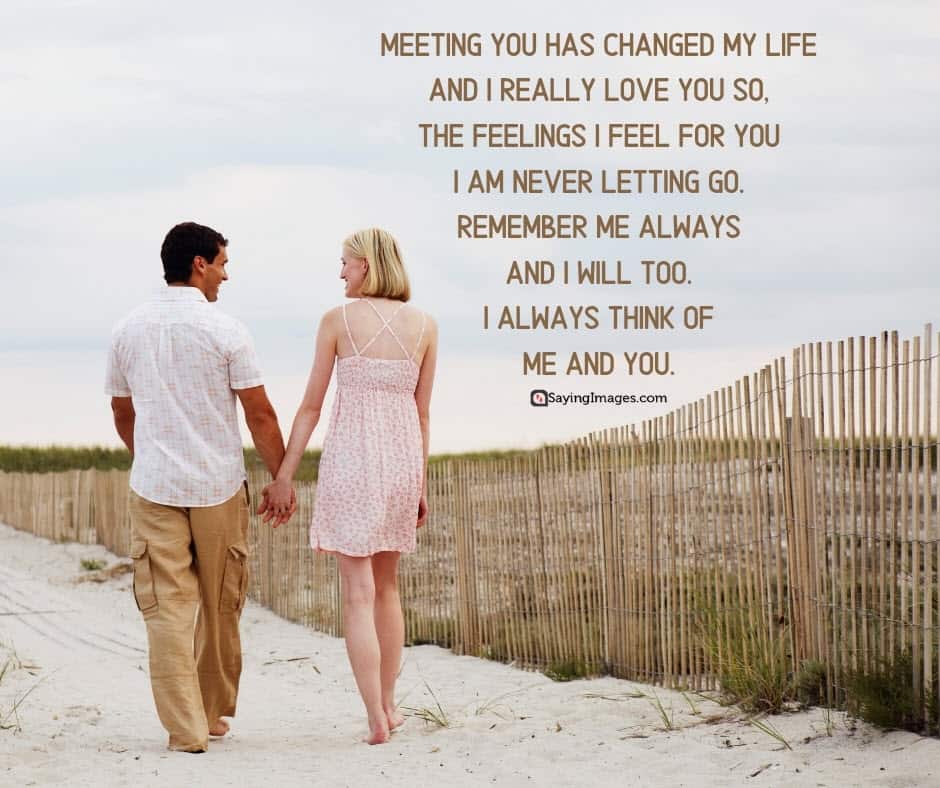 A Moment Of Truth
My dear love, I wanted to share
My thoughts, my feelings and
What makes me despair
I want to share with you
What makes me happy; what makes me feel blue..
So you can sense that my love is honest and true.Every day not a single minute
Passes by without you in it
Your skin, your voice, your body and your touch
All of these moments, I miss them so much.You are so present, so deep in my heart
And our souls, I just know, will never part,
But circumstance and distance can be so overwhelming
They close doors and create doubt and we start blaming..There are actions of mine and I know that for sure..
That feel so wrong, though my intentions are pure
They are painful and impossible to bear
And you feel it's all so unfair.You can't run from yourself;
There is no place to hide
It just hurts you so deep
It hurts your heart and your pride.Then I worry that if I continue to stay
Will it be wrong and will I be in your way?
I fear that I am not at all what you need
And that this truth will make my heart break and bleed.Then I sit here and wipe away my tears
Wishing you could kiss away my fears
If only you knew how much.
I miss and need your embrace and your touchI know I can't hide from my thoughts and my fear
And I know at these times I don't seem near
But you break down these walls
With the strength of your love
And then I feel blessed
From God above!My love for you runs so deep through my vein
That I dream of you, in spite of the pain.
– Silke Wettergren
Share these romantic love poems reminding others to cherish their sweethearts.