Relationships are hard and difficult. "And they lived happily ever after" is just that — a beautiful and convenient ending in movies and fairy tales. In real life, relationships entail a lot of work, a lot of trial and error, and a lot of compromise. When weathered, all these efforts really do make relationships stronger through the years.
If you're going through problems in your relationship, gain some wisdom from these quotes on common relationship mistakes. Hopefully, they will help you gain some clarity on whatever you are going through.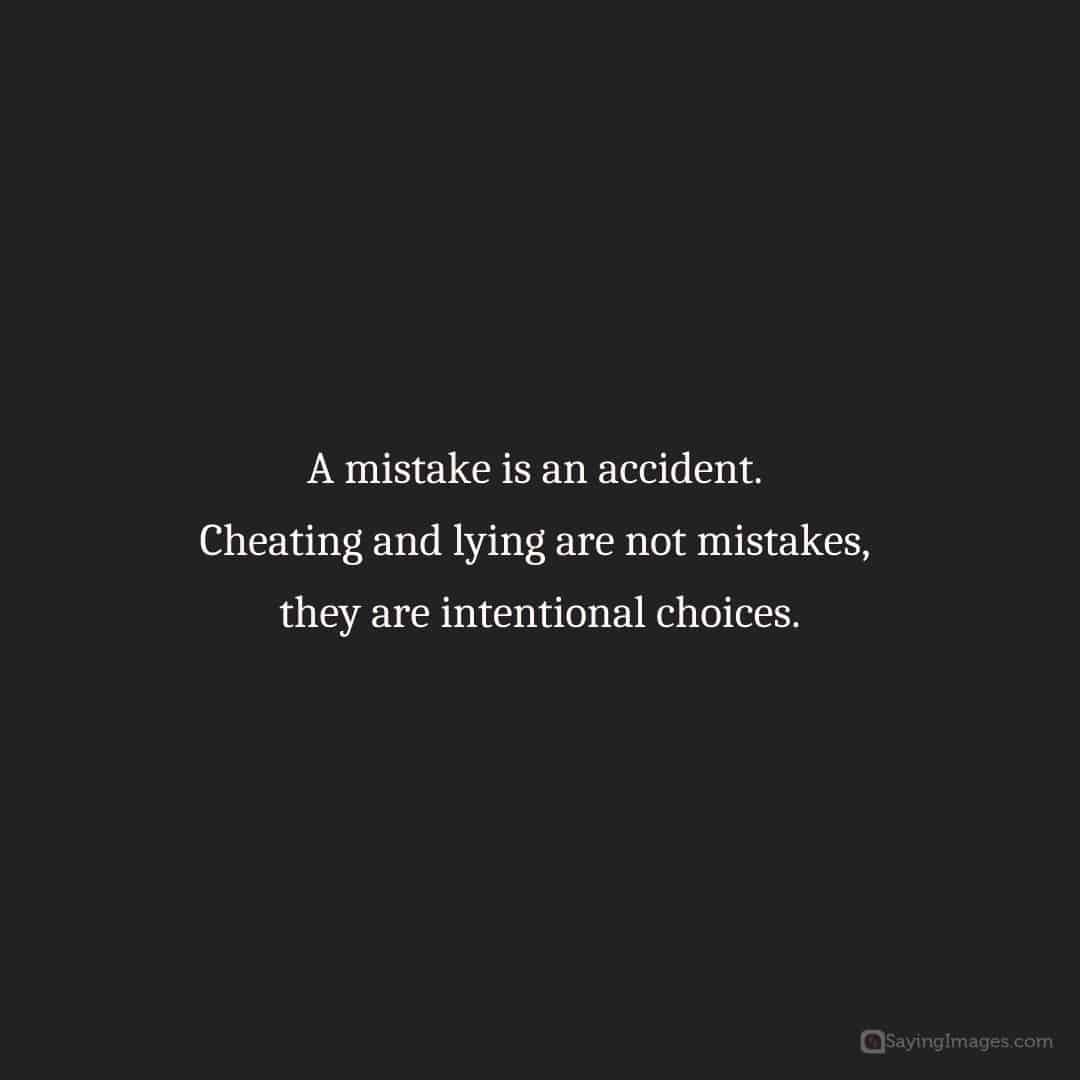 A mistake is an accident. Cheating and lying are not mistakes, they are intentional choices.
Of course, you make mistakes over the years. We all know marriage is difficult at times, and it's about working through it. Whenever we've come up against tough times, we know each other better than anybody who knows us. We have an amazing life which we are very respectful of. – David Beckham
We ruined each other by being together. We destroyed each other's dreams. – Kate Chisman
If you were in a bad relationship and you meet someone new, you're going to leave with your luggage. The next person is going to have to endure things that someone else causes. – Curtis Jackson
They had a good marriage, a solid relationship that had endured its ups and downs because they'd learned from the mistakes they'd made during their tumultuous beginning. What they'd built together was open and honest and there wasn't anything they couldn't talk about with one another. – Kimberley Reeves
Blame keeps wounds open. Only forgiveness heals. – Thomas S. Monson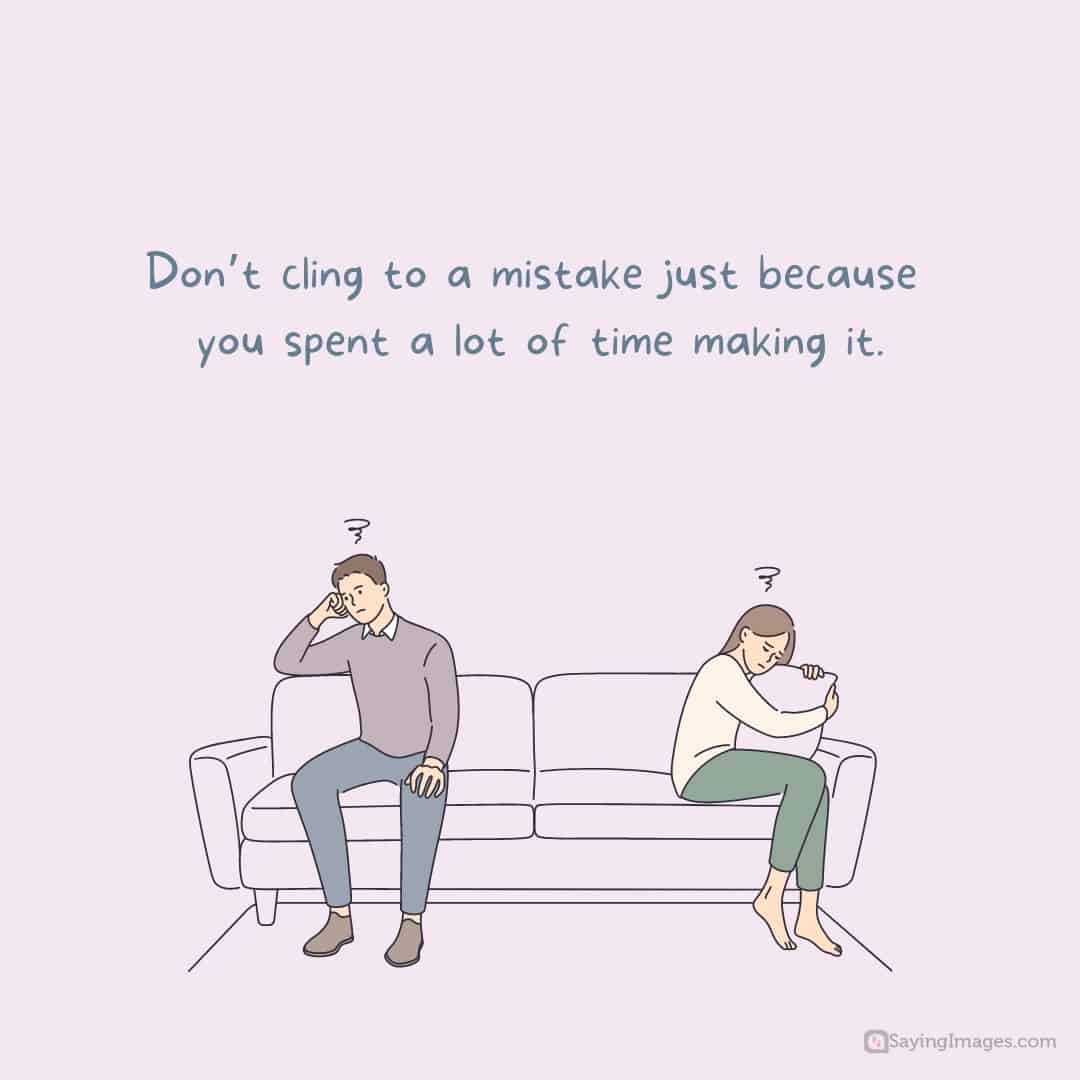 Don't cling to a mistake just because you spent a lot of time making it. – Aubrey de Grey
If you look for the bad in people expecting to find it, you surely will. – Abraham Lincoln
People are naturally imperfect. No matter what your relationship, whether parent, child, friend, or lover, there will always be mistakes on both sides. It's how we choose to accept the flaws of the people who surround us that determines our peace. – Kate J. Squires
I mean, if the relationship can't survive the long term, why on earth would it be worth my time and energy for the short term? – Nicholas Sparks
Relationships are supposed to make you feel good. Relationships are not supposed to make you feel bad. – Laura Bowers
If your current relationship can't let go of their ex, you need to make your current relationship your ex. – Sherry Riter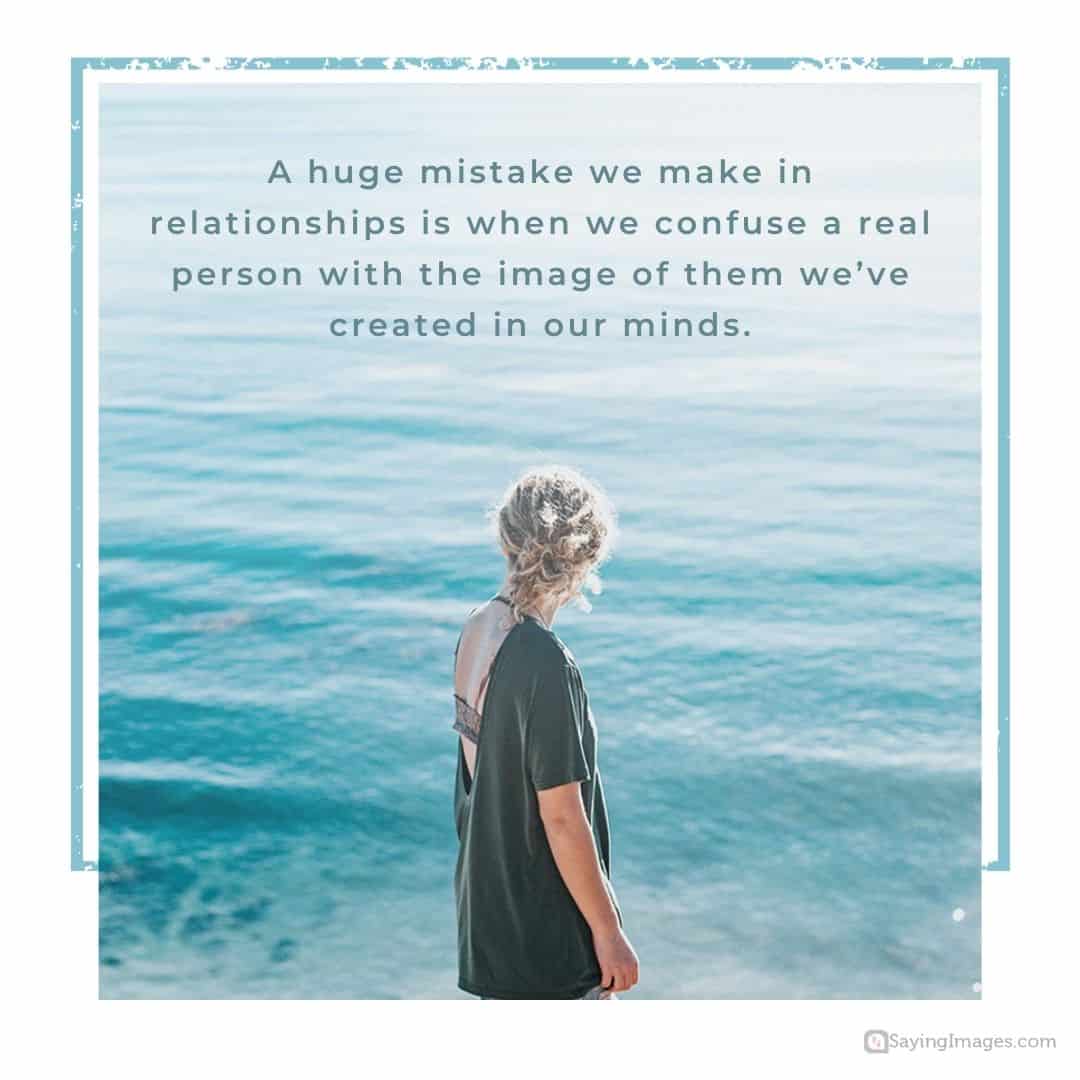 A huge mistake we make in relationships is when we confuse a real person with the image of them we've created in our minds.
We look down our noses at people who've made mistakes in relationships. She's so stupid! How could she do that! Our superiority makes us feel better. But I'd bet everything I have on the fact that people who claim to have a perfect record in love are either lying or have very limited dating experience. People who say, I'd never do that! Someday, unless you are very, very lucky, you'll have a story to tell. Or not to tell. – Deb Caletti
Without forgiveness life is governed by an endless cycle of resentment and retaliation. – Roberto Assagioli
Life and relationships are like a card game; you have to learn different strategies, learn from your mistakes, always play to win, show no mercy, take chances, believe in yourself, and play hand after hand until you finally win the game. – Jonathan Burkett
It takes guts and humility to admit mistakes. Admitting we're wrong is courage, not weakness. – Roy T. Bennett
I think it is a bad relationship when you get blamed for the things that make you who you are.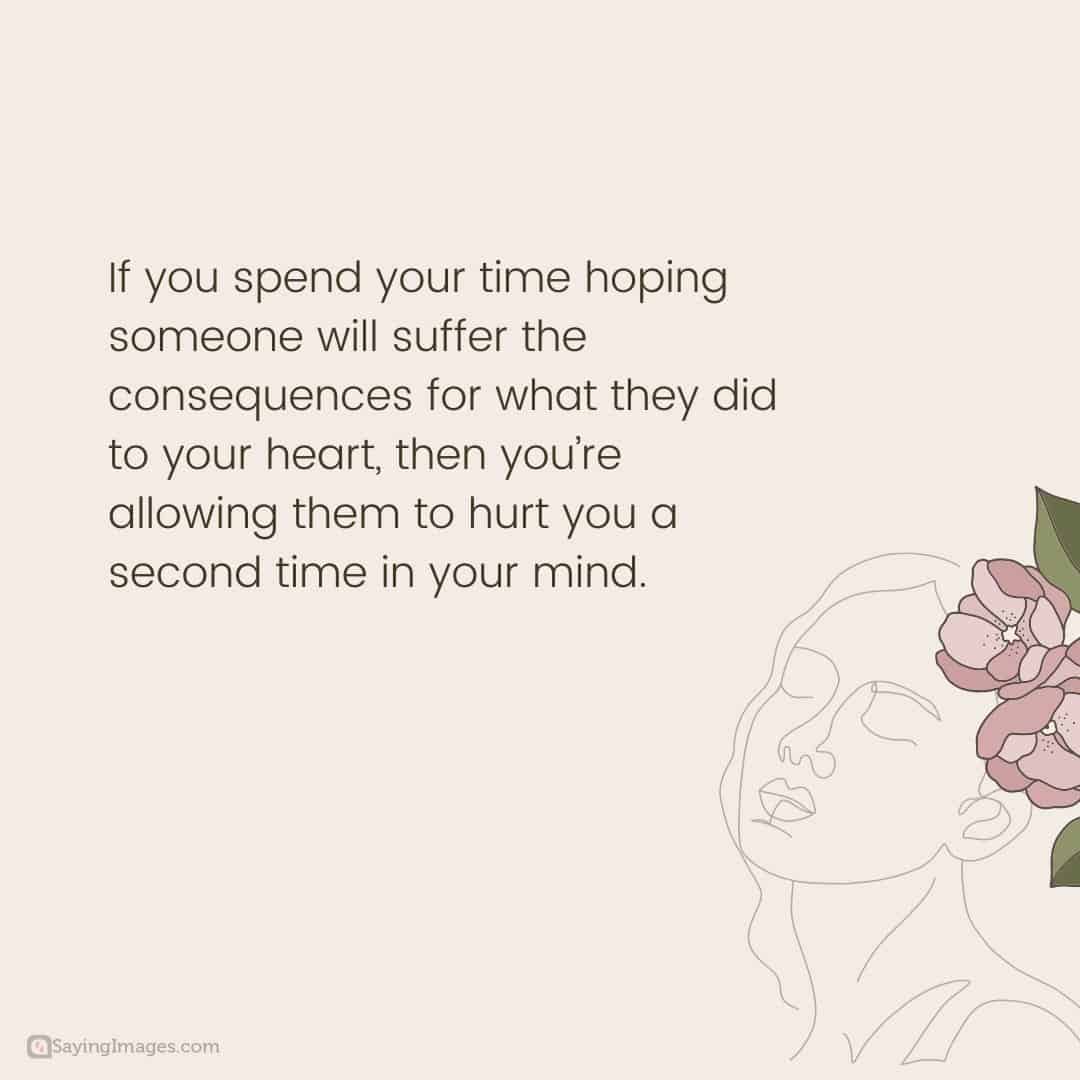 If you spend your time hoping someone will suffer the consequences for what they did to your heart, then you're allowing them to hurt you a second time in your mind. – Shannon L. Alder
The wrong person will give you less than what you're worth but that doesn't mean that you have to accept it. – Sonya Parker
Love is that condition in which the happiness of another person is essential to your own… Jealousy is a disease; love is a healthy condition. The immature mind often mistakes one for the other, or assumes that the greater the love, the greater the jealousy. – Robert A. Heinlein
Don't let mistakes and disappointments of the past control and direct your future.
You can't lift a relationship up if you keep walking over the other person's mistakes. – Anthony Liccione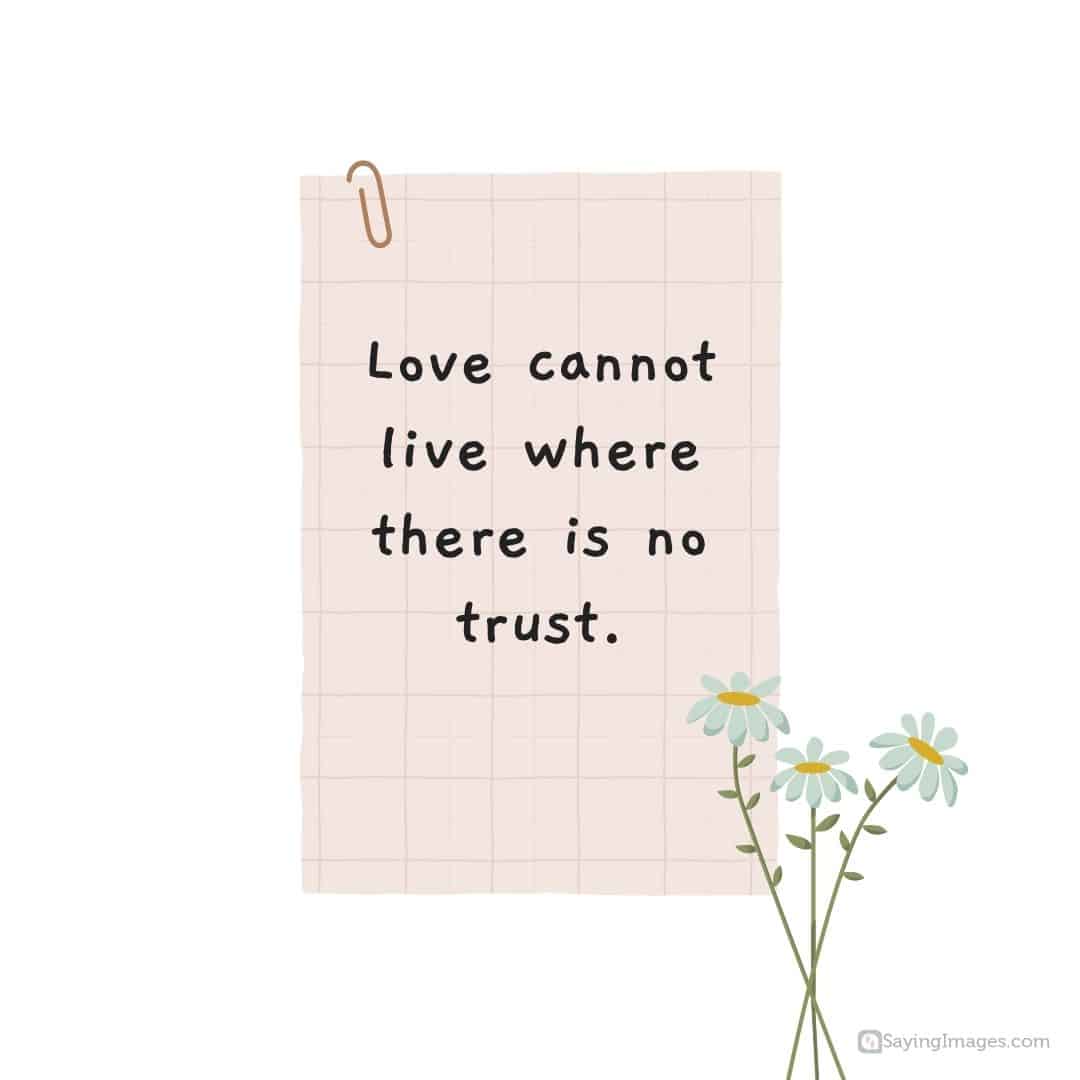 Love cannot live where there is no trust. – Edith Hamilton
The biggest mistake is believing there is one right way to listen, to talk, to have a conversation – or a relationship. – Deborah Tannen
Don't settle for a relationship that won't let you be yourself. – Oprah Winfrey
Once a woman has forgiven her man, she must not reheat his sins for breakfast. – Marlene Dietrich
Problems in relationship occur because each person is concentrating on what is missing in the other person. – Wayne Dyer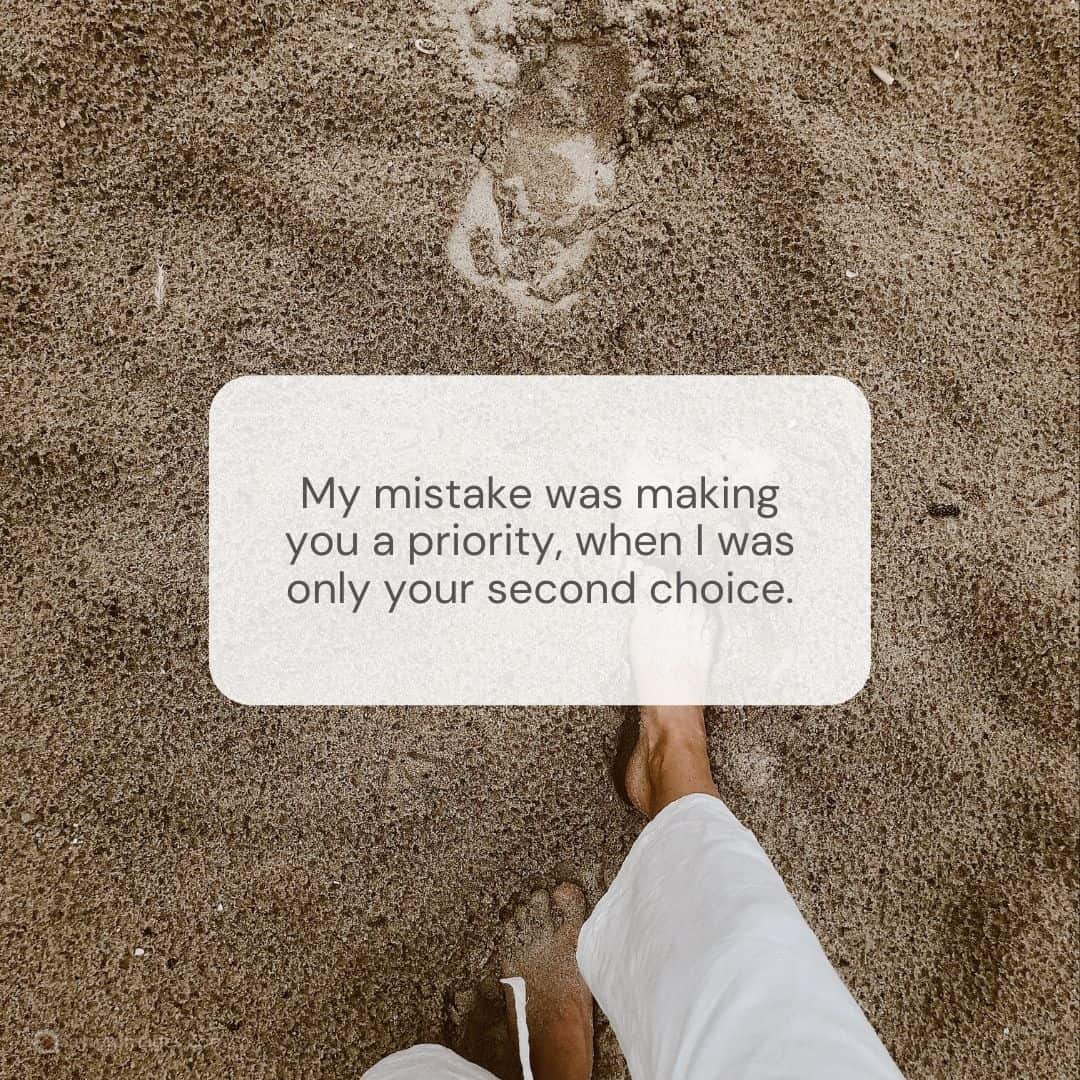 My mistake was making you a priority, when I was only your second choice.
All men make mistakes, but a good man yields when he knows his course is wrong, and repairs the evil. The only crime is pride. – Sophocles
What's broken is broken — and I'd rather remember it as it was than mend it and see the broken places as long as I lived. – Margaret Mitchell
In a relationship, when does the art of compromise become compromising? – Sarah Jessica Parker
Mistakes are the growing pains of wisdom. – William Jordan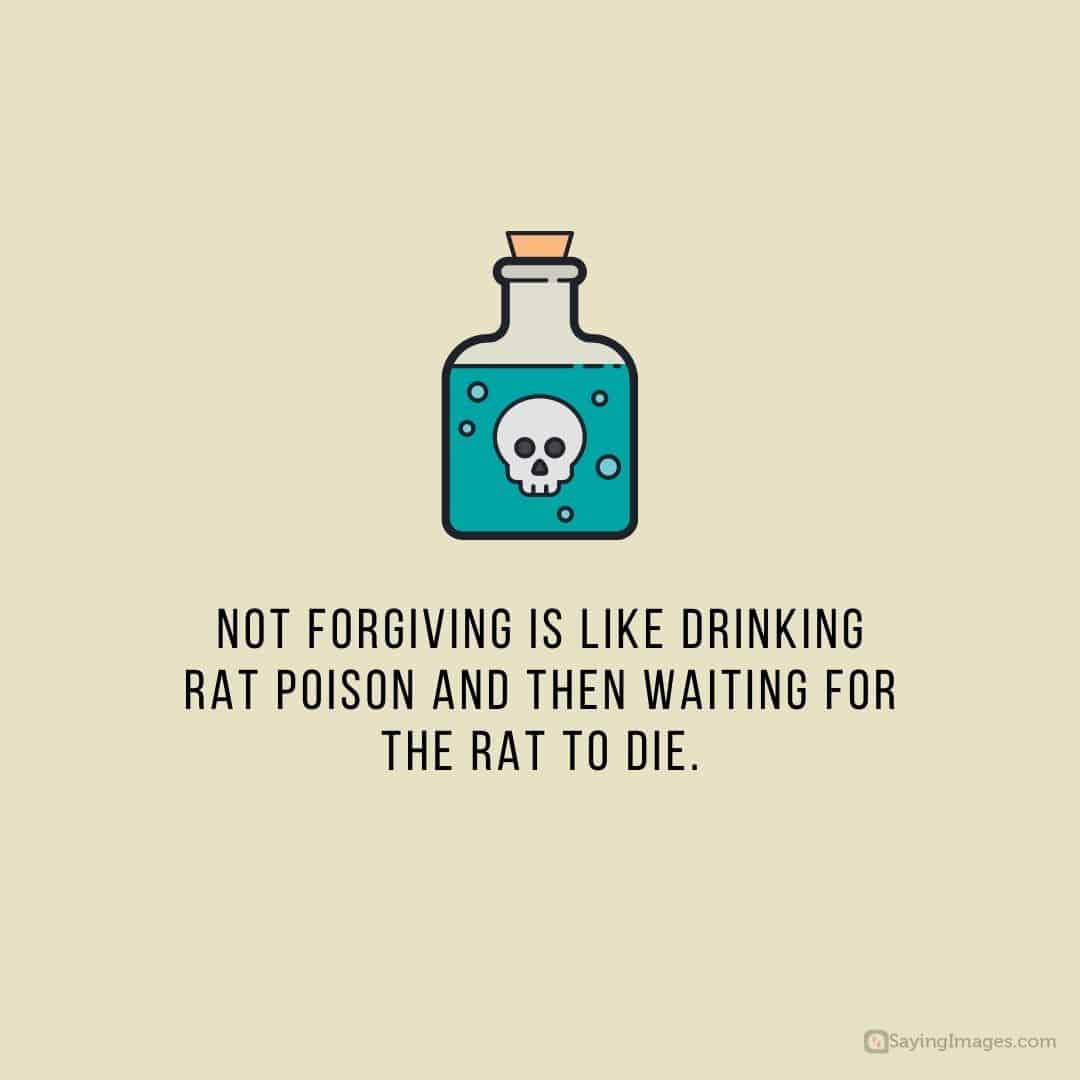 Not forgiving is like drinking rat poison and then waiting for the rat to die. – Anne Lamott
I don't think people understand that you can forgive a person and not allow them back into your life. That is possible, very possible. – Alex Elle
Now I believe it when people say love is blind… because I must have been blind to love a person like you. – Mitch Cuento
Failure is a great teacher, and, if you are open to it, every mistake has a lesson to offer. – Oprah Winfrey
Cry. Forgive. Learn. Move on. Let your tears water the seeds of your future happiness. – Steve Maraboli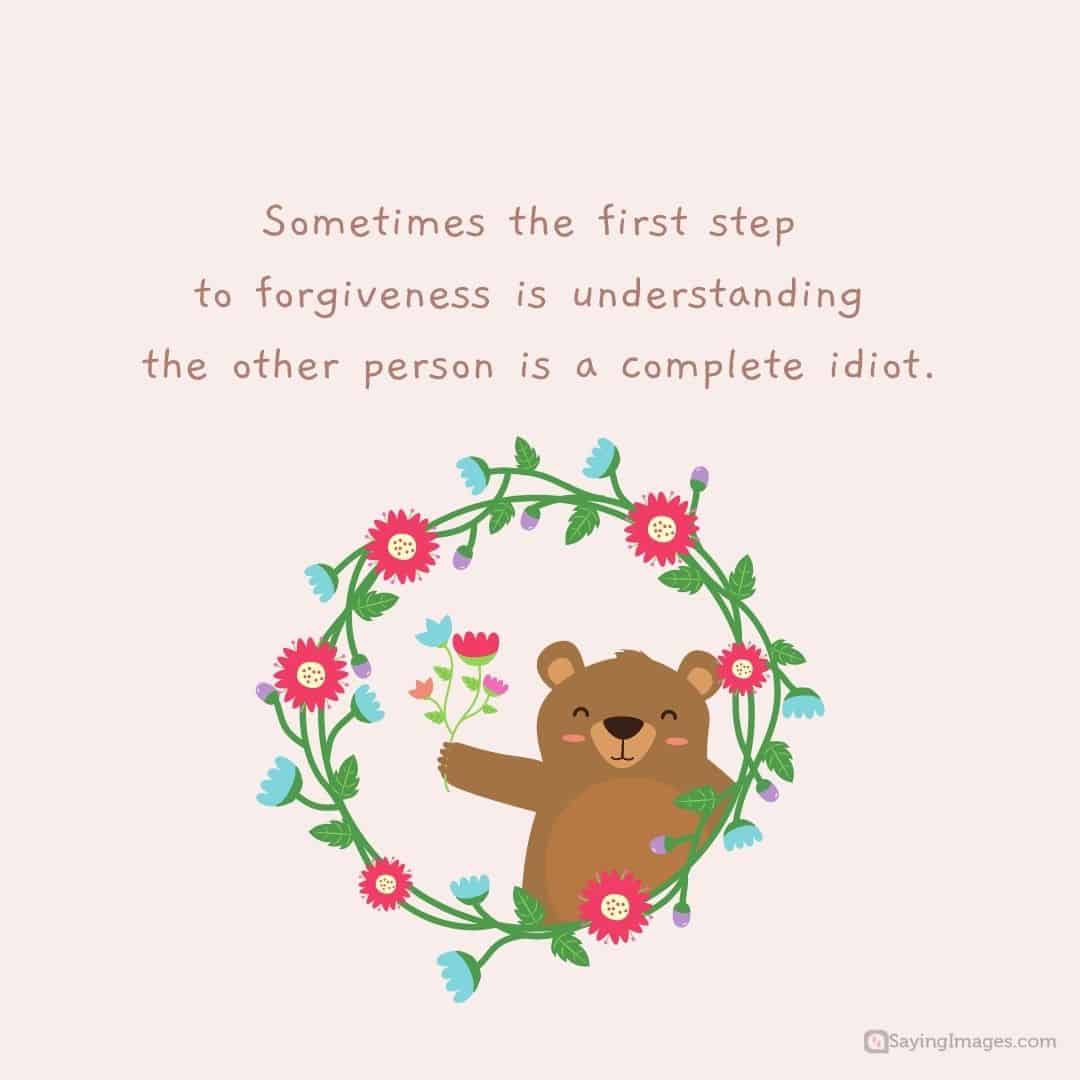 Sometimes the first step to forgiveness is understanding the other person is a complete idiot.
When you make a mistake, there are only three things you should ever do about it: admit it, learn from it, and don't repeat it. – Paul Bear Bryant
You've got to learn to leave the table when love is no longer being served.
Sooner or later we've all got to let go of our past. – Dan Brown, 'Deception Point'
Until we have seen someone's darkness, we don't really know who they are. Until we have forgiven someone's
darkness, we don't really know what love is. – Marianne Williamson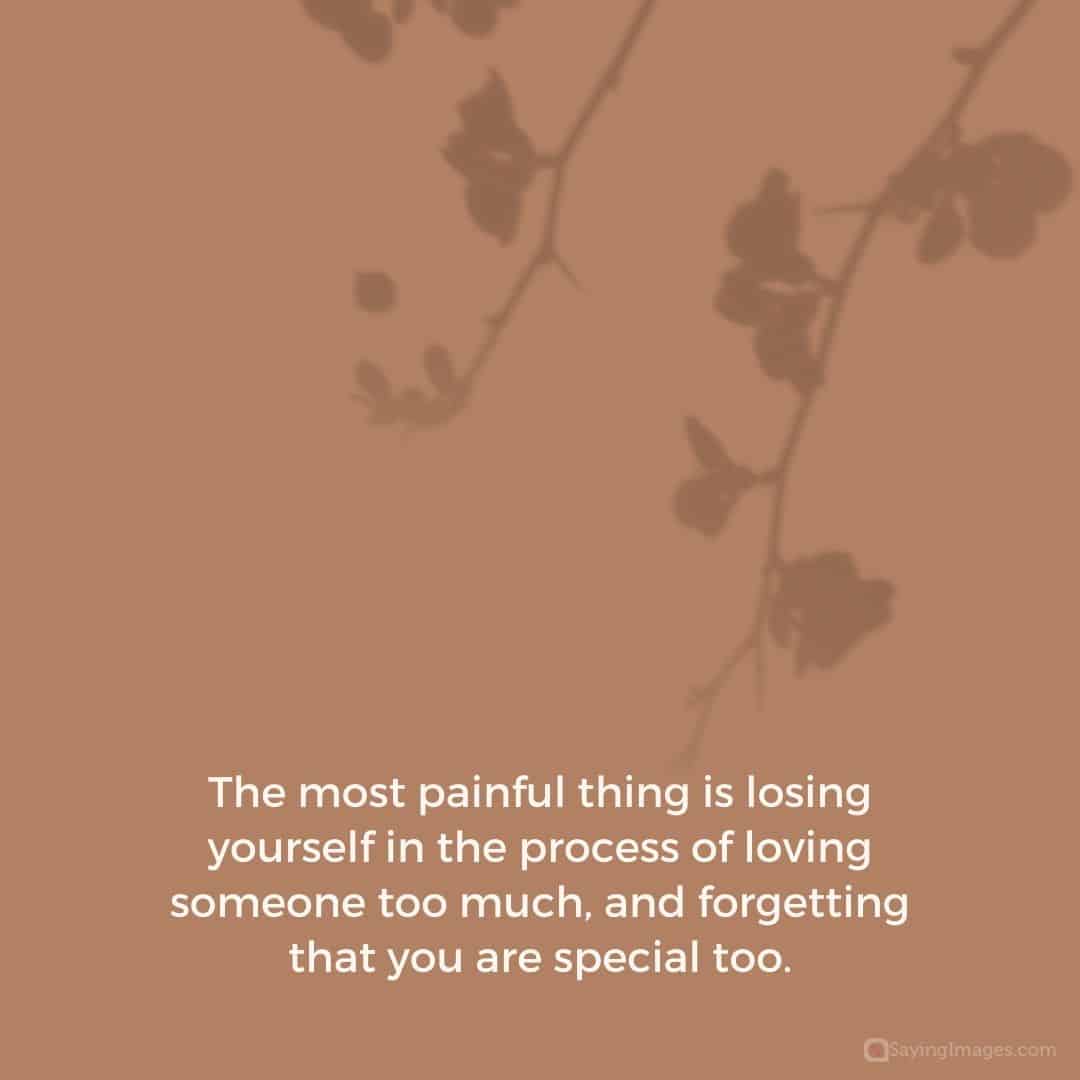 The most painful thing is losing yourself in the process of loving someone too much, and forgetting that you are special too. – Ernest Hemingway
Mistakes are always forgivable if one has the courage to admit them. – Bruce Lee
It was strange, really. A couple months ago, I had thought I couldn't live without him. Apparently I could. – Gabrielle Zevin, 'Memoirs of a Teenage Amnesiac'
Sometimes we just fall in love with the wrong people.
Everyone makes mistakes. The important thing is to not make the same mistake twice. – Stephanie Perkins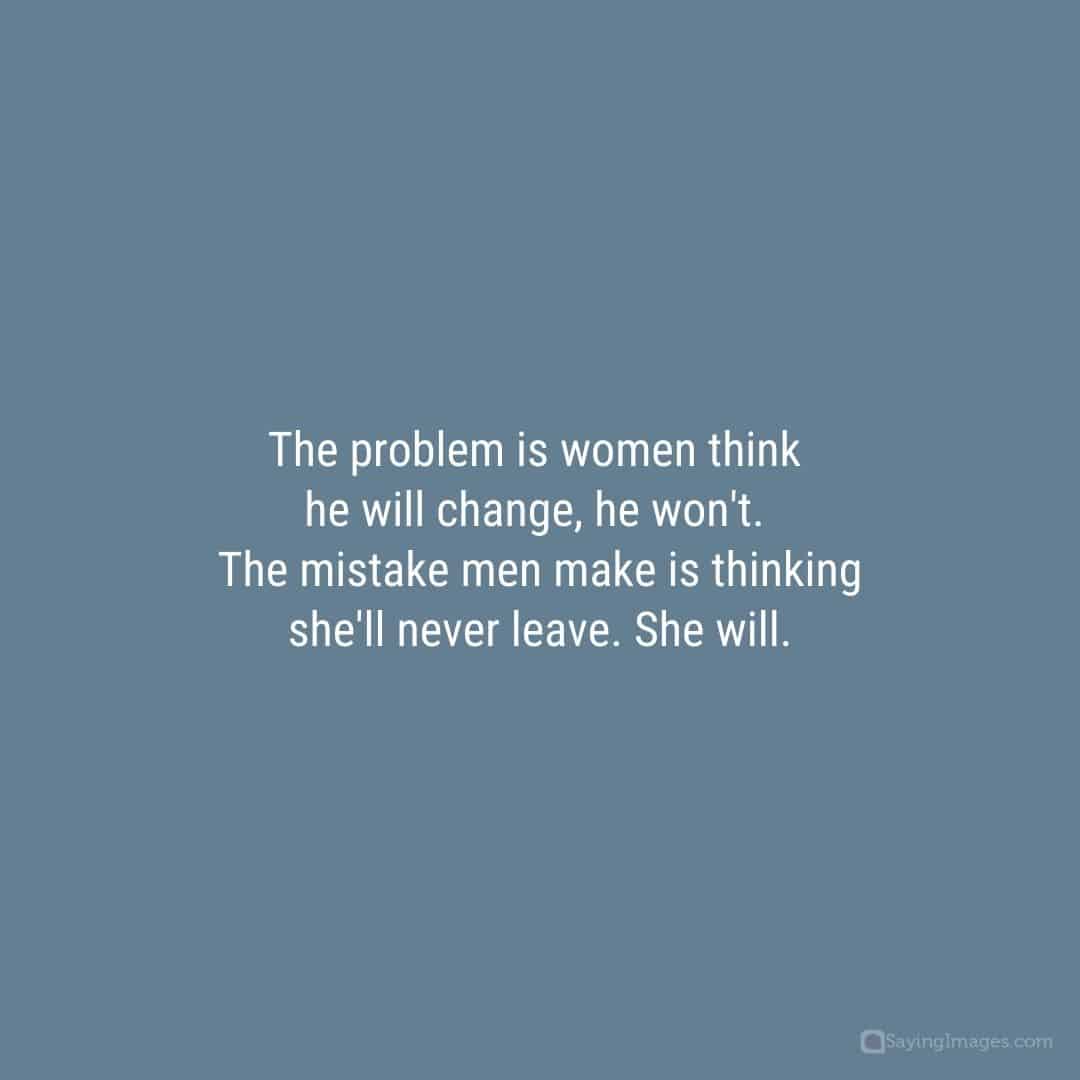 The problem is women think he will change, he won't. The mistake men make is thinking she'll never leave. She will.
It's better to be healthy alone than sick with someone else. – Phil McGraw
We teach people how to treat us. – Dr. Phil
So don't hurt her, don't change her, don't analyze, and don't expect more than she can give. Smile when she makes you happy, let her know when she makes you mad, and miss her when she's not there. – Bob Marley
I went to war for what we had. You never even laced your boots.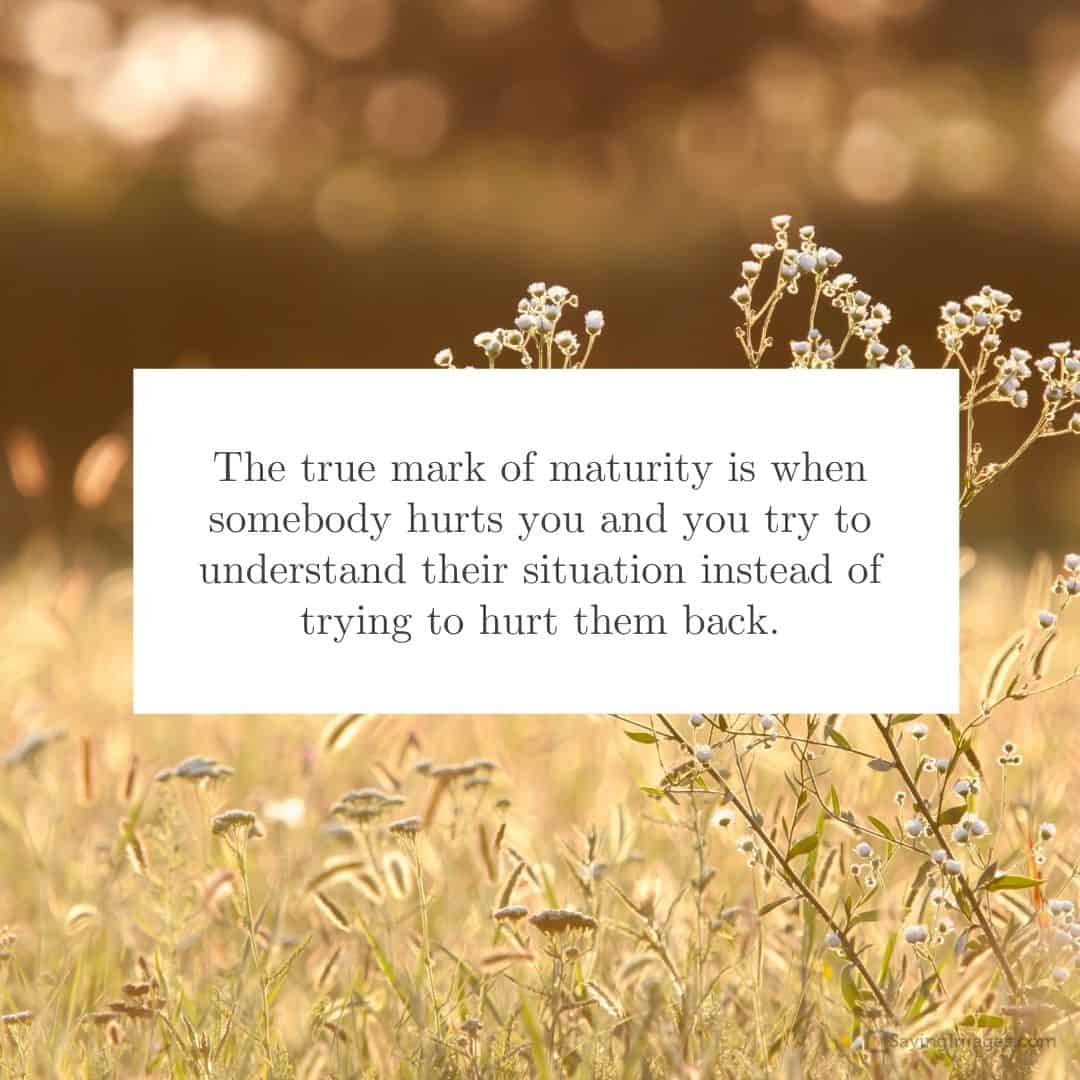 The true mark of maturity is when somebody hurts you and you try to understand their situation instead of trying to hurt them back.
People hold on to the wrong person because they think that person has the potential to be a better person. – Sonya Parker
We all get hurt at some point in a relationship, Lucas. It happens a lot in a marriage. Even the best ones have someone getting hurt at one point or another. The key is to apologize when you do hurt her and learn from your mistakes. No one expects you to be perfect. – Samantha Chase
Maybe you expected marriage to be perfect – I guess that's where you and I are different. See, I thought it would be all about making mistakes, but doing it with someone who's there to remind you what you learned along the way. – Jodi Picoult
Relationships end, but they don't end your life. But people do often spending more time finding out about failed relationships than finding successful ones.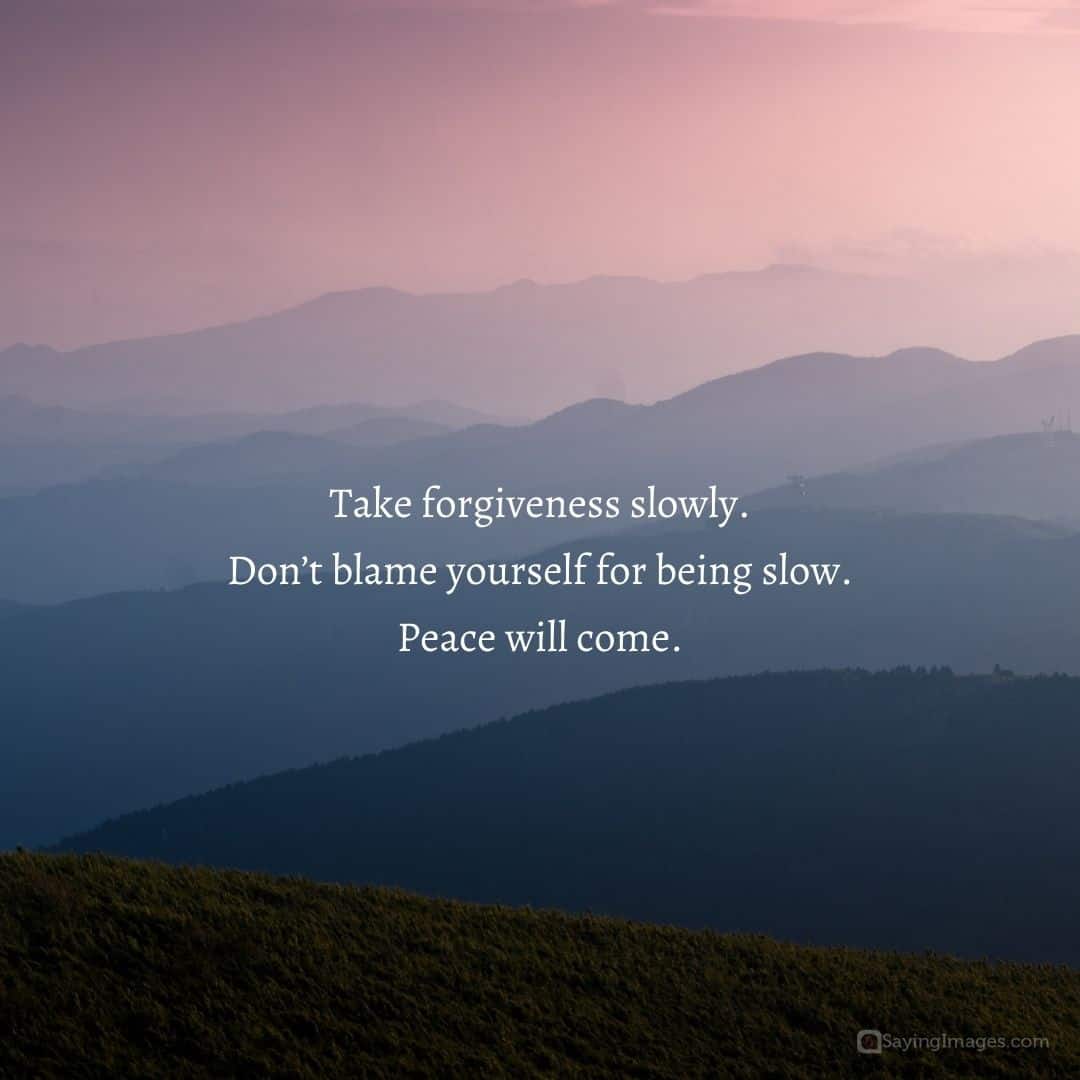 Take forgiveness slowly. Don't blame yourself for being slow. Peace will come. – Yoko Ono
It is far better to be alone, than to be in bad company. – George Washington
Don't live chained to the mistakes of the past, you can find new love, meet someone again or have a broken relationship restored. – Jamie Larbi
There are only two kinds of people who can drain your energy: those you love, and those you fear. In both instances it is you who let them in. They did not force their way into your aura, or pry their way into your reality experience. – Anthon St. Maarten
One of my biggest mistakes in life is thinking people will show me the same love I've shown them. – Heath Ledger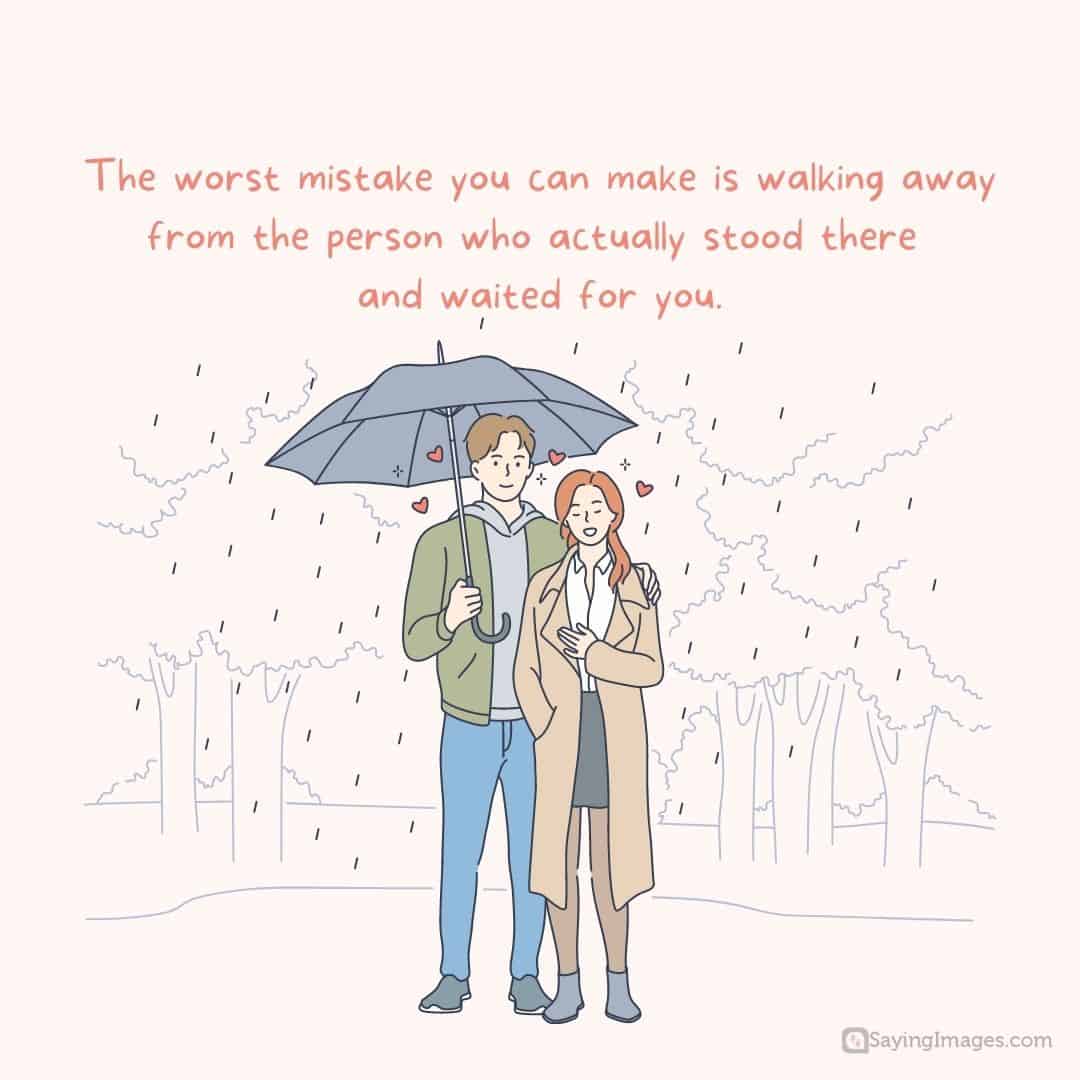 The worst mistake you can make is walking away from the person who actually stood there and waited for you. –Drake
The power dynamics in a relationship are going to be fluid over a long period of time, so to wait for 'perfect' is going to be a mistake. – Jason Segel
Girls you've gotta know when it's time to turn the page. – Tori Amos
Poisonous relationships can alter our perception. You can spend many years thinking you're worthless. But you're not worthless. You're underappreciated. – Steve Maraboli
And a mistake repeated more than once is a decision. – Paulo Coelho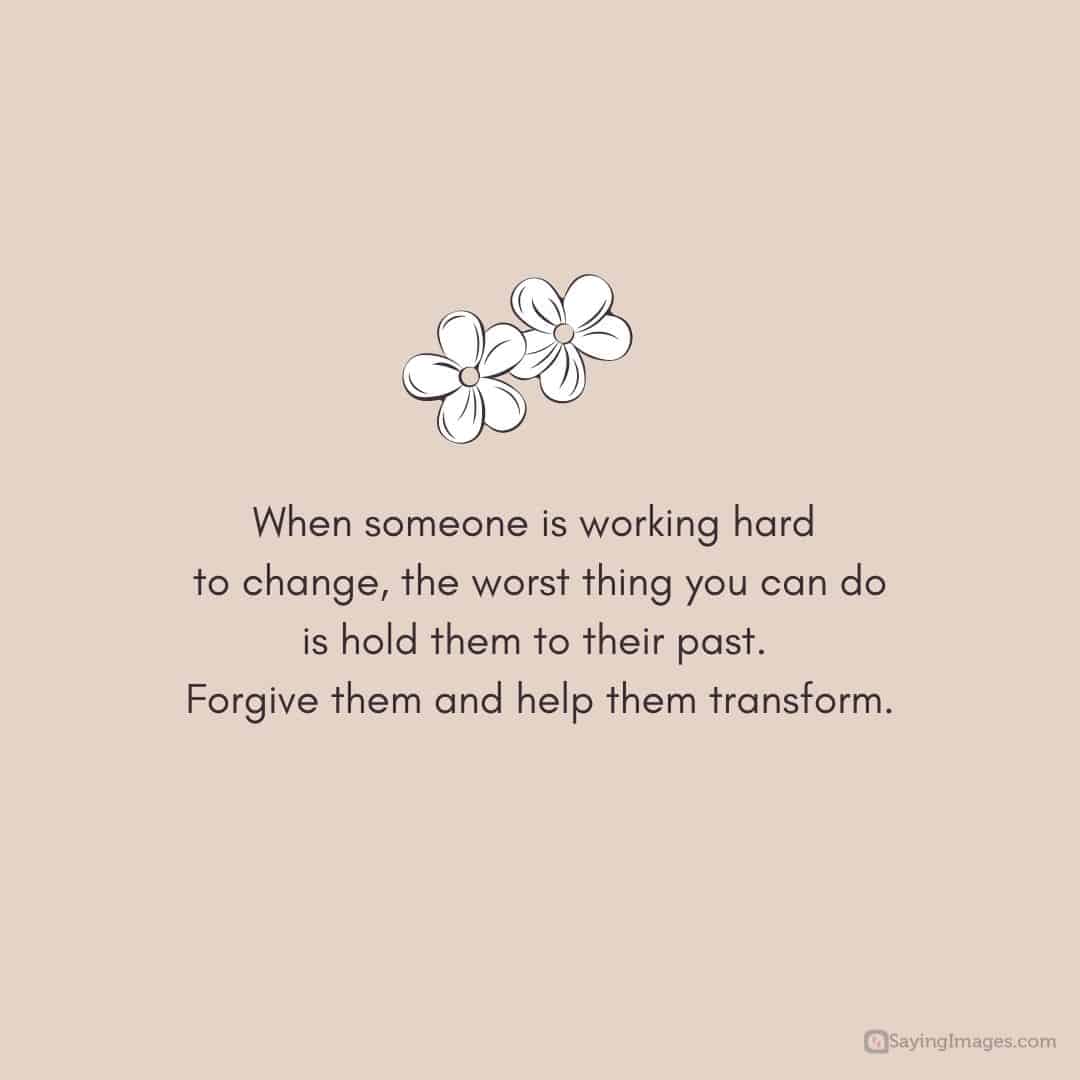 When someone is working hard to change, the worst thing you can do is hold them to their past. Forgive them and help them transform.
She didn't leave you for making too many mistakes, she left because you made the same mistake, too many times.
Grudges are for those who insist that they are owed something; forgiveness, however, is for those who are substantial enough to move on. – Criss Jami
Bad relationships are like a bad investment. No matter how much you put into it, you'll never get anything out of it. Find someone that's worth investing in.
In relationships, everyone makes mistakes. If you are forgiven for yours, don't take it for granted. – Carlos Wallace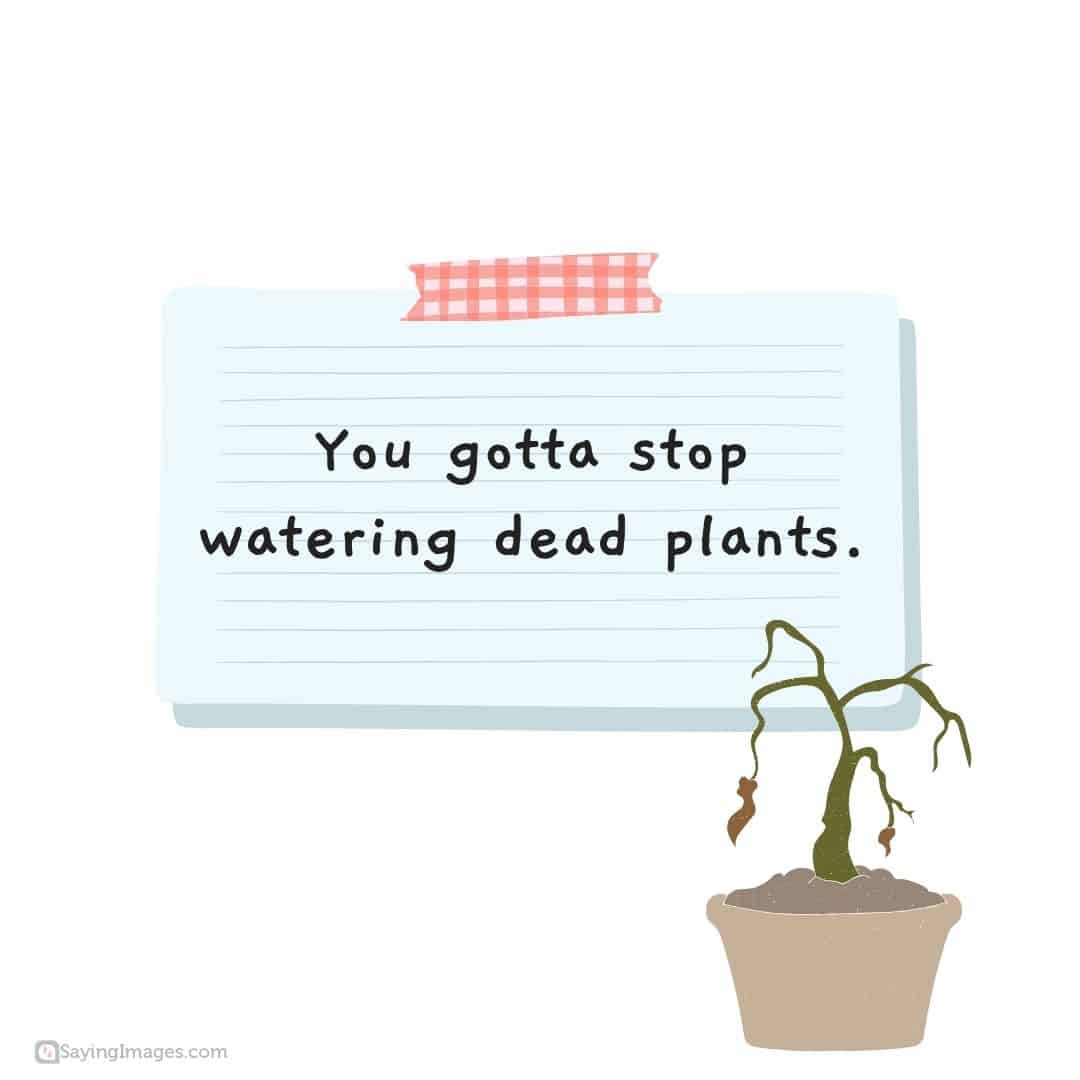 You gotta stop watering dead plants.
When it comes to men, deal with them as they are, not how you'd like them to be. – Greg Behrendt
Forgive yourself for your faults and your mistakes and move on. – Les Brown
I can't promise I won't make mistakes again. I can't promise I won't freak out when you do something that scares me. I'm not perfect. But I can promise I'll always try, and I'll always be on your side. – Rebecca Schaeffer
Secrets and Lies kill a relationship. No matter how careful you are, you will get caught. What's done in darkness always comes to light.