Happy birthday poems for friends, lovers & family members: mom, dad, daughter. Hope you can find these birthday poems with images useful, feel free to share!
General Birthday Poems
THERE ARE WORSE THINGS
So what if you're getting older,
There are worse things to be,
Like a goofy, pimply teenager,
With zero self-esteem.
So what if you got a few wrinkles,
There are worse things to have,
Like a case of the twentysomethings,
And a room at Mom and Dad's.
To me, you're simply wonderful.
Everything about you is just right,
So have a happy birthday,
And let's party all night.
By Message Guy
WHEN I WISH YOU "HAPPY BIRTHDAY"
When I wish you "happy birthday,"
There's so much more I want to say,
Though it's hard to utter the words,
Nothing's going to stop me today.
When I wish you "happy birthday,"
What I mean is "I love you,"
You're more than the world to me,
I'm so thankful for all you do.
When I wish you "happy birthday,"
It's because you make me proud,
Now that I've put down these words,
I just want to scream them out loud.
By Message Guy
WHAT A DAY
By Message Guy
What a day to be happy,
And smile the whole way through,
Today is your big birthday,
A special one just for you.
Blow out all your candles,
Make your wishes come true,
Eat slice after slice of cake,
Nothing is too good for you.
May the days that lie ahead
Be filled with gladness too
For there just couldn't be anyone
Who deserves it more than you.
Perfect Birthday
On your birthday I wish you much pleasure and joy;
I hope all of your wishes come true.
May each hour and minute be filled with delight,
And your birthday be perfect for you!
By Joanna Fuchs
Happy Birthday Poem
Once a year I get the chance
To wish you birthday cheer.
It pleases me no end to say,
I wish you another great year.
So happy birthday to you (name),
From the bottom of my heart.
And may your good times multiply,
Till they're flying off the chart!
By Karl Fuchs
More: Top 40 Birthday Wishes & Quotes
Poems for mom
SPECIAL MOM
My mother I love,
She came from above.
Gentle and kind,
A beautiful mind.
Today is her day,
With a birthday bouquet.
Her smile so warm,
Our hearts will transform.
I wish her the most,
With this little toast.
Happiness and health,
Internal wealth.
By Martin Dejnicki
Mom, my thank yous to you
Should be said every day
For the happiness you impart
And your loving caring way

And on this day, to you Mom, I say
Have a truly wonderful and happy birthday
Birthday poems for dad
This is a special birthday wish
That comes with love to you
It brings warm and heartfelt thanks
For all the thoughtful things you do–

It also comes to let you know
You mean more to me each day
To everyone your lives have touched
In such a loving way.

Happy Birthday dad
With Love
Poems for daughter
For a dear daughter
Here's a wish for happiness
And many dreams come true
Not only on your special day
But always, all life through
Happy Birthday
Family life is many things
And one of the nicest joys it brings
Is having a daughter (daughter in law)as dear as you
Who's thought of in a special way
Not only on a special day
But warmly and with love
The whole year through!
Happy Birthday
More: Birthday wishes for daughter
Happy Birthday Poems For friend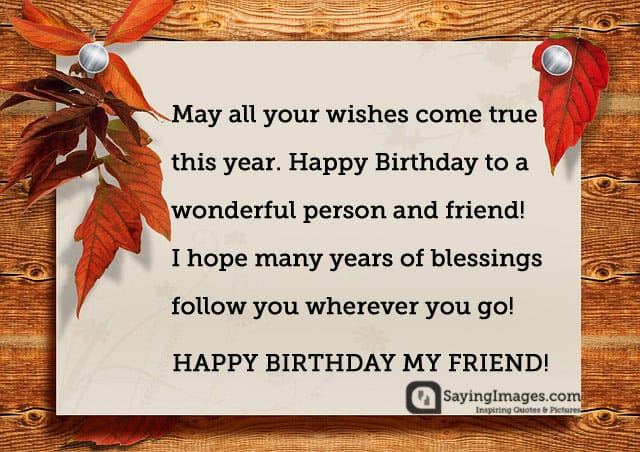 Friends like you are hard to find
When we met I knew we were two of a kind
Every moment which we spend together
Are ones which I always treasure
So on this day I want to say
My special friend, a very happy birthday
Read more: Birthday wishes for friends
A FRIEND LIKE YOU
By Message Guy
Happy birthday!
I have many friends,
But one above the rest,
That one is you,
You are simply the best.
It's a friend like you,
In good times and bad,
Who asks for nothing,
Yet offers a hand.
Wherever I go in life,
There's only one thing to do,
I must have a big heart,
And be a friend like you.
A GIFT OF FRIENDSHIP
Happy Birthday to my very best friend.
Your special day has come by again.
We had so much fun last time around,
A younger sister was someone I found.
Each year March 4th is a wonderful day,
As we march forth in our own fun way.
Just hanging around and laughing a lot,
It is truly amazing what we have got.
A friendship like ours is not easy to come by,
Often the intensity of it makes me so high.
Is our beautiful friendship really only a dream?
Sometimes it feels so unreal that I must scream.
Cries of joy and happiness galore,
And that is what I most adore.
Your infectious laughter and zest for life,
But I am there to keep you from strife.
How lucky we are to have found one another,
I couldn't spend so much time with any other.
I will always be there to watch over you,
To keep you safe and happy too.
Well my dear I wish you Happy Birthday once more,
An abundance of good wishes for you are in store.
A new year filled with lots of happiness and laughter,
And only the very best for you from here on after.
Author: © Sasha17
Also read: Happy Birthday Quotes & Images
Happy birthday poems for Lovers
MY LOVE FOR YOU
My love for you, shall never pause,
Strong and determined with all our flaws.
It endures and doesn't judge,
Never holds a lasting grudge.
Generous, loyal, always kind,
To your outer layer blind.
Surely, opposite of rude,
My beating heart I must include.
On your birthday, my love for you,
From the clouds, a perfect view.
Moments, memories, a year gone by,
I'm here for you, don't you cry.
My love for you, lives by the truth,
Always keeps me, in my youth.
When it sees, our trust and hope,
It climbs and conquers any slope.
By Martin Dejnicki
Hope you like these happy birthday poems, you might want to read more: Happy Birthday Images & Pictures