Nothing ever gets accomplished if we don't get busy. Going out there to make use of your time, skills, and efforts only mean that you're doing something about your goals in life. Getting busy also means you get to do a lot more learning, exploring, and discovering.
However, it's also crucial to set boundaries in order to not overdo things. You have to know when it's time to take it easy. Having the hunger and the drive to succeed is admirable, but we also need to pause and reflect to appreciate what we have accomplished so far.
If there are things you've been thinking of doing or pursuing but haven't, these 40 busy quotes can help you get the motivation you need to get started.
Busy Quotes
A bee is never as busy as it seems; it's just that it can't buzz any slower. – Kin Hubbard
I don't like looking back. I'm always constantly looking forward. I'm not the one to sort of sit and cry over spilt milk. I'm too busy looking for the next cow. – Gordon Ramsay
Life is what happens while you are busy making other plans. – John Lennon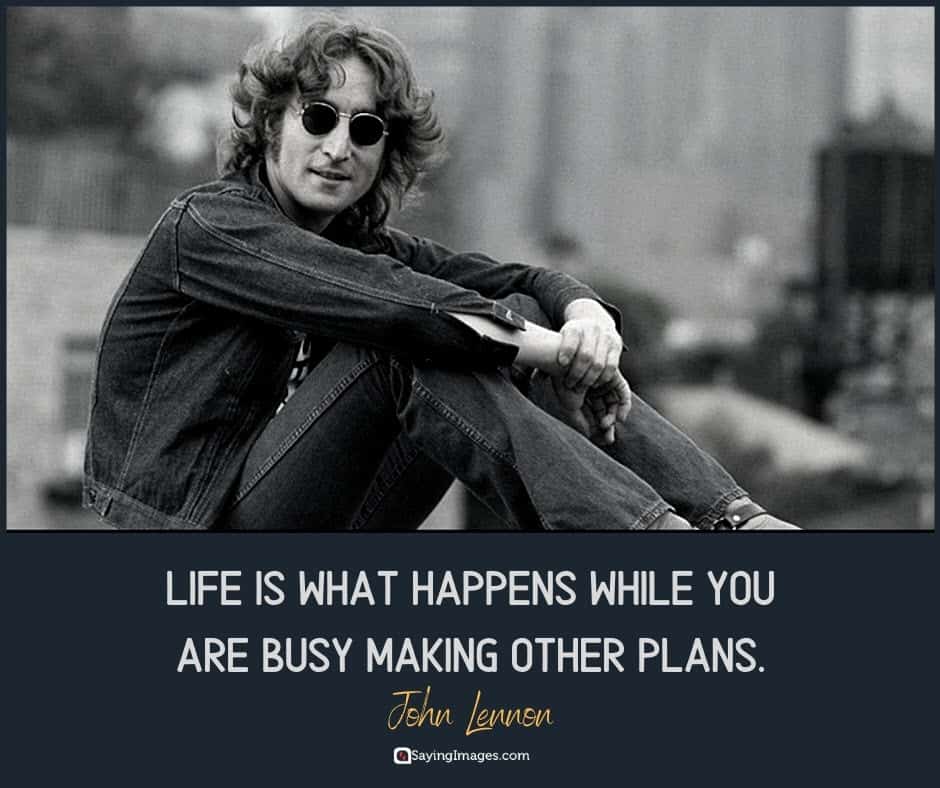 'Crazy-busy' is a great armor, it's a great way for numbing. What a lot of us do is that we stay so busy, and so out in front of our life, that the truth of how we're feeling and what we really need can't catch up with us. – Brene Brown
So many people walk around with a meaningless life. They seem half-asleep, even when they're busy doing things they think are important. This is because they're chasing the wrong things. – Morrie Schwartz
If you want to conquer fear, don't sit home and think about it. Go out and get busy. – Dale Carnegie
In times of great stress or adversity, it's always best to keep busy, to plow your anger and your energy into something positive. – Lee Iacocca
Being alone & actually sitting with our own thoughts can lead to such growth and realizations that are rare in our everyday busy lives. – Kourtney Kardashian
Technology can be our best friend, and technology can also be the biggest party pooper of our lives. It interrupts our own story, interrupts our ability to have a thought or a daydream, to imagine something wonderful, because we're too busy bridging the walk from the cafeteria back to the office on the cell phone. – Steven Spielberg
Being busy does not always mean real work. The object of all work is production or accomplishment and to either of these ends there must be forethought, system, planning, intelligence, and honest purpose, as well as perspiration. Seeming to do is not doing. – Thomas A. Edison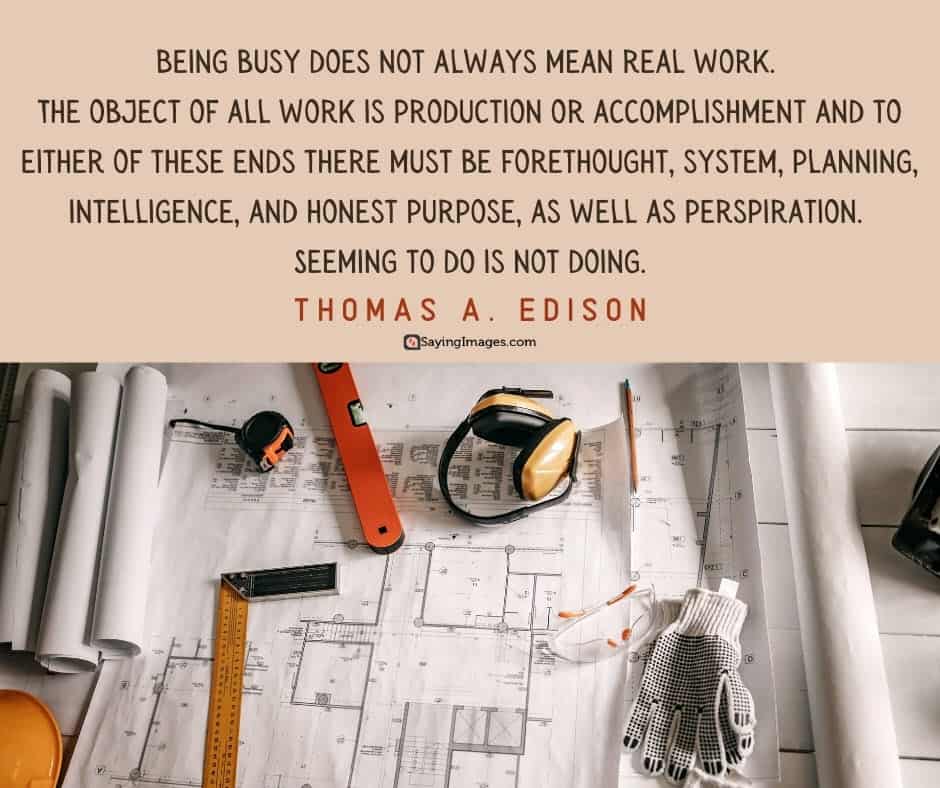 Some people are so busy learning the tricks of the trade that they never learn the trade. – Vernon Law
When you are insane, you are busy being insane – all the time. – Sylvia Plath
Being busy with work, and as a mum, I'm a big fan of online shopping. – Kirsty Gallacher
Beware the barrenness of a busy life. – Socrates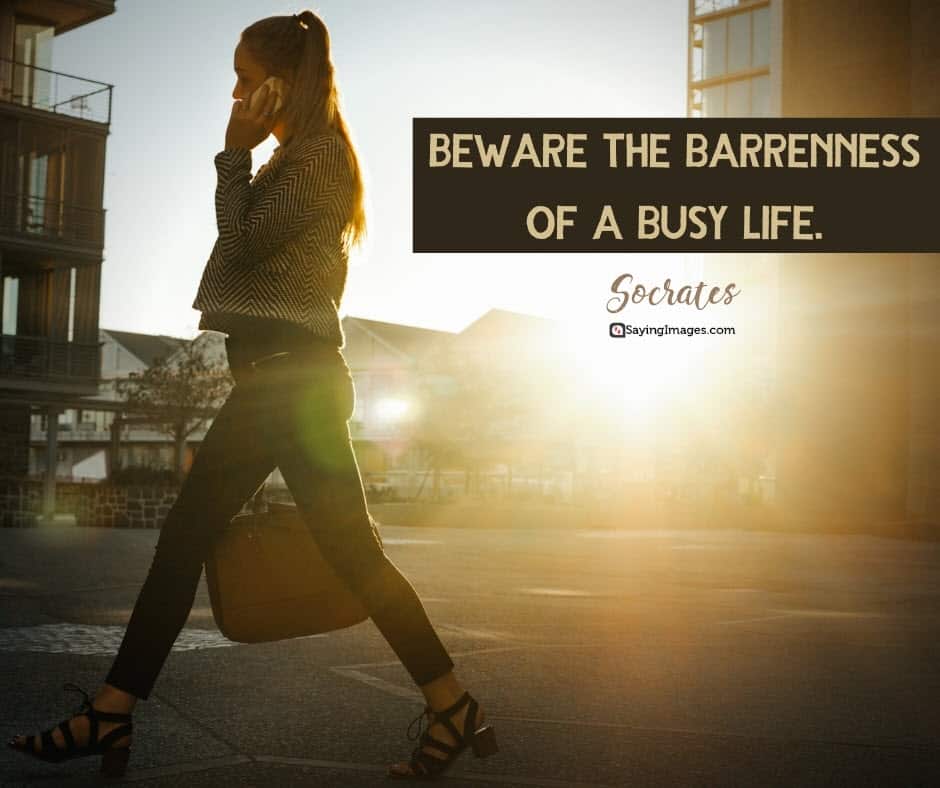 Let the refining and improving of your own life keep you so busy that you have little time to criticize others. – H. Jackson Brown, Jr.
In the choice between changing ones mind and proving there's no need to do so, most people get busy on the proof. – John Kenneth Galbraith
I try to keep it real. I don't have time to worry about what I'm projecting to the world. I'm just busy being myself. – Demi Lovato
You can really only enjoy life when you're extremely busy. – Josephine de La Baume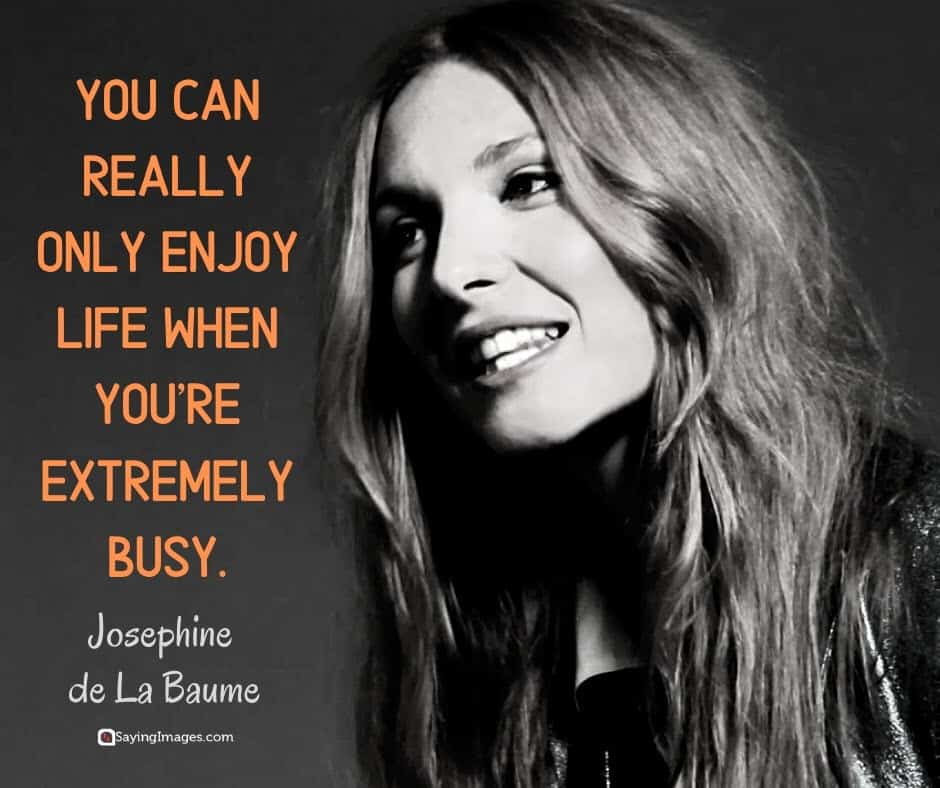 A productive employee who is kept busy working at his or her job is far more likely to be happy at that job and less likely to look for employment elsewhere. – Zig Ziglar
While I am busy with little things, I am not required to do greater things. – Saint Francis de Sales
It is not enough to be busy. So are the ants. The question is: What are we busy about? – Henry David Thoreau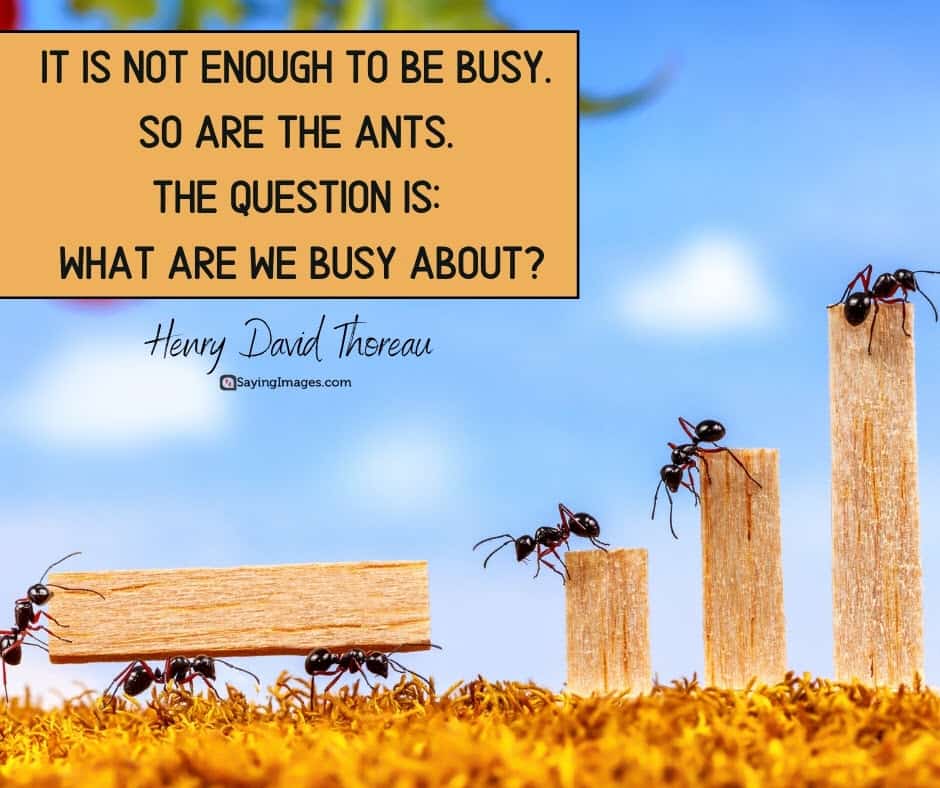 I don't care how busy I am – I will always make time for what's most important to me. – Kevin Hart
Success usually comes to those who are too busy to be looking for it. – Henry David Thoreau
One of the things I learned the hard way was that it doesn't pay to get discouraged. Keeping busy and making optimism a way of life can restore your faith in yourself. – Lucille Ball
Get busy living, or get busy dying. – Stephen King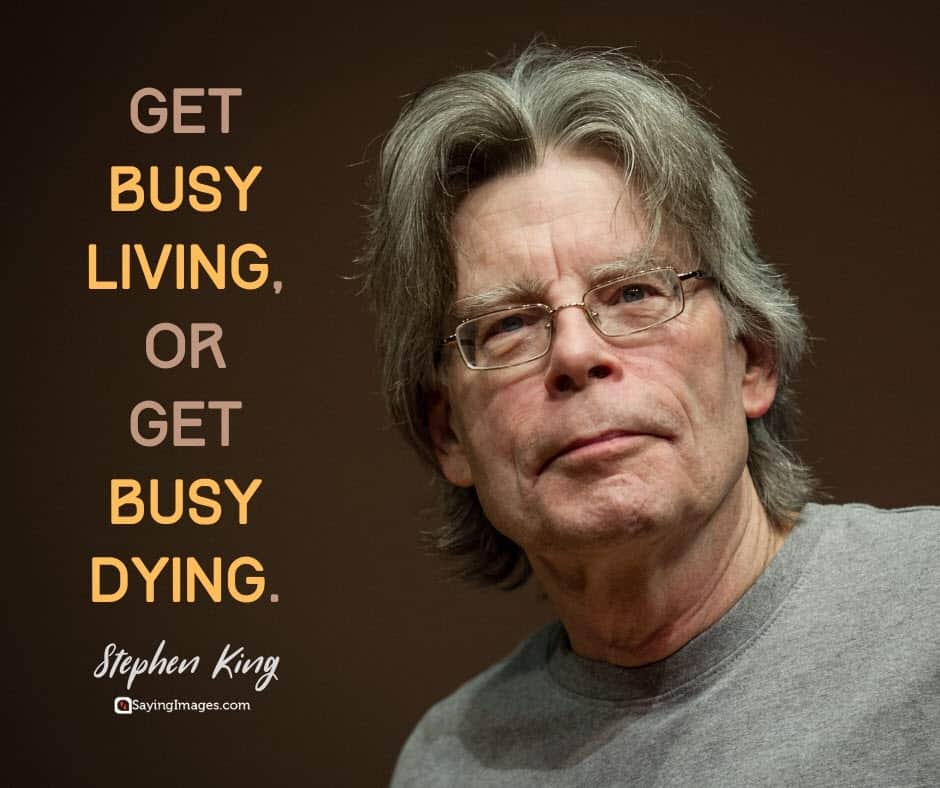 Life seems but a quick succession of busy nothings. – Jane Austen
I like to stay busy, I like to stay focused, and I like to stay creative. Without being creative I'd be dead. – Jeremy Renner
In my experience, being busy and working hard is the key to sanity/happiness. – Jemima Khan
We cannot embrace God's forgiveness if we are so busy clinging to past wounds and nursing old grudges. – T. D. Jakes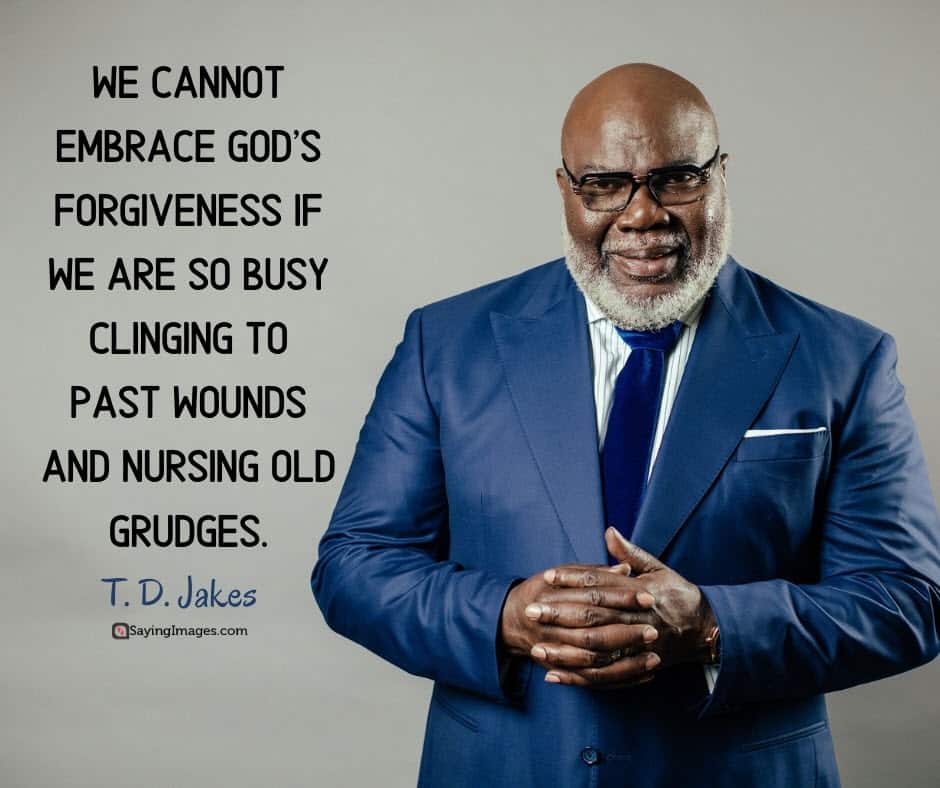 When you start so young working, you build a hunger for acting, working, and a busy life. – Bonnie Wright
Inaction breeds doubt and fear. Action breeds confidence and courage. If you want to conquer fear, do not sit home and think about it. Go out and get busy. – Dale Carnegie
There are only the pursued, the pursuing, the busy and the tired. – F. Scott Fitzgerald
I'm always busy, but I'm lazy as well. – Jeff Bridges
New York is great for busy creative types. The city has a pulse that races, and you either keep up with it or you leave. – Raina Telgemeier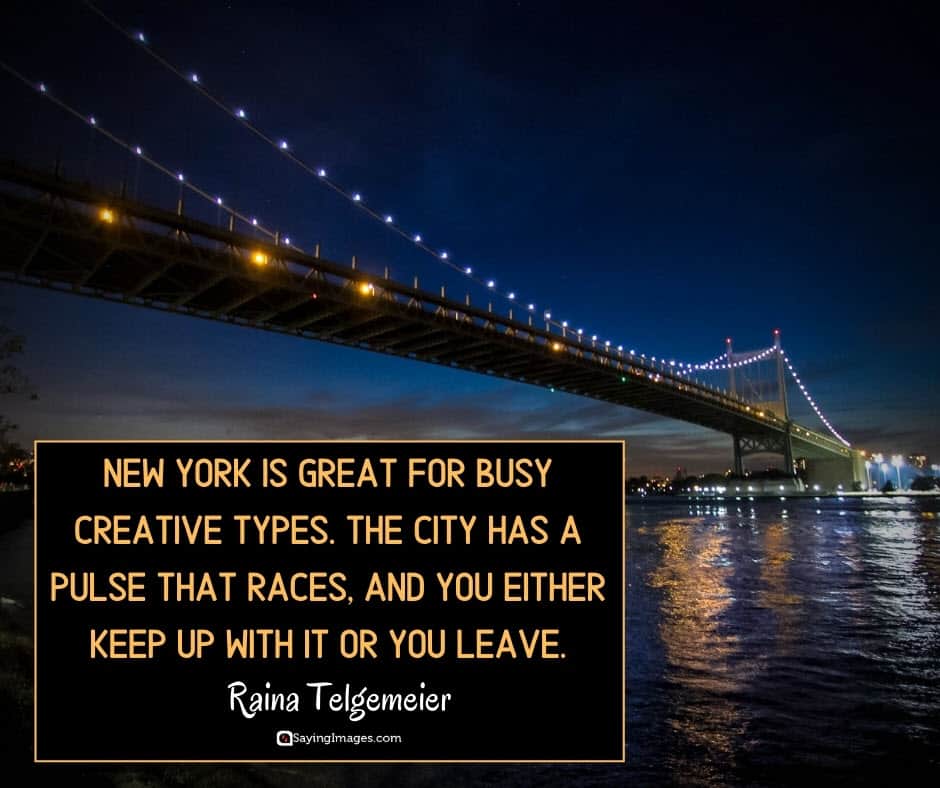 The more we do, the more we can do; the more busy we are, the more leisure we have. – Dag Hammarskjold
When you are asked if you can do a job, tell 'em, 'Certainly I can!' Then get busy and find out how to do it. – Theodore Roosevelt
The thinking mind is what is busy. You have to stay in your heart. You have to be in your heart. Be in your heart. The rest is up here in your head where you are doing, doing, doing. – Ram Dass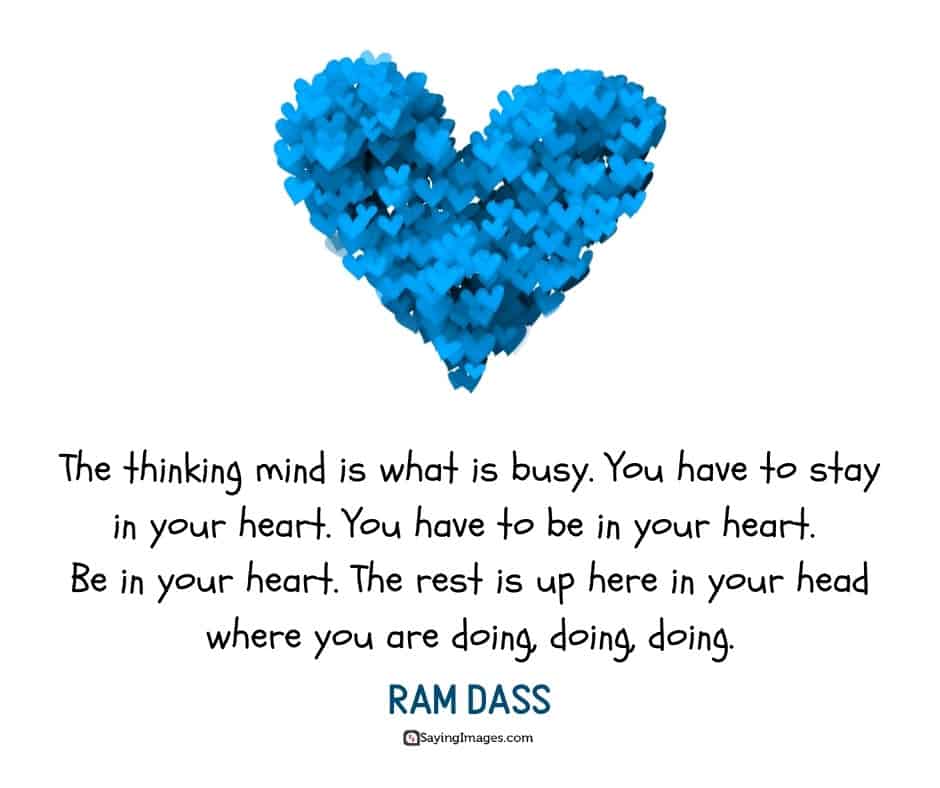 For everybody in their busy lives, you need to invest in sharpening your tools, and you need to invest in longevity. – Ryan Holmes
He not busy being born is busy dying. – Bob Dylan
The road had the lonely times, but I kept myself busy. – Buck Owens
Share these 40 busy quotes with your family and friends to help foster productivity.