In business and in professional work, it is common to hear the saying don't burn your bridges. This is because somewhere down the road, we never know if we ever need the services of an organization or a company. After all, we never know when we might need that character reference or more embarrassingly, go back to our old place of work.
And yet, on the flip side, there ARE situations that demand those darn bridges be burned. In these situations, people want to leave the past behind once and for all so that there is only their bright future ahead. Others have a more compelling reason. They wish to leave a past that is toxic, a past that continues to drag them down to the depths.
Thus, we've split down this article in half. In the first half, we are sharing with you motivational quotes about burning bridges. Then, in the second half, we're also sharing quotes that will make you think twice about burning bridges.
Check them out below.
Motivational Quotes On the Pros of Burning Bridges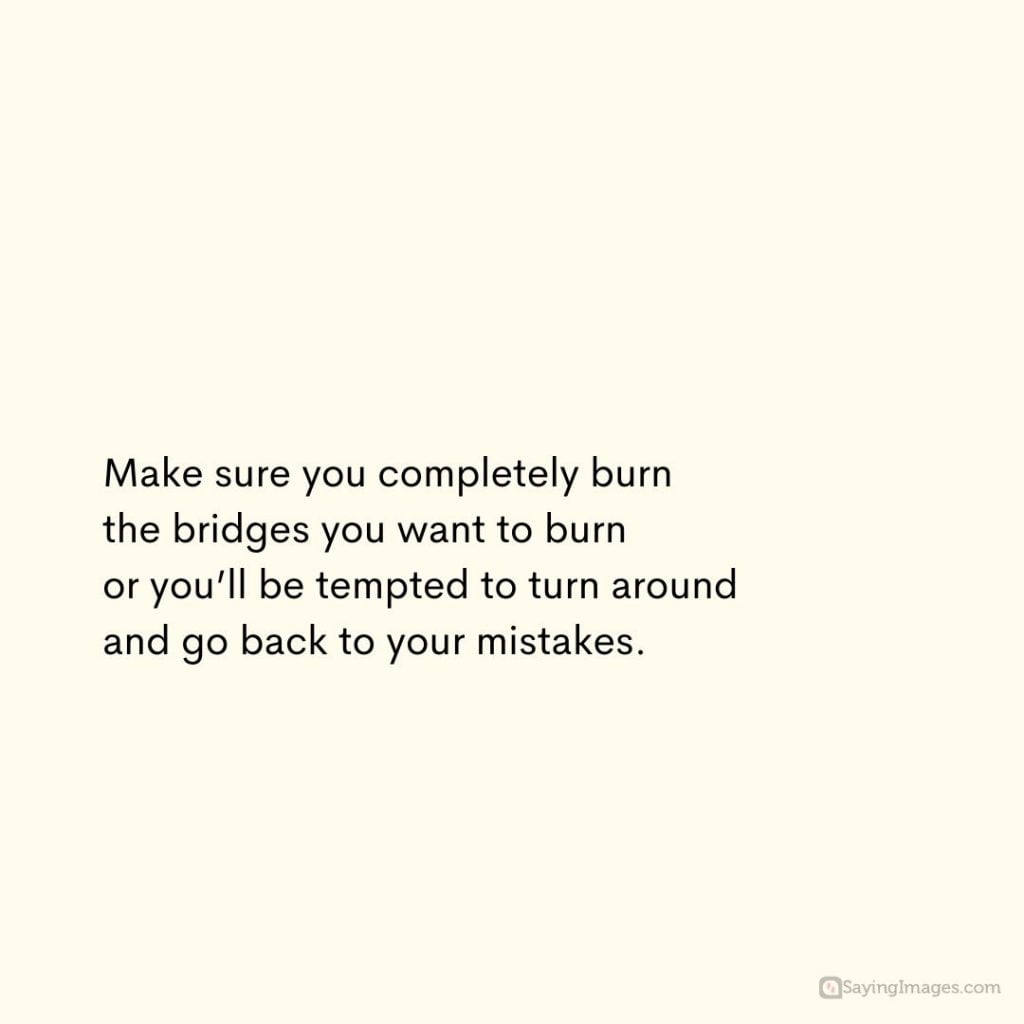 Make sure you completely burn the bridges you want to burn or you'll be tempted to turn around and go back to your mistakes.
It's not your responsibility to repair bridges someone else burned.
I like to burn my bridges while I'm standing on them so people know I'm serious about my crazy.
Sometimes you get the best light from a burning bridge. –Don Henley
With every bridge that burns a new path is opened for the way your destiny is to be shaped. If you believe in destiny then you must believe that the bridge was burned so you can find a new way to go to find the destiny that you were meet to follow. – Terry Perkins
My land is bare of chattering folk; the clouds are low along the ridges and sweet's the air with curly smoke from all my burning bridges. – Dorothy Parker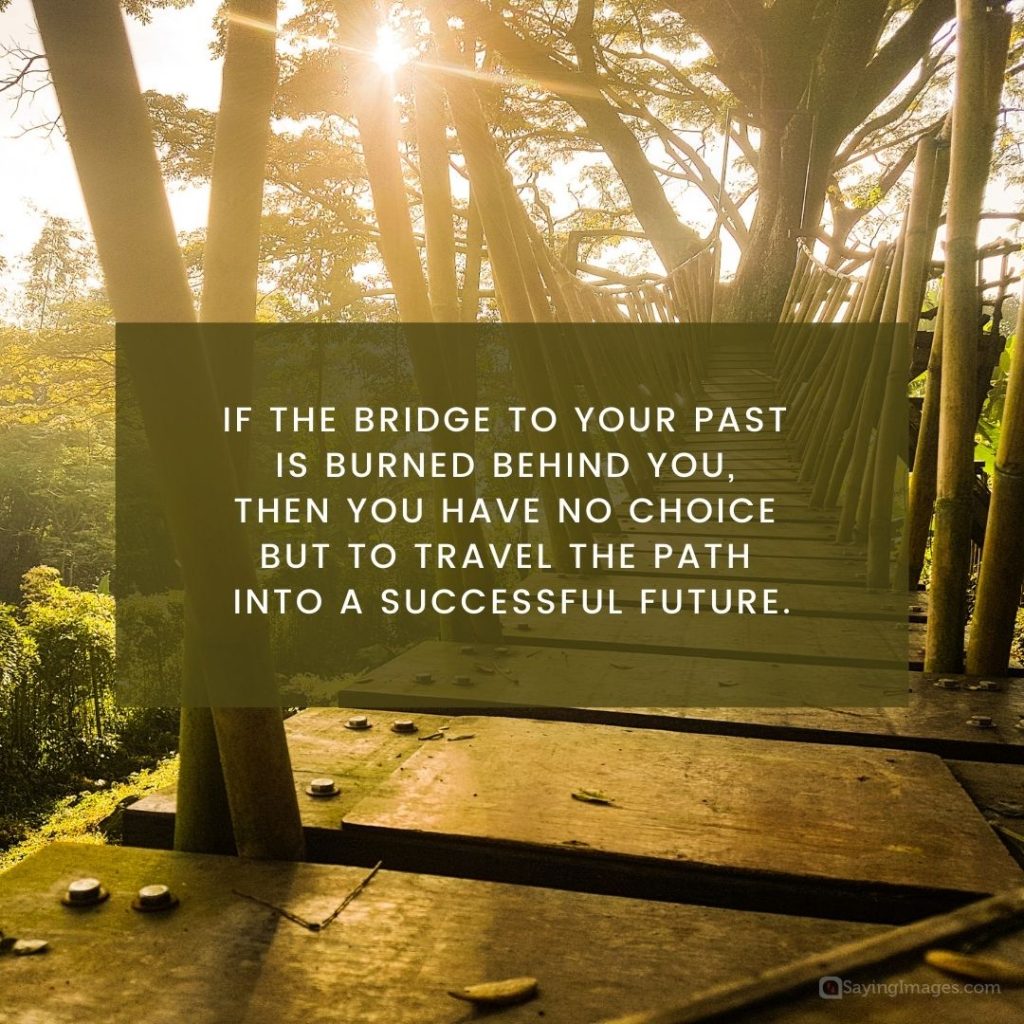 If the bridge to your past is burned behind you, then you have no choice but to travel the path into a successful future. – John Di Lemme
You kept burning the bridges and I kept trying hard to reach your arms, despite the fear of getting burnt.
Burning a bridge takes too long. I prefer explosives.
I usually give people more chances than they deserve but once I'm done, I'm done.
Stop telling me not to burn bridges. Some bridges are meant to be burnt, some roads are never meant to be traveled again. – Steve Maraboli
I'm not a wilting flower. I'm honest, so I pick a lot of fights. I've burned a lot of bridges. – Scott Thompson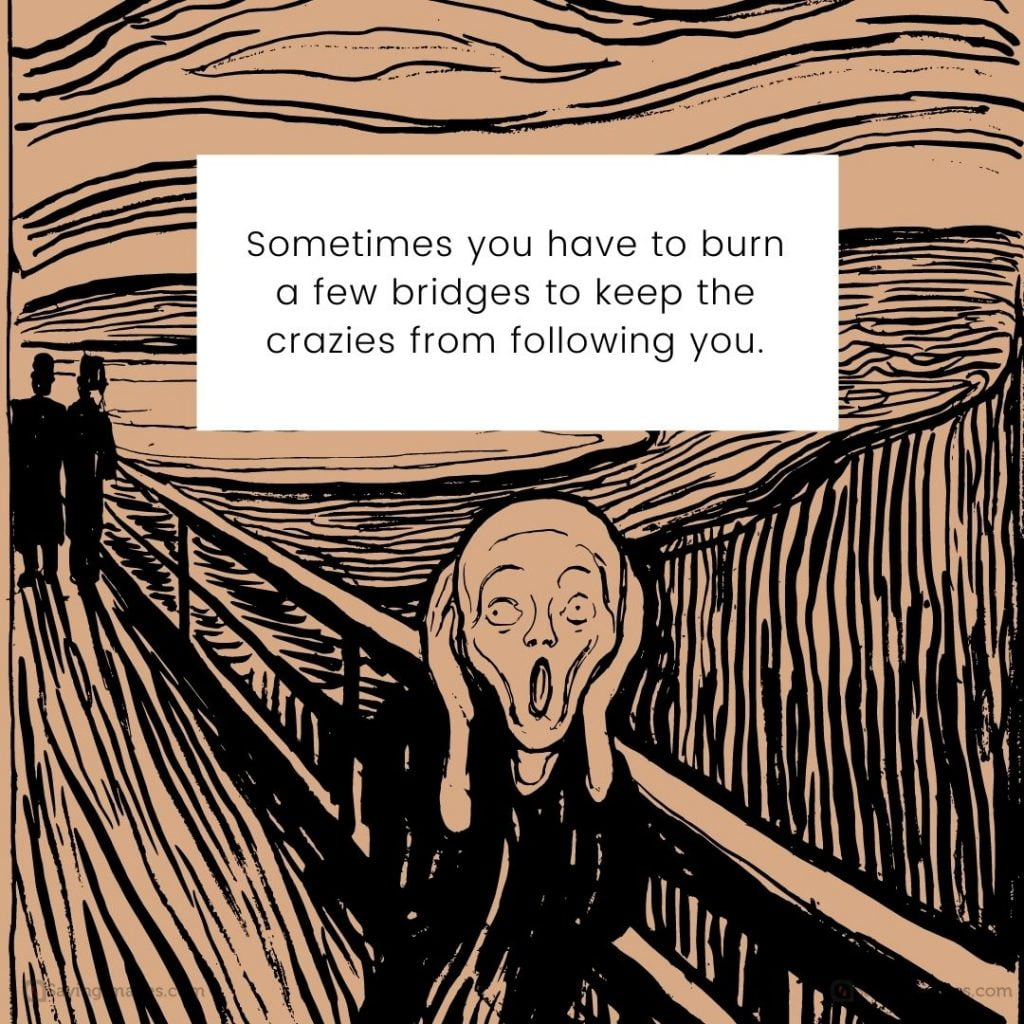 Sometimes you have to burn a few bridges to keep the crazies from following you.
Bridges are meant for burning, when the people and memories they join aren't the same. – Jim Croce
Never burn a bridge unless your foe is on it, captain. – Phil Foglio, Agatha Heterodyne and the Voice of the Castle
They say don't burn bridges you may have to cross later. I say I don't mind swimming if the bridge was f***ed up to begin with.
Burn your bridges every 2 years. – Carlos Castaneda
I do not burn bridges. I just loosen the bolts a little bit each day.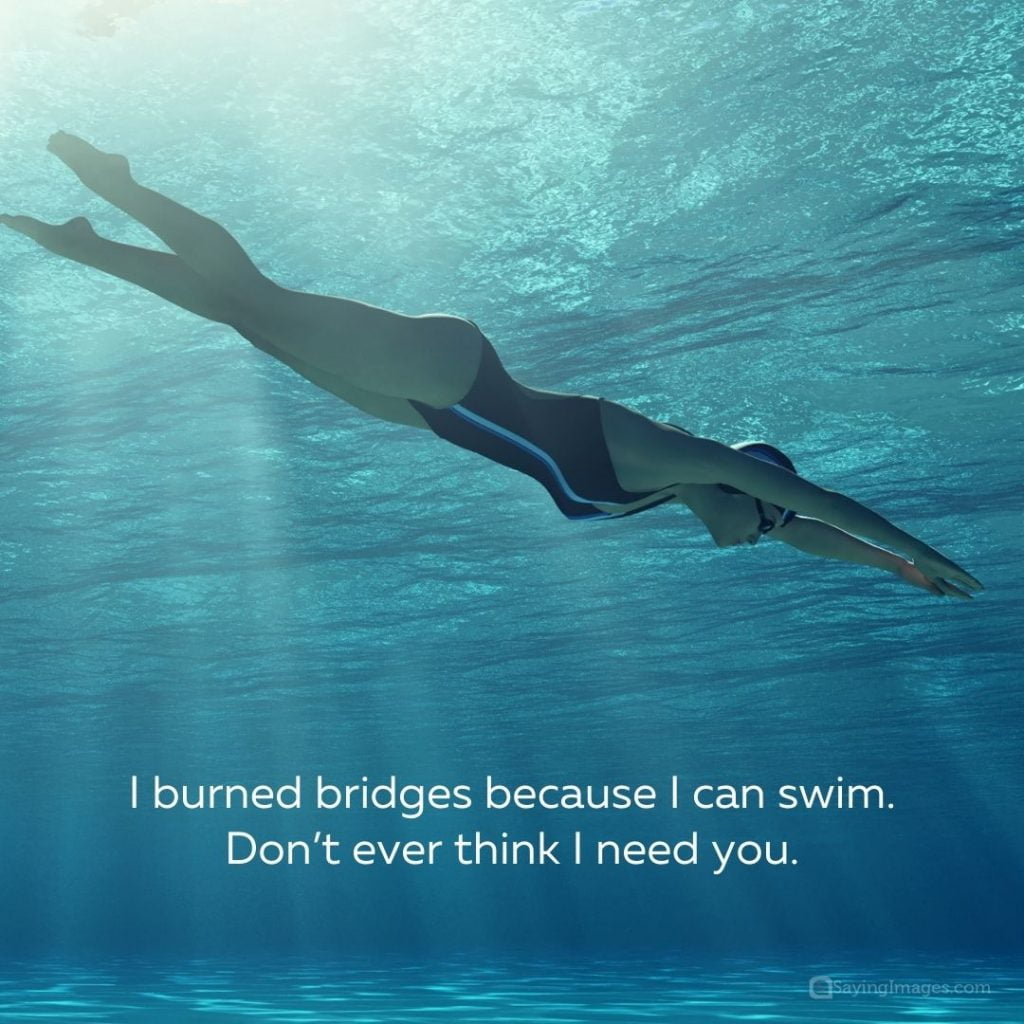 I burned bridges because I can swim. Don't ever think I need you.
Burn the bridges that lead back to your old way of living.
Once the smoke from that burning bridge begins to settle, glance back. Take one good look at how far you've come, breathe in some fresh air, and be thankful you weren't stuck there.
We cross our bridges when we come to them and burn them behind us, with nothing to show for our progress except a memory of the smell of smoke, and a presumption that once our eyes watered. – Tom Stoppard
Most people say never burn your bridges. I say if your bridges damage and cannot be repaired, may the bridges I burn light my way!
The problem is he didn't just burn his bridges when he left New York, he blew them up and napalmed the river. – Lauren Beukes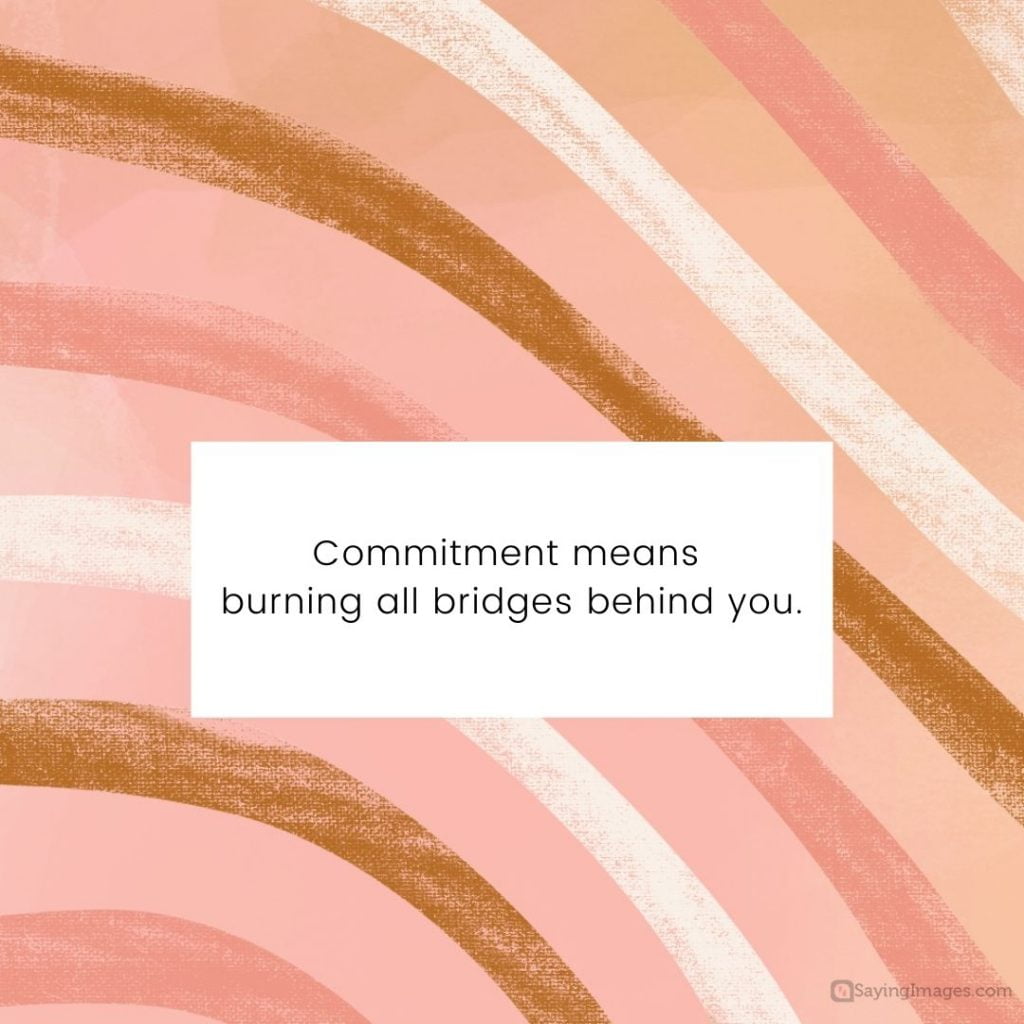 Commitment means burning all bridges behind you. –Billy Graham
Burning Bridges in order to escape. – James Pesutic
When one burns one's bridges, what a very nice fire it makes. – Dylan Thomas
I don't regret "burning my bridges". I regret that some people weren't on them while I was doing it.
Any bridge to the past that refuses to burn just gives the enemy an invitation and an entry point back into your life. – Femi Olorunnisola
It makes no difference if I burn my bridges behind me ― I never retreat. – Fiorello LaGuardia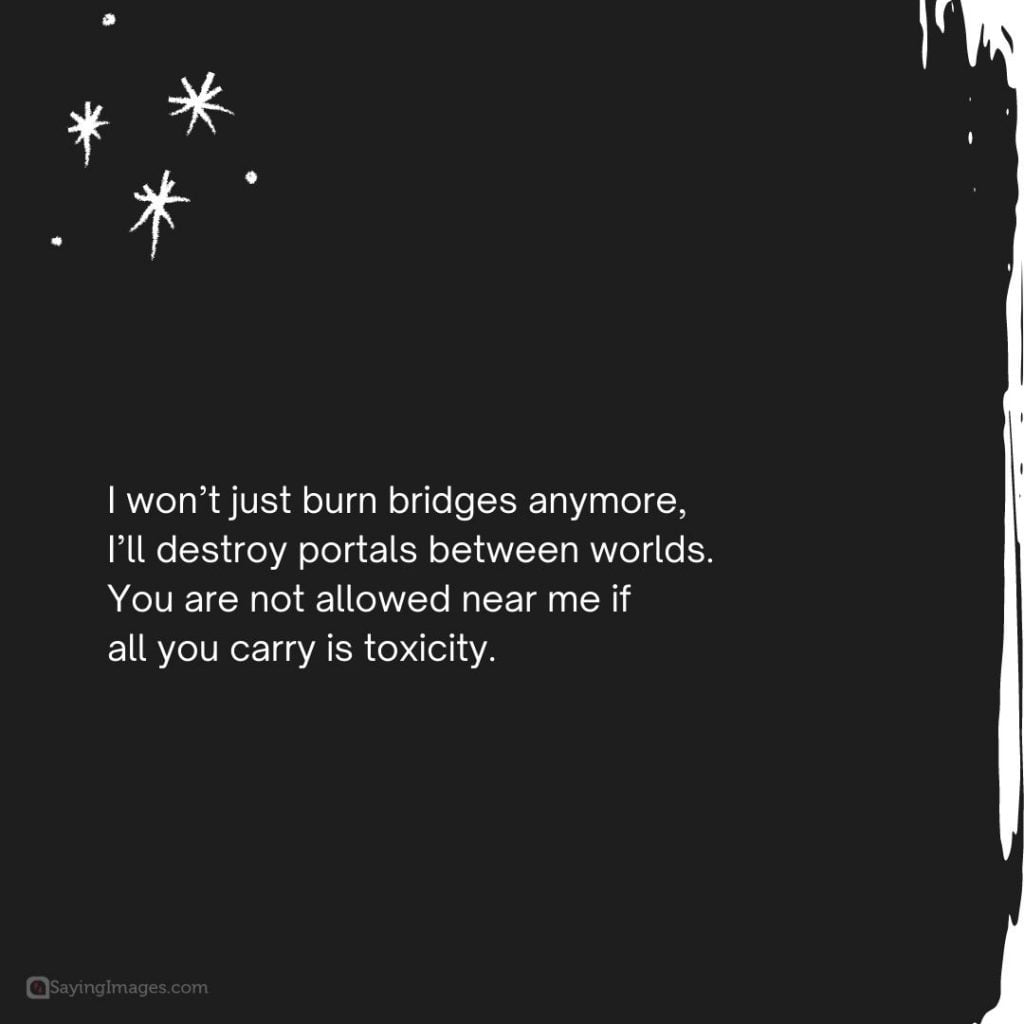 I won't just burn bridges anymore, I'll destroy portals between worlds. You are not allowed near me if all you carry is toxicity. –Erin Van Vuren
I don't burn bridges. I just fail to maintain them and let them structurally degrade over time.
There's no fall greater than one from a burnt bridge. – Carlos Wallace
I've been burning bridges all day, I think I'll just knock this one down. – Chris Soares
You don't have to worry about burning bridges, if you're building your own. – Kerry E Wagner
I will burn all bridges behind me and stake my entire future on my ability to get what I want. – Cliff Townsend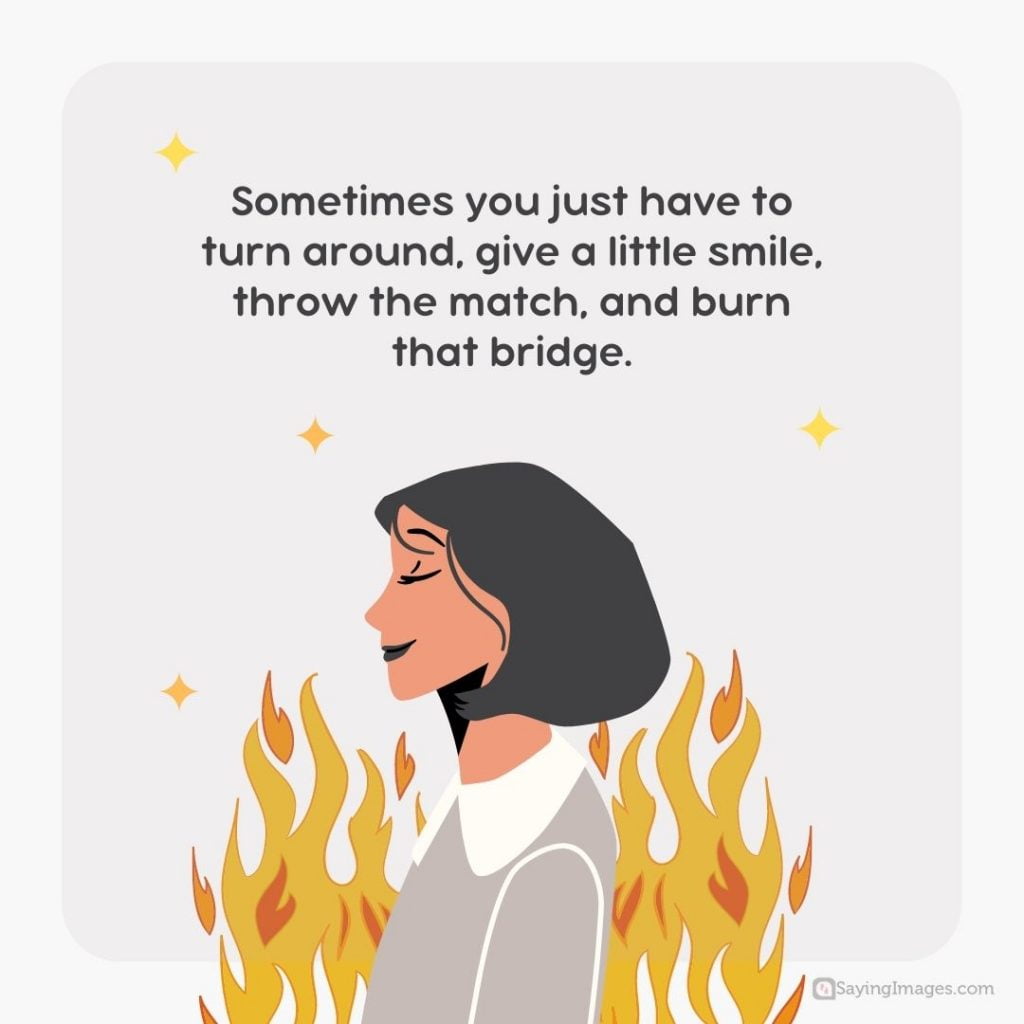 Sometimes you just have to turn around, give a little smile, throw the match, and burn that bridge.
May the bridges I burn today light the way for a better tomorrow.
Never burn your bridges till you come to them. – Clayton Rawson
Building walls, burning bridges. – Roger Zea
Light a few candles and burn a few bridges. Not everyone deserves to be part of your journey.
Sometimes the bridges you burn light the way out of your darkness, but the memory of the blaze will be burned into your heart and mind forever. – Shannon L. Alder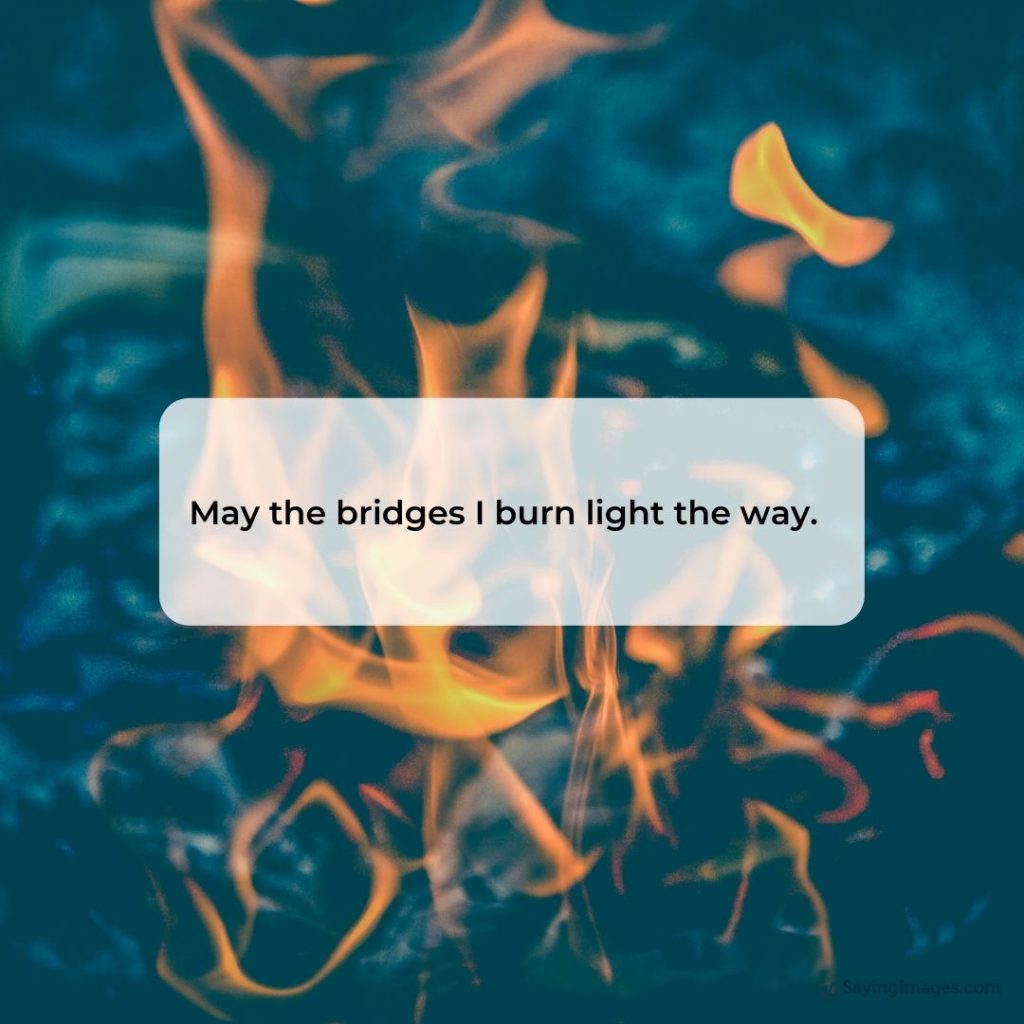 May the bridges I burn light the way.
The path to freedom is illuminated by the bridges you have burned, adorned by the ties you have cut, and cleared by the drama you have left behind. Let go. Be free. – Steve Maraboli
I demolish my bridges behind me ― then there is no choice but to move forward. – Fridtjof Nansen
The only way you can write is by the light of the bridges burning behind you. – Richard Peck
Find your fire and do not be afraid to burn bridges that deserve to fall.
Yes, burn your bridges. – Bette Davis
Many of us are guilty of burning our bridges before we cross them. – John H. Hayes
Quotes That Will Make You Think Twice About Burning Bridges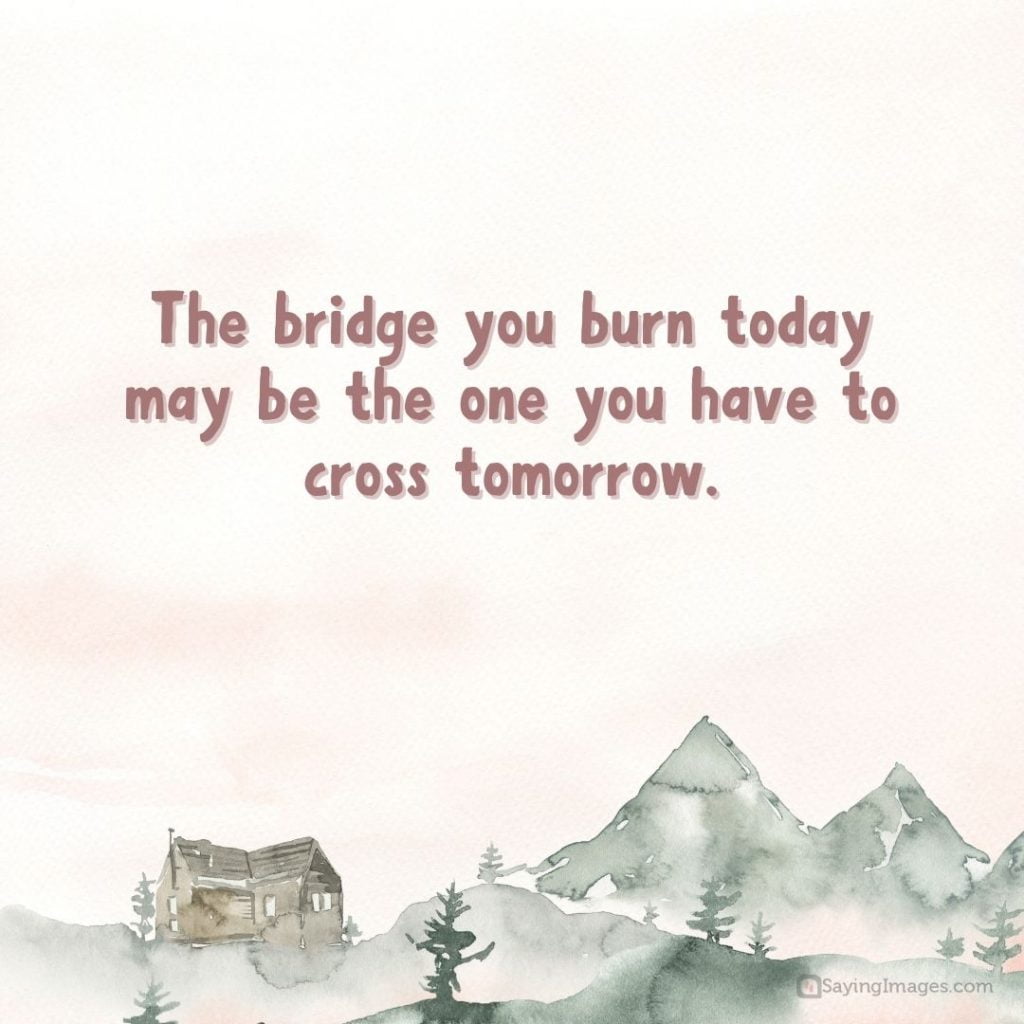 The bridge you burn today may be the one you have to cross tomorrow.
Never burn bridges. If it's a faulty bridge then close it off and let it fall on its own. – Gregor Collins
The act of burning one's bridges is historically an expression used to signify staking everything on the success of one venture or another, usually battle. – Jerald Ford
Burning bridges is an expression used to warn you that if you treat a person like don't matter to you, that person might decide not to help you in the future. – Eric Stanberry Jr.
People burn their bridges until they realize they're stranded… and then it's too late.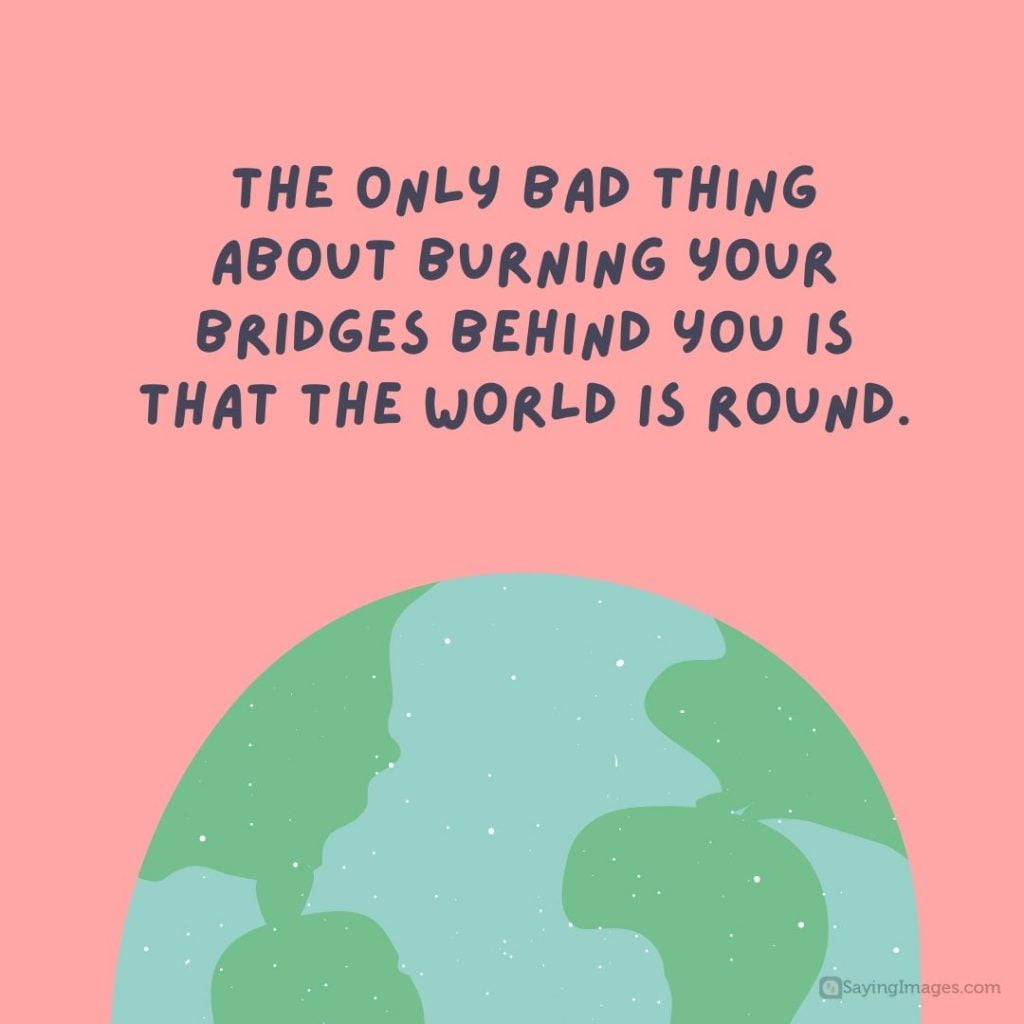 The only bad thing about burning your bridges behind you is that the world is round.
You never know when a relationship will come in handy, so be cautious about burning bridges. – John Michael Morgan
We should think seriously before we slam doors, before we burn bridges, before we saw off the limb on which we find ourselves sitting. – Richard L. Evans
Dishonest hearts burns bridges. Don't worry if they move forward from mistreating you, they have nothing to fall back on. They torched it all.
Burning bridges behind you is understandable. It's the bridges before us that we burn, not realizing we may need to cross, that brings regret. – Anthony Liccione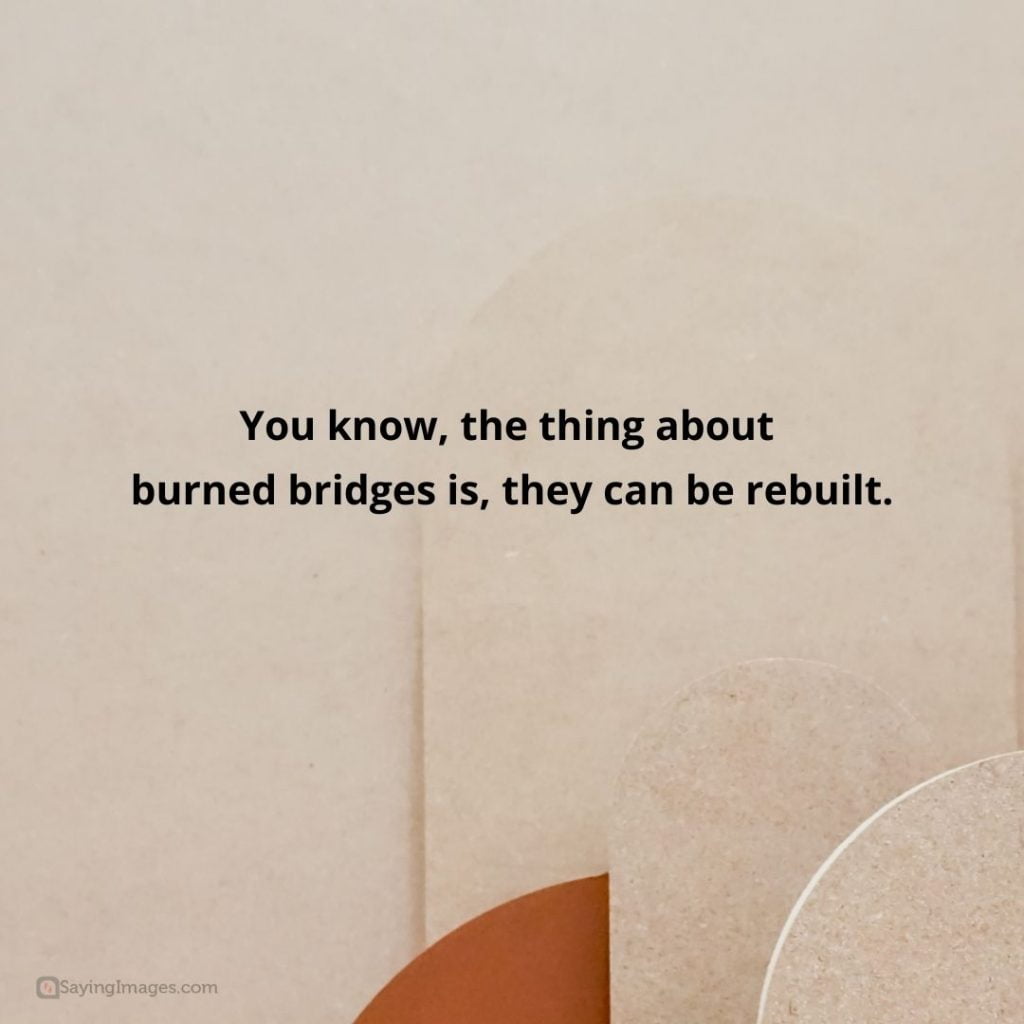 You know, the thing about burned bridges is, they can be rebuilt. – Tim Kring
Never burn a bridge. Just shut it down for renovations for a while.
I never wanted to set the world on fire. So I never had to burn any bridges behind me. Dinah Shore
Decisions are like making a choice between which bridge to cross and which bridge to burn. – Frank Motobo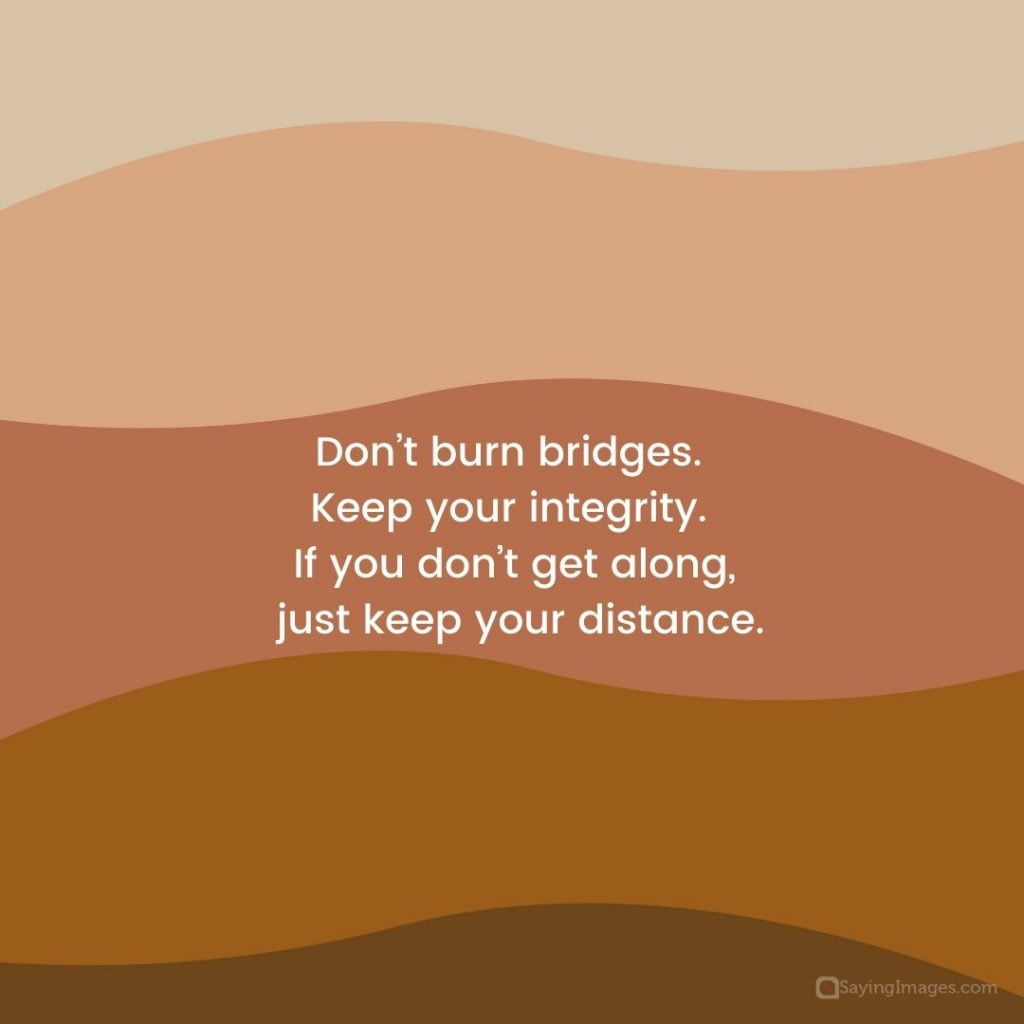 Don't burn bridges. Keep your integrity. If you don't get along, just keep your distance.
If you burn your bridges, you do something that makes it impossible to go back from the position you have taken. – Cliff Townsend
You don't want to burn bridges or make people angry. Building a career is all about creating relationships. – Ricki Frankel
Careful not to burn bridges, you just might need to cross back.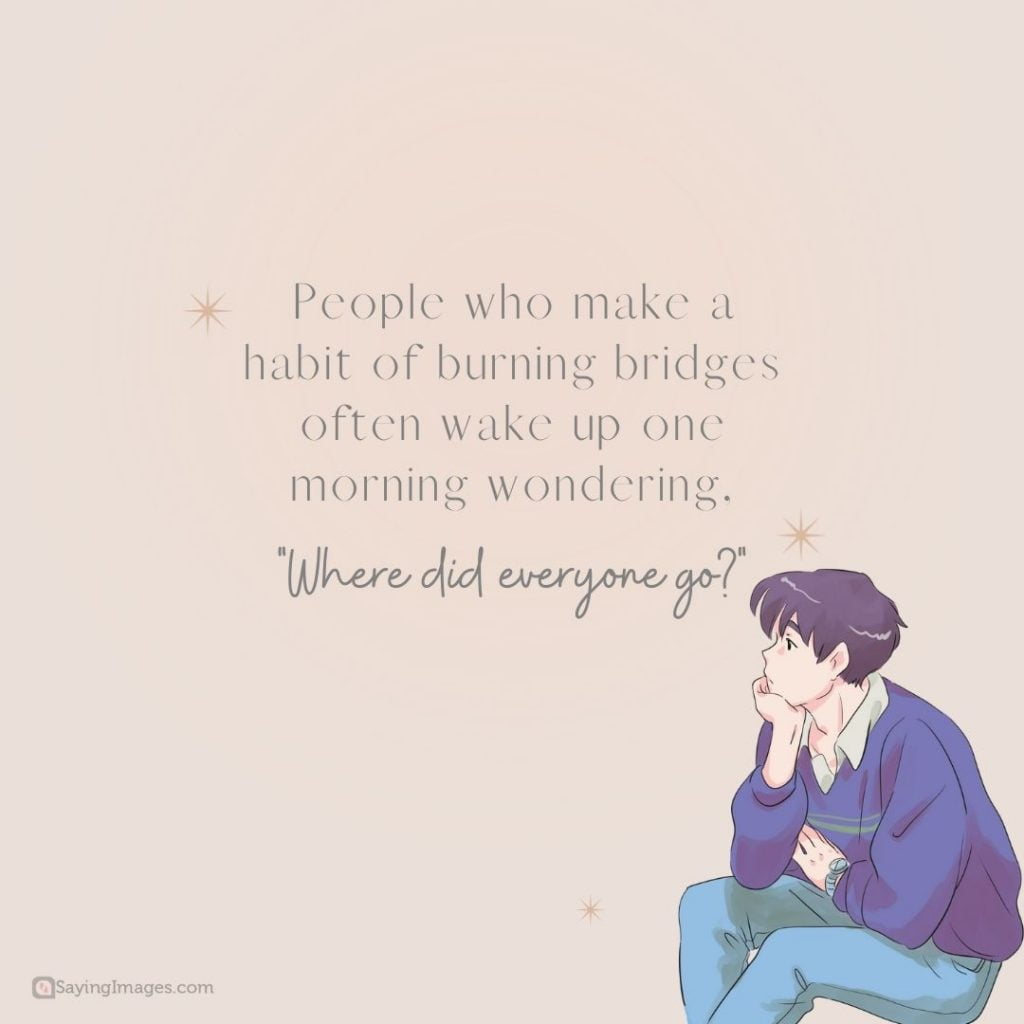 People who make a habit of burning bridges often wake up one morning wondering, "Where did everyone go?"
Be careful the bridges you're willing to burn when trying to get ahead. You'll never know when you'll need a friend again.
I never burn bridges. I cross them. If you want to follow, then come on, or catch up with me later. If not, your loss.
But I will never take away the option for you to fix what happened when you realize what you're missing without me.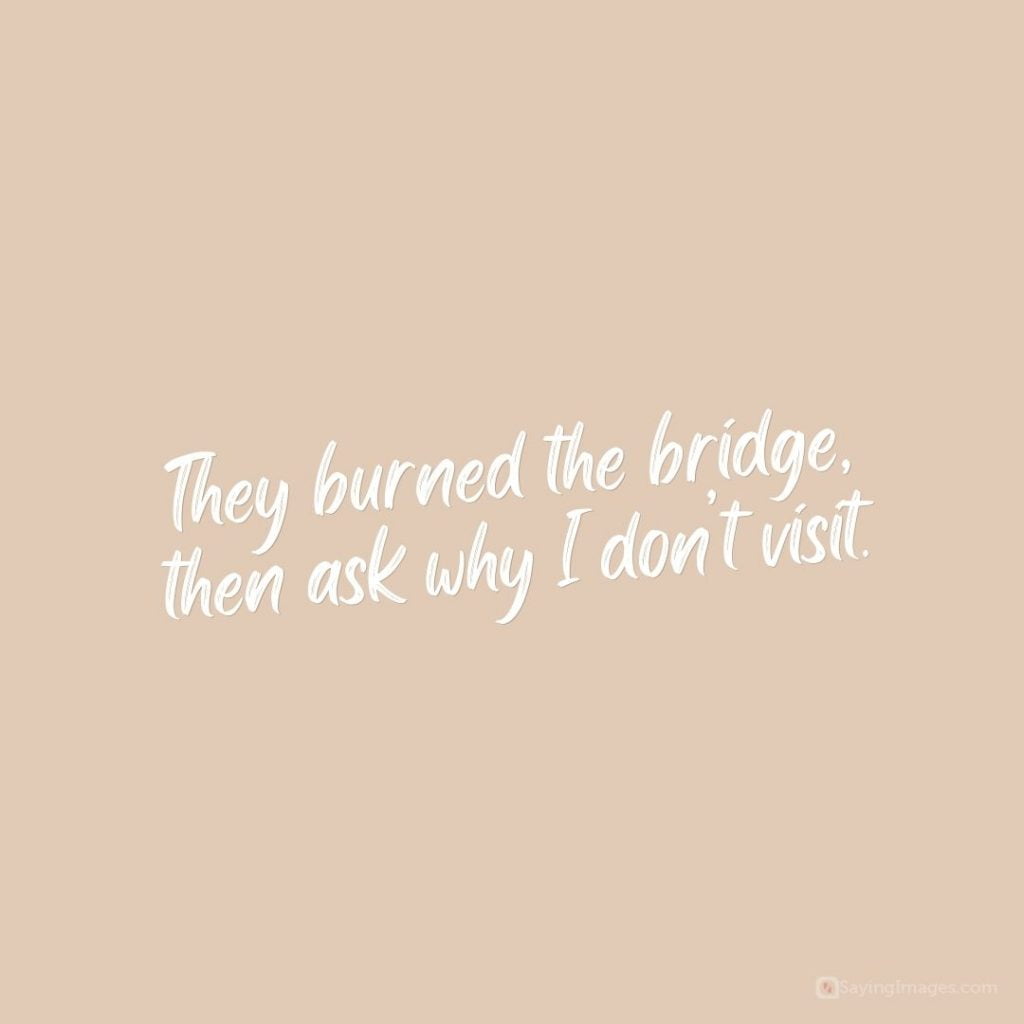 They burned the bridge, then ask why I don't visit.
Burning one's bridges is never a good thing. – Katherine Hall Page
Don't burn bridges. You'll be surprised how many times you have to cross the same river. – H. Jackson Brown, Jr.
My father used to tell me, never burn your bridges," all of the time, but I never understood it until I burned a bridge. – Eric Stanberry Jr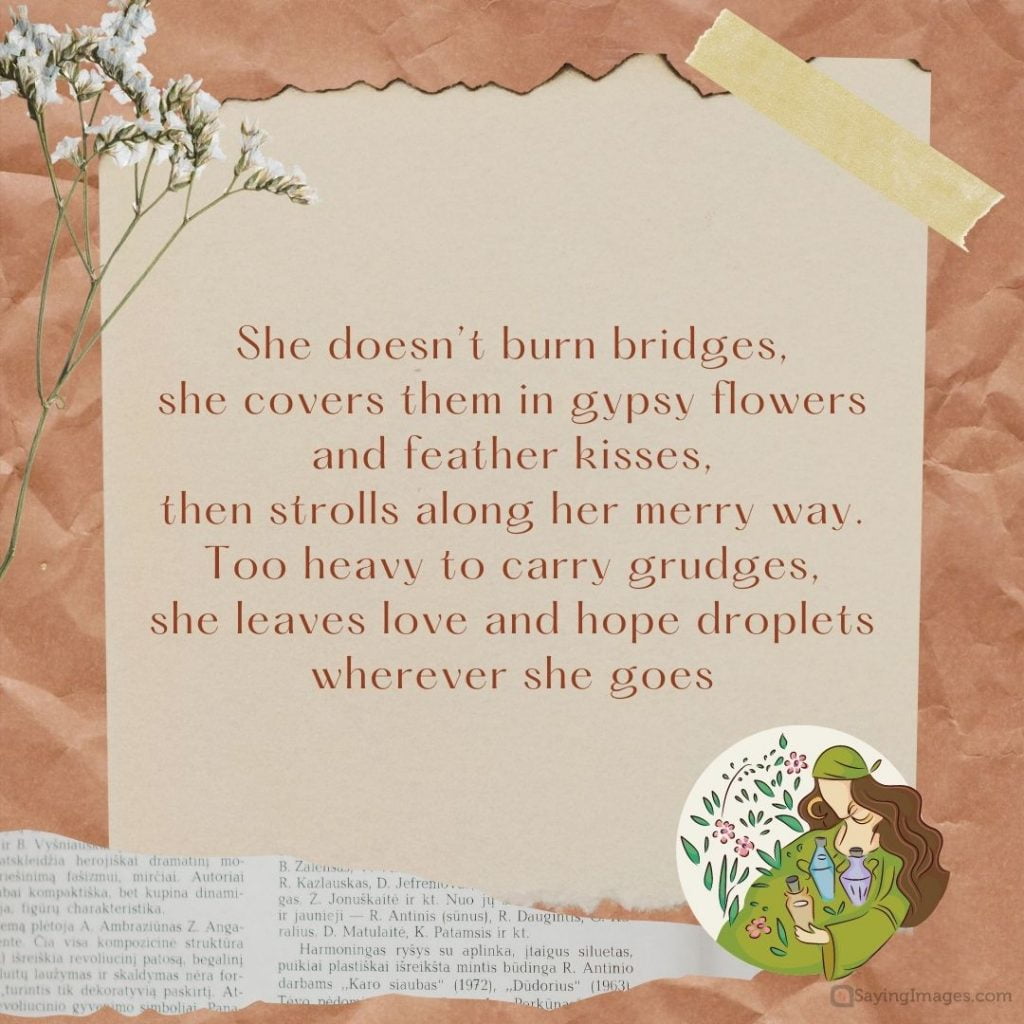 She doesn't burn bridges,
she covers them in gypsy flowers
and feather kisses,
then strolls along her merry way.
Too heavy to carry grudges,
she leaves love and hope droplets
wherever she goes
– Melody Lee, Moon Gypsy
Be careful of those who give you false confidence to betray those who trust you. You may end up burning your bridges. – De philosopher DJ Kyos
Mend fences, build bridges, forgive trespasses, grieve losses and let toxic grudges go. Then move on. – Unicahija Tamano
Burning a bridge, for example, does not just impact the situation at hand. It can Impact opportunities you may never be aware of. – Valorie Burton