Fights with the people we love are not uncommon. Altercations are a by-product of living closely and interacting on the daily. Thus, it's not uncommon to feel the urge to sometimes lash out at our parents, or even our mother who has raised and nurtured us.
When you are faced with these moments, try to take a deep breath and count to three. In these intervening seconds, try to remember that words once uttered can inflict the gravest wounds that will scar forever. And maybe, just maybe, you will be saved from hurting your mother — that person in our lives whom we sometimes take for granted and sometimes don't appreciate enough.
We've curated these cautionary quotes for you. We hope they will be a reminder on how to treat our mothers right.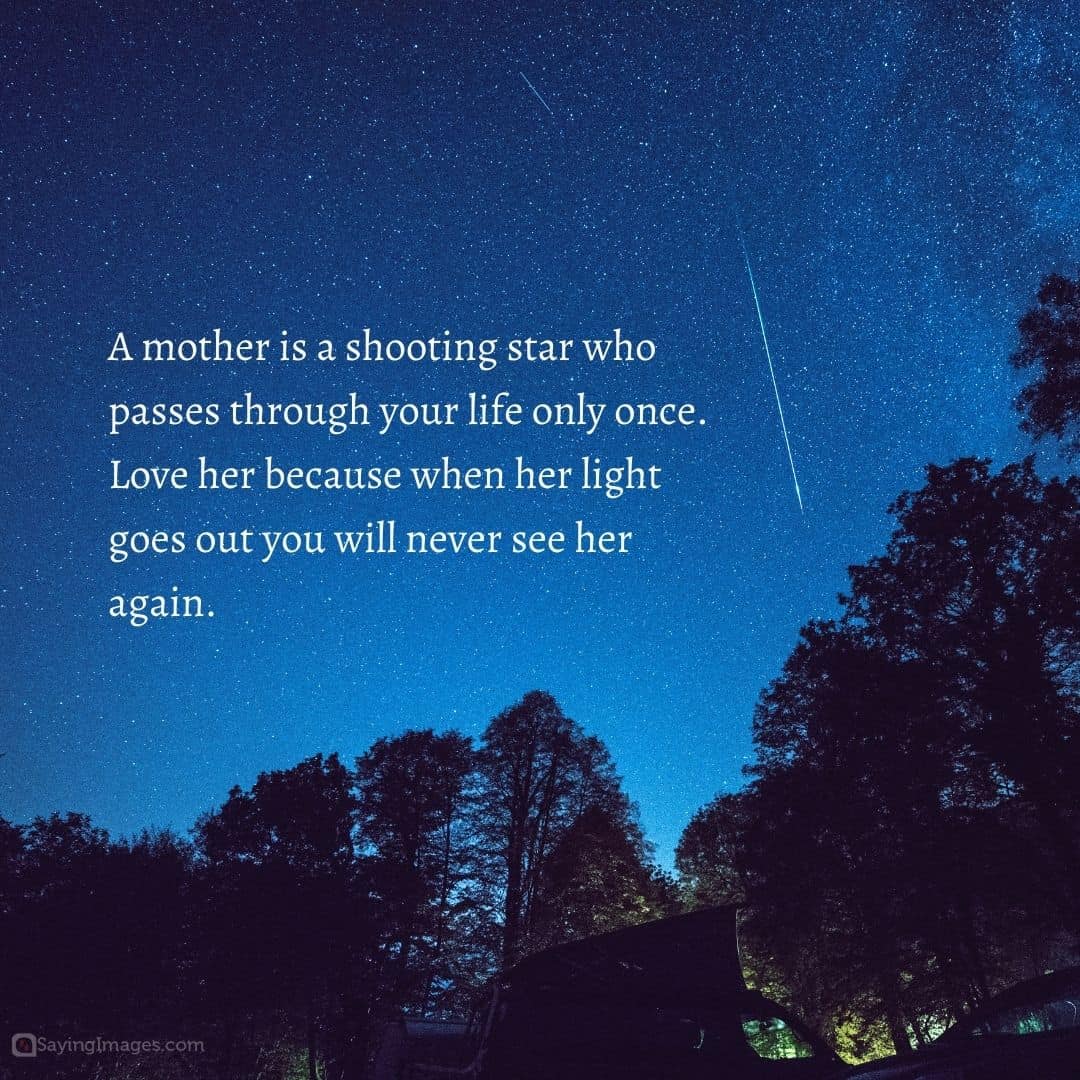 A mother is a shooting star who passes through your life only once. Love her because when her light goes out you will never see her again.
You will never know the pain of hurting your mother until your own children hurt you back.
A mother is the only person who carries you for 9 months in her belly, 3 years in her arms, and forever in her heart.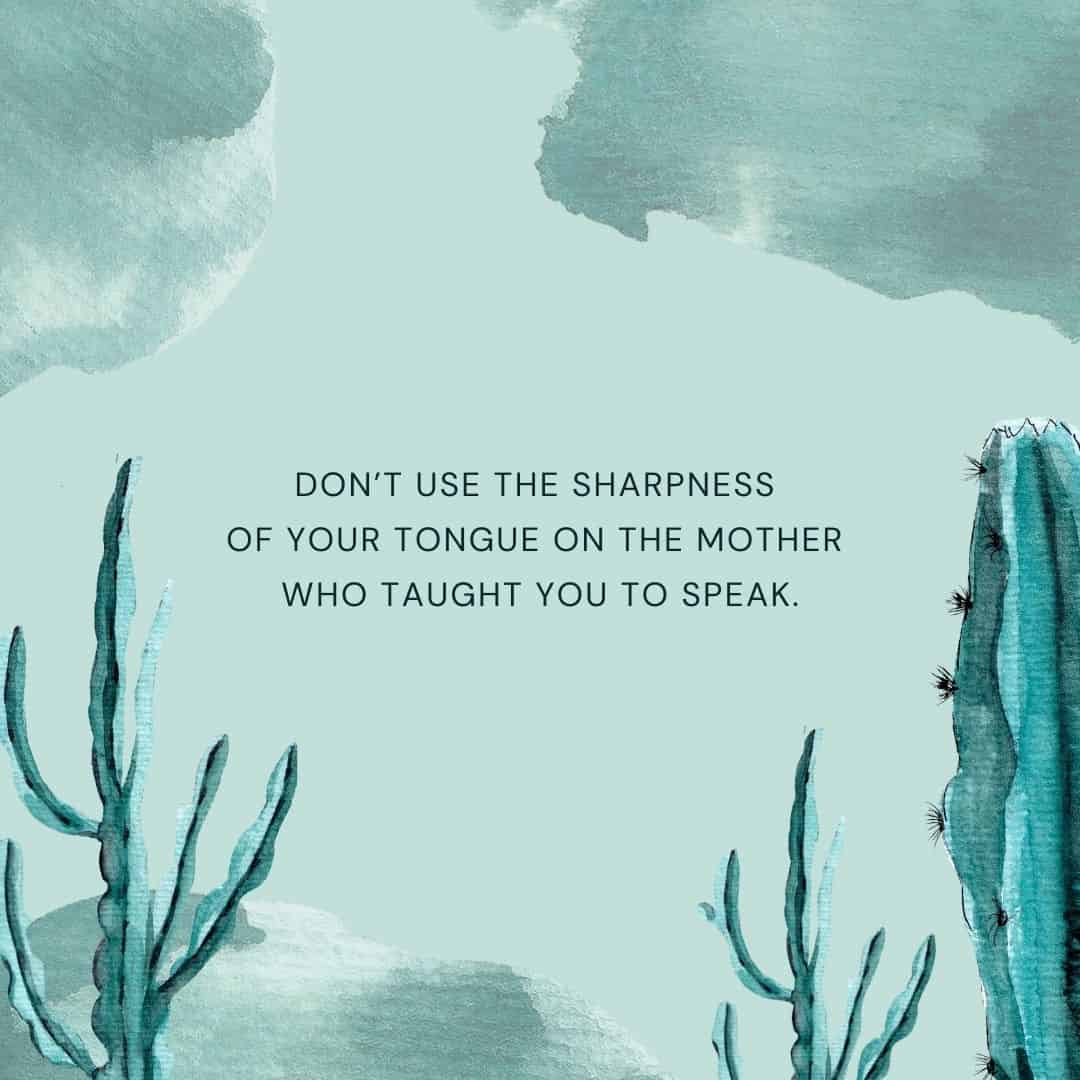 Don't use the sharpness of your tongue on the mother who taught you to speak. – Ali Ibn Abi Talib
I saw how, when my brother smoked reefer, it made my mother cry. He was 16 at the time. And I saw that she broke down and cried. I never wanted to hurt my mother, so I kept away from drugs. – Ving Rhames
Don't get involved with anyone who doesn't respect his mother. – Mia Farrow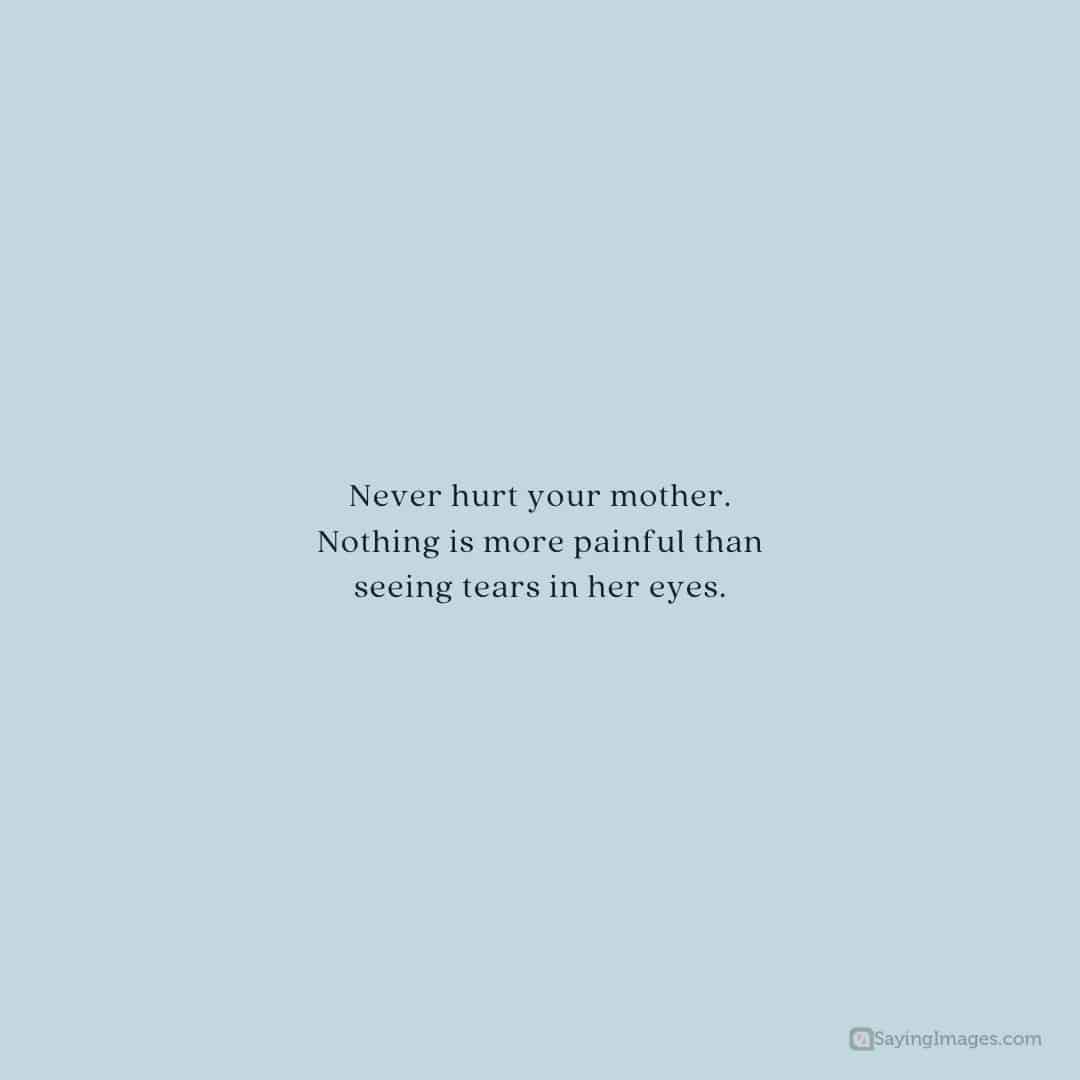 Never hurt your mother. Nothing is more painful than seeing tears in her eyes. – Pushvam
Life began with waking up and loving my mother's face. – George Eliot
There is no school equal to a decent home and no teacher equal to a virtuous parent. – Mahatma Ghandi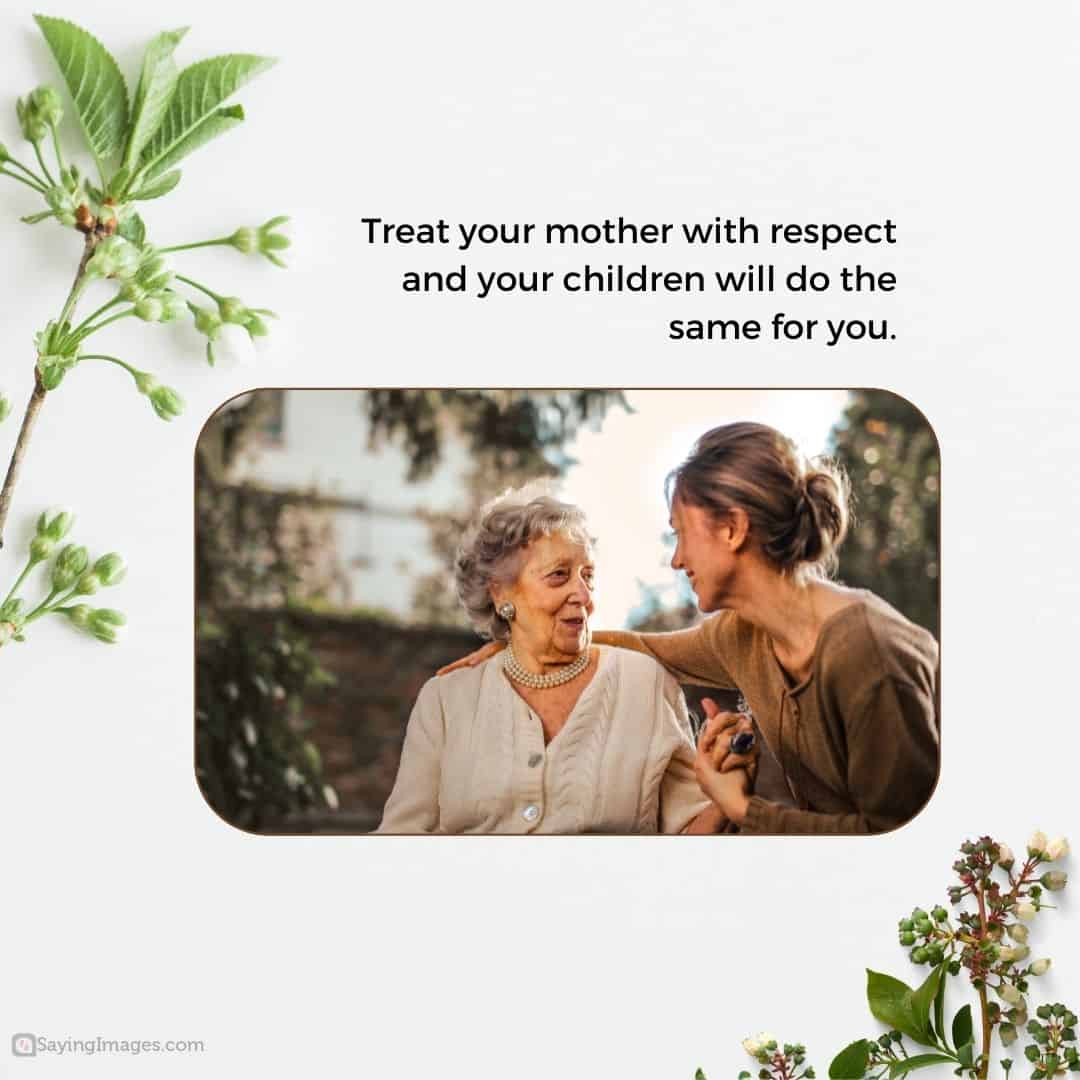 Treat your mother with respect and your children will do the same for you.
A mother is the truest friend we have when trials, heavy and sudden, fall upon us, when adversity takes the place of prosperity. – Washington Irving
Everything I've learned that's worth knowing, I learned from my mother. – Kelly Roper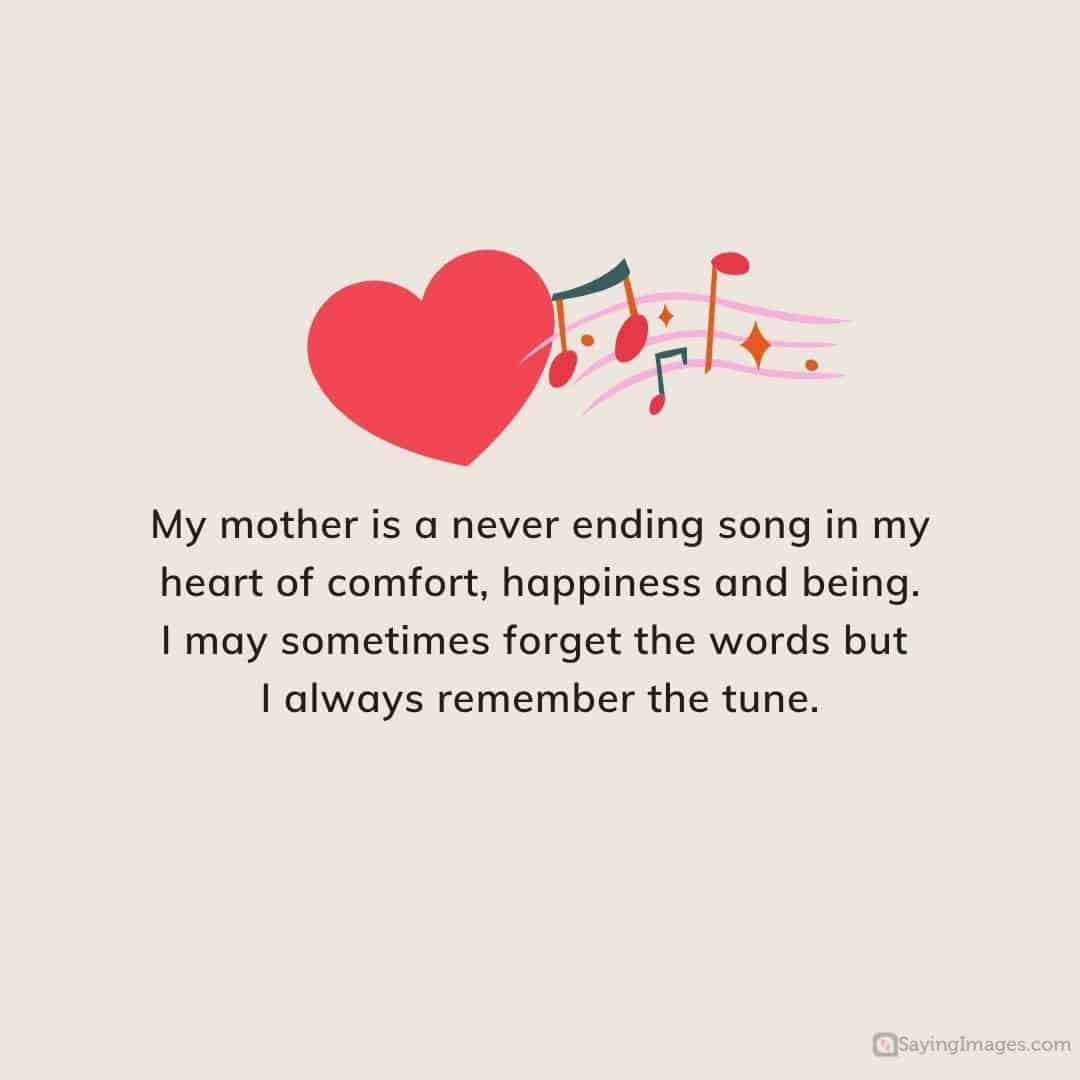 My mother is a never ending song in my heart of comfort, happiness and being. I may sometimes forget the words but I always remember the tune. – Graycie Harmon
A mother's love does not set with the sun. It blankets you all through the night. – Amy Hoover
You were my home, Mother. I had no home but you. – Janet Fitch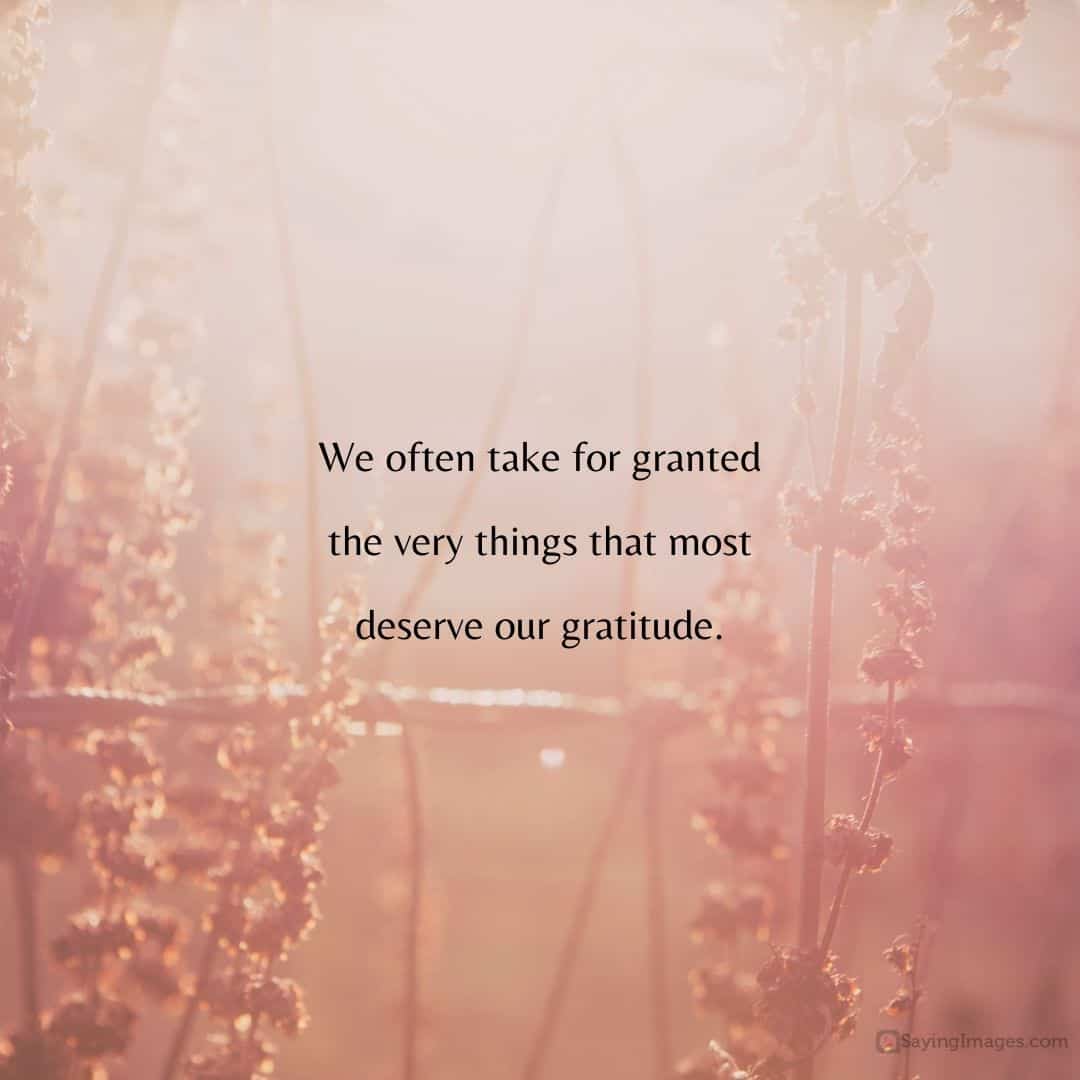 We often take for granted the very things that most deserve our gratitude. – Cynthia Ozick
We are born of love; Love is our Mother. – Rumi
Mother is the name for God in the lips and hearts of little children. – William Makepeace Thackeray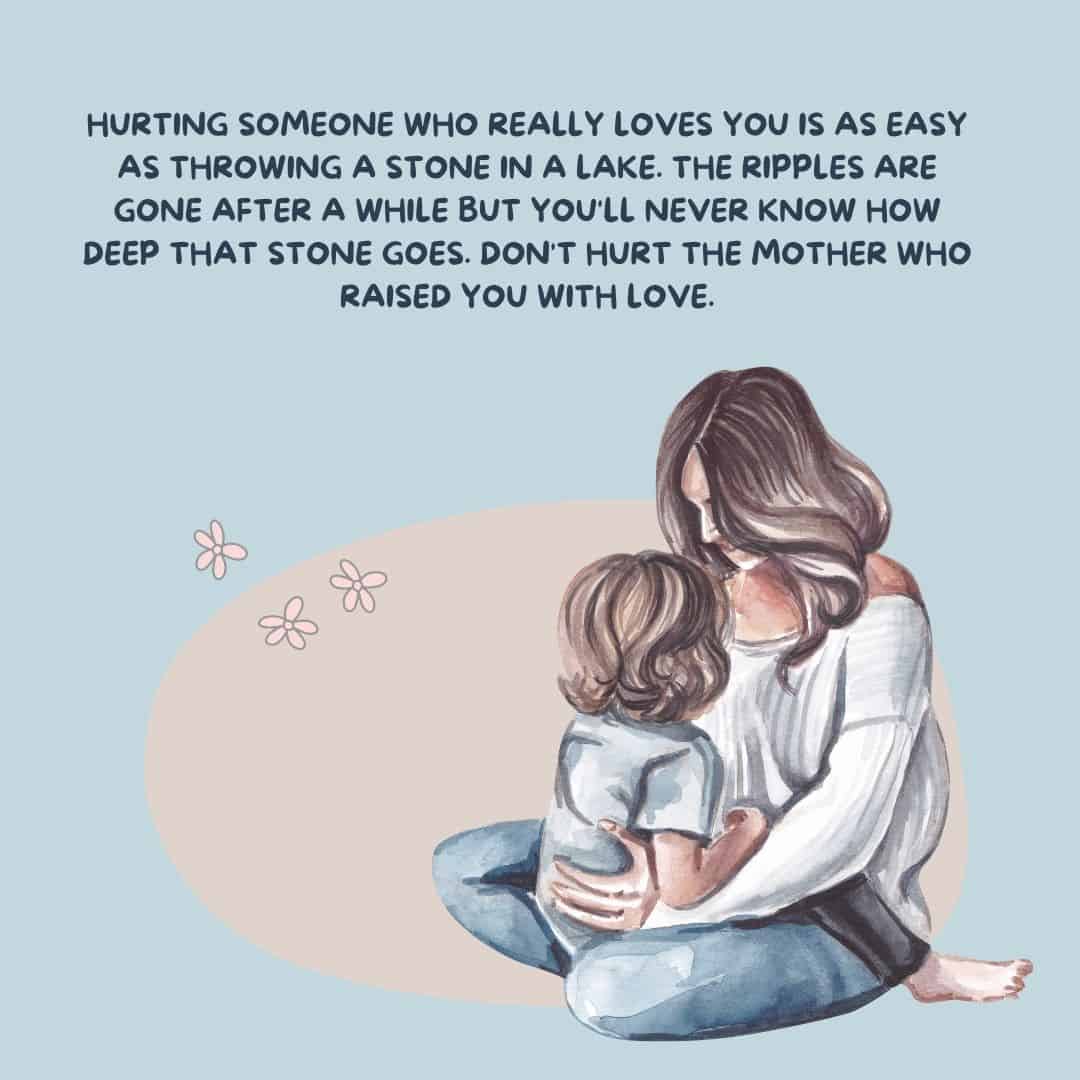 Hurting someone who really loves you is as easy as throwing a stone in a lake. The ripples are gone after a while but you'll never know how deep that stone goes. Don't hurt the mother who raised you with love.
Most of all the other beautiful things in life come by twos and threes, by dozens and hundreds. Plenty of roses, stars, sunsets, rainbows, brothers, and sisters, aunts and cousins, but only one mother in the whole world. – Kate Douglas Wiggin
Hold dear to your parents for it is a scary and confusing world without them. – Emily Dickinson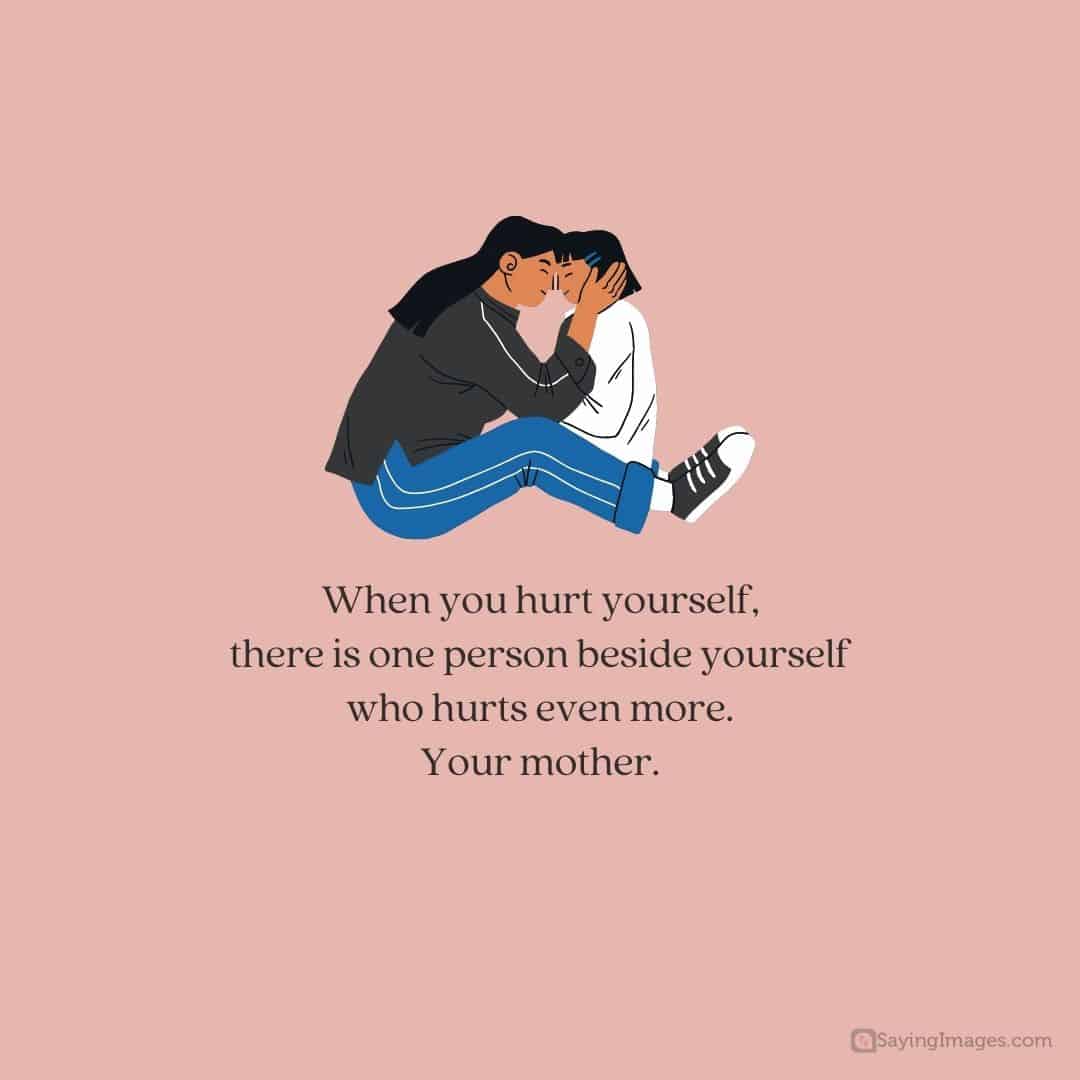 When you hurt yourself, there is one person beside yourself who hurts even more. Your mother.
Just because she's your mom and she's going to love you forever, no matter what – you can't treat her just any old way and think it doesn't matter. Don't treat the person who loves you the most… the worst. Don't take her for granted. She may not let you see it, but your shortness, impatience and harsh words make her steal away to a quiet place and cry. Her heart hurts to understand why you seem angry with her. She will not always agree with you, but she will always love you. And it doesn't matter how old you are, or how old she is, treasure your mom. You'll never have another one.
Keep calm and respect your mother.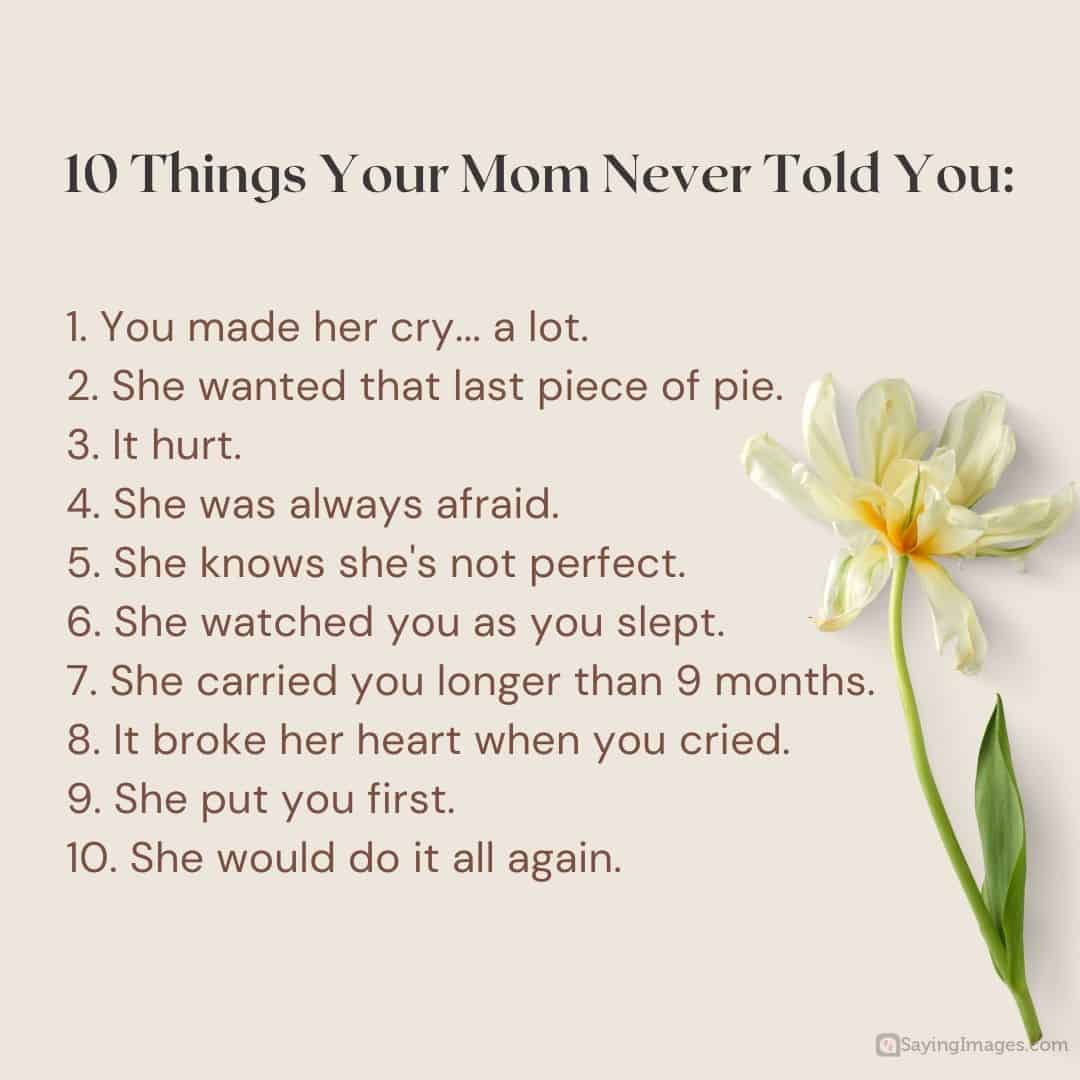 10 Things Your Mom Never Told You:
1. You made her cry… a lot.
2. She wanted that last piece of pie.
3. It hurt.
4. She was always afraid.
5. She knows she's not perfect.
6. She watched you as you slept.
7. She carried you longer than 9 months.
8. It broke her heart when you cried.
9. She put you first.
10. She would do it all again.
Respect for women starts with your mother.
How he treats his mother is a good indication of how he will treat you.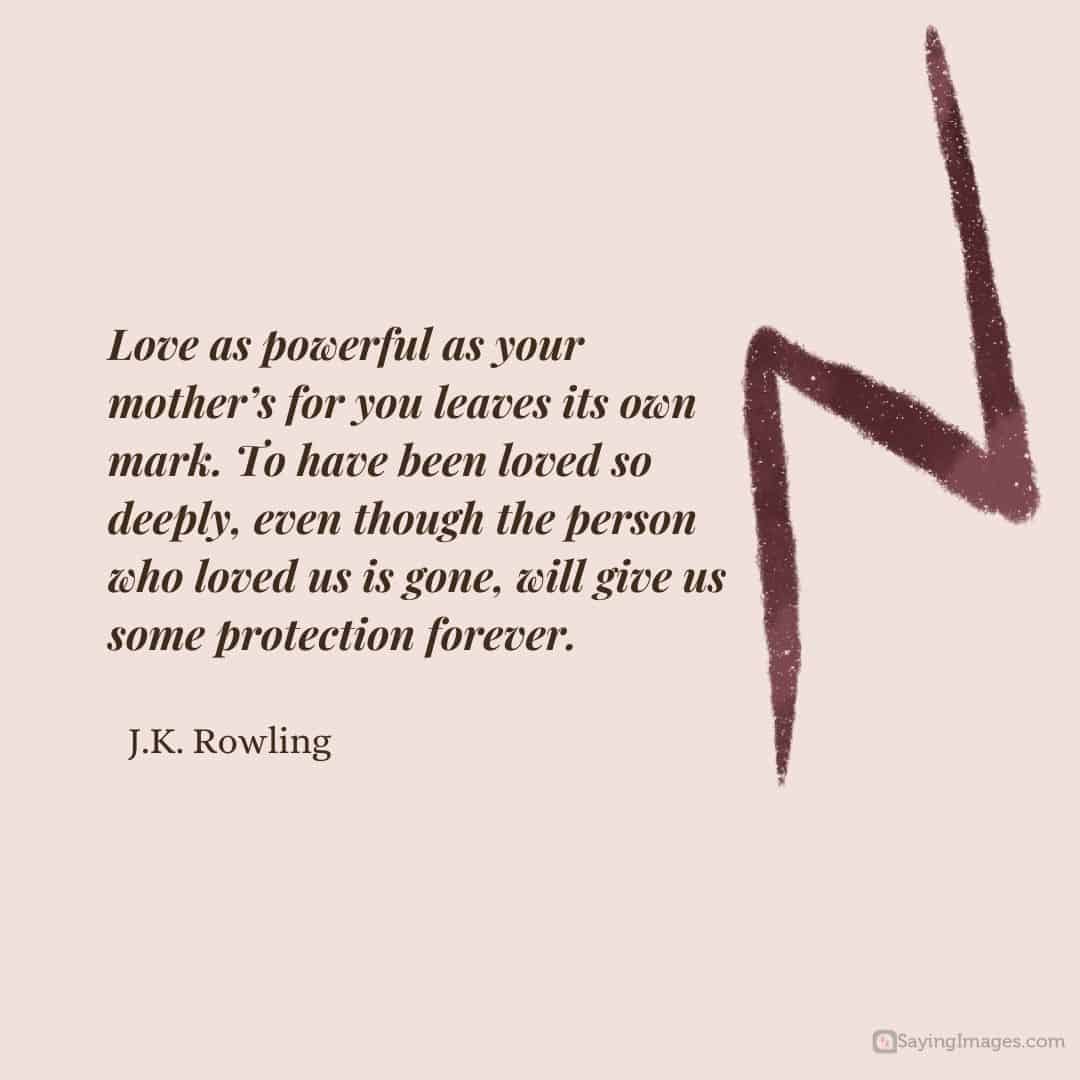 Love as powerful as your mother's for you leaves its own mark. To have been loved so deeply, even though the person who loved us is gone, will give us some protection forever. – J.K. Rowling
Imagine how gently and kindly you speak to your friends while you shout at your Mother.
Always love your Mother. You will never get another.