Life is like stocks in the stock market. Sometimes they're up and sometimes they're down. When they're down, you feel like things will never get better. But they always do. They always do.
When you're in that period of your life when you feel like things just aren't going to get better, pull up your favorite quotes from below. Remind yourself every morning and every evening of every day that better days are coming. You just need to hang in there until then.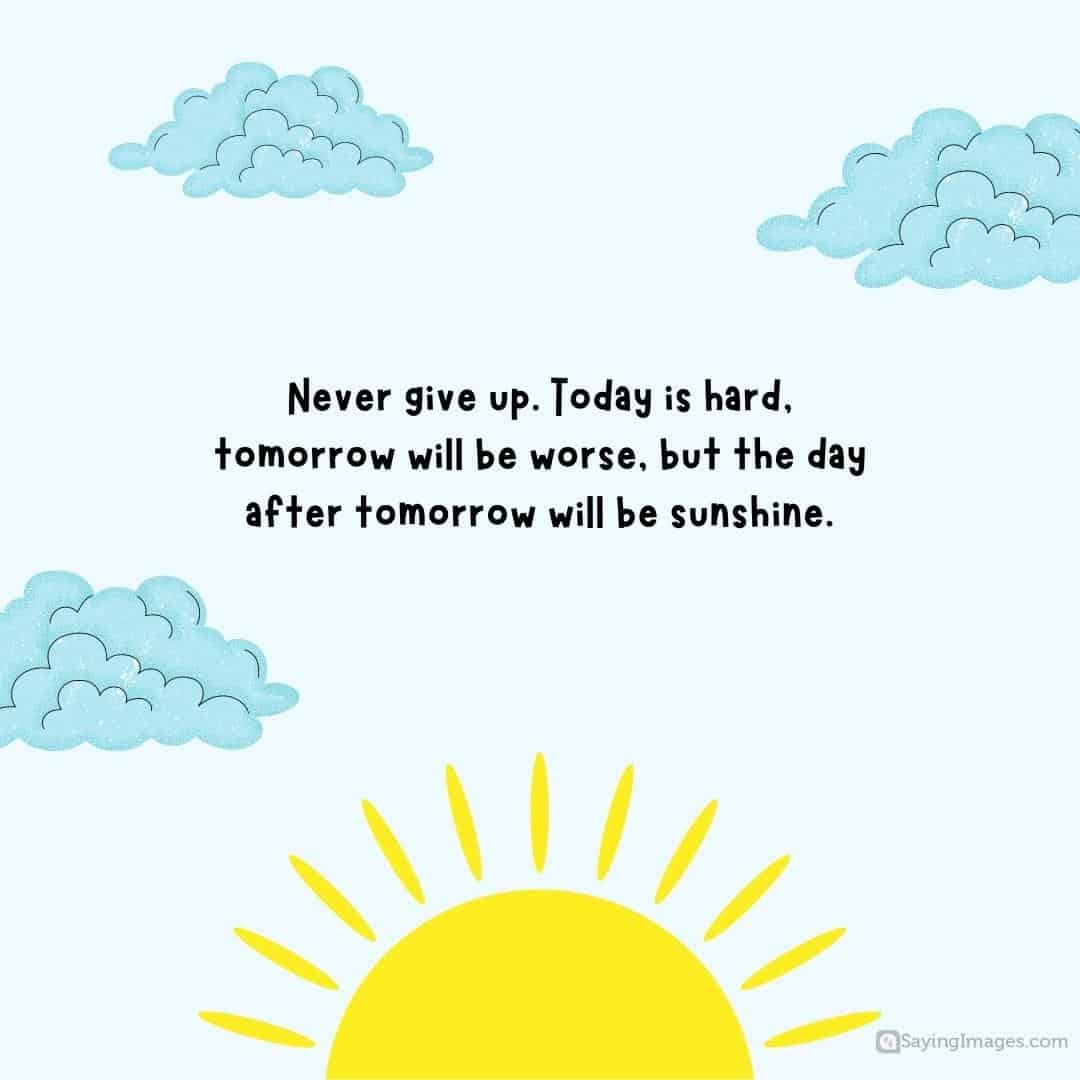 Never give up. Today is hard, tomorrow will be worse, but the day after tomorrow will be sunshine. – Jack Ma
No one rises above who he or she has been without first having fallen down. The best time – in fact, the only time – to make a real change in your life is in the moment of seeing the need for it. He who hesitates always gets lost in the hundred reasons why tomorrow is a better day to get started. – Guy Finley
Some days are better than others… It's been a long journey, but we're starting to see the light at the end of the tunnel now. – Brian Robertson
Stop living condemned. If you're feeling defeated it's time to reevaluate your purpose, vision, mission and values. Don't be down on yourself, your best days are ahead of you. – Germany Kent
Be patient, God has an eternity of better days. Do his will on earth with joy and await your reward. – Bible Verse Quotes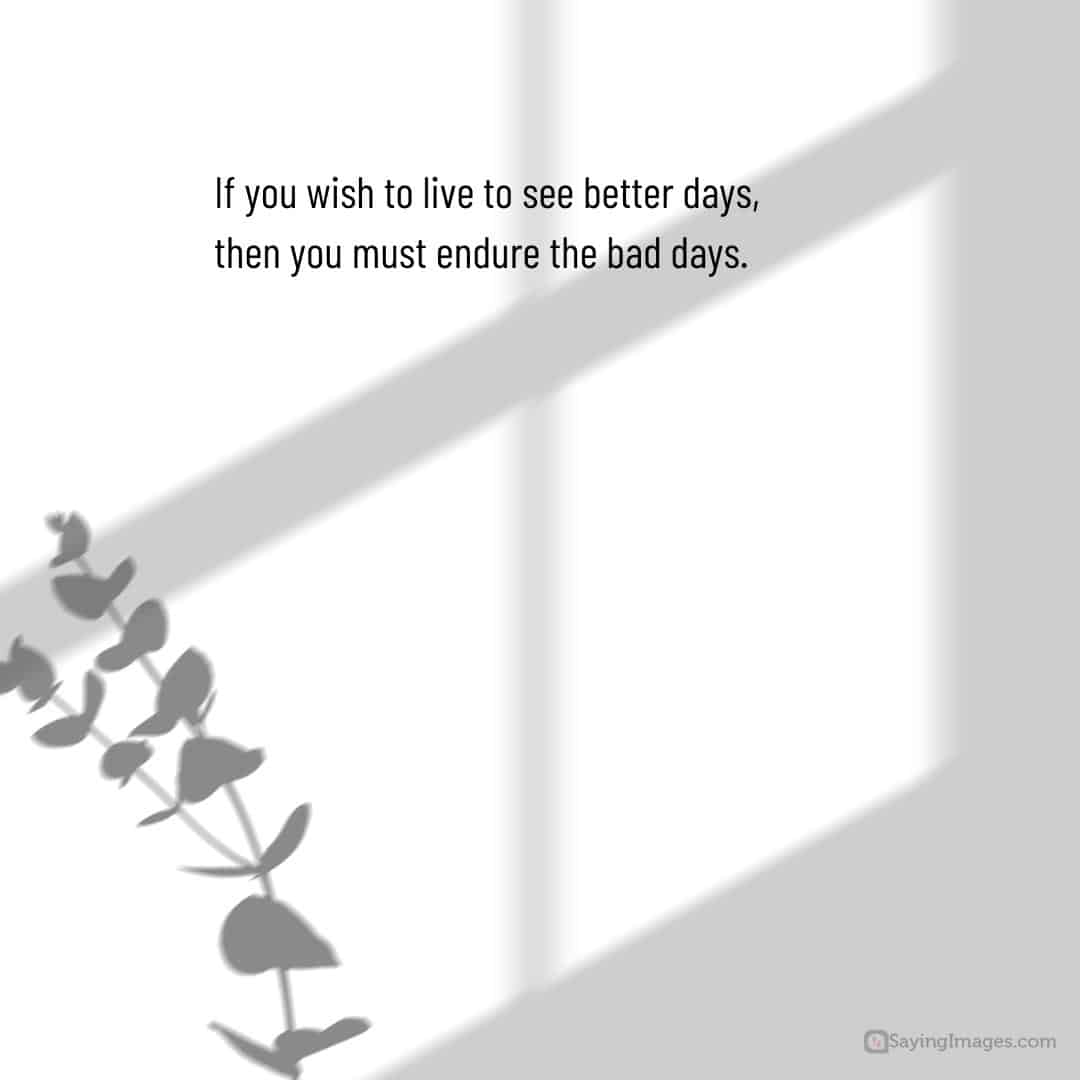 If you wish to live to see better days, then you must endure the bad days. – Abdul Kalam
The enemy fights the hardest when you are closest to your breakthrough. Know that your best days are ahead and no weapon formed will prosper. – Germany Kent
All right, every day ain't going to be the best day of your life, don't worry about that. If you stick to it you hold the possibility open that you will have better days. – Wendell Berry
Spring cold is like the poverty of a poor man who has had a fortune left him – better days are coming. – Margaret Oliphant
Recognize that on certain days the greatest grace is that the day is over and you get to close your eyes. Tomorrow comes more brightly. – Mary Anne Radmacher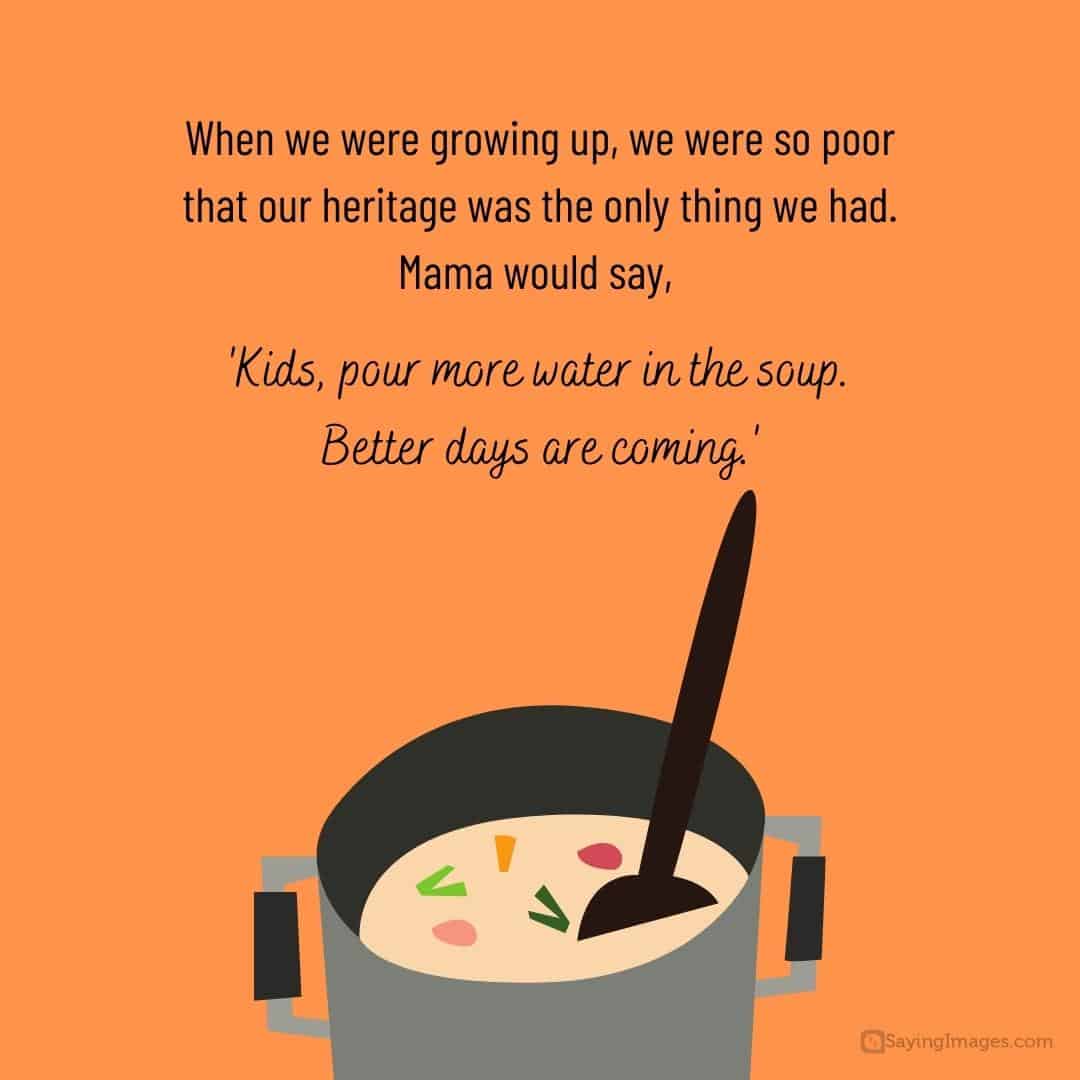 When we were growing up, we were so poor that our heritage was the only thing we had. Mama would say, 'Kids, pour more water in the soup. Better days are coming.' – Ashley Judd
I think that we as a people are always prone to think about, well, tomorrow will be a better day. Well, why will it be a better day? And I think the more that we believe in doing things better, doing the right thing rather than hoping that that's going to happen, let's make it happen. – Bobby Knight
Bad days always promise a better day tomorrow. – Arieana E.
When you change, everything will change for you. When you get better, everything will get better for you. – Jim Rohn
I am merely at the midway point in the novel of my own life. On around page 250 of a 500-page tale and, given future medical advances, maybe even 200. There's no reason why the next 250, 300, or even 350 pages will not be far more exciting than the first half. – Ray Smith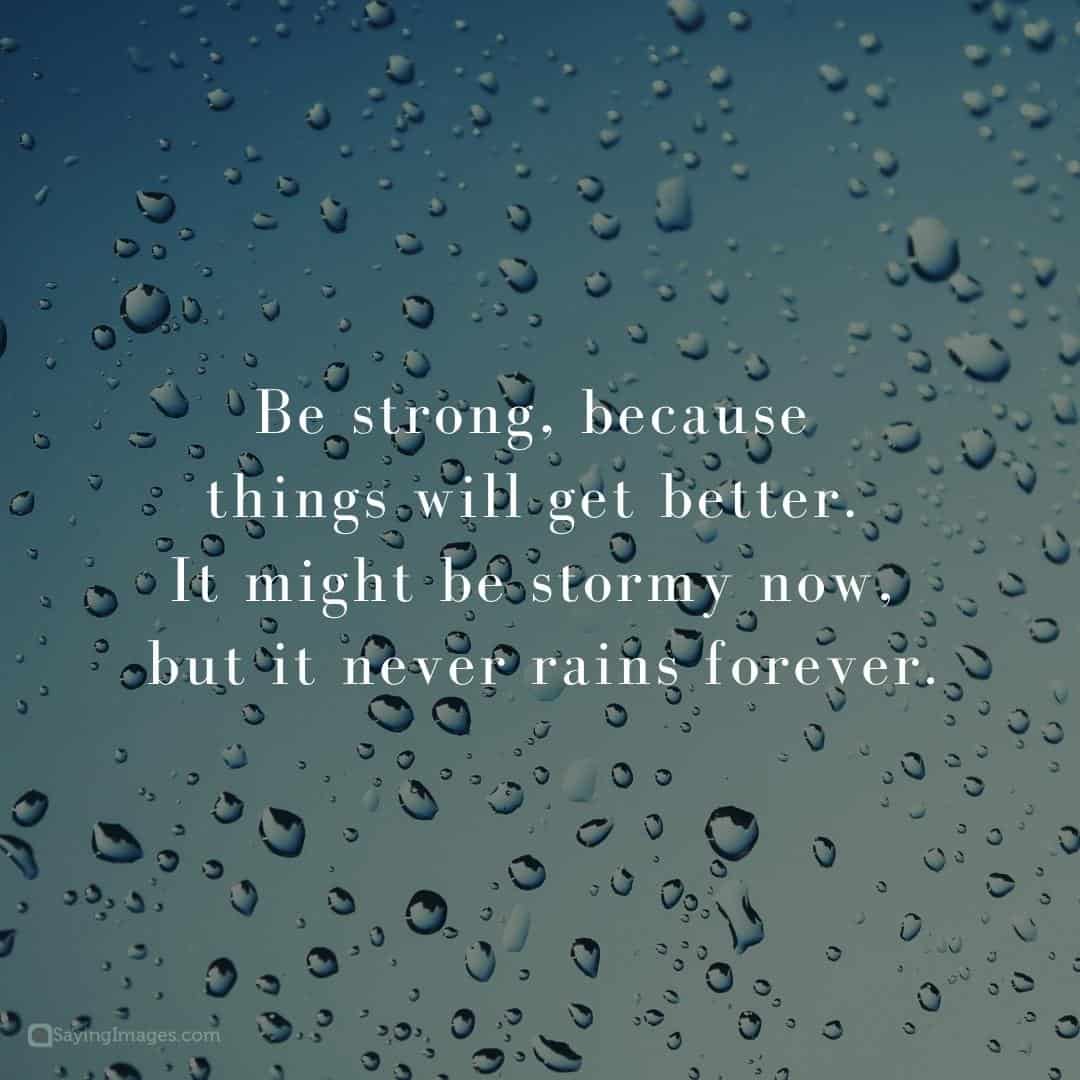 Be strong, because things will get better. It might be stormy now, but it never rains forever.
Champagne makes you feel like it's Sunday and better days are just around the corner. – Marlene Dietrich
Every adversity, every failure, every heartache carries with it the seed of a greater or equal benefit. – Napoleon Hill
Every day is the opportunity for a better tomorrow. – Hugh Laurie
I am tomorrow, or some future day, what I establish today. I am today what I established yesterday or some previous day. – James Joyce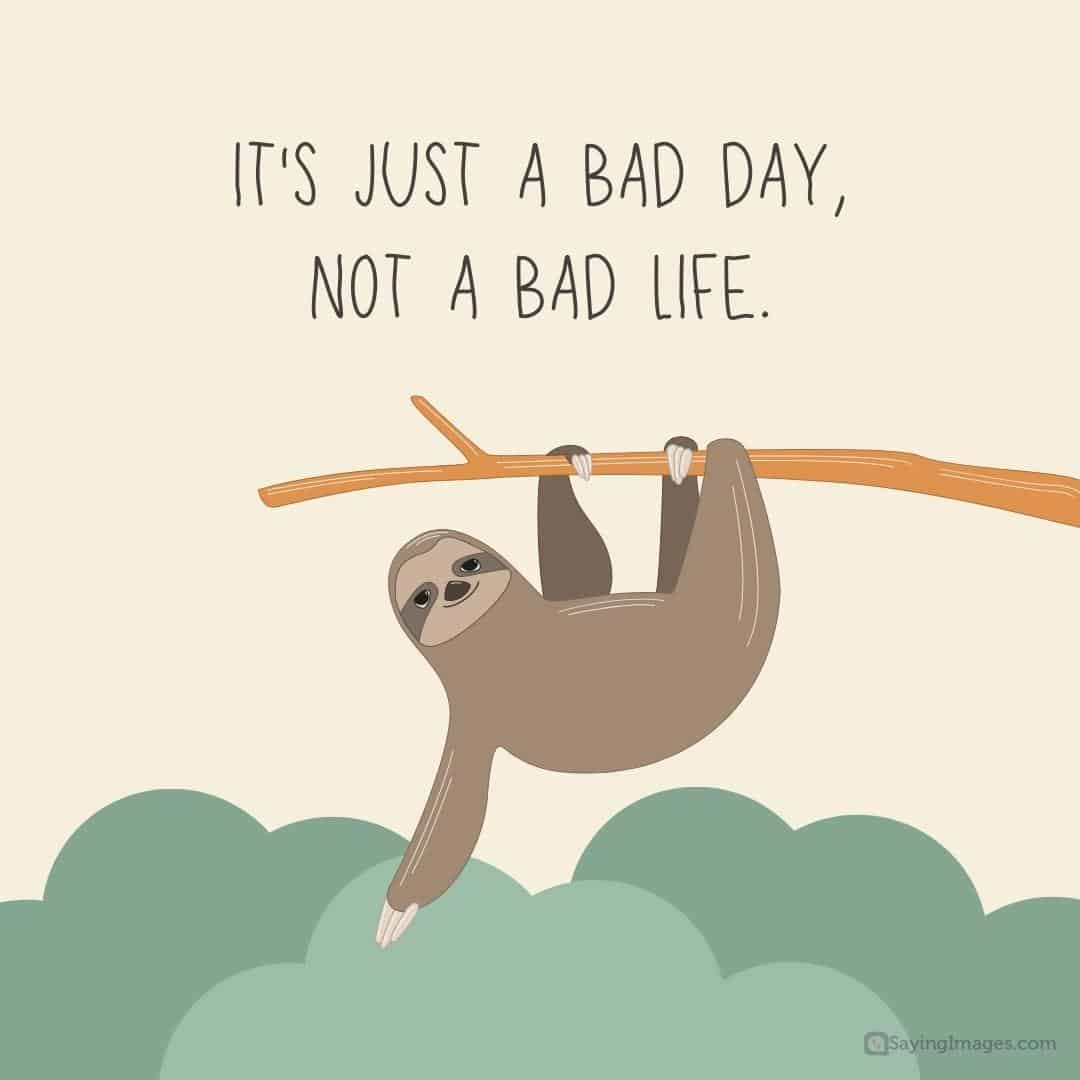 It's just a bad day, not a bad life. – Mary Engelbreit
When you come to the edge of all that you know, you must believe one of two things: There will be ground to stand. Or you will grow wings to fly. – O.R. Melling
Every day that we wake up is a good day. Every breath that we take is filled with hope for a better day. Every word that we speak is a chance to change what is bad into something good. – Walter Mosley
Pause and remember nothing lasts forever. Better days are coming, but they will come faster with faith. – Jennifer Young
Only he who has seen better days and lives to see better days again knows their full value. – Mark Twain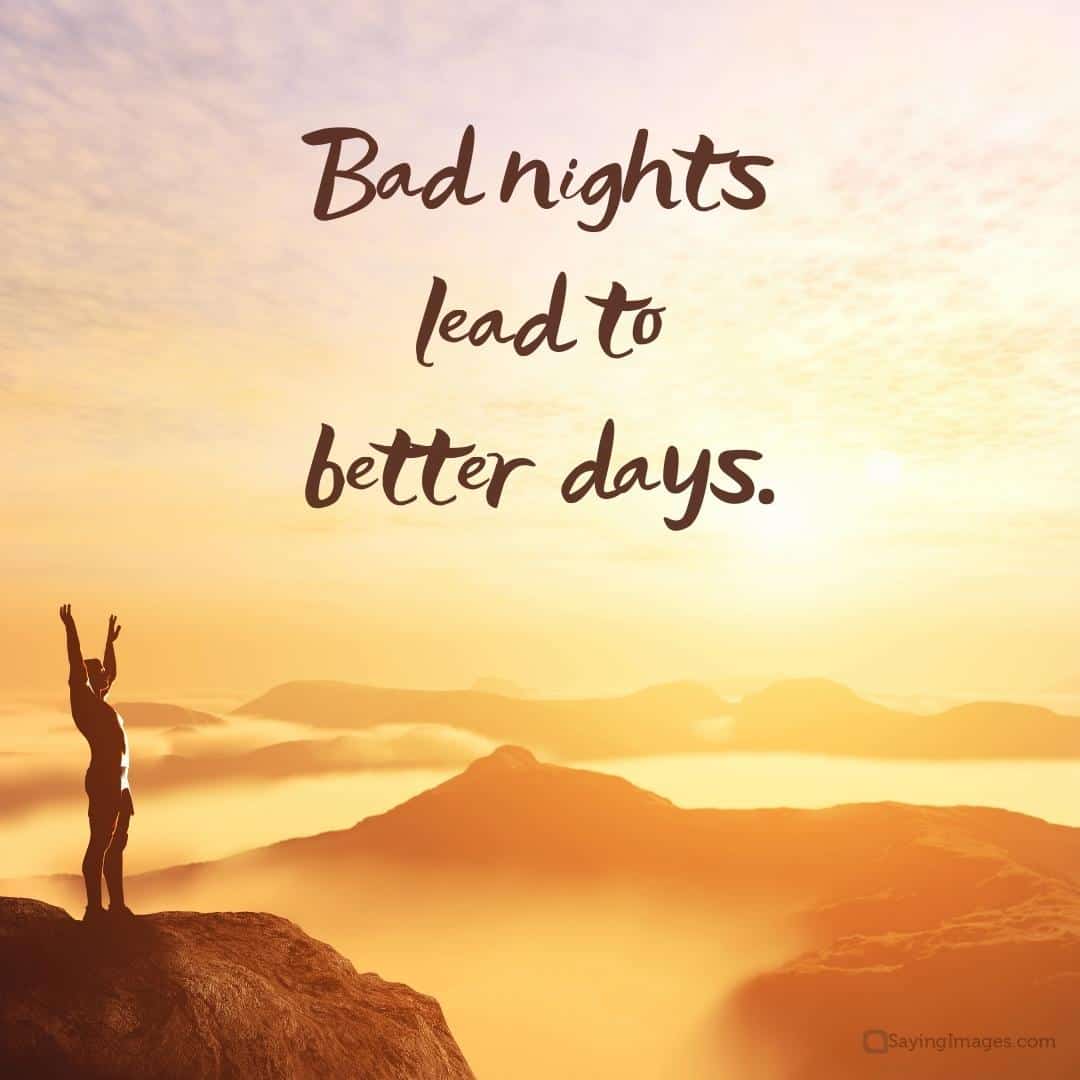 Bad nights lead to better days. – Ryan Adams
I wanna hear some Diana Ross, I wanna hear some Marvin Gaye. I wanna hear a song that reminds me of a better day. – Lou Reed
Every situation in life is temporary so, when life is good, make sure you enjoy and receive it fully. And when life isn't so good, remember that I will not last forever and better days are on the way. – Jenni Young
Level up. Study the Word and Have faith, if all you want is better days ahead. – Gift Gugu Mona
Speak quietly to yourself and promise there will be better days. Whisper gently to yourself and provide assurance that you really are extending your best effort. Console your bruised and tender spirit with reminders of many other successes. Offer comfort in practical and tangible ways – as if you were encouraging your dearest friend. –Mary Anne Radmacher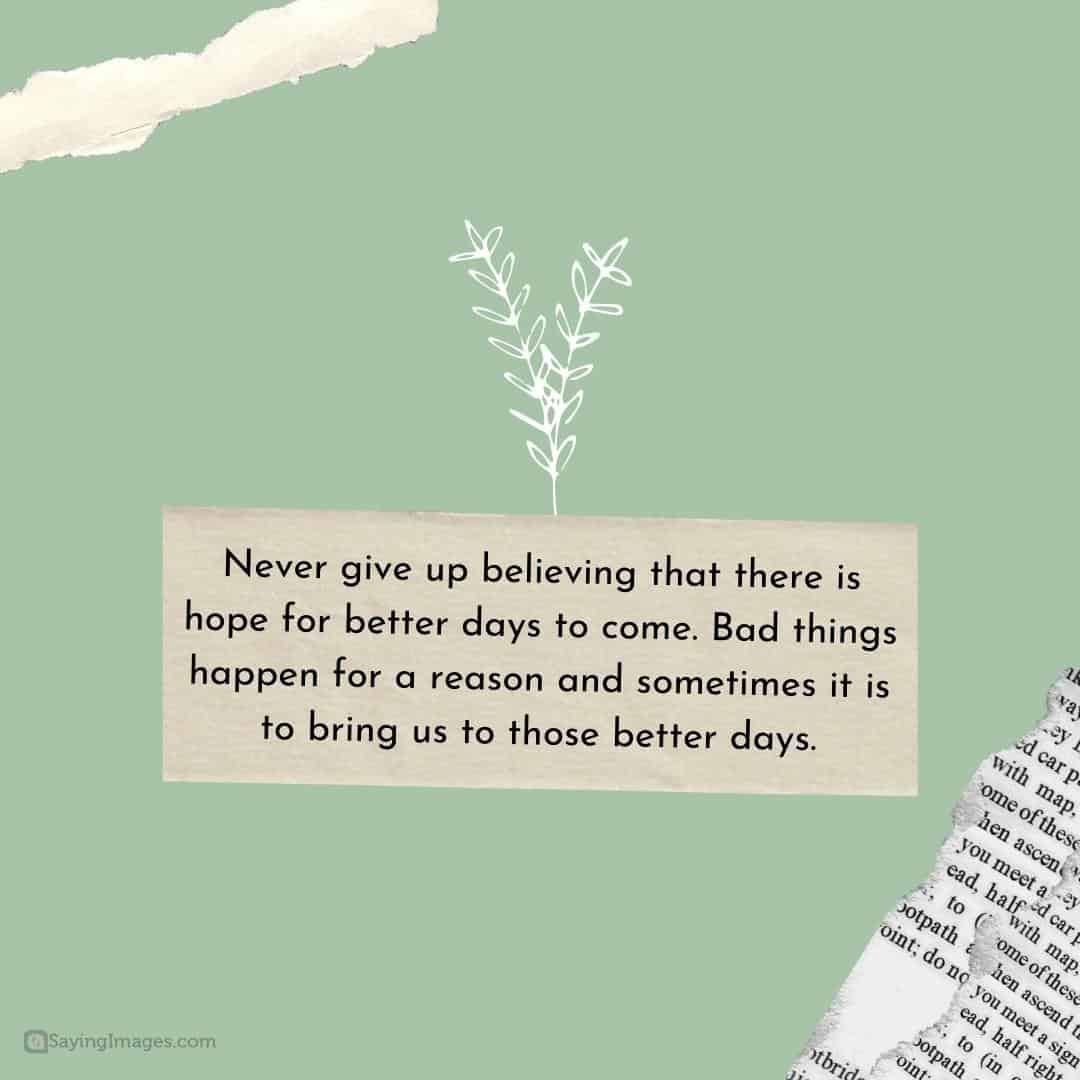 Never give up believing that there is hope for better days to come. Bad things happen for a reason and sometimes it is to bring us to those better days. – Nishan Panwar
The good old days were never that good, believe me. The good new days are today, and better days are coming tomorrow. Our greatest songs are still unsung. – Hubert H. Humphrey
There are far, far better things ahead than any we leave behind. – C.S. Lewis
Those who don't know how to suffer are the worst off. There are times when the only correct thing we can do is to bear out troubles until a better day. – Ming-Dao Deng
I do the very best I can to look upon life with optimism and hope and looking forward to a better day. – Rosa Parks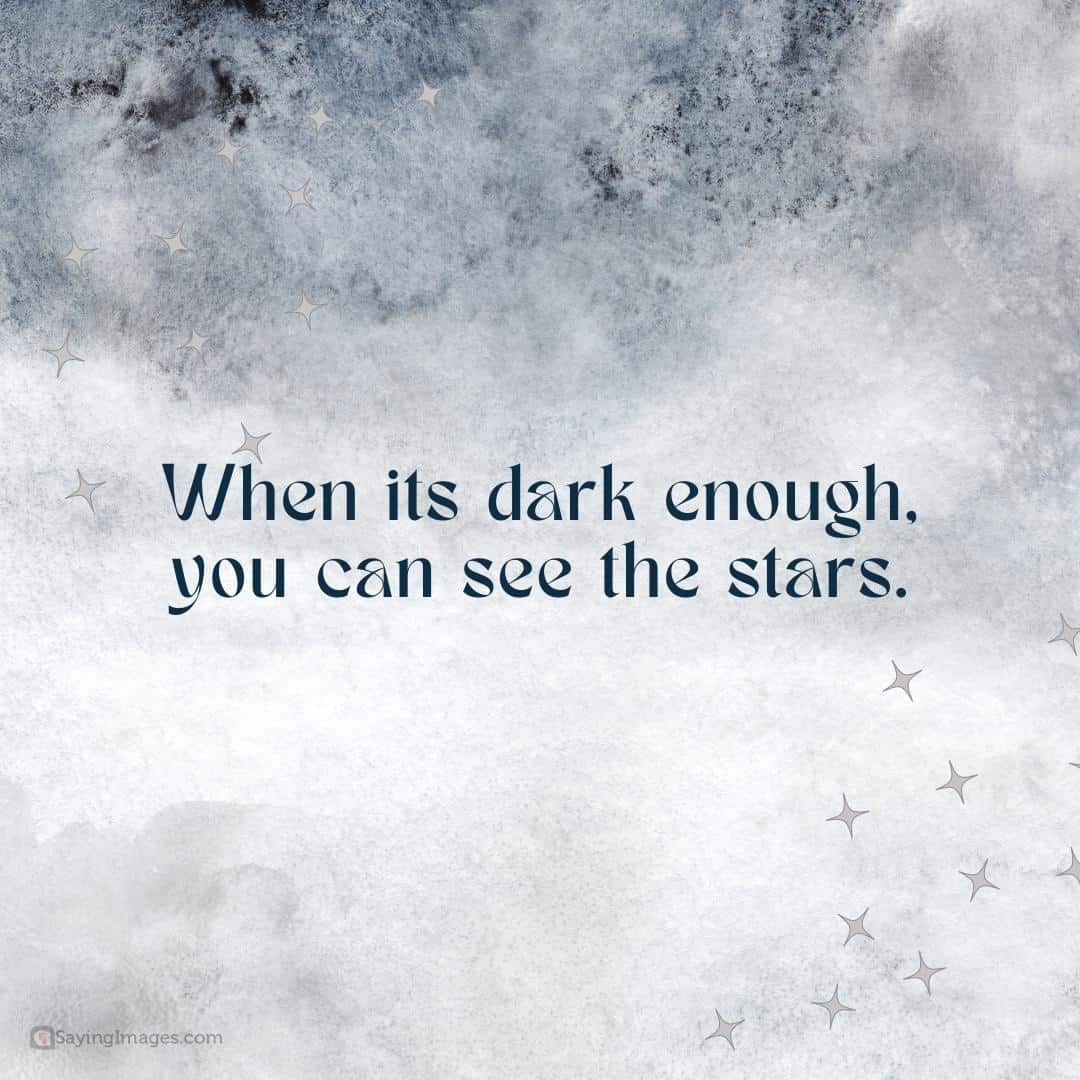 When its dark enough, you can see the stars. – Charles A. Beard
If you were a quitter you would have given up on life a long time ago. The fact that you're still here proves that you're a fighter with hopes of better days. – Sonya Parker
Always remember that better days are ahead – if not in this life, in the next. – Barbara Johnson
When everything seems to be going against you, remember that the airplane takes off against the wind, not with it. – Henry Ford
Some days are better, some days are worse. Look for the blessing instead of the curse. Be positive, stay strong, and get enough rest. You can't do it all, but you can do your best.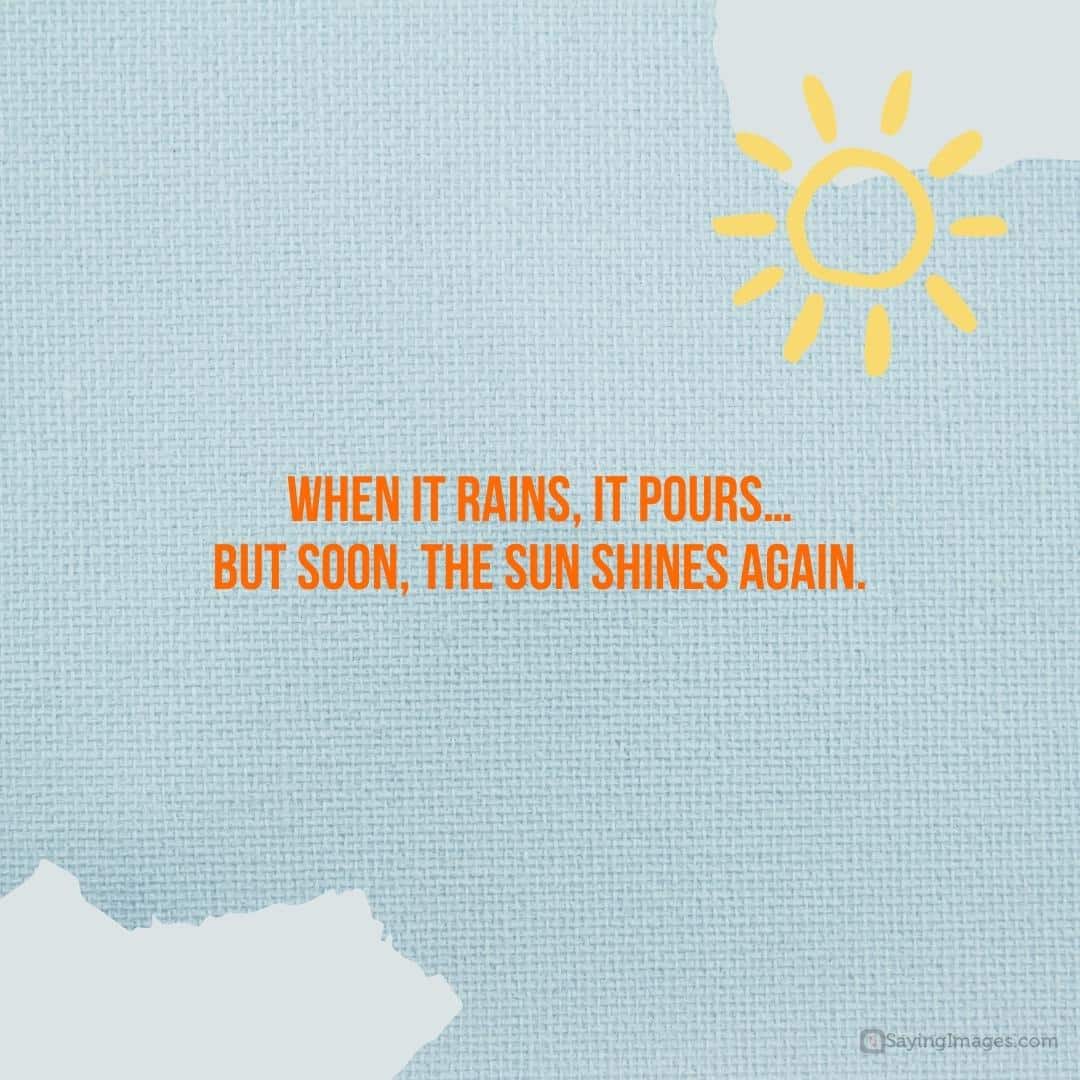 When it rains, it pours… but soon, the sun shines again.
The trick is to enjoy life. Don't wish away your days, hoping for better ones ahead. The grand and the simple. They are equally wonderful. – Marjorie Pay Hinckley
Through every dark night, there is a bright day after that. – Tupac Shakur
What is the use of living, if it be not to strive for noble causes and to make this muddled world a better place for those who will live in it after we are gone? – Winston Churchill
You can't get to better days unless you make it through the night. – Dianne Reeves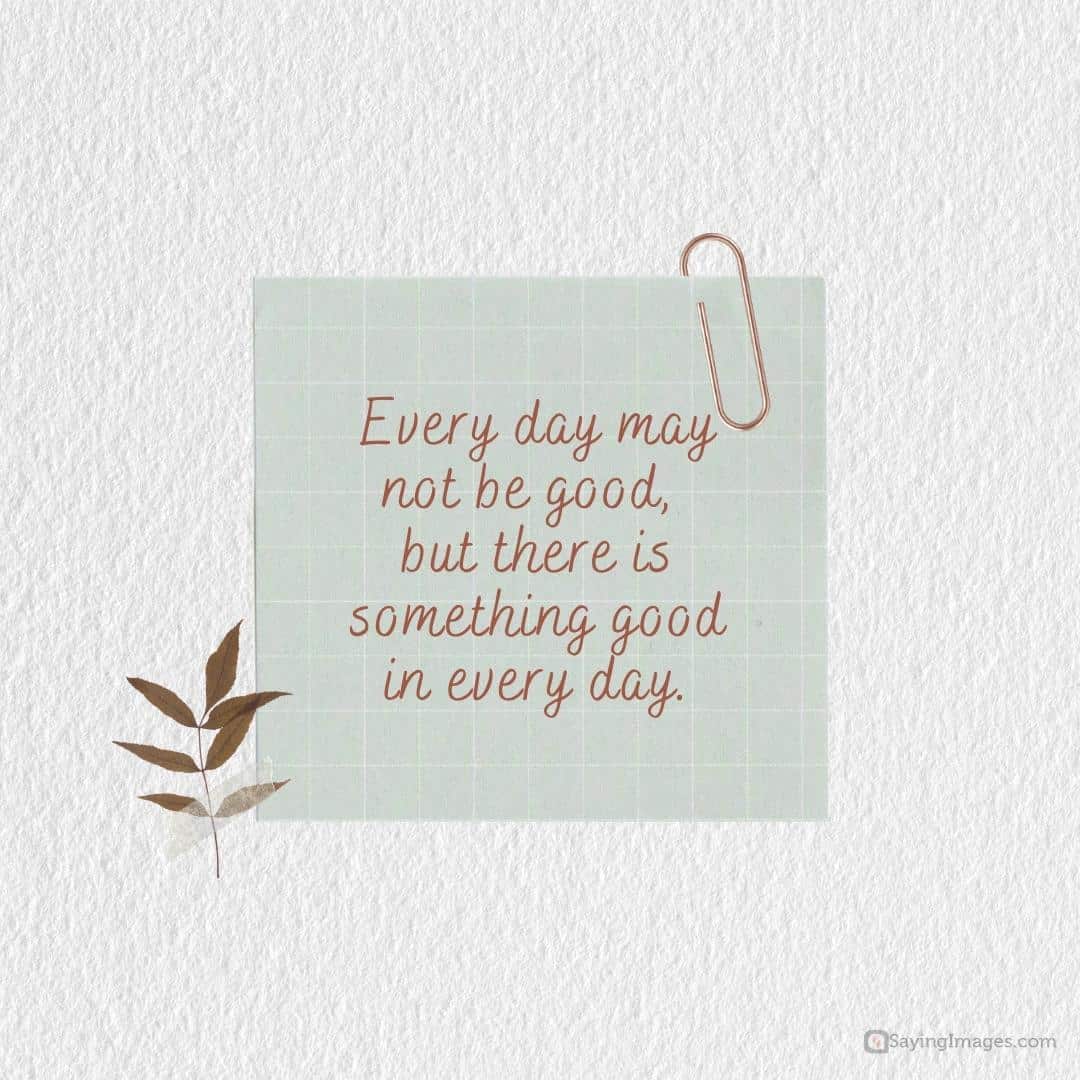 Every day may not be good, but there is something good in every day.
The hope is there. The sun is rising. Our best days are yet to come. – John F. Kerry
When I was young, my father used to say, 'If you are alive, there is hope for a better day and something good to happen. If there is nothing good left in the destiny of a person, he or she will die.' I thought about these words during my journey, and they kept me moving even when I didn't know where I was going. Those words became the vehicle that drove my spirit forward and made it stay alive. – Ishmael Beah
I'm just a dreamer. I dream my life away. I'm just a dreamer. Who dreams of better days. – Ozzy Osbourne
Remember you will not always win. Some days, the most resourceful individual will taste defeat. But there is, in this case, always tomorrow after you have done your best to achieve success today. – Maxwell Maltz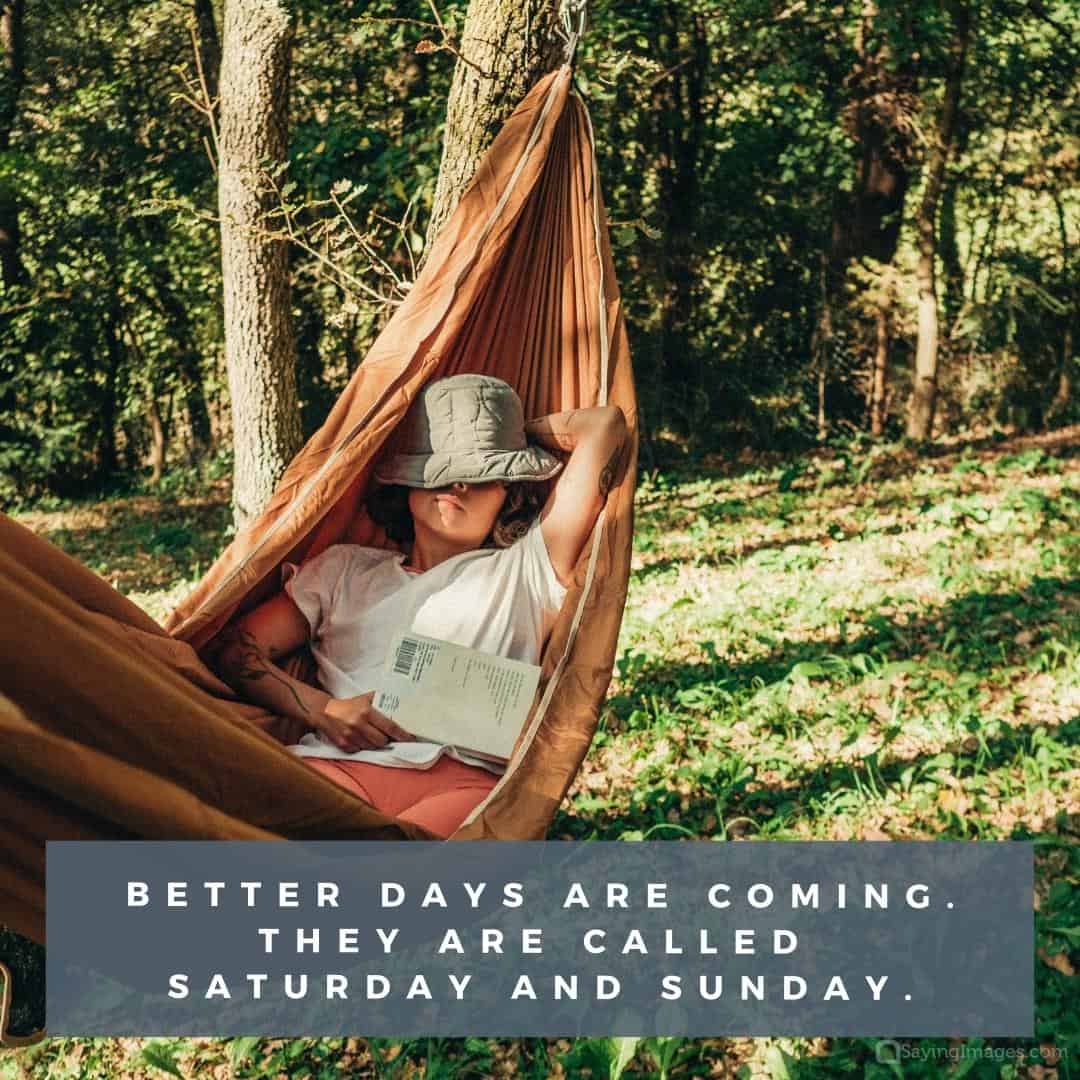 Better days are coming. They are called Saturday and Sunday.
It's all about getting better and controlling the things that you can control, which is getting better day to day. –Robbie Lawler
Spend eighty percent of your time focusing on the opportunities of tomorrow rather than the problems of yesterday. – Brian Tracy
Don't ever lose hope because better days will come. – Ana Monnar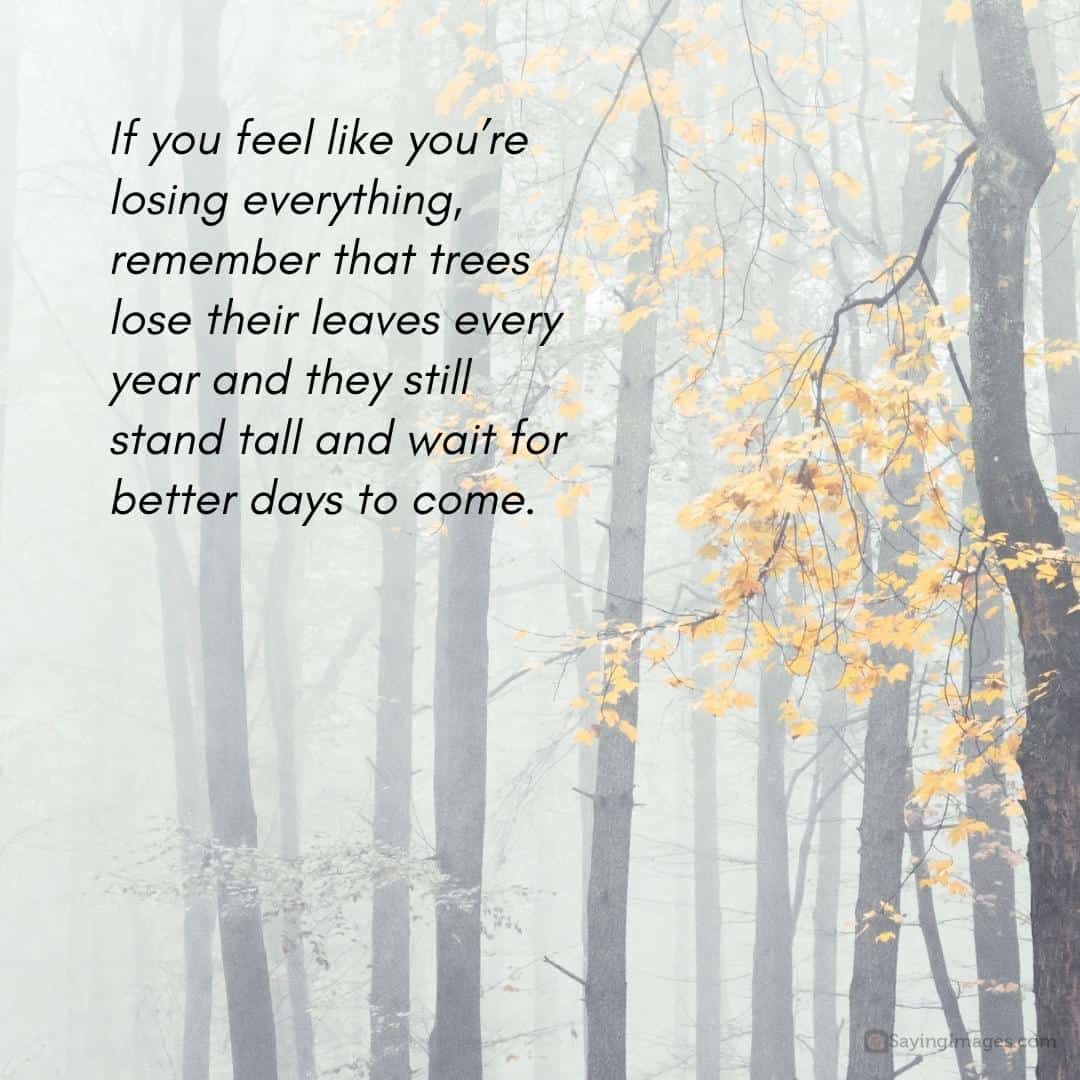 If you feel like you're losing everything, remember that trees lose their leaves every year and they still stand tall and wait for better days to come.
We all have negative days, but that doesn't mean we are pessimistic. We all do stupid things, but that doesn't mean we are stupid. It's important to be able to distinguish between what happens to us and who we are, and look forward with hope for new and better days ahead! – Lindsey Stirling
We are going on swinging bravely forward along the grand high road and already behind the distant mountains is the promise of the sun. – Winston Churchill
Have faith in tomorrow, for it can bring better days. Never wish for yesterday, for it has gone its separate ways. Believe in today, for it's what you're living now. – Tonya K. Grant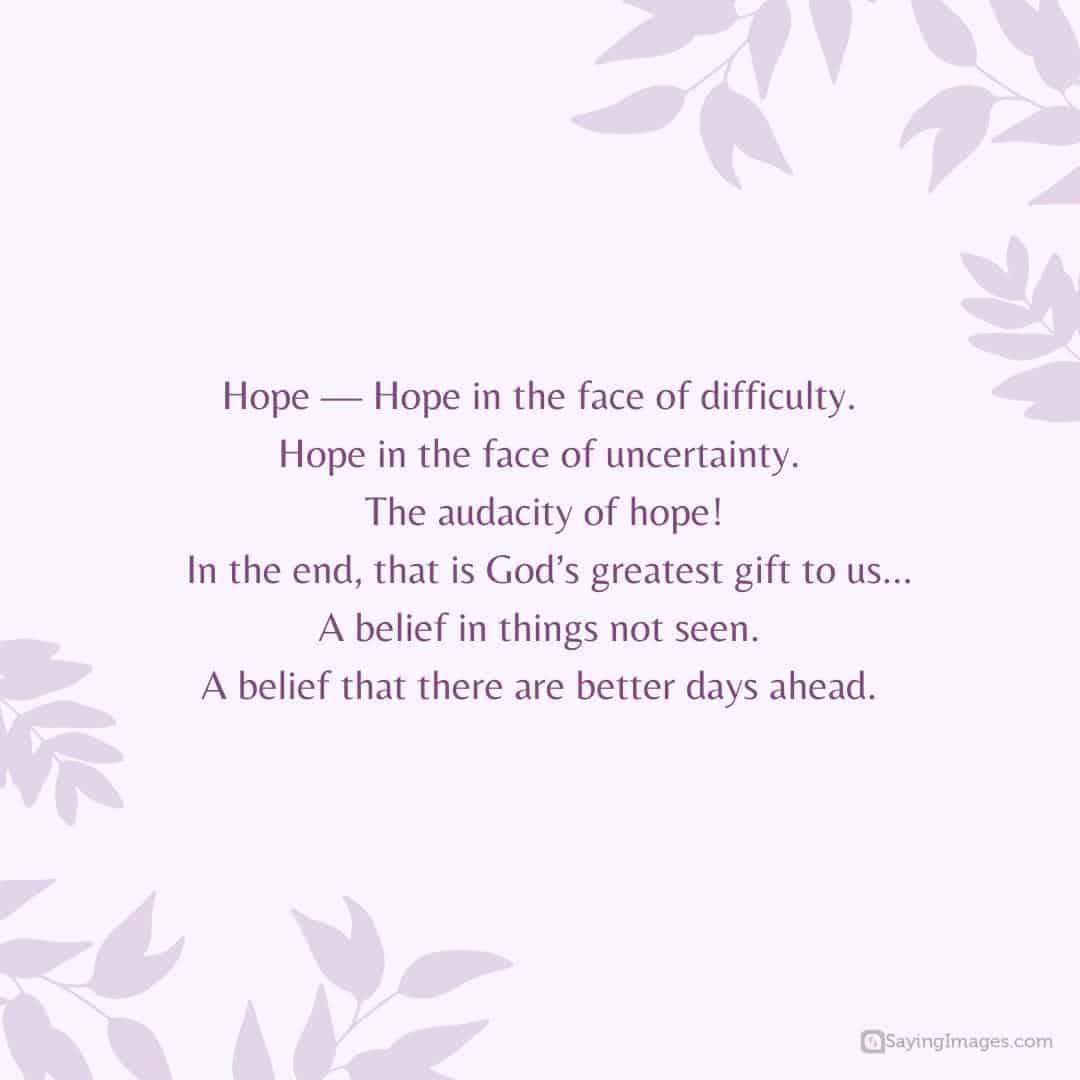 Hope — Hope in the face of difficulty. Hope in the face of uncertainty. The audacity of hope! In the end, that is God's greatest gift to us… A belief in things not seen. A belief that there are better days ahead. – Barack Obama
Tomorrow is no place to place your better days. – Dave Matthews
Sometimes bad things have to happen before good things can. – Becca Fitzpatrick
Life is a circle of happiness, sadness, hard times, and good times. If you are going through hard times, have faith that good times are on the way.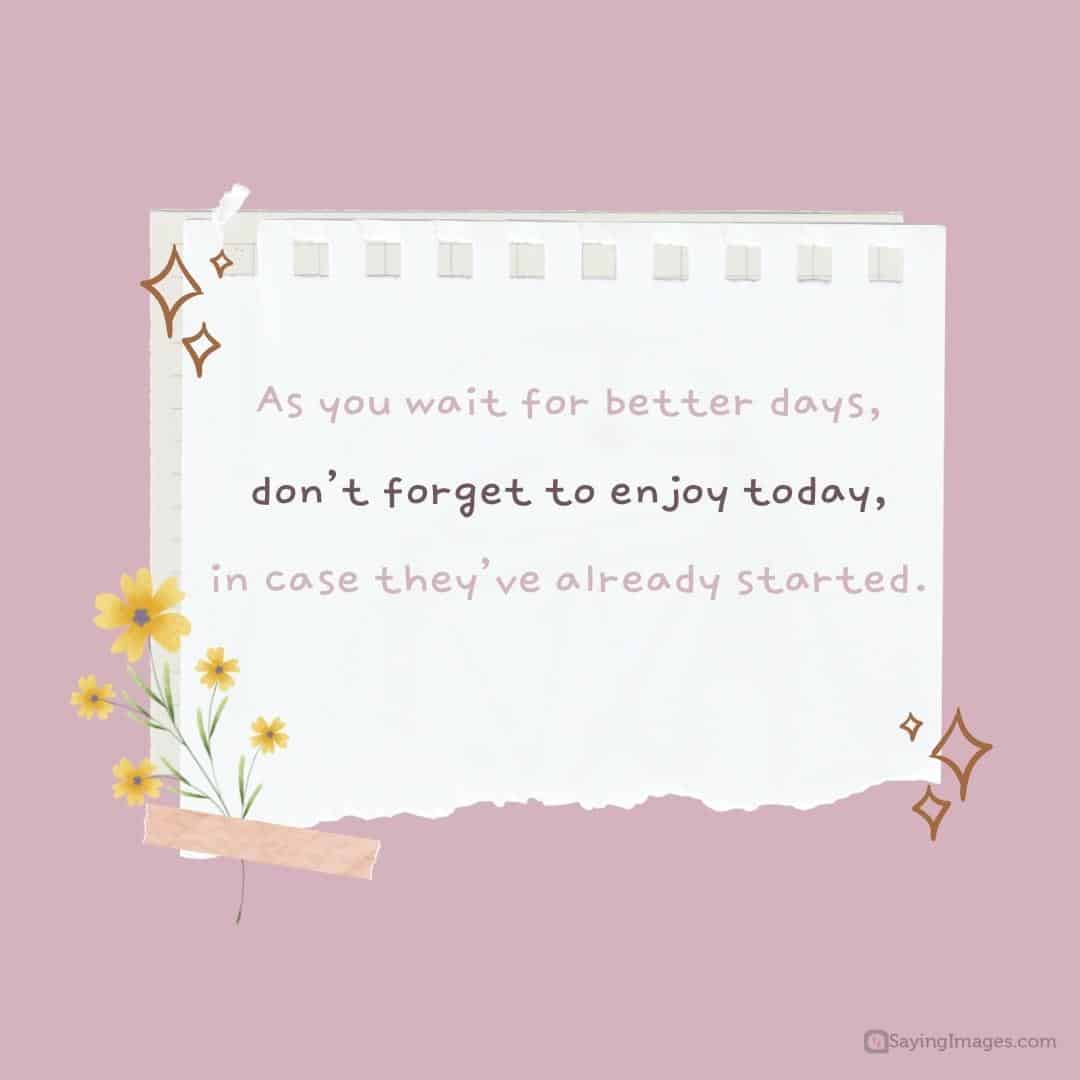 As you wait for better days, don't forget to enjoy today, in case they've already started. – Robert Breault
Finish each day and be done with it. You have done what you could; some blunders and absurdities no doubt crept in; forget them as soon as you can. Tomorrow is a new day; you shall begin it well and serenely and with too high a spirit to be encumbered with your old nonsense. – Ralph Waldo Emerson
Buying flowers is not just a way to bring home beauty. It's an expression of confidence that better days are coming. It's a defiant finger in the face of those naysayers who would have you believe your fortunes will never improve. – Pearl Cleage
The most beautiful people we have known are those who have known defeat, known suffering, known struggle, known loss, and have found their way out of the depths. These persons have an appreciation, a sensitivity, and an understanding of life that fills them with compassion, gentleness, and a deep loving concern. Beautiful people do not just happen. – Elisabeth Kübler-Ross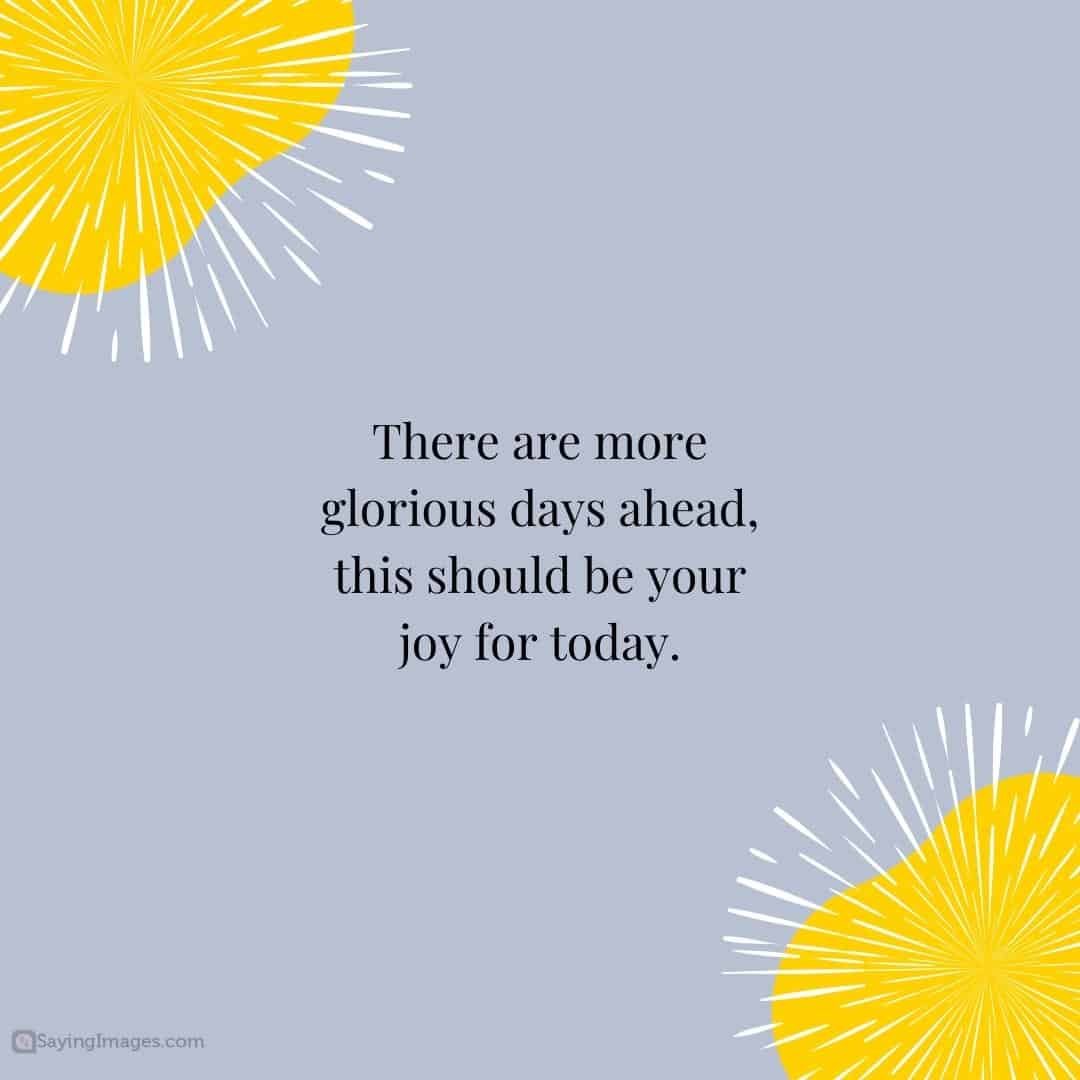 There are more glorious days ahead, this should be your joy for today. – Lailah Gifty Akita
The very second you begin to doubt is the minute you lose sight of your outcome. Even in our darkest hour, will we find better days. Don't let the years pass, reflecting the light that becomes your shadow. – Richard Tovish
I've learned that no matter what happens, or how bad it seems today, life does go on, and it will be better tomorrow. – Maya Angelou
When you have such a good workout, it clears everything up mentally, physically, and you just have a better day. –Minka Kelly