Is your heart feeling heavy? Did your partner take your heart and break it into a million pieces? Or maybe it's trouble at work, at home, or with your friends that's making your heart feel like a lump of lead in your chest. A heavy heart is painful and troubling. It clouds and stains every waking day.
We hope that these specially curated quotes will help ease your heart even just a little bit.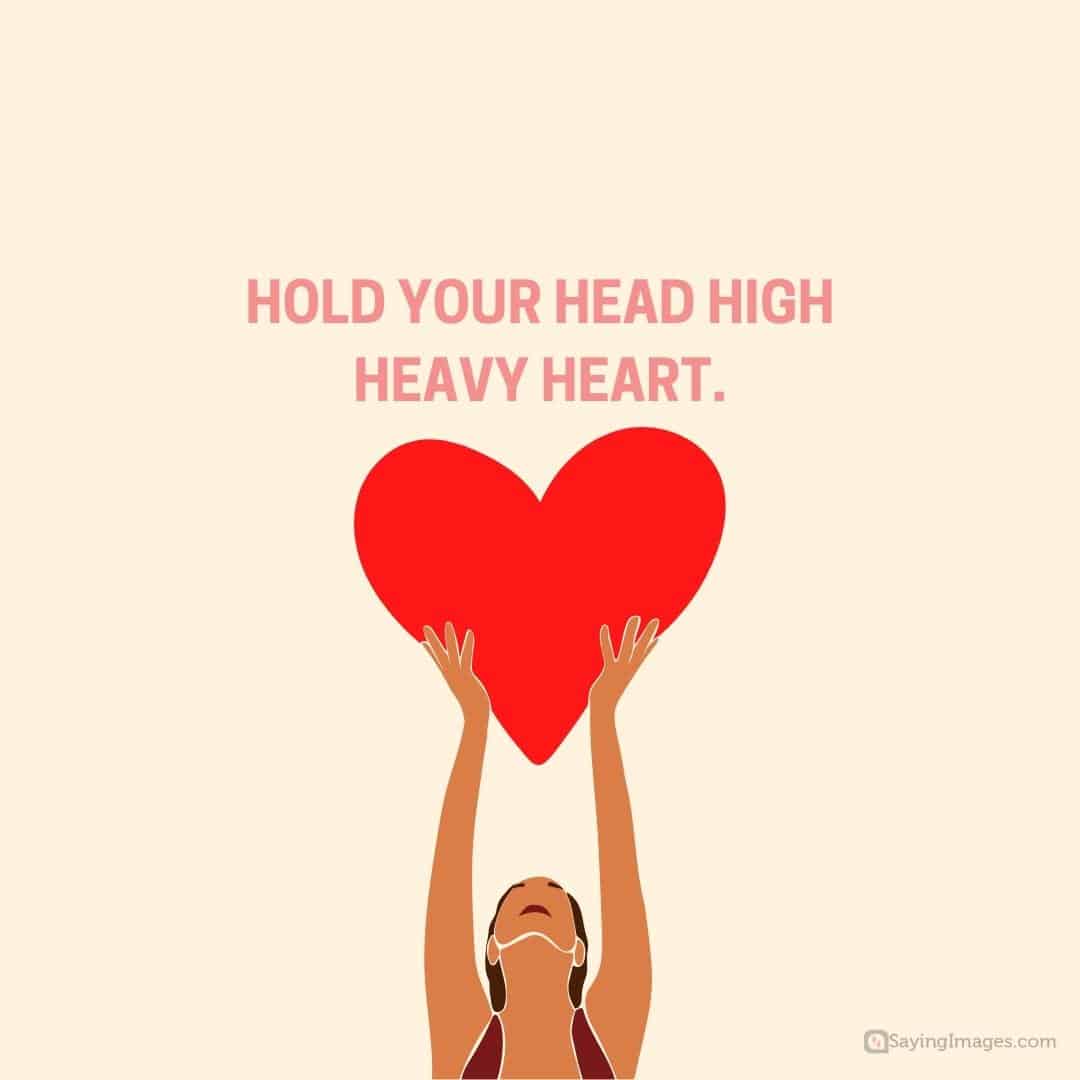 Hold your head high heavy heart. – William Beckett
When the heart gets too heavy with pain, people don't cry. They become silent. Completely silent.
With a heavy heart, I pulled out my own pocket knife, and carved three little words beneath Archer's. A plea and a wish, in a form I could never take back. Return to me. – Ashleigh Z.
I wake up in the morning and my heart is light, man. It's not heavy. I don't have skeletons in the closet on their way out. – Drake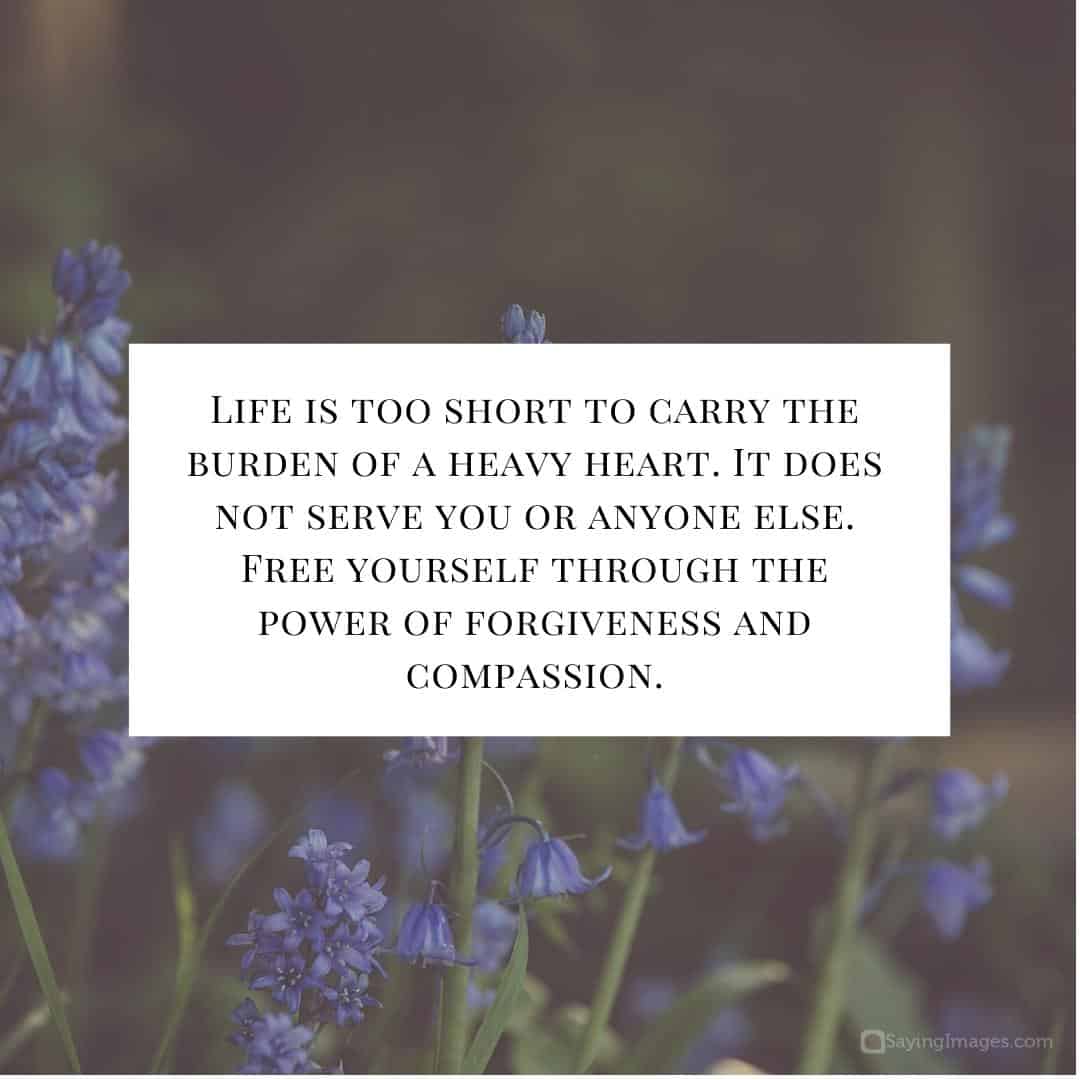 Life is too short to carry the burden of a heavy heart. It does not serve you or anyone else. Free yourself through the power of forgiveness and compassion. – David Simon
Though my heart is heavy, it is also strong and unbreakable, thanks to two men who put my needs above their own. Morpheus – A.G. Howard
My heart is heavy, she thought. It's not just a saying. It is what is – heavy, a great stone lodged in my breast, pressing down my whole being. How can I even stand straight and look out upon the world? I am doubled over into myself and, for all the weight, find only emptiness. – Katherine Paterson, Lyddie
Physically, mentally, emotionally tired.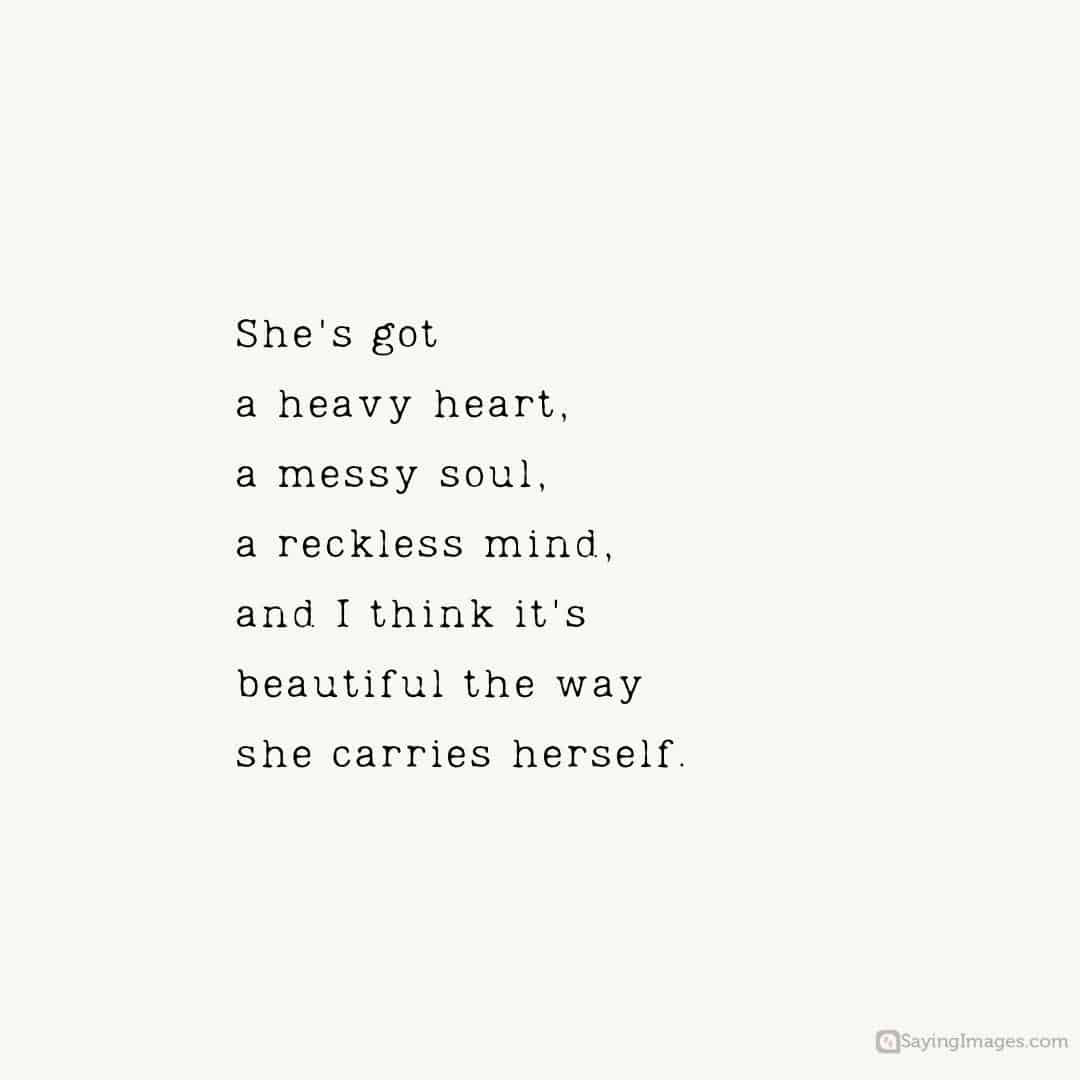 She's got
a heavy heart,
a messy soul,
a reckless mind,
and I think it's
beautiful the way
she carries herself.
What uniform can I wear to hide my heavy heart? It is too heavy. It will always show. – Jean Cocteau
If I can, by a lucky chance, in these uneasy days, rub out one wrinkle from the brow of care, or beguile the heavy heart of one moment of sadness; if I can, how and then, prompt a happier view of human nature, and make my reader more in good humor with his fellow-beings and himself, surely, I shall not have written in vain. – Washington Irving
With a heavy heart, I turned and walked away. I knew that as long as I lived I'd never forget the two little graves and the sacred red fern. – Wilson Rawls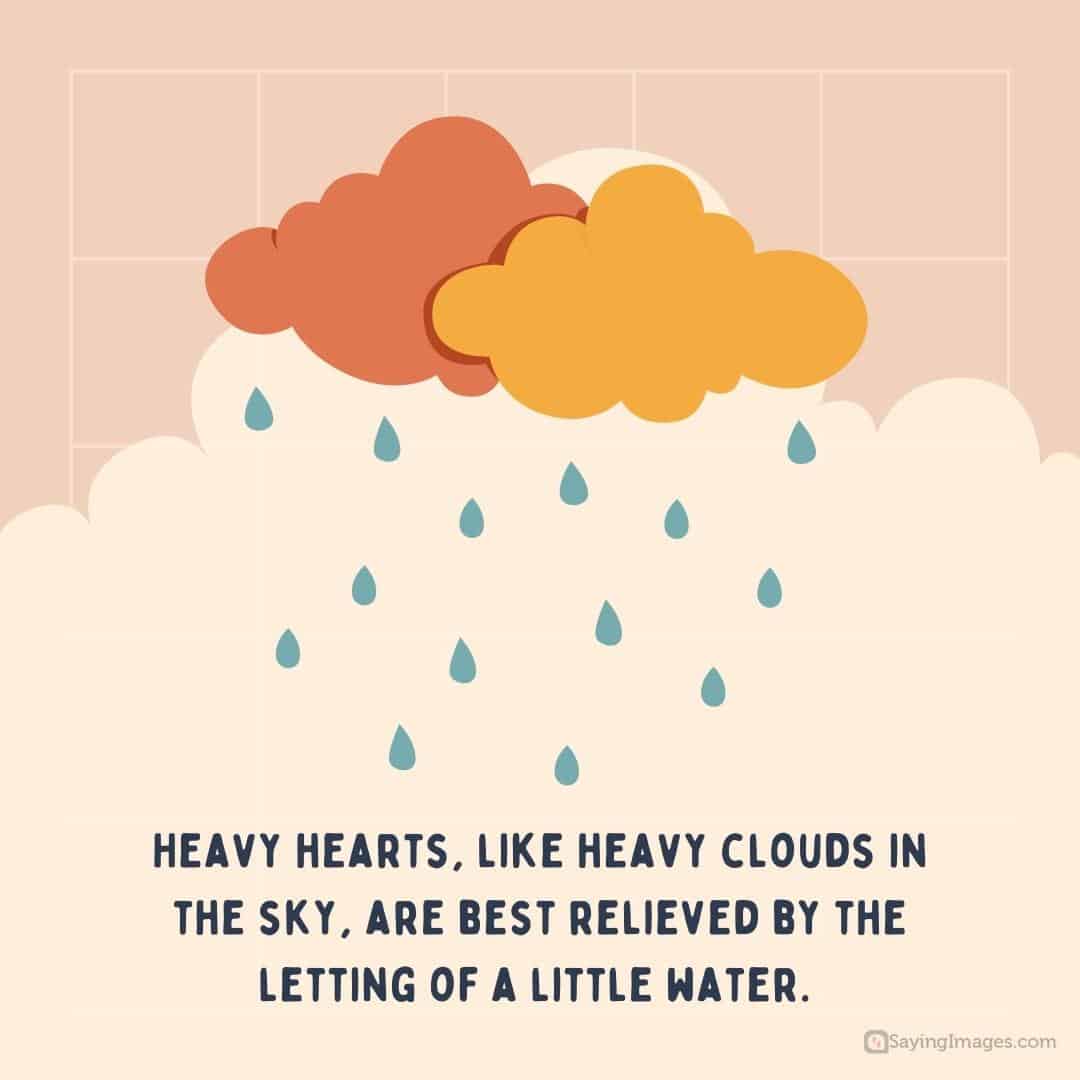 Heavy hearts, like heavy clouds in the sky, are best relieved by the letting of a little water. – Christopher Morley
Come to me, all of you who are weary and carry heavy burdens, and I will give you rest. Take my yoke upon you. Let me teach you, because I am humble and gentle at heart, and you will find rest for your souls. For my yoke is easy to bear, and the burden I give you is light.
When your life feels like a roller coaster, scream and let go of life. – Obsessed Angels
The number of prayers we say may contribute to our happiness, but the number of prayers we answer may be of greater importance. Let us open our eyes and see the heavy hearts, notice the loneliness and despair; let us feel the silent prayers of others around us; and let us be an instrument in the hands of the Lord to answer those prayers. – Dieter F. Uchtdorf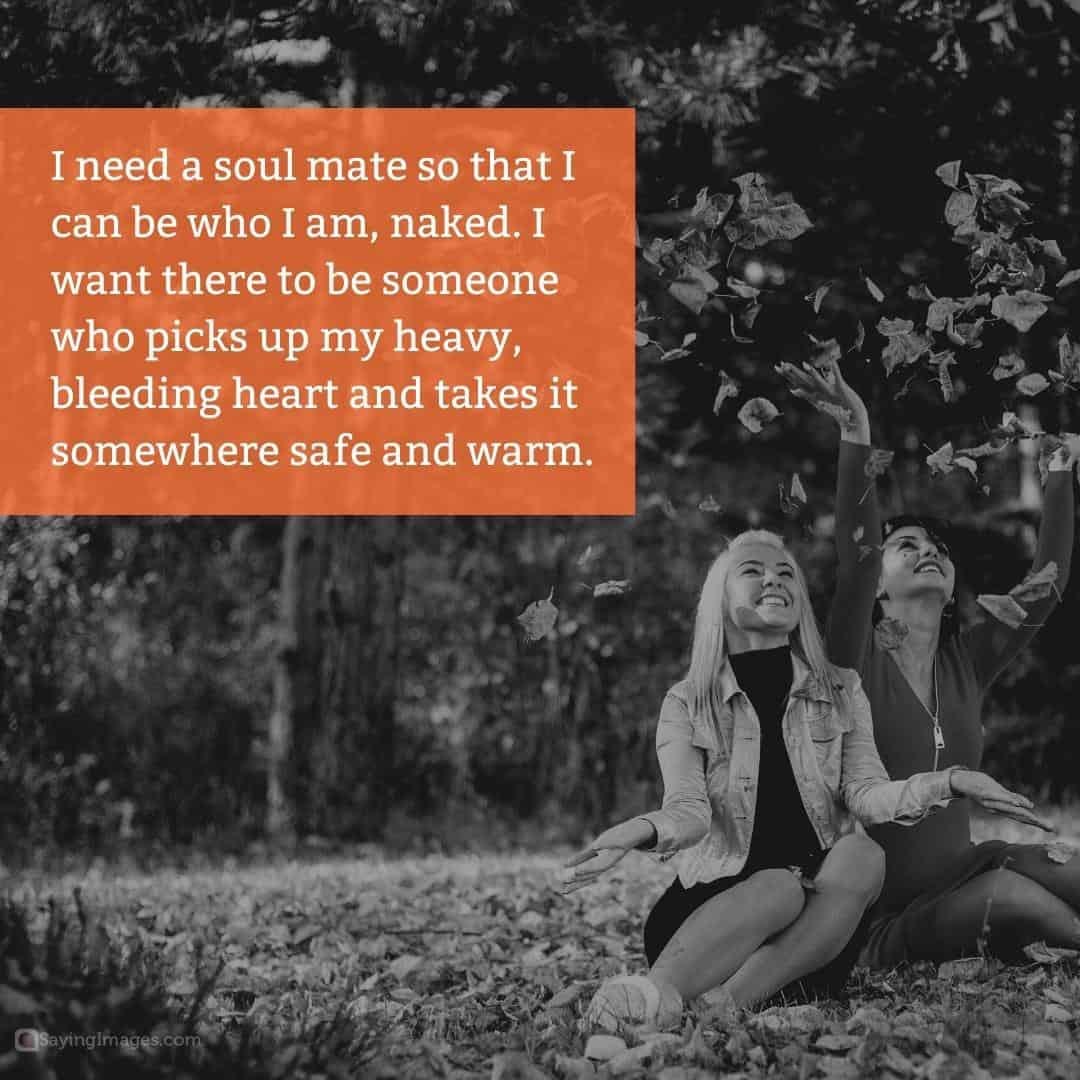 I need a soul mate so that I can be who I am, naked. I want there to be someone who picks up my heavy, bleeding heart and takes it somewhere safe and warm. – Ville Valo
I kept thinking how marvellous it would be if I could somehow tear my heart, which felt so heavy, out of my chest. – Anton Chekhov
She's in the clouds, heavy and dark, waiting to fall like rain. – Christy Ann Martine
A heart that always understands also gets tired.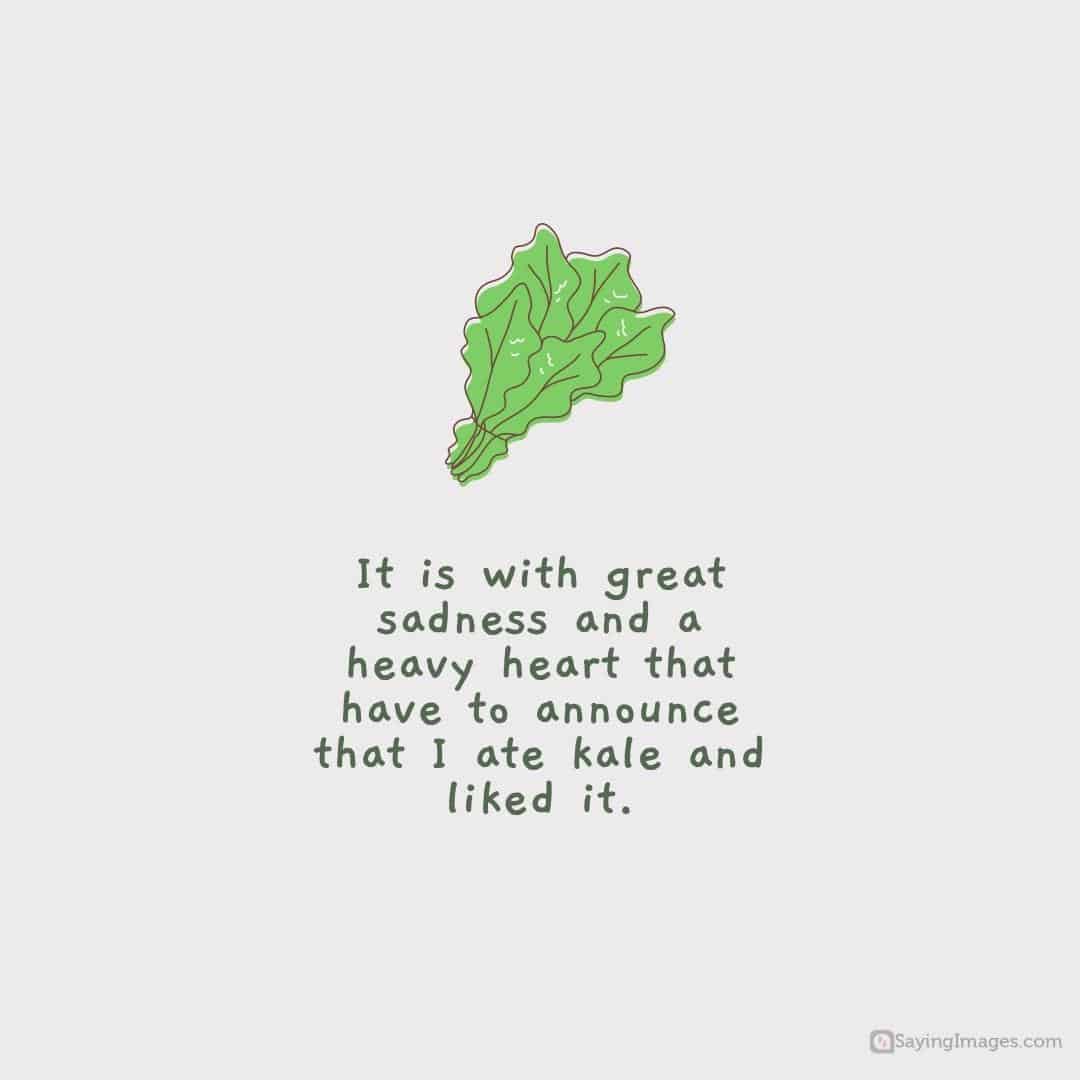 It is with great sadness and a heavy heart that have to announce that I ate kale and liked it. – Greg Behrendt
My heart weighs heavy from all of the books I have not yet written – Stephen Birch
Broken relationships are a source of heavy heartbreak that seem to affect every family. – Jerry B. Jenkins
I have lived ten years of wild rovings, of conquests and discoveries, in those woods; the day when I have to leave them my heart will be very heavy. – Colette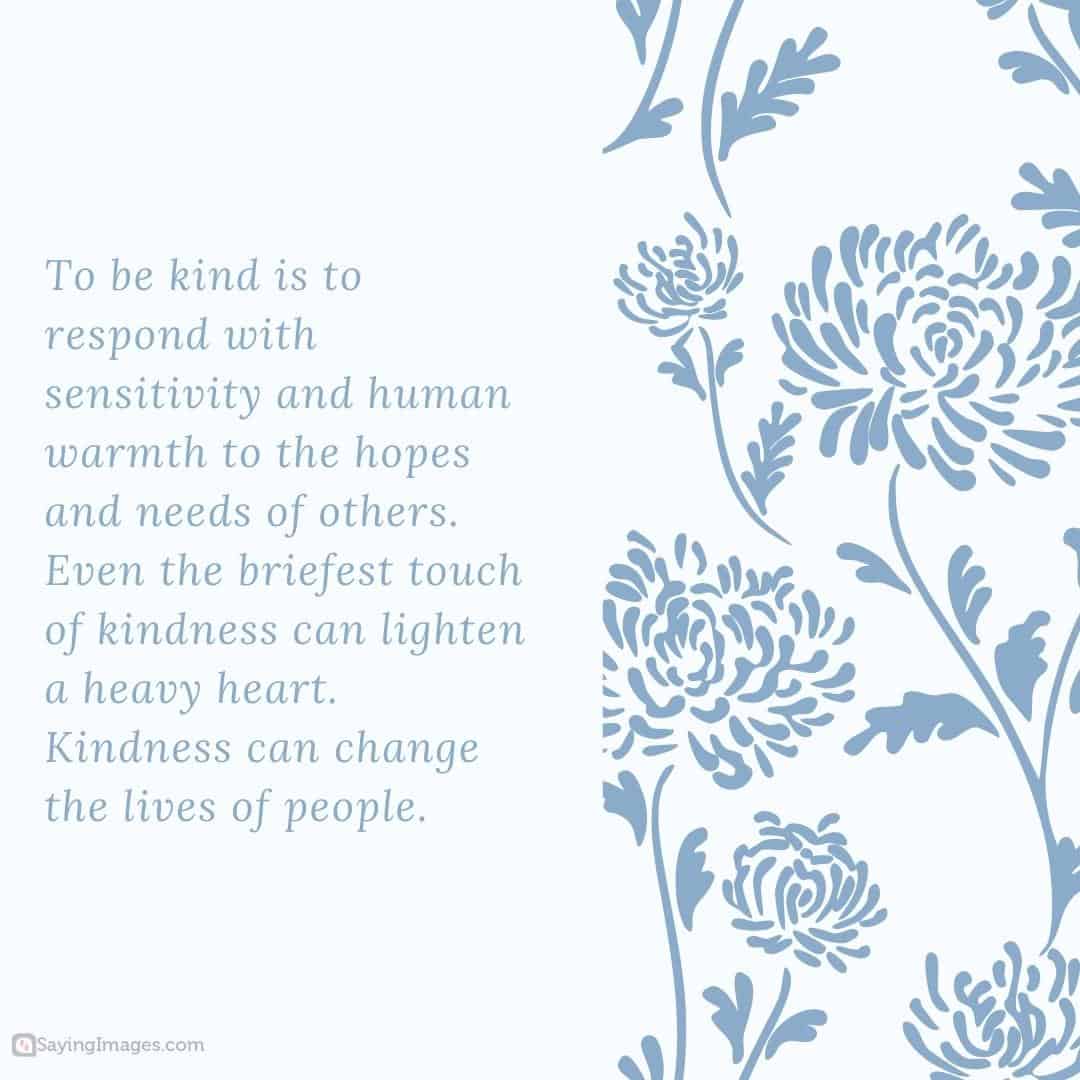 To be kind is to respond with sensitivity and human warmth to the hopes and needs of others. Even the briefest touch of kindness can lighten a heavy heart. Kindness can change the lives of people. – Aung San Suu Kyi
When your heart is heavy, sometimes it's just easier to retweet the words of another person who seems to know exactly how you feel. – Germany Kent
there is an unspoken truth between us that both our hearts weigh far too heavy to keep up on their own. – bridgett devoue, soft thorns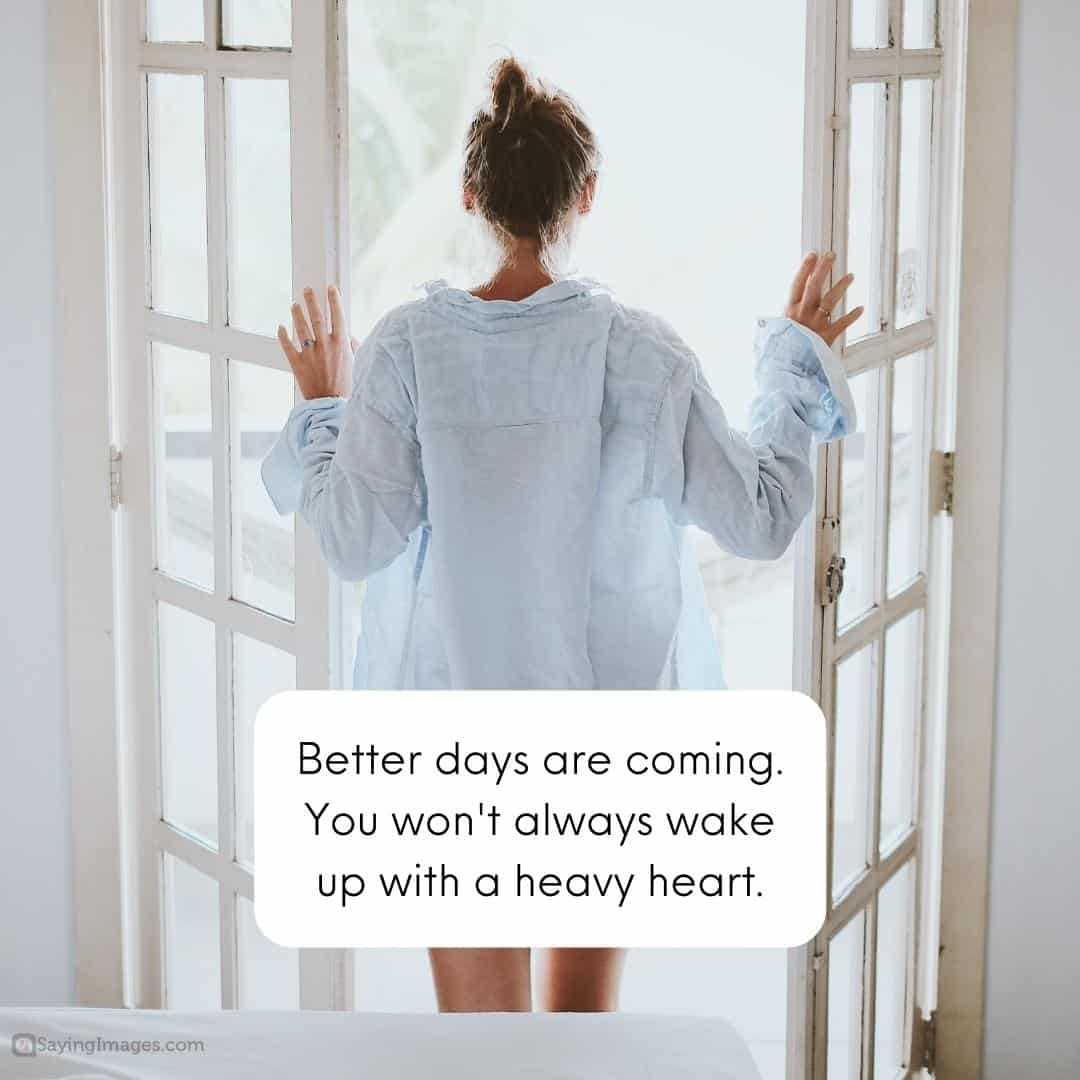 Better days are coming. You won't always wake up with a heavy heart.
For all of you praying with a heavy heart, know this. There will be joy again in your life. In your prayers and in your heart. Though you may pray with sorrow today.
I am not used to hating. Hate sits heavy on my heart. It reeks. I can smell it rotting my insides and I taste it on my tongue. – Kopano Matlwa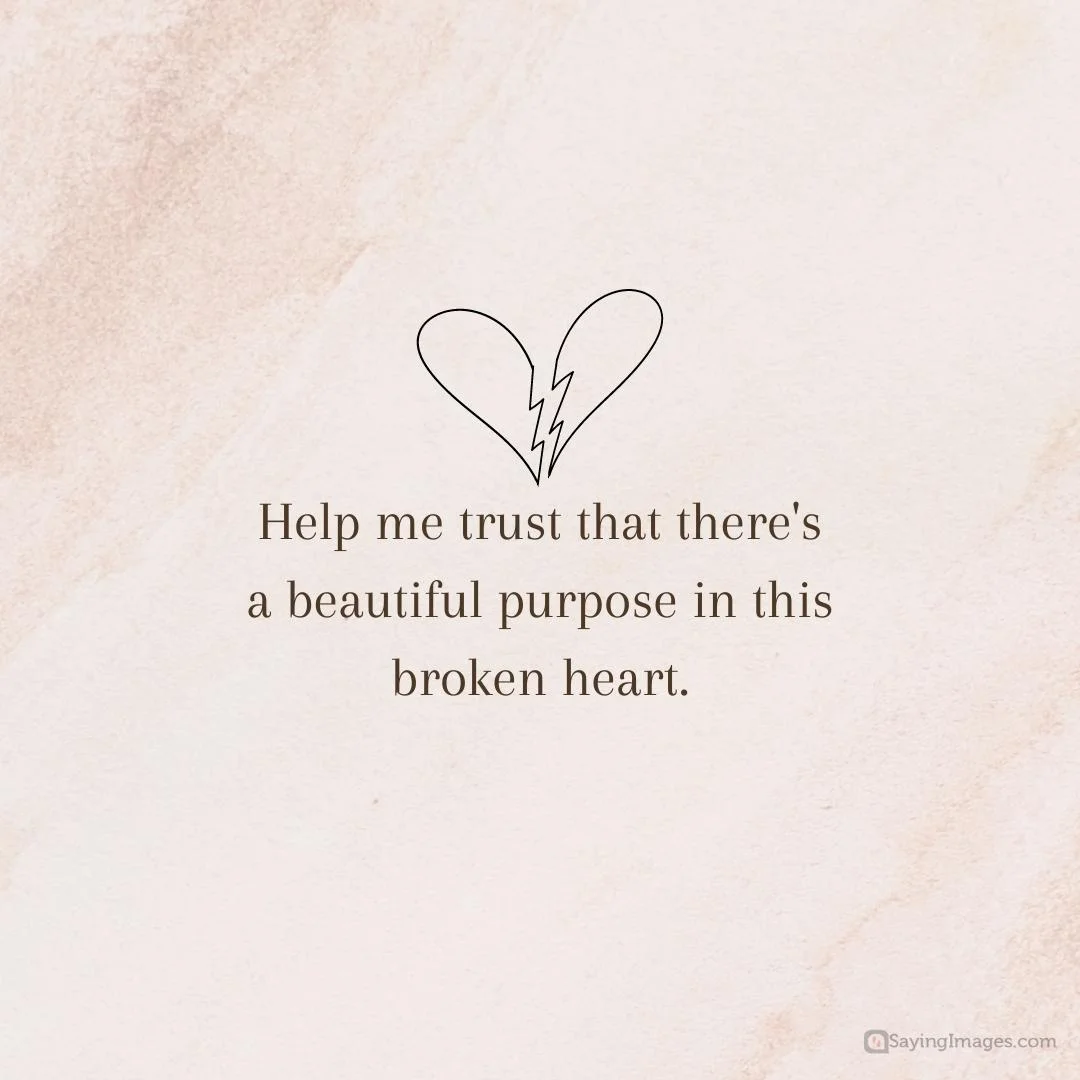 Help me trust that there's a beautiful purpose in this broken heart. – butterflies rising
Love yourself as you love your neighbour. If you love your neighbour with a heavy heart, love yourself too with a heavy heart. – Israelmore Ayivor
A heavy heart bears not a nimble tongue. – William Shakespeare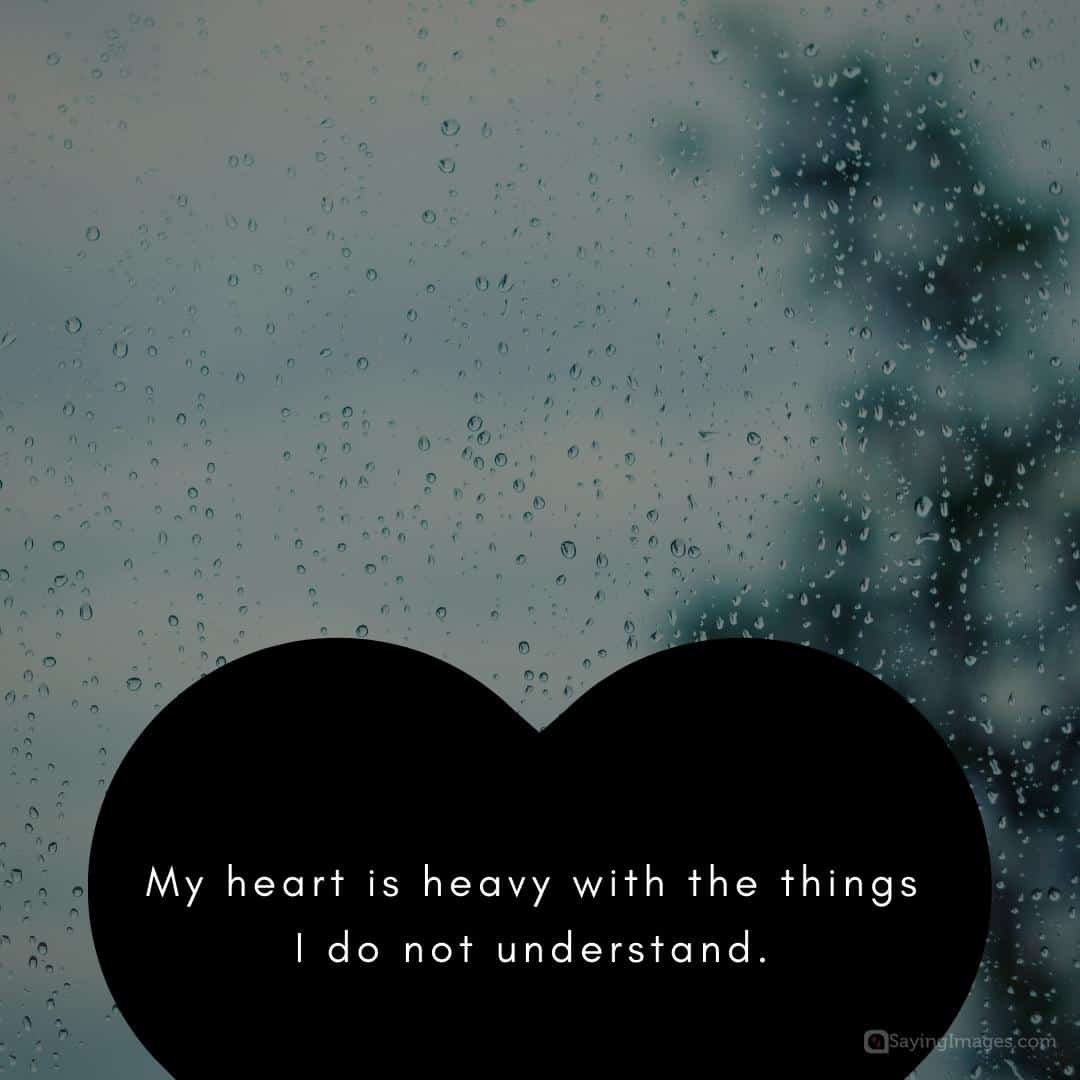 My heart is heavy with the things I do not understand. – Rudyard Kipling
You can't enjoy light verse with a heavy heart. – Russell Baker
Farewell, farewell," said the swallow, with a heavy heart, as he left the warm countries, to fly back into Denmark. There he had a nest over the window of a house in which dwelt the writer of fairy tales. The swallow sang "Tweet, tweet," and from his song came the whole story. – Hans Christian Andersen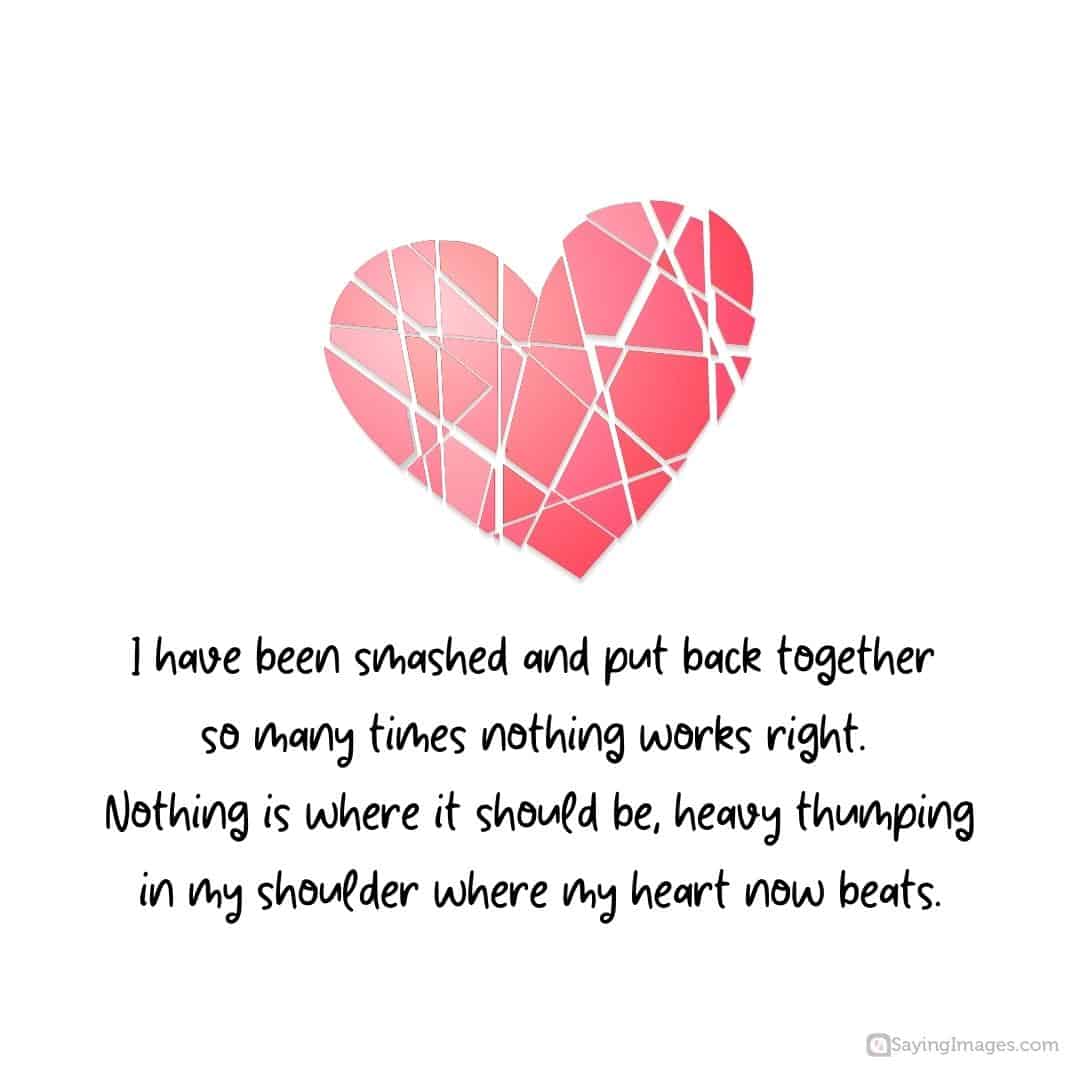 I have been smashed and put back together so many times nothing works right. Nothing is where it should be, heavy thumping in my shoulder where my heart now beats. – Elizabeth Scott
Tis not my talent to conceal my thoughts, Or carry smiles and sunshine in my face, When discontent sits heavy at my heart. – Joseph Addison
Set about doing good to somebody. Put on your hat and go and visit the sick and poor of your neighborhood; inquire into their circumstances and minister to their wants. Seek out the desolate and afflicted and oppressed. . . I have often tried this method, and have always found it the best medicine for a heavy heart. – Howard Stern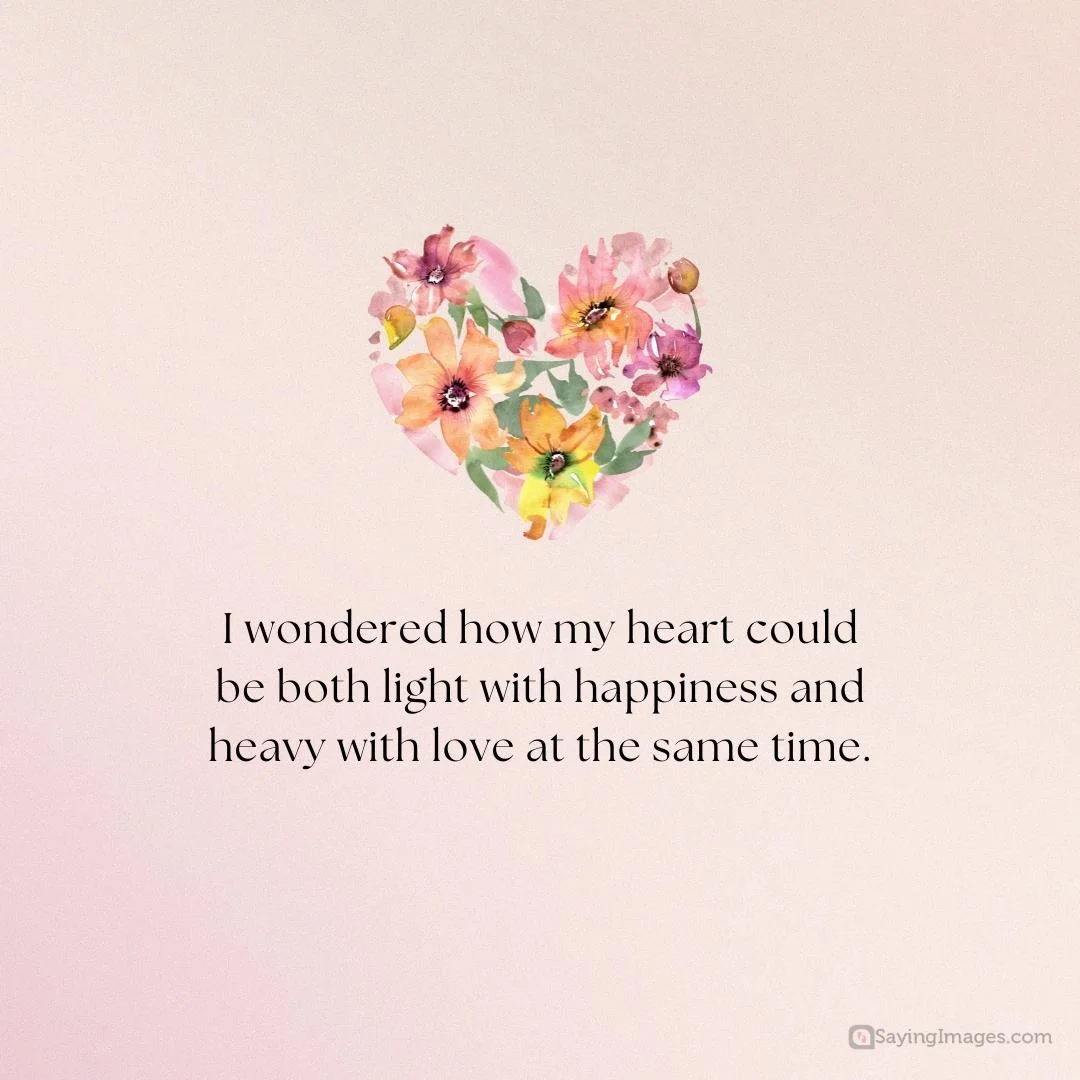 I wondered how my heart could be both light with happiness and heavy with love at the same time. – R.K. Lilley
You took a poison arrow and you aimed it at my heart. It's heavy and it's bitter, and it's tearing me apart. – Madonna Ciccone
What's really heavy on my heart is fighting physical inactivity. – Allyson Felix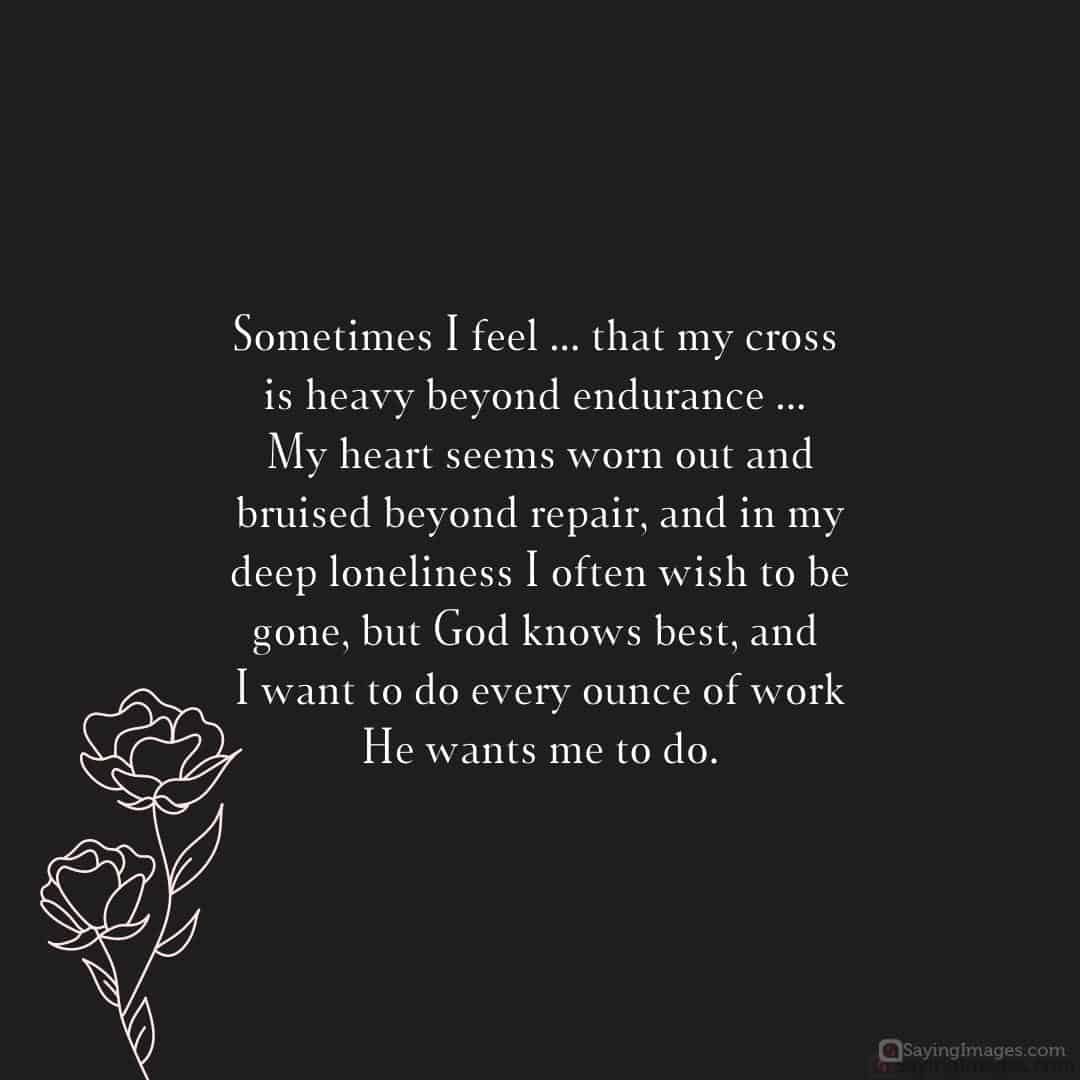 Sometimes I feel … that my cross is heavy beyond endurance … My heart seems worn out and bruised beyond repair, and in my deep loneliness I often wish to be gone, but God knows best, and I want to do every ounce of work He wants me to do. – Charles Studd
The human heart is the only thing in this world that weighs more when it's broken.
This knowledge sits in my heart, heavy as a paperweight. – Lemony Snicket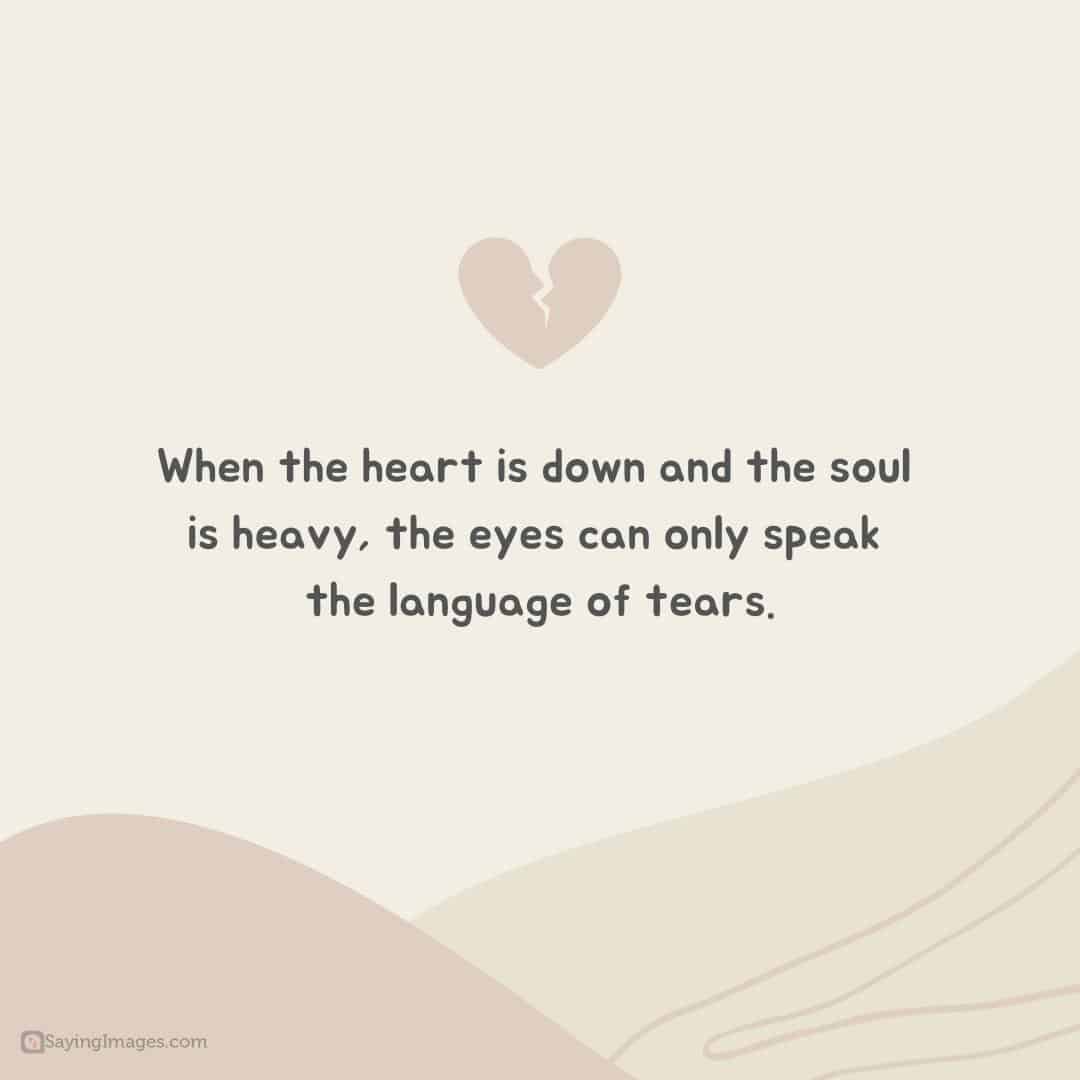 When the heart is down and the soul is heavy, the eyes can only speak the language of tears. – Ikechukwu Izuako
Every month there is a moon, gigantic, round, heavy, an omen. It transits, pauses, continues on and passes out of sight, and I see despair coming towards me like famine. To feel that empty, again, again. I listen to my heart, wave upon wave, salty and red, continuing on and on, marking time. – Margaret Atwood, The Handmaid's Tale
I left with a heavy heart and a still heavier suitcase–I had filled it with my favourite books. – Ilya Ehrenburg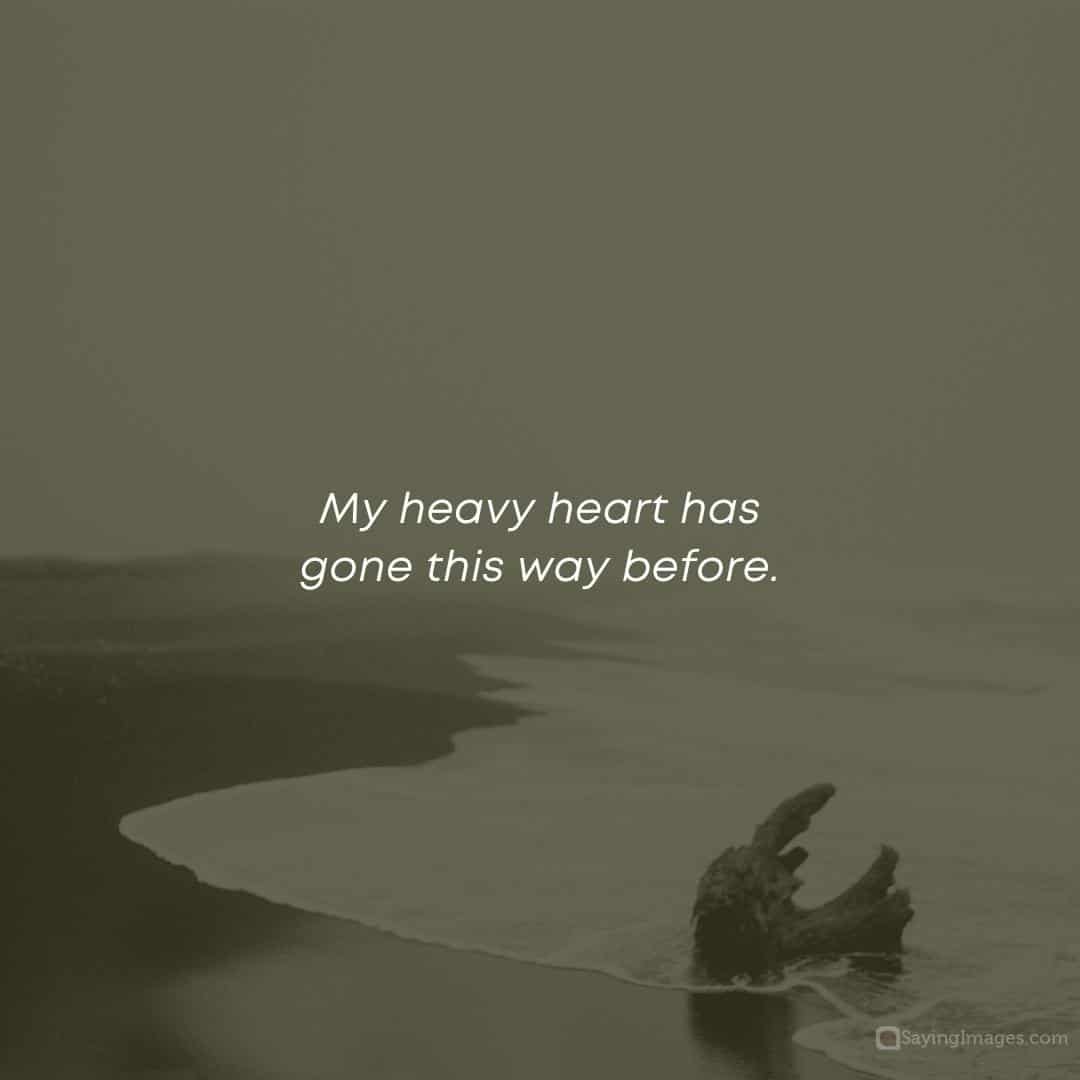 My heavy heart has gone this way before. – Kenneth Rexroth
I only know what I have seen. What I have not seen doesn't make my heart heavy. – Barack Obama
You are not weak just because everything in your mind and heart is so damn heavy.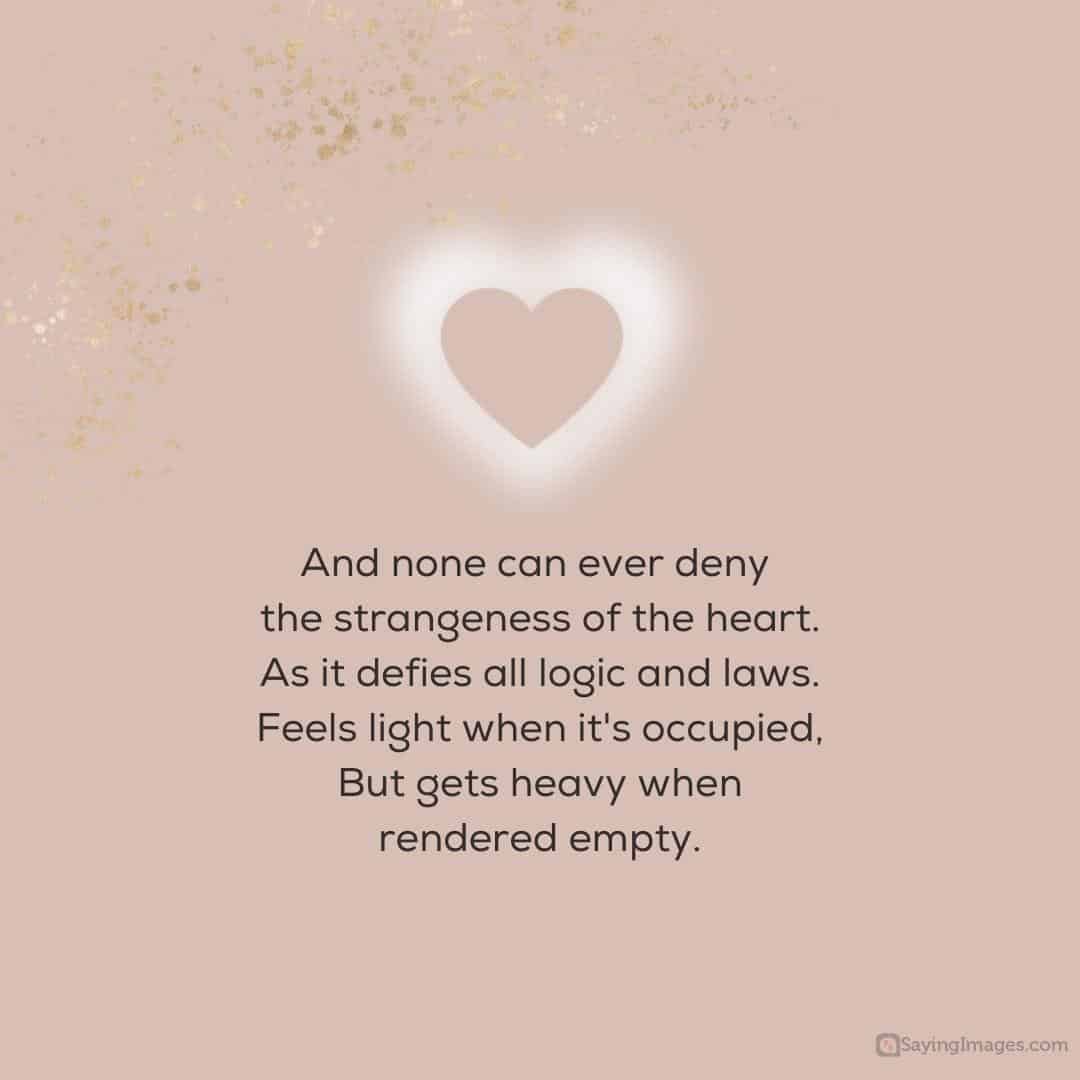 And none can ever deny the
strangeness of the heart.
As it defies all logic and laws.
Feels light when it's occupied,
But gets heavy when rendered empty.
– Drishti Bablani
She was real. She was alive. And she made my heavy black heart lighten with joy. – Tabatha Vargo
Entangled in enmity
Within the bushes
With laid venom
In its hinterland.
Inside twirled in woods
The pines of frontier
Broken aghast
Grooves holding down
With crests I carry.
The coppice in heart
Carrying the burden
Of million hearts
Thicket as jungle
Dark as cave
I am with heavy heart.
– Atif Khurshid Wani, The Shattered She