There are two places in our lives where we may feel the need for that extra support in our lives. The first is when we are so utterly confused as to the direction our lives are going. We are like a rudderless boat in the middle of the sea. The second is when we have tried our absolute best effort and yet it doesn't bear the fruit we expect it to. Maybe it's that business you're trying to grow or that relationship that just isn't working out.
During these times that we may feel lost, take a step back, gather yourself, center your mind, and remember that a higher being is in control.
God is in control. Why? How? Read these beautiful quotes below to get the answers you need.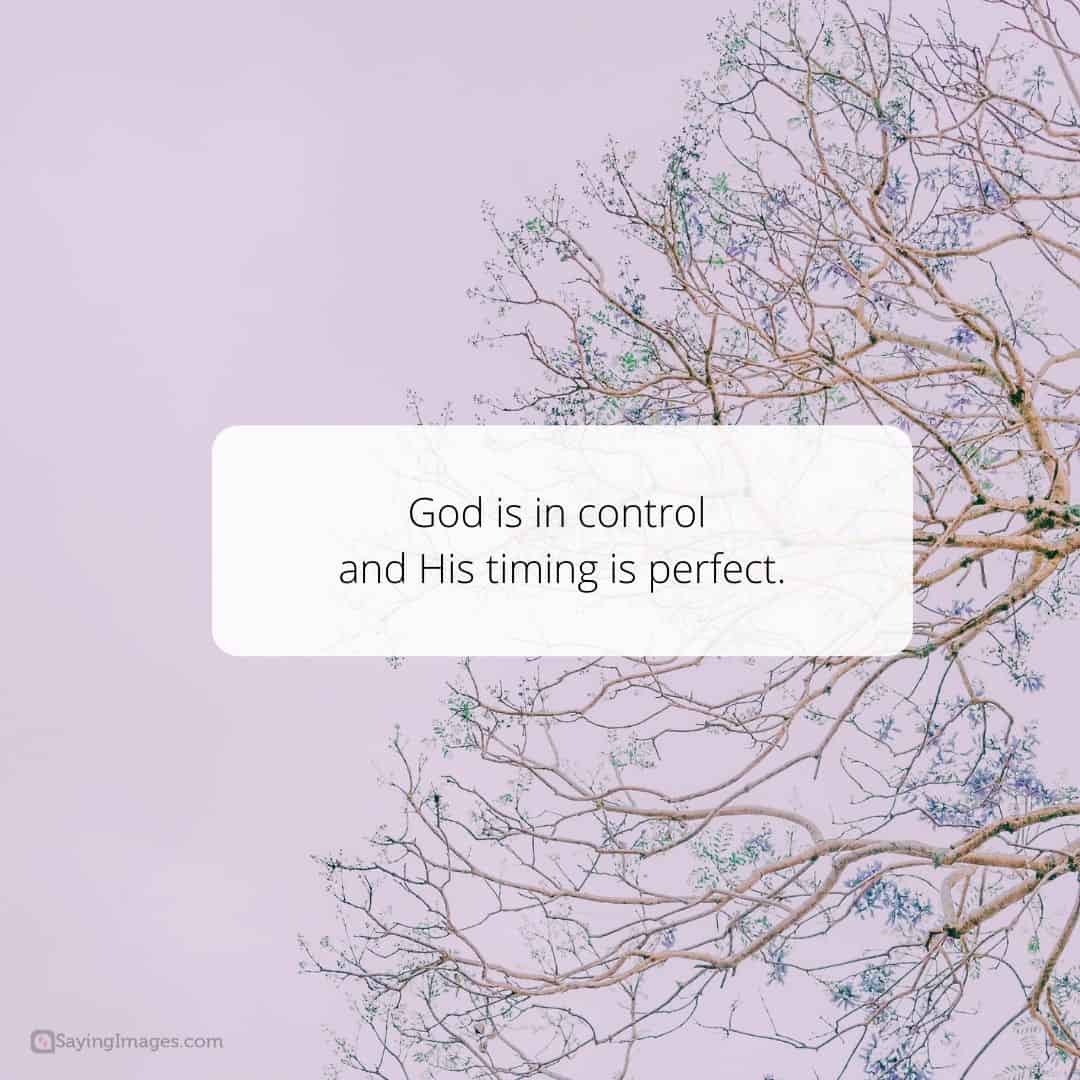 God is in control and His timing is perfect.
When you accept the fact that sometimes seasons are dry and times are hard and that God is in control of both, you will discover a sense of divine refuge, because the hope then is in God and not in yourself. – Charles R. Swindoll
When you have hit rock bottom, you better believe that God is up to something.
I said all along that God is in control. – Tony Dungy
Of course you'll encounter trouble. But behold a God of power who can take any evil and turn it into a door of hope. – Catherine Marshall
To pray is to accept that we are, and always will be, wholly dependent on God for everything. – Timothy Keller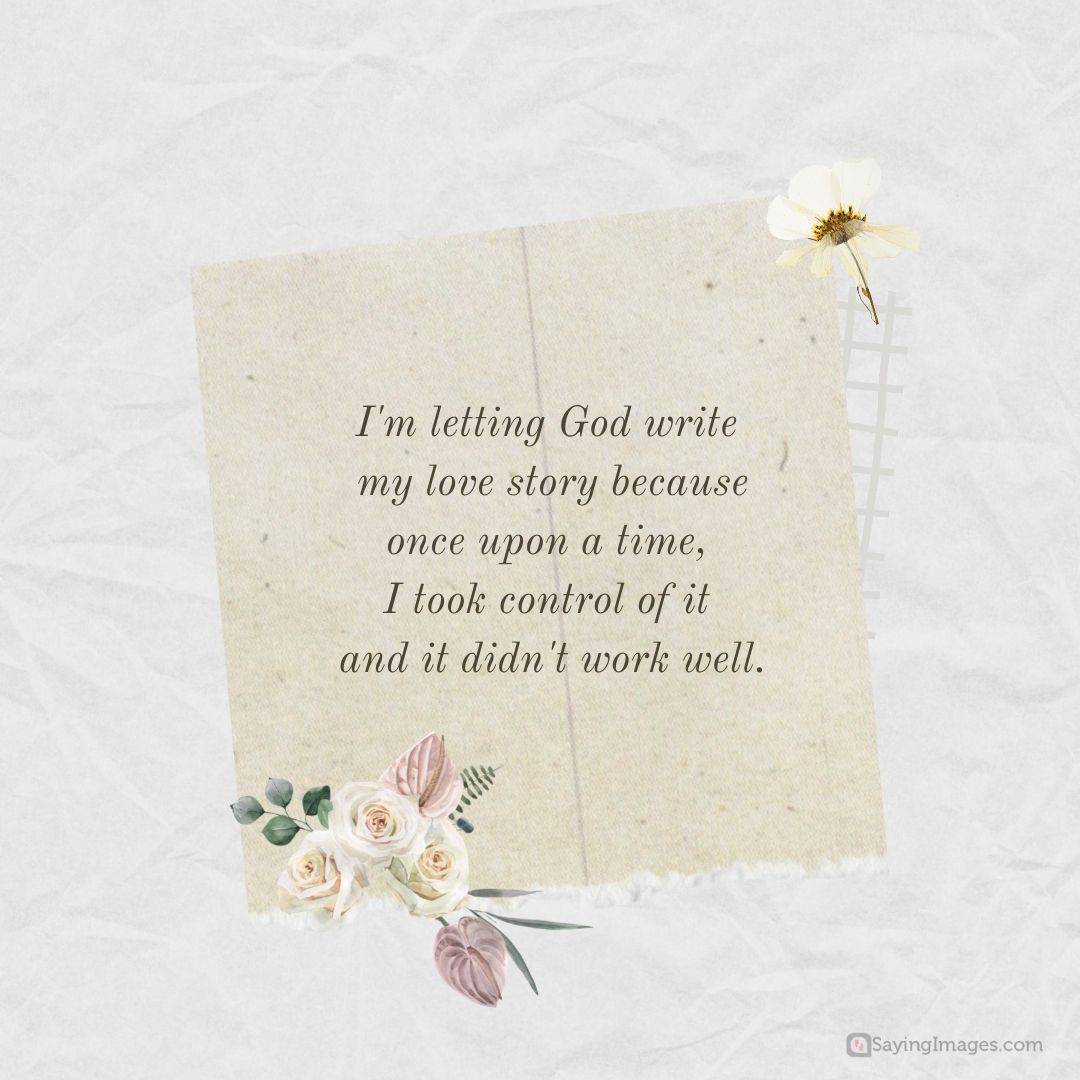 I'm letting God write my love story because once upon a time, I took control of it and it didn't work well. – Nikki Gil
You are a paintbrush in hands of the Artist. – Heidi Baker
Most of the heroes of Scripture rose to their greatest victories after their worst mistakes. God is in the redemption business, and He testifies of this through the lives of everyone He calls. – Rick Joyner
Contentment is accepting God's sovereign control over all of life's circumstances. – Linda Dillow
God has a plan and God is in control of everything. – Beyonce Knowles
God hears and He sees, and you are not alone in your struggles. Remain firm and stable, for God has your deliverance planned. – Joyce Meyer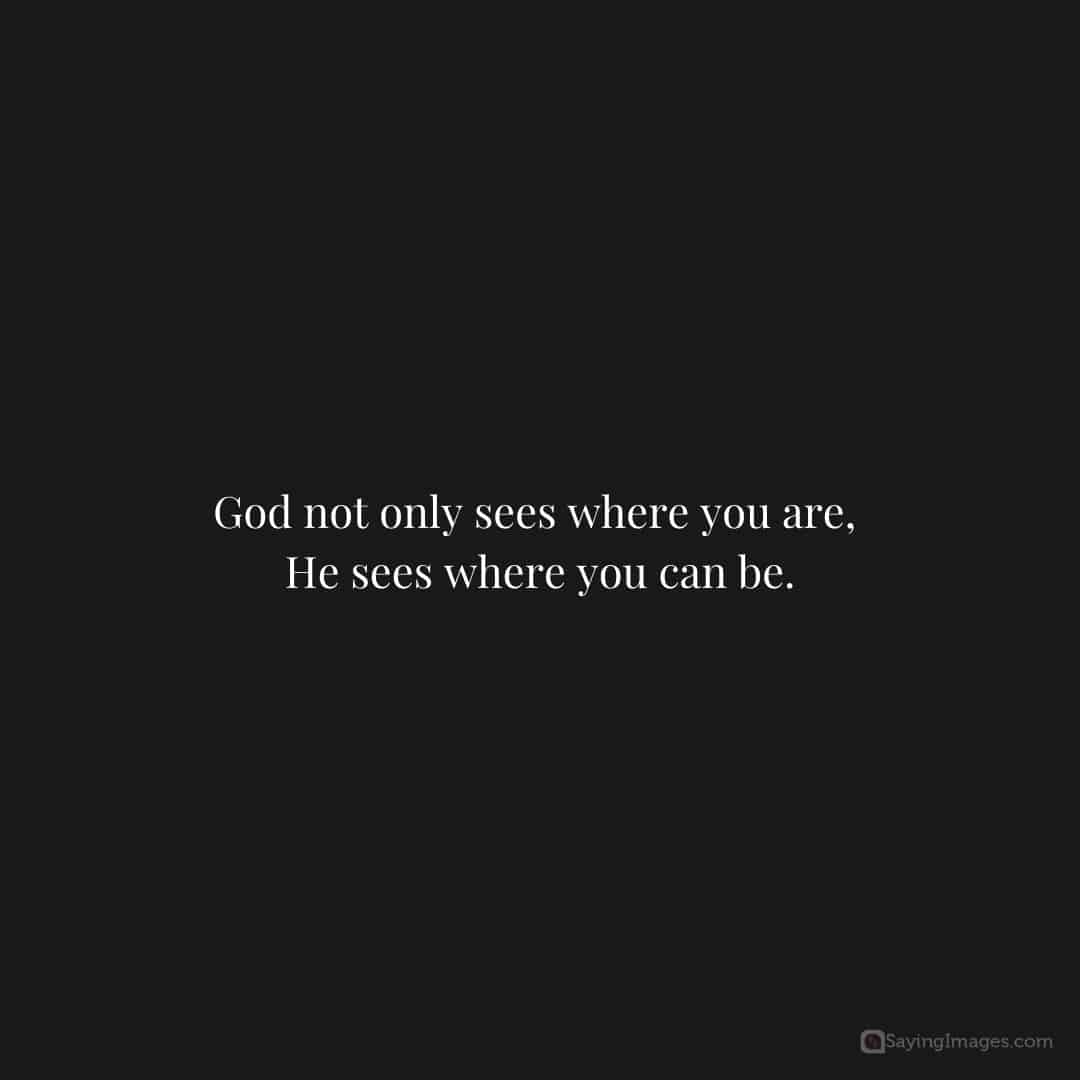 God not only sees where you are, He sees where you can be. – Joyce Meyer
When life's adversities overwhelm you, look beyond your circumstances with an absolute trust that God is in control. – Mamur Mustapha
With each new experience of letting God be in control, we gain courage and reinforcement for daring to do it again and again. – Gloria Gaither
My body and my heart may grow weak but God is the strength of my heart and all I need forever. – Psalm 73:26
We need to do what we can do and let God do what we cannot. – Joyce Meyer
God has given us control over one thing in our lives – our thoughts. – Napoleon Hill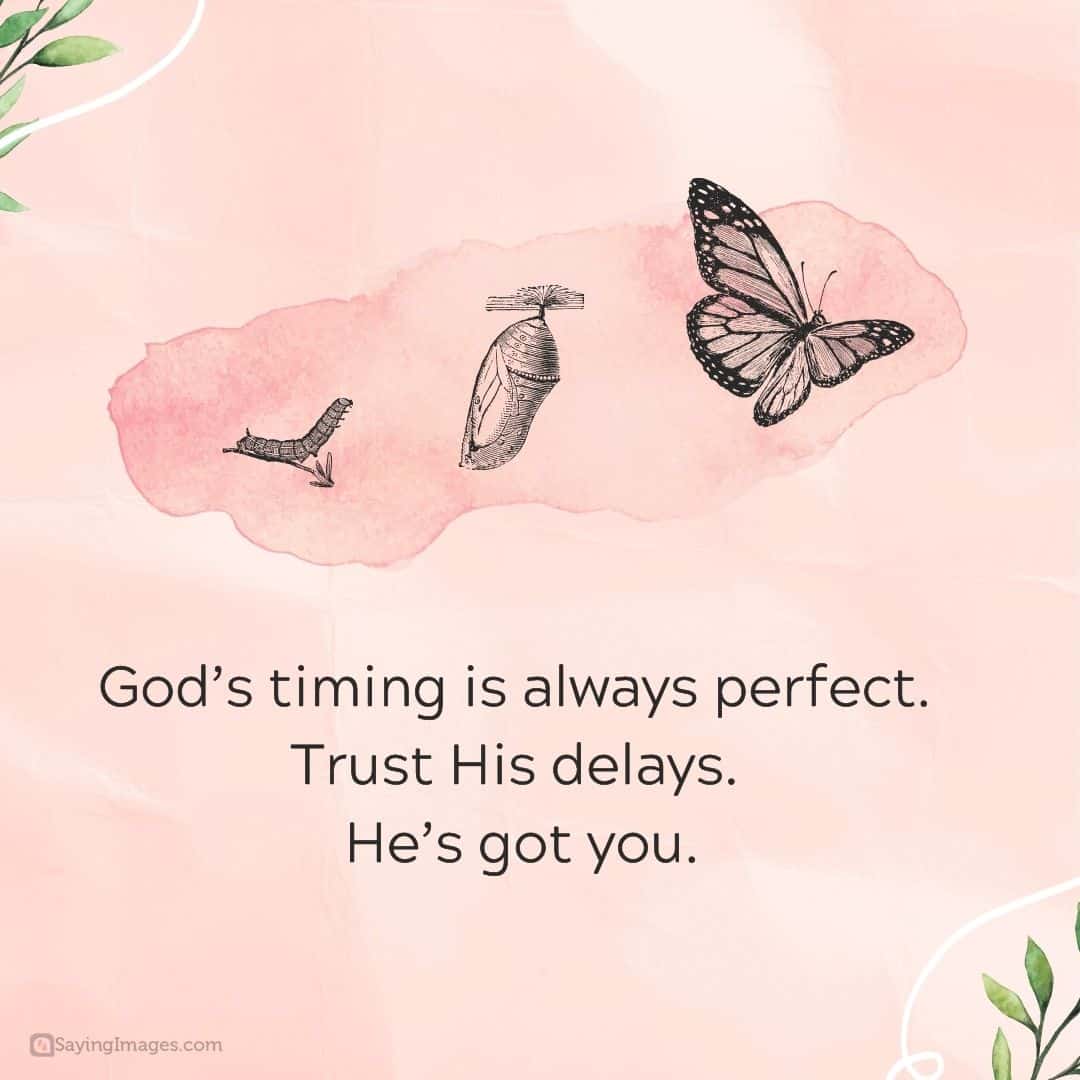 God's timing is always perfect. Trust His delays. He's got you. – Tony Evans
I have unshakeable faith in the perfect outcome of every situation in my life, for God is in absolute control. – Catherine Ponder
God is in control of all events and is able to protect and provide for you His child. – Jim George
Never be afraid to trust an unknown future to a known God. – Corrie Ten Boom
God doesn't break things so He can fix them; He fixes broken things so He can use them. – Bob Goff
God's hand never slips. He never makes a mistake. His every move is for our own good and for our ultimate good. – Billy Graham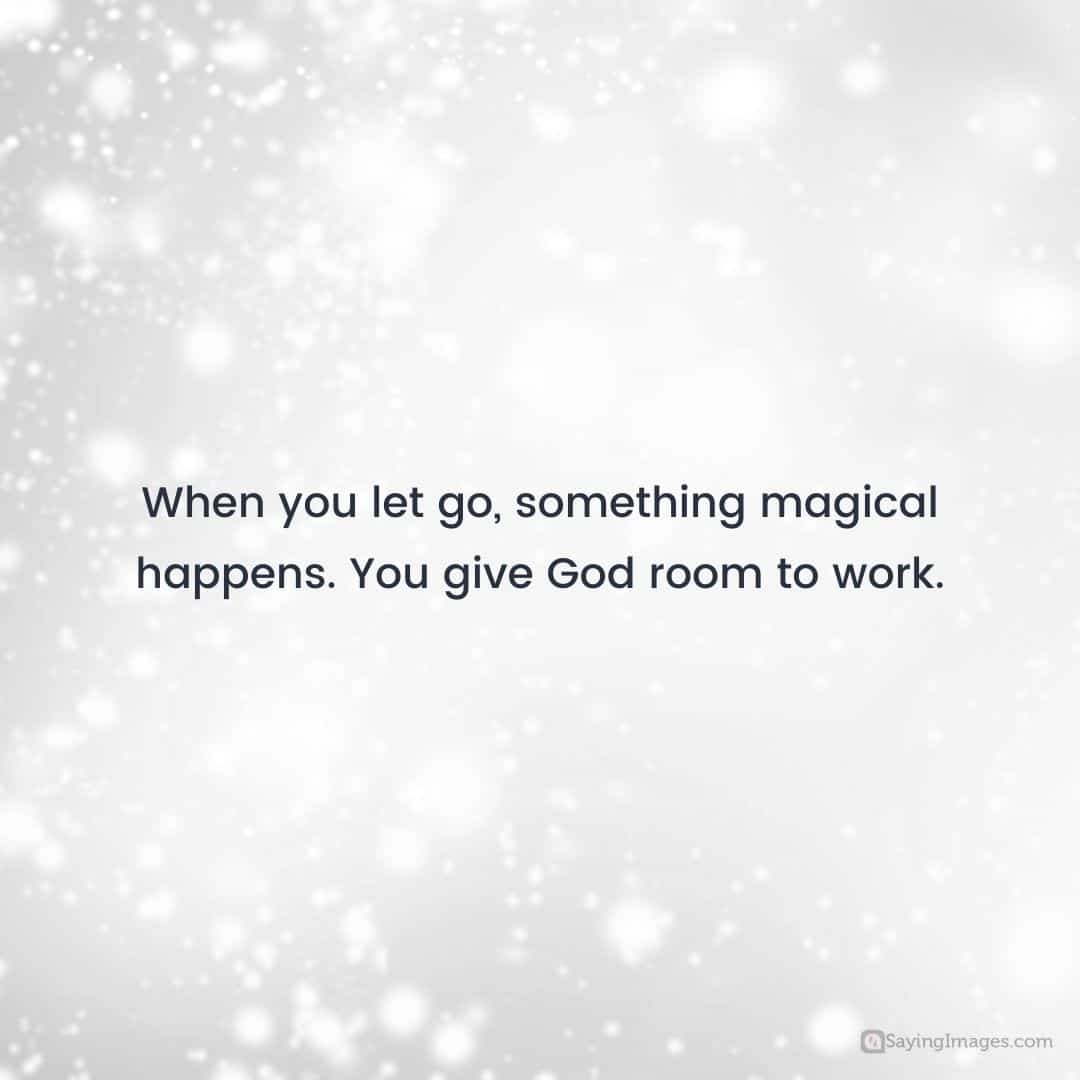 When you let go, something magical happens. You give God room to work. – Mandy Hale
Thank God that God is in control.
No matter what problems and difficulties you are facing, be comforted that God has it all under control.
Moses: God or crowd control?!? – Mary Ann Shaffer
From the Scriptures we find basic truths that may serve as the foundation of our teaching of history. The first basic truth is that God is in control of history. God's control may take the form of caring, governing, protecting, sustaining, and preserving. He exercises His will through divine superintendence or by divine intervention. – D.A. Fisher
From Genesis to Revelation, here's the central message: God Almighty, the Lord Jesus Christ, the Spirit of God, the Triune God is in control of all things, period. – Charles Stanley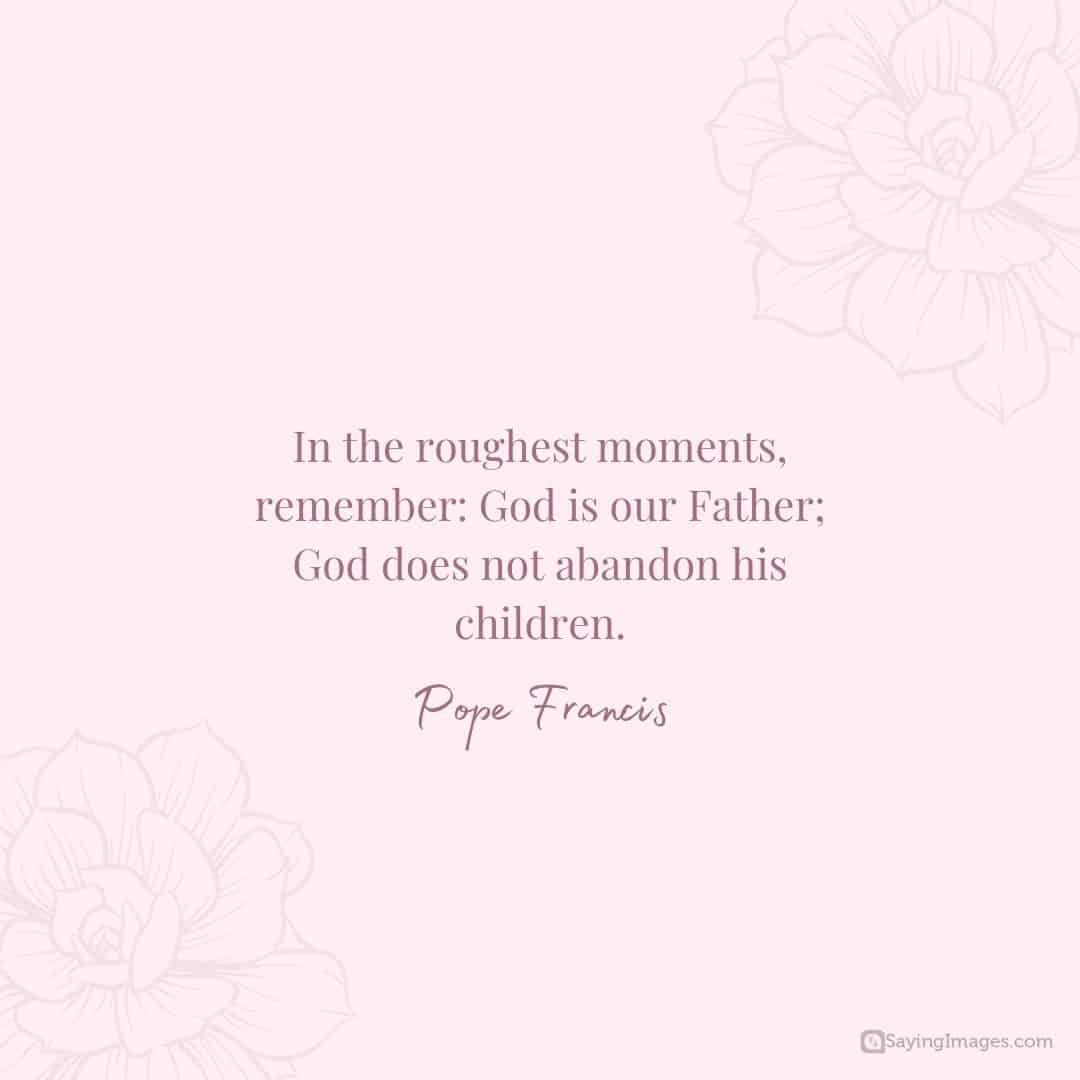 In the roughest moments, remember: God is our Father; God does not abandon his children. – Pope Francis
Your life may have taken a detour, but God is still on the throne. He has brought you this far, and sooner or later, your peace will be restored. – Joel Osteen
Over commitment in business is usually due to a lack of faith, which results in fear – specifically, the fear of failure. But if we really believe God is in control, then we also should believe He's able to make us successful while we are keeping our lives in balance. – Larry Burkett
If you prayed as much as you worry, you'd have nothing to worry about. – Rick Warren
God often hides His blessing in trouble or trial, which makes it all the sweeter when it comes our way. – Aiden Wilson Tozer
It may look impossible, but God can do the impossible. Just because you don't see anything happening doesn't mean God is not working. – Joel Osteen
God is in control.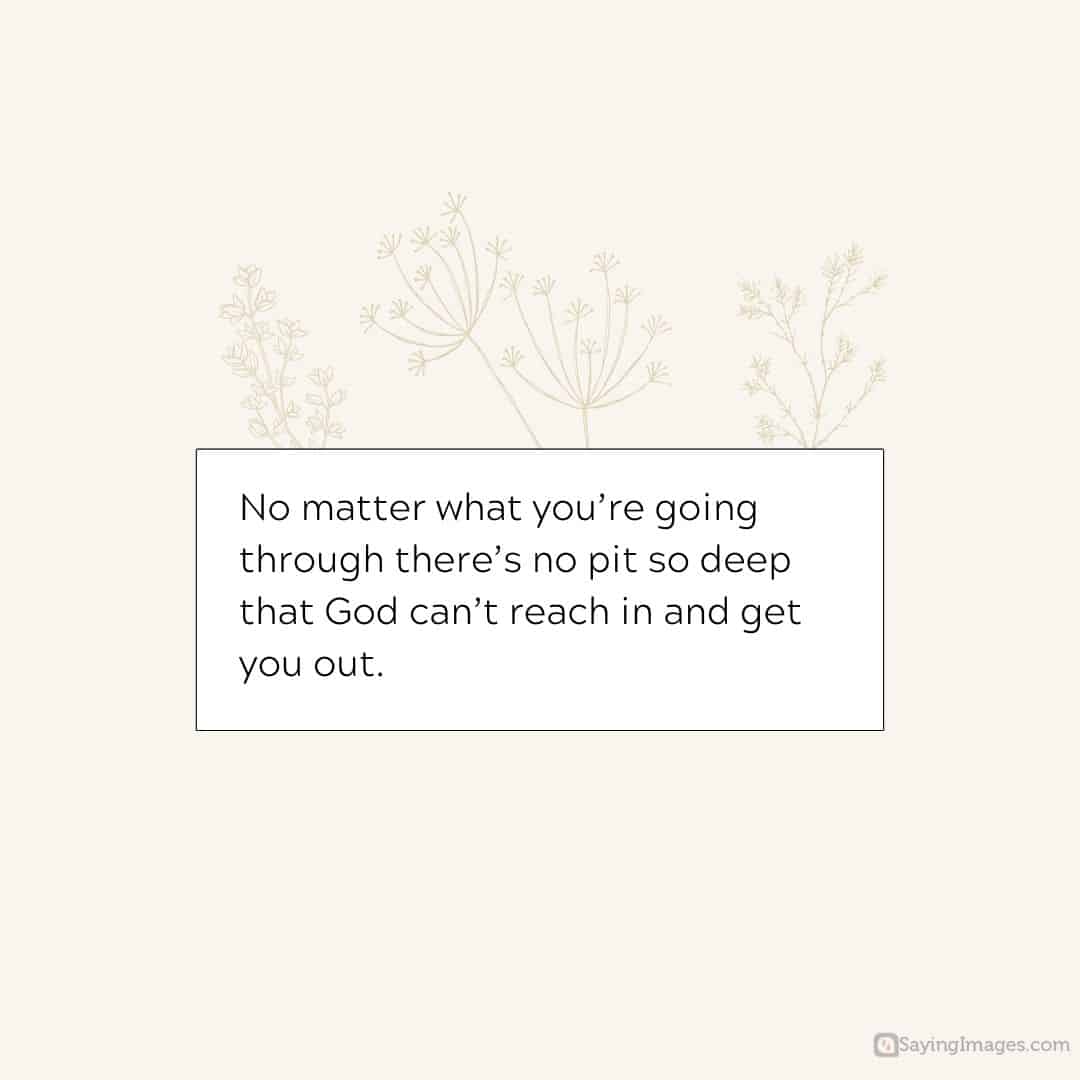 No matter what you're going through there's no pit so deep that God can't reach in and get you out. – Joyce Meyer
Anger is frustration at the fact that we are not God, and do not have control over reality. – Henry Cloud
The only thing that's in my control is to win ballgames and God is always taking care of me. – Dusty Baker
God may allow us at times to hit rock bottom, to show us He's the rock-at the bottom. – Kirk Franklin
We know that God is in control and we all have ups and downs and fears and uncertainty sometimes. Sometimes even on an hourly basis we need to keep praying and keep our peace in God and remind ourselves on the promises of God that never fails. – Nick Vujicic
Many of us rely on our own illusion of control. But when God makes it known to you that you're not the one steering the ship, be thankful. He has removed the illusion, and forced you to rely only on Him. – Yasmin Mogahed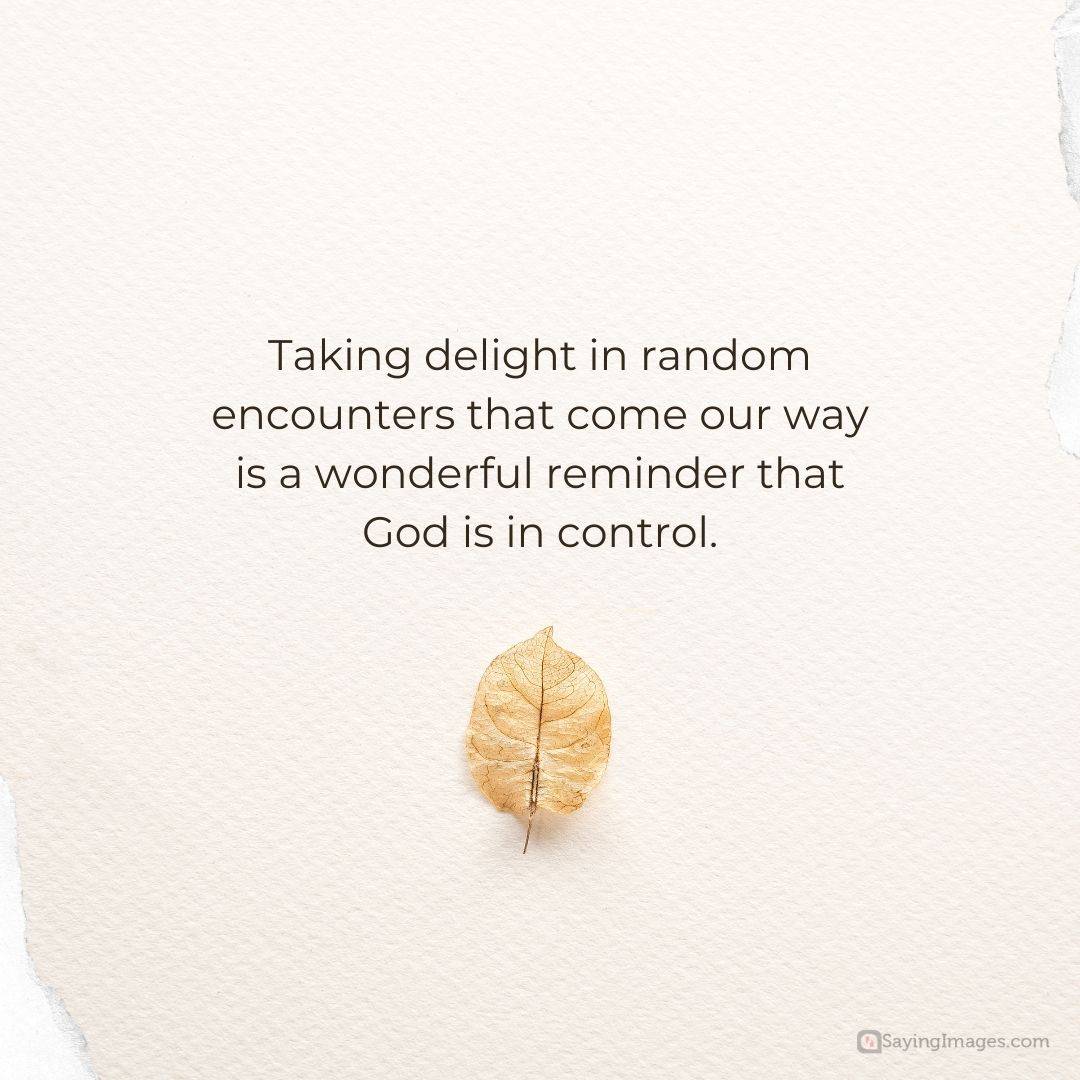 Taking delight in random encounters that come our way is a wonderful reminder that God is in control. – Mel Lawrenz
God is in control and therefore in everything I can give thanks. – Kay Arthur
When your will is God's will, you will have your will. – Charles Spurgeon
This is how God works. He puts people in positions where they are desperate for his power, and then he shows his provision in ways that display his greatness. – David Platt
If you take care of yourself and walk with integrity, you may be confident that God will deal with those who sin against you. Above all, don't give birth to sin yourself, rather, pray for those who persecute you. God will one day turn your persecution into praise. – Warren W. Wiersbe
I know that for me I have to get out of the way and let God take control. – Sherri Shepherd

The circumstances we ask God to CHANGE are often the circumstances God is using to CHANGE US. – Mark Batterson
I don't have control over everything; God has control over everything and I trust him, so I don't worry. – Mariano Rivera
Let's ask God to help us to self-control for one who lacks it, lacks his grace. – Rumi
Always give God the glory, never question why things happen the way they do. God is in control of my life. – Nishan Panwar
We must trust God with what we can't control. – David Jeremiah
With God in charge, I believe everything will work out for the best in the end. – Henry Ford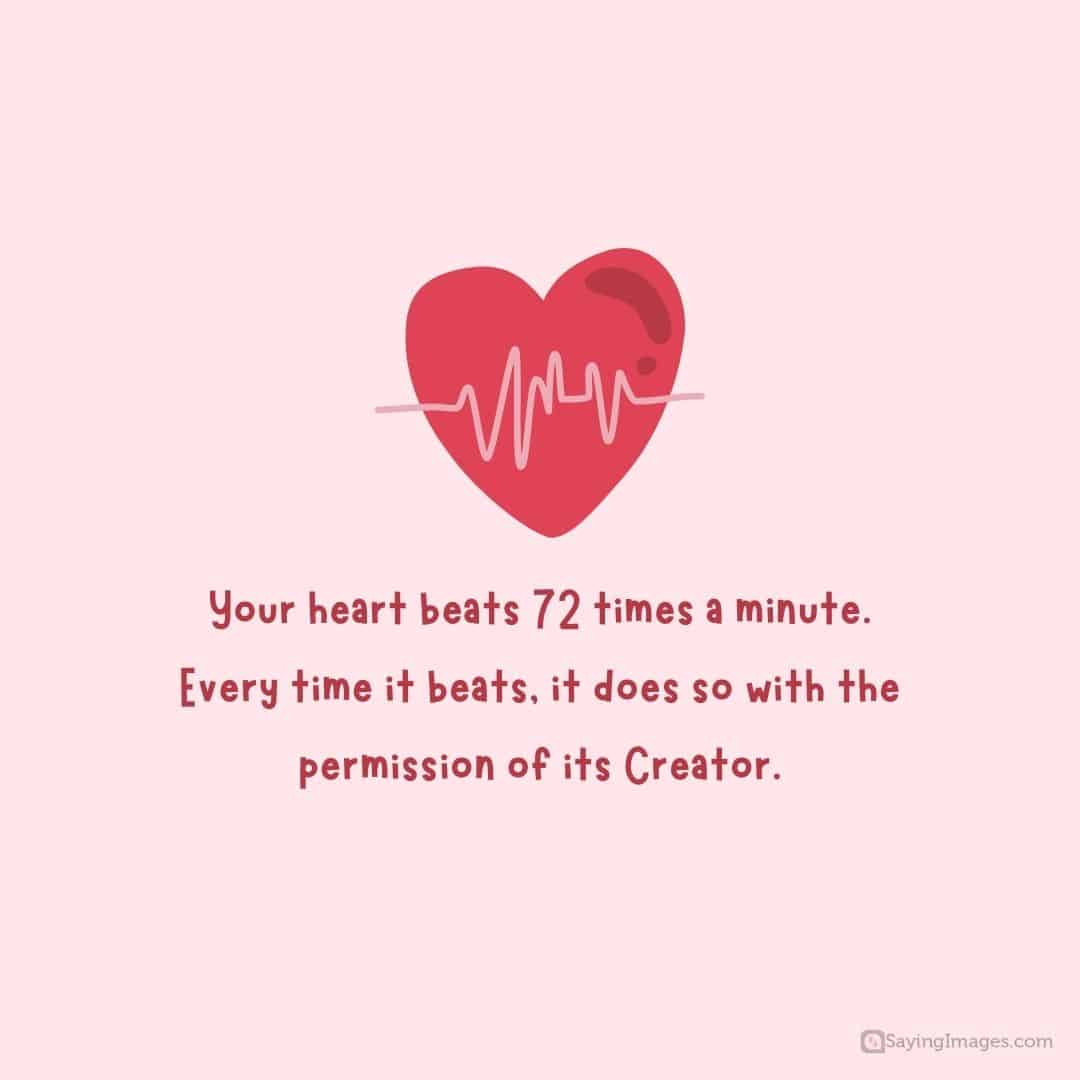 Your heart beats 72 times a minute. Every time it beats, it does so with the permission of its Creator. – Khurram Murad
It's funny how aimless a person can feel at times, even when they know God is in control. – Chris Fabry
I believe firmly in God's control in life. – Charles R. Swindoll
When you say, I don't know exactly what God is doing, but I know he's in control that's evidence you're trusting Him. – James MacDonald
There are a lot of times that we feel like our hands are tied – 'I have no control over if I'm going to lose my job.' 'I have no control over if I'm going to be able to pay my bills.' You've got to realize that that's where your trust comes in. You have to trust God, and keep your hope, because your hope is what produces your faith. – Victoria Osteen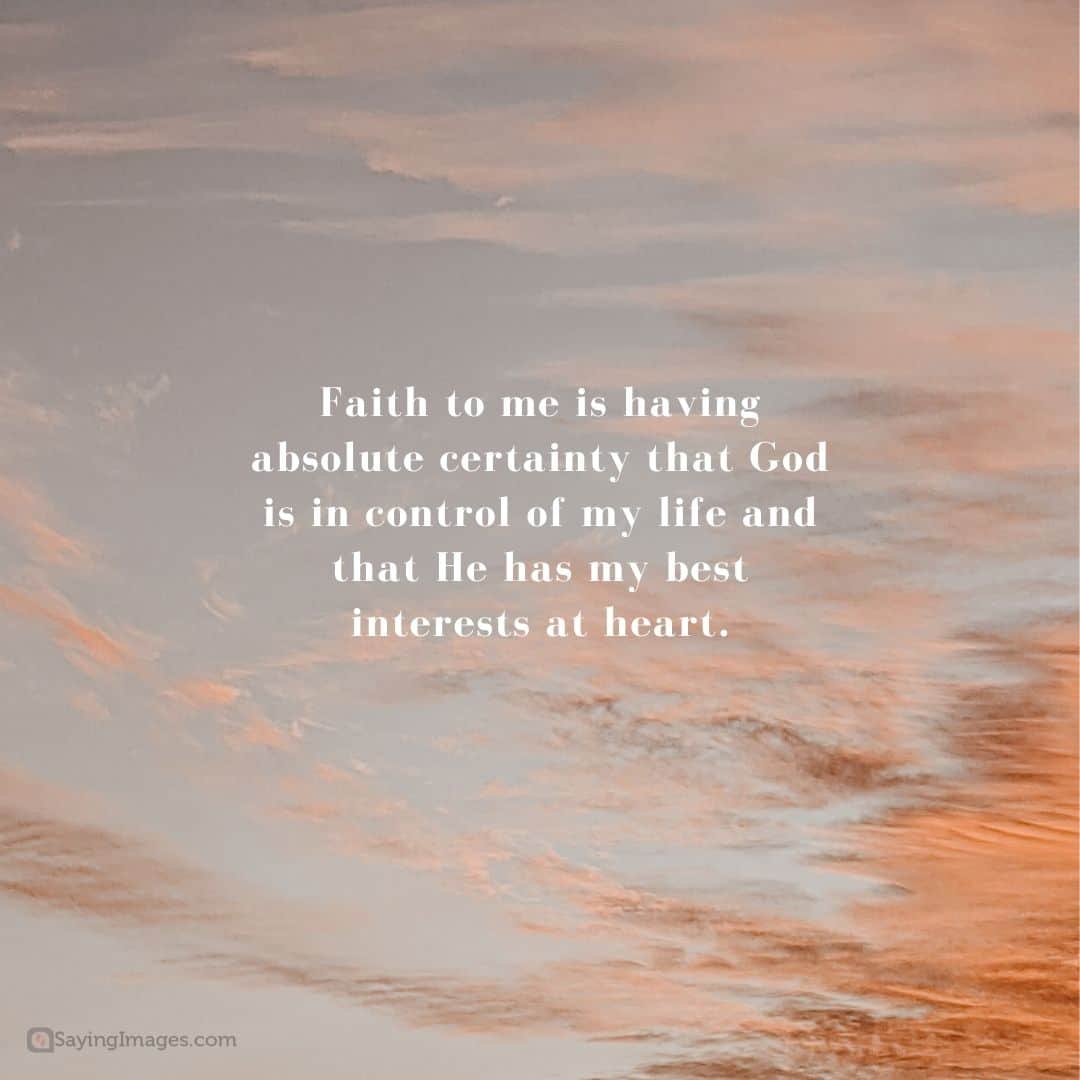 Faith to me is having absolute certainty that God is in control of my life and that He has my best interests at heart. – Dan Ellis
If God does nothing random, there must always be something to learn. – John Calvin
God never uses anyone greatly until He tests them deeply. – Aiden Wilson Tozer
It's better to have no control and be in the center of God's plan for your life than have total control and be completely lost to your destiny. – Alisa Hope Wagner
Hold your head up high, and know God is in control. He has a perfect plan for your life.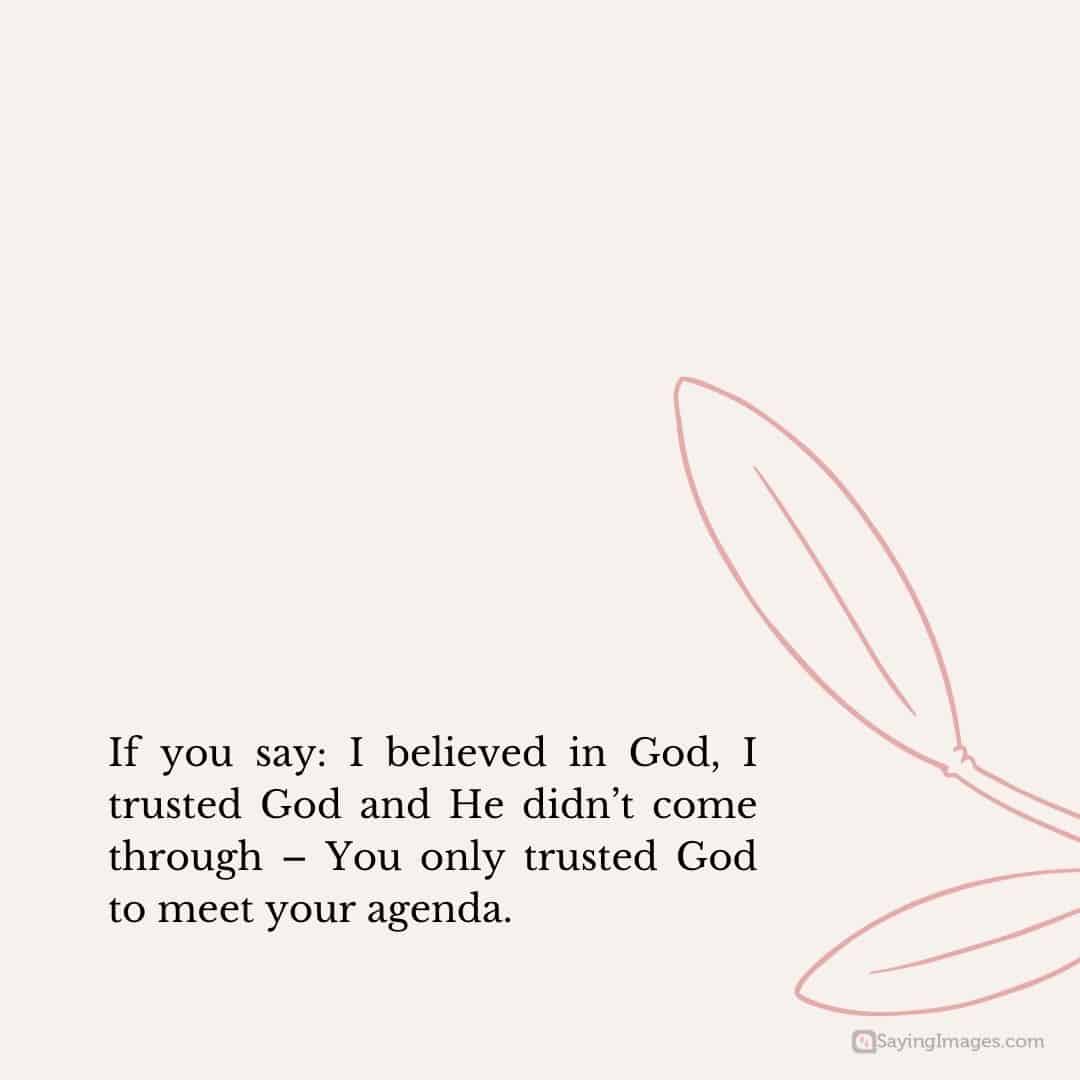 If you say: I believed in God, I trusted God and He didn't come through – You only trusted God to meet your agenda. – Timothy Keller
The most important lesson that I have learned is to trust God in every circumstance. Lots of times we go through different trials and following God's plan seems like it doesn't make any sense at all. God is always in control and he will never leave us. – Allyson Felix
My imperative is to seek every moment and to live so God is in control. – Joe Salatin
Isn't it amazing that the God who is in total control of this universe will take time out of His day to hear us pray to Him? – Mark Cahill
FAITH is the conviction that God knows more than we do about life and He will get us through it. God's still in control. – Max Lucado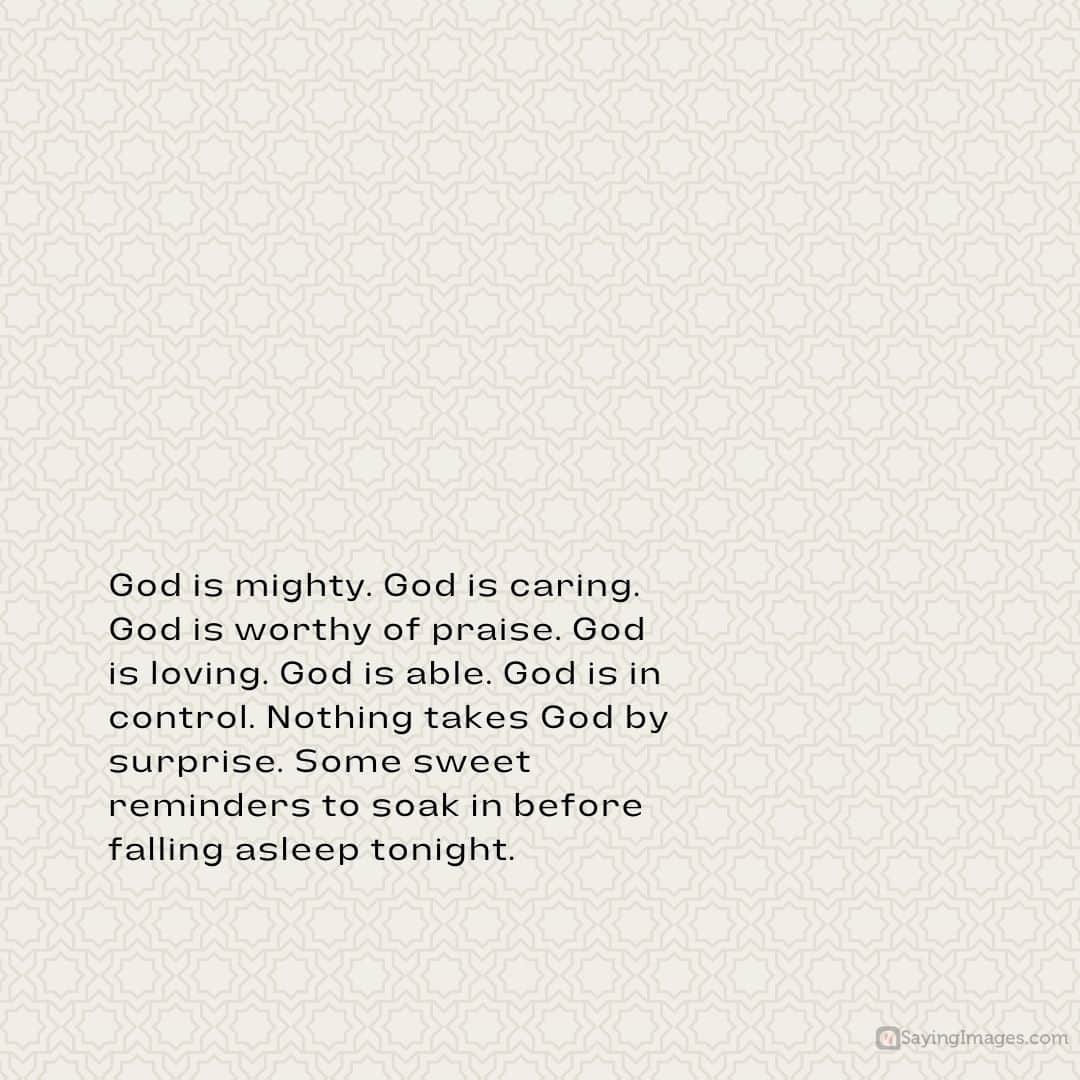 God is mighty. God is caring. God is worthy of praise. God is loving. God is able. God is in control. Nothing takes God by surprise. Some sweet reminders to soak in before falling asleep tonight. – Lysa TerKeurst
Our problems may stay, our circumstances may remain, but we know God is in control. We are focused on His adequacy, not our inadequacy. – Charles Stanley
Nothing happens by accident. God is directing each one of your steps.
Part of the beauty of Judaism, and surely this is so for other faiths also, is that it gently restores control over time. Three times a day we stop what we are doing and turn to God in prayer. We recover perspective. We inhale a deep breath of eternity. – Jonathan Sacks
Having faith in God means trusting in Him even when everything inside of you wants to take control. – Dan Ellis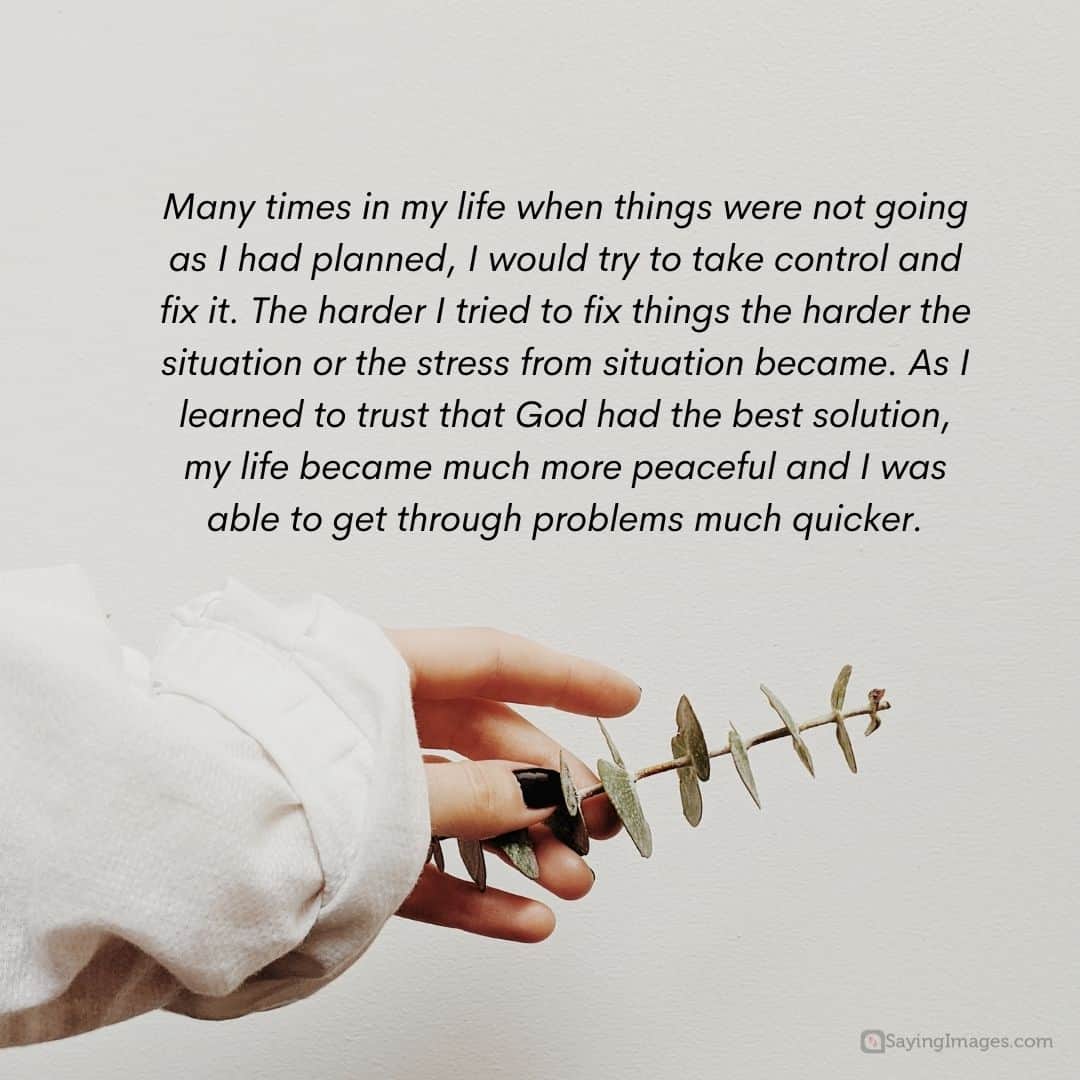 Many times in my life when things were not going as I had planned, I would try to take control and fix it. The harder I tried to fix things the harder the situation or the stress from situation became. As I learned to trust that God had the best solution, my life became much more peaceful and I was able to get through problems much quicker. – Dan Ellis
Those who leave everything in God's hand will eventually see God's hand in everything.
Joy is the settled assurance that God is in control of all the details of my life, the quiet confidence that ultimately everything is going to be all right, and the determined choice to praise God in all things. – Kay Warren
When I was younger, I thought you had to be in control of your own life. That takes a lot of discipline, hard work and focus. You just can't let it all fall by the wayside. Later on, I learned that God is really in control of everything. But you still have to put your best foot forward and be the best you can possibly be. – Janet Jackson
I have held many things in my hands, and I have lost them all; but whatever I have placed in God's hands, that I still possess. – Martin Luther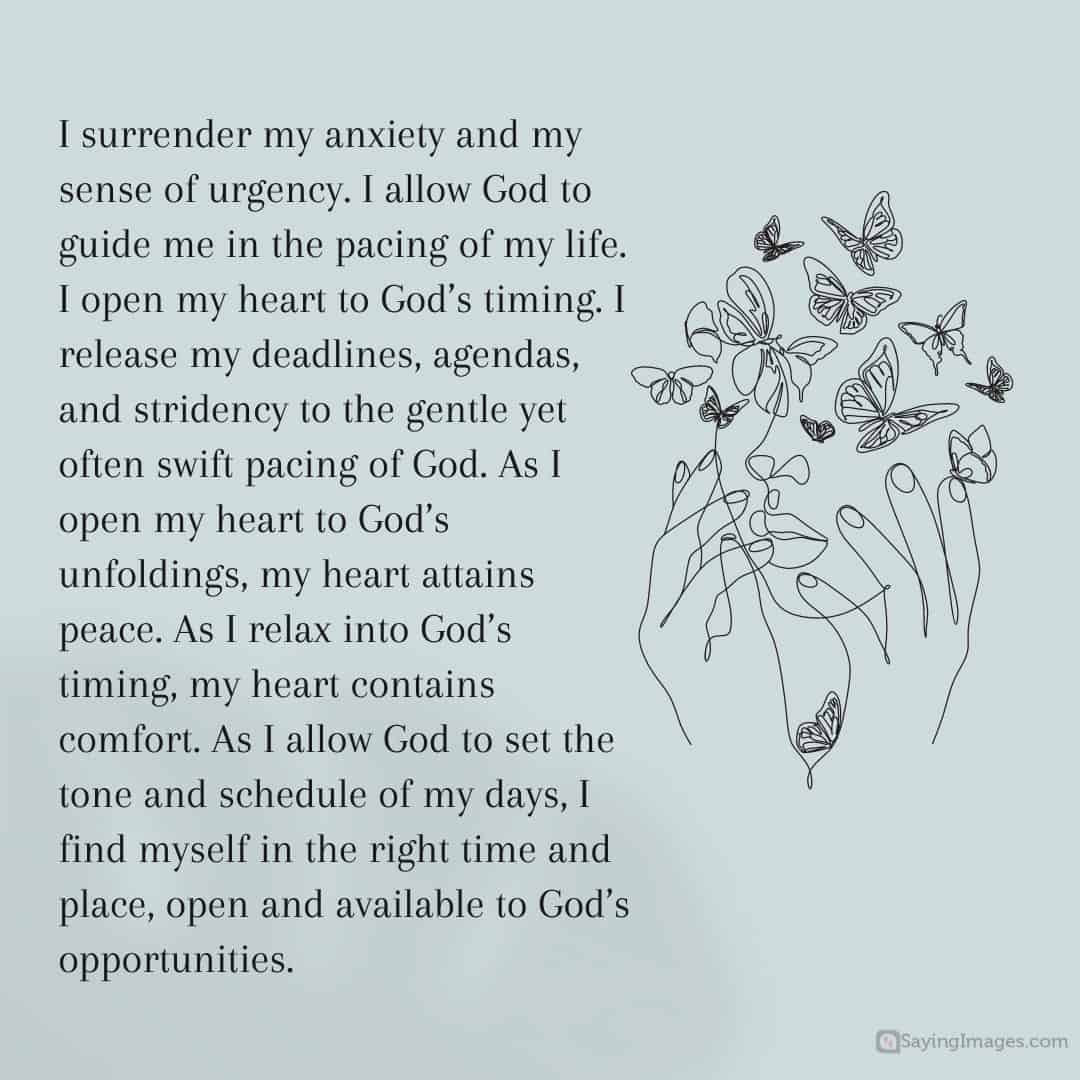 I surrender my anxiety and my sense of urgency. I allow God to guide me in the pacing of my life. I open my heart to God's timing. I release my deadlines, agendas, and stridency to the gentle yet often swift pacing of God. As I open my heart to God's unfoldings, my heart attains peace. As I relax into God's timing, my heart contains comfort. As I allow God to set the tone and schedule of my days, I find myself in the right time and place, open and available to God's opportunities. – Julia Cameron
God always gives His best to those who leave the choice with him. – Jim Elliot
God has control over everything, and obviously, everything to everyone is god-given. – Troy Polamalu
You may be leading, then you might be at the back of the pack trying to work your way up. It's just a constant reminder not to give up, and to know that God, in my mind, is really in control. – Jeff Gordon
God is in control of every circumstance. – Lailah Gifty Akita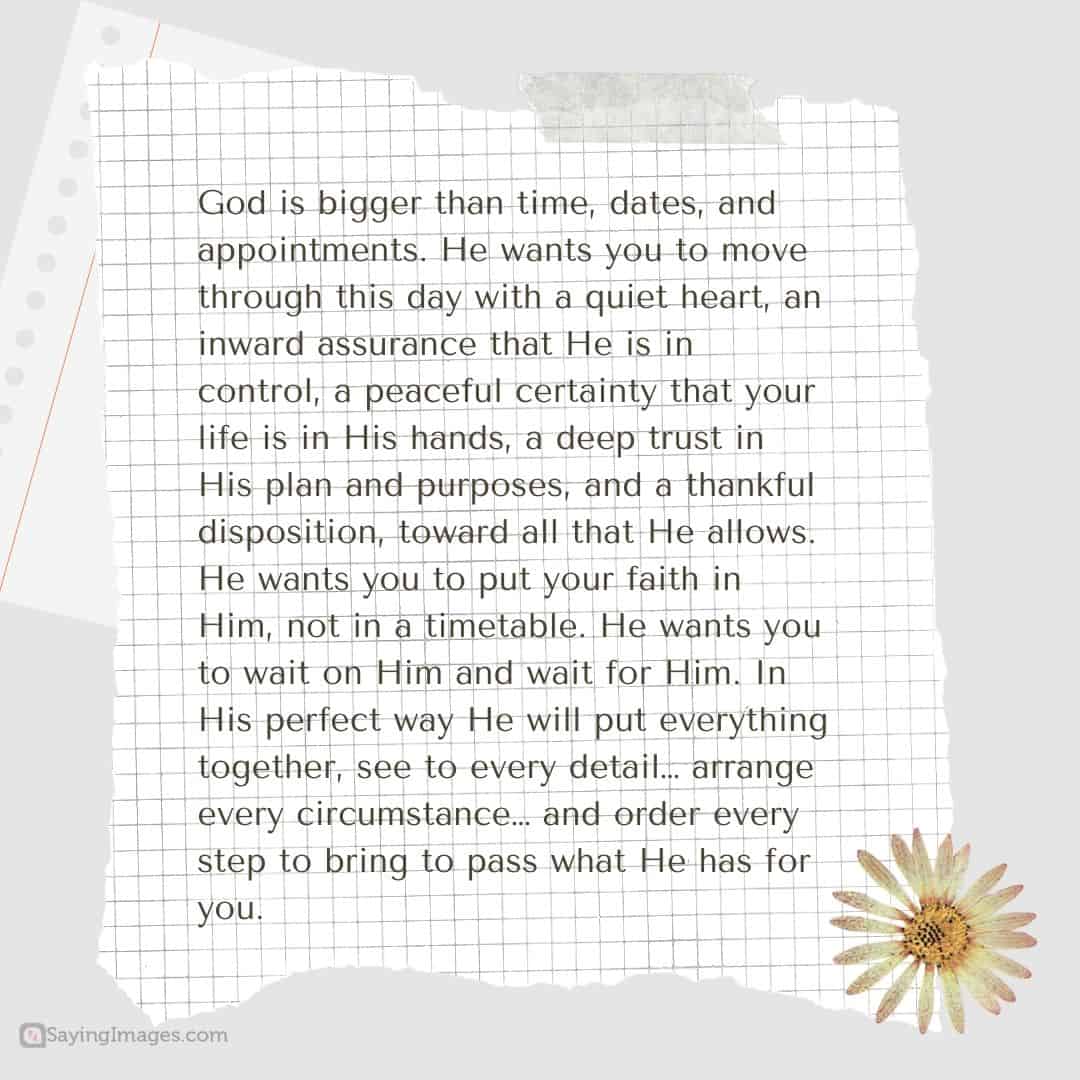 God is bigger than time, dates, and appointments. He wants you to move through this day with a quiet heart, an inward assurance that He is in control, a peaceful certainty that your life is in His hands, a deep trust in His plan and purposes, and a thankful disposition, toward all that He allows. He wants you to put your faith in Him, not in a timetable. He wants you to wait on Him and wait for Him. In His perfect way He will put everything together, see to every detail… arrange every circumstance… and order every step to bring to pass what He has for you. – Roy Lessin
Keep calm and relax. God is in control.
God is in control, and therefore in EVERYTHING I can give thanks – not because of the situation but because of the One who directs and rules over it. – Kay Arthur
Nothing is a surprise to God; nothing is a setback to His plans; nothing can thwart His purposes; and nothing is beyond His control. – Joni Eareckson Tada
Prayer is not a means by which I seek to control God; it is a means of putting myself in a position where God can control me. – Charles L. Allen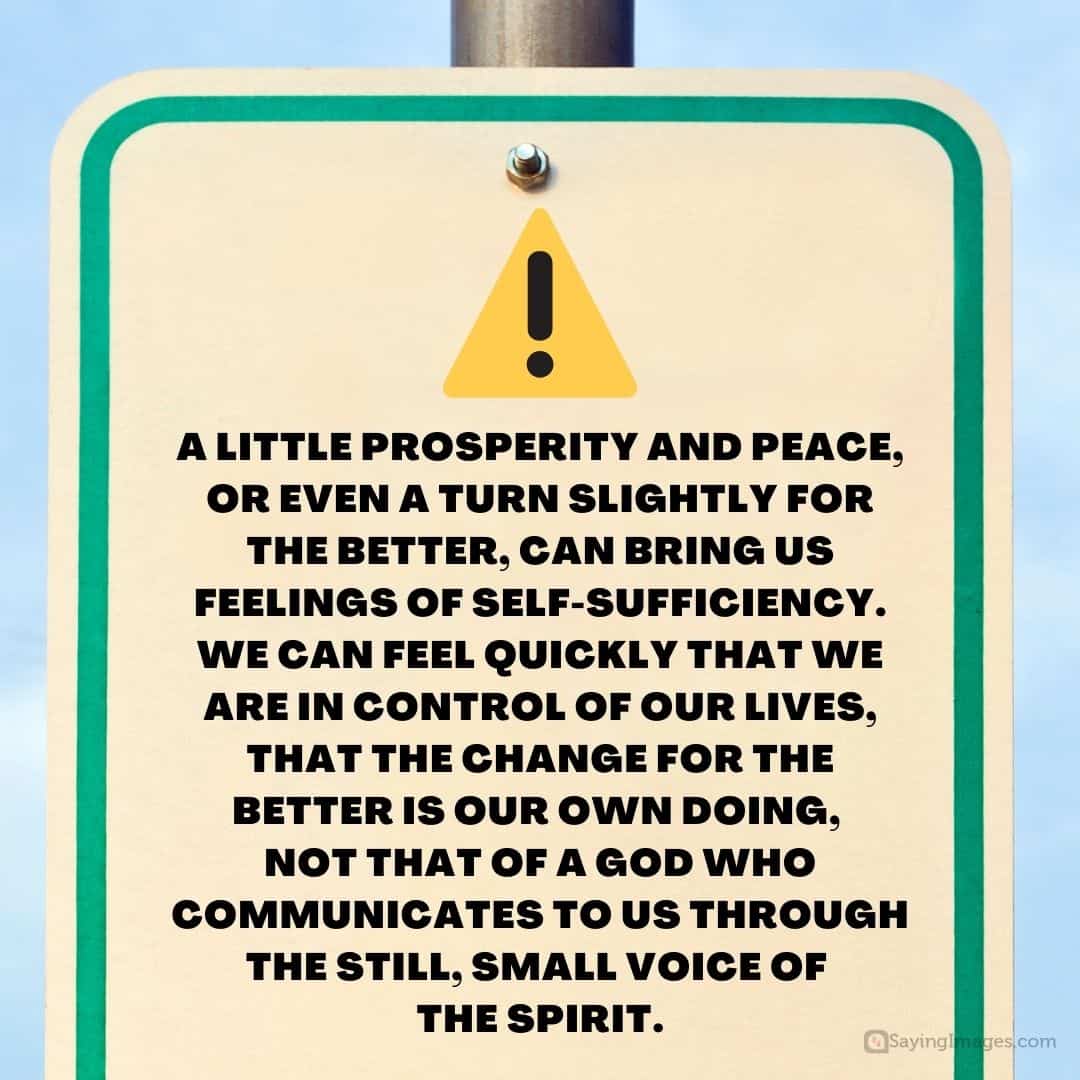 A little prosperity and peace, or even a turn slightly for the better, can bring us feelings of self-sufficiency. We can feel quickly that we are in control of our lives, that the change for the better is our own doing, not that of a God who communicates to us through the still, small voice of the Spirit. – Henry B. Eyring
Things may not be logical or fair, but when God is directing the events of our lives, they are right. – Luci Swindoll
True peace comes from knowing God is in control.
That friend, given to you by circumstances over which you have not control, was God's own gift. – Frederick William Robertson
Believe steadfastly on Him and everything that challenges you will strengthen your faith. There is continual testing in the life of faith up to the point of our physical death, which is the last great test. Faith is absolute trust in God-trust that could never imagine that He would forsake us. – Oswald Chambers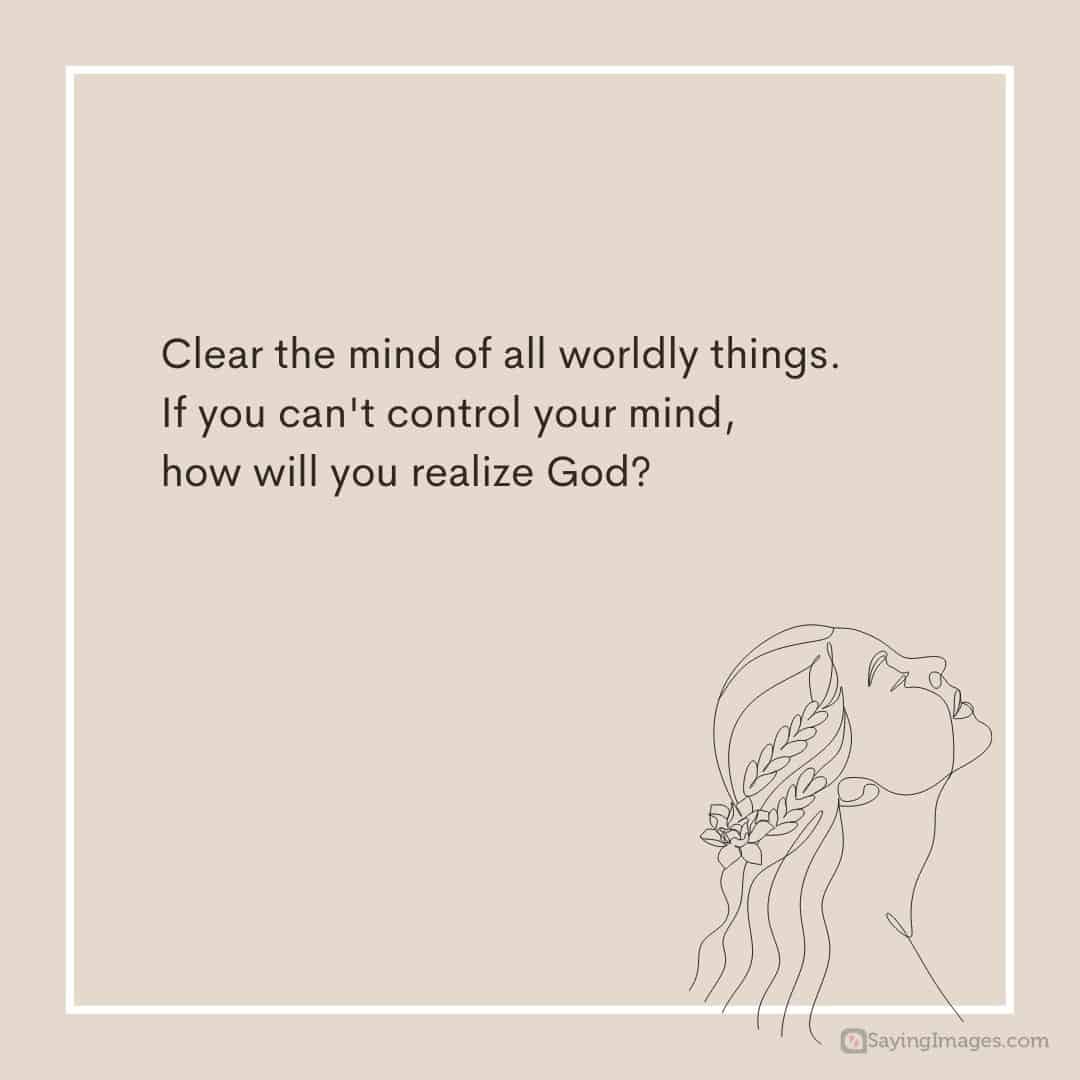 Clear the mind of all worldly things. If you can't control your mind, how will you realize God? – Neem Karoli Baba
The Christian life is one of faith, where we find ourselves routinely overdriving our headlights but knowing it's okay because God is in control and has a purpose behind it. – Bill Hybels
And when night comes, and you look back over the day and see how fragmentary everything has been, and how much you planned that has gone undone, and all the reasons you have to be embarrassed and ashamed: just take everything exactly as it is, put it in God's hands and leave it with Him. – Edith Stein
Sometimes God lets you be in a situation that only He can fix so that you can see that He is the One who fixes it. Rest. He's got it. – Tony Evans
I can rest in the fact that God is in control. Which means I can face things that are out of my control and not act out of control. – Lysa TerKeurst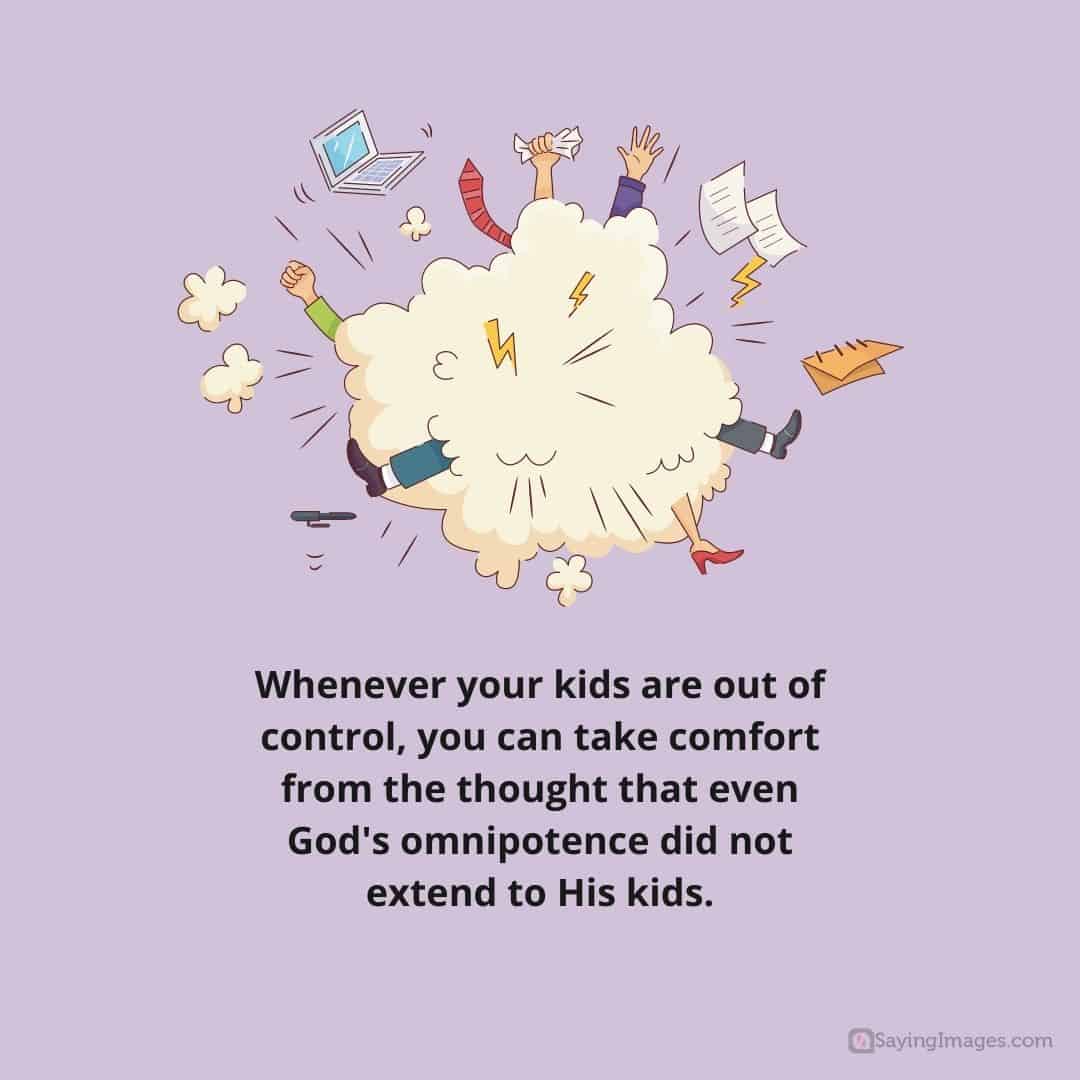 Whenever your kids are out of control, you can take comfort from the thought that even God's omnipotence did not extend to His kids. – Bill Cosby
God's more in control than we are. Obviously you still take all the precautions and safety measures inside your car. – Matt Kenseth
Let me remind you that this is God's universe, and He is doing things His way. You may think you have a better way, but you don't have a universe to rule. – J. Vernon McGee
We know that all things work together for good for those who love God, to those who are called according to his purpose. – Romans 8:28
The farther we get from God, the more the world spirals out of control. – Billy Graham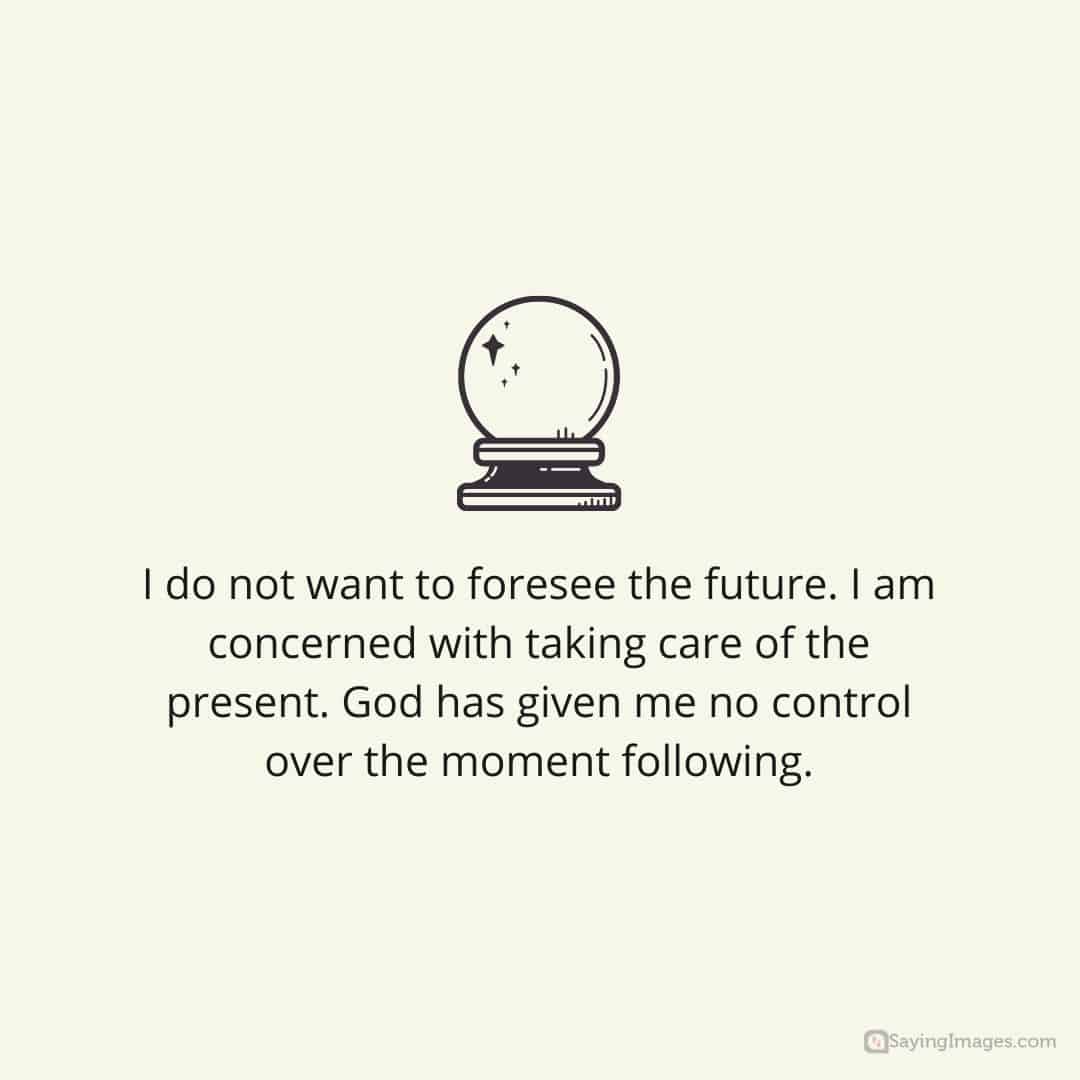 I do not want to foresee the future. I am concerned with taking care of the present. God has given me no control over the moment following. – Mahatma Gandhi
The God who loans you life sees your every move, hears each word you speak, knows your every thought. You are seen by God. Noticed. Known. – Francis Chan
Today let me reassure you, God knows right where you are and He knows how to get you to where you need to be. Even when things don't go the way you planned, His hand is on you. – Victoria Osteen
The next time you're disappointed, don't panic. Don't give up. Just be patient and let God remind you He's still in control. – Max Lucado
God never ends anything on a negative; God always ends on a positive. – Edwin Louis Cole