One of the misconceptions that prevails in modern society is the value of the stay-at-home mom, aka, SAHM. For people who don't know any better, it's a lazy choice by a lazy housewife.
In comparison, there is also a prevailing perception that career women are a cut above stay-at-home moms.
However, anybody who has ever had to assume this full-time role knows just how consuming and demanding this position is. As that one popular quote says, it's not about sitting on your ass the whole day eating French bonbons. It's a 24/7 job with no breaks, no pay (much less overtime pay), no promotions, and no vacations. It's cleaning the whole house, cleaning after everyone's messes, making sure everyone is fed, healthy and happy, keeping the family together, and on and on and on.
And the worst thing?
It's not even the fact that you can't even pee in the bathroom alone if you have a toddler. It's that sometimes, you're even under-appreciated. You are taken for granted.
If you're a stay-at-home mom or a SAHM, you will find these quotes highly relatable. A cheers for you SAMS out there. You're made of tough stuff.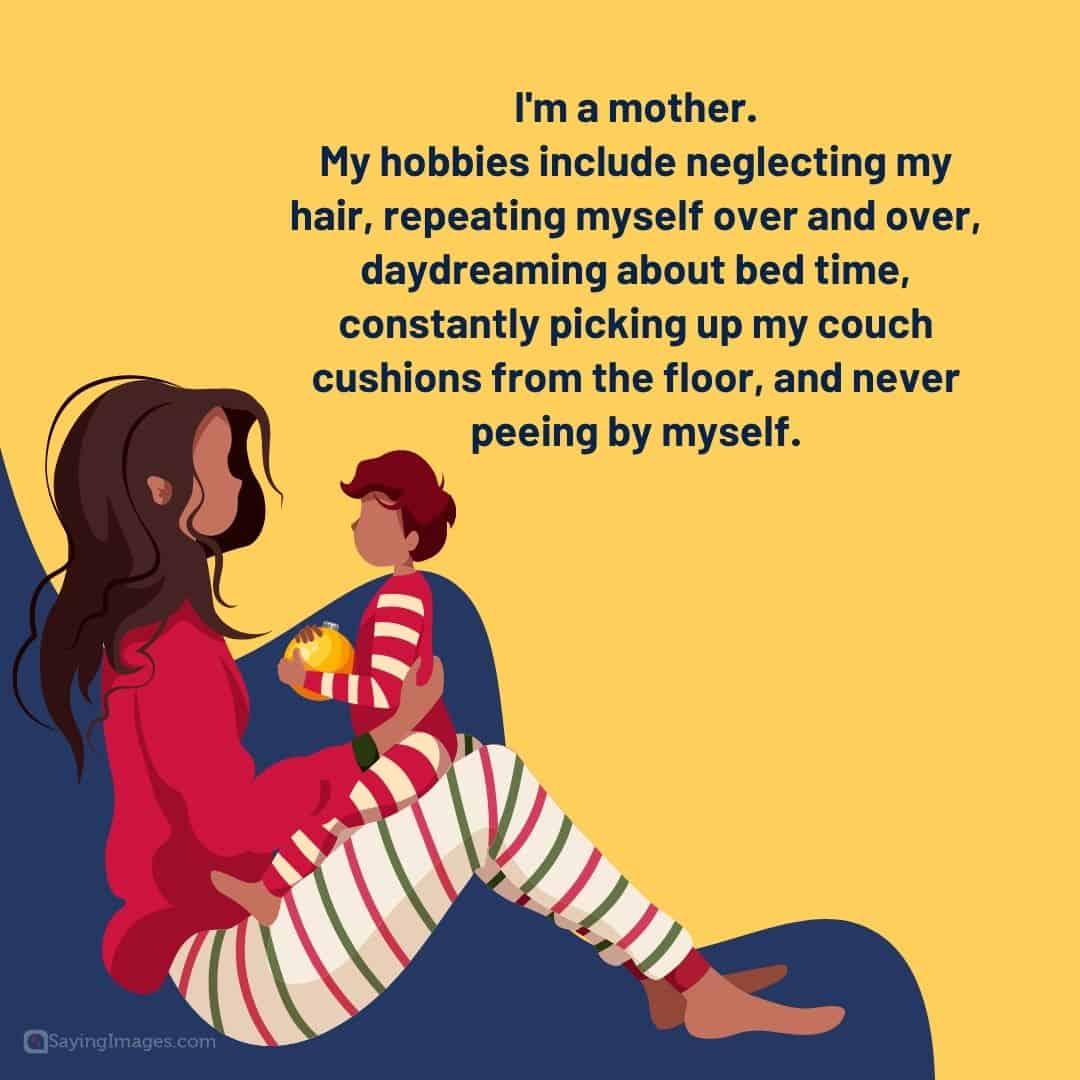 I'm a mother. My hobbies include neglecting my hair, repeating myself over and over, daydreaming about bed time, constantly picking up my couch cushions from the floor, and never peeing by myself.
I'm a real stay-at-home mom. I'm really hands-on. Everything else became secondary. – Drew Barrymore
I run a tight shipwreck.
My mother is my root, my foundation. She planted the seed that I base my life on, and that is the belief that the ability to achieve starts in your mind. – Michael Jordan
I don't know if I feel like a bad mom, but at the end of the day I'm always plagued with, did I do enough? Should I go in a different direction? But I also know that my entire life revolves around my son. – Sandra Bullock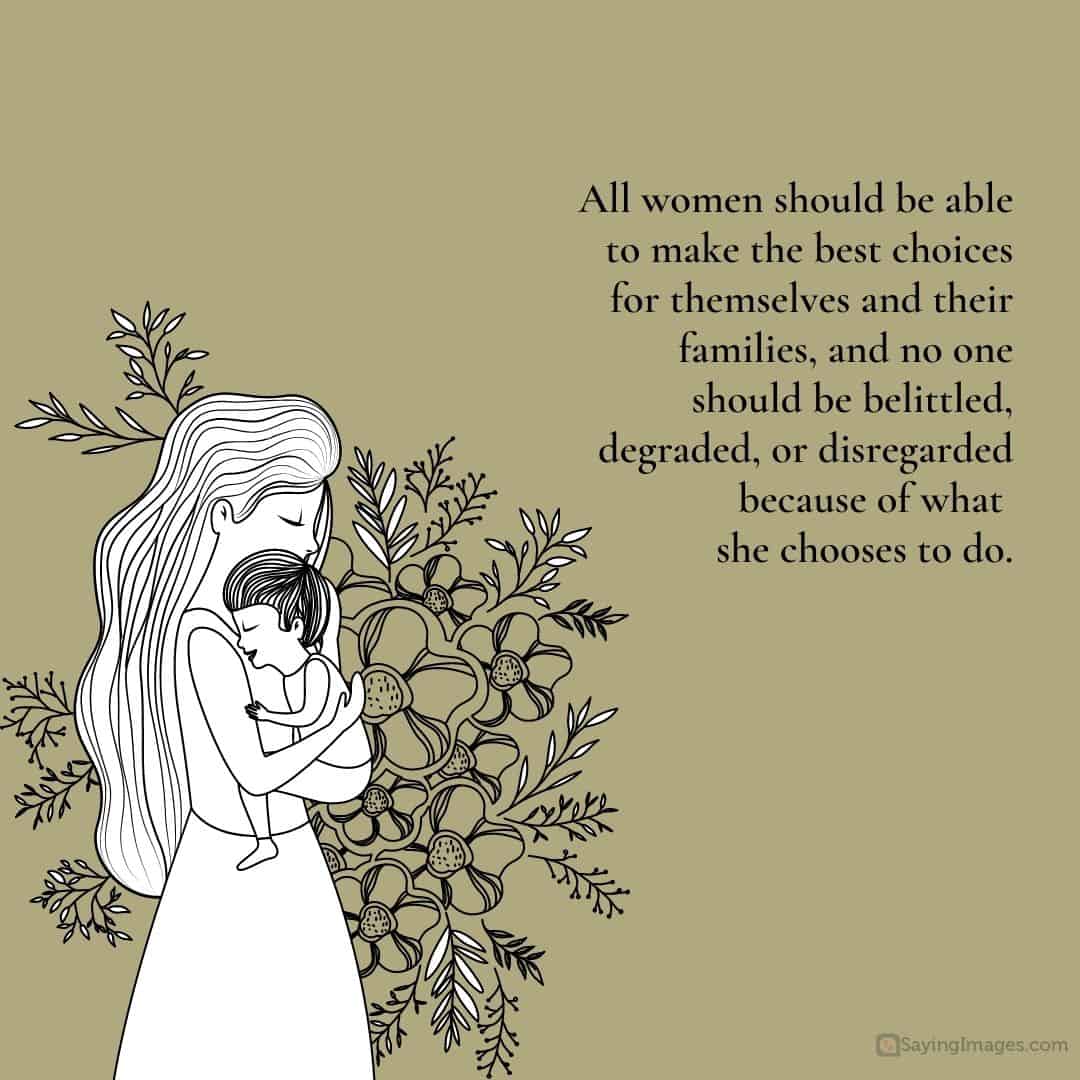 All women should be able to make the best choices for themselves and their families, and no one should be belittled, degraded, or disregarded because of what she chooses to do. – Kirsten Gillibrand, 'Off the Sidelines'
I'm so happy and thankful I made it a point to be a stay-at-home mom. – Candace Cameron
Perhaps it takes courage to raise children.. – John Steinbeck, 'East of Eden'
A mother can feel desperate for sleep yet equally desperate to comfort her baby when he needs her at night. I have spoken to many mothers who have sacrificed their own sleep, waking up numerous times every night because their babies cried for them. – Naomi Stadlen, 'What Mothers Do'
This is my life: sitting around dying of boredom, the whining, the tantrums, the baby weight, the endlessness of it all. – Hayley DeRoche, 'Hello Lovelies'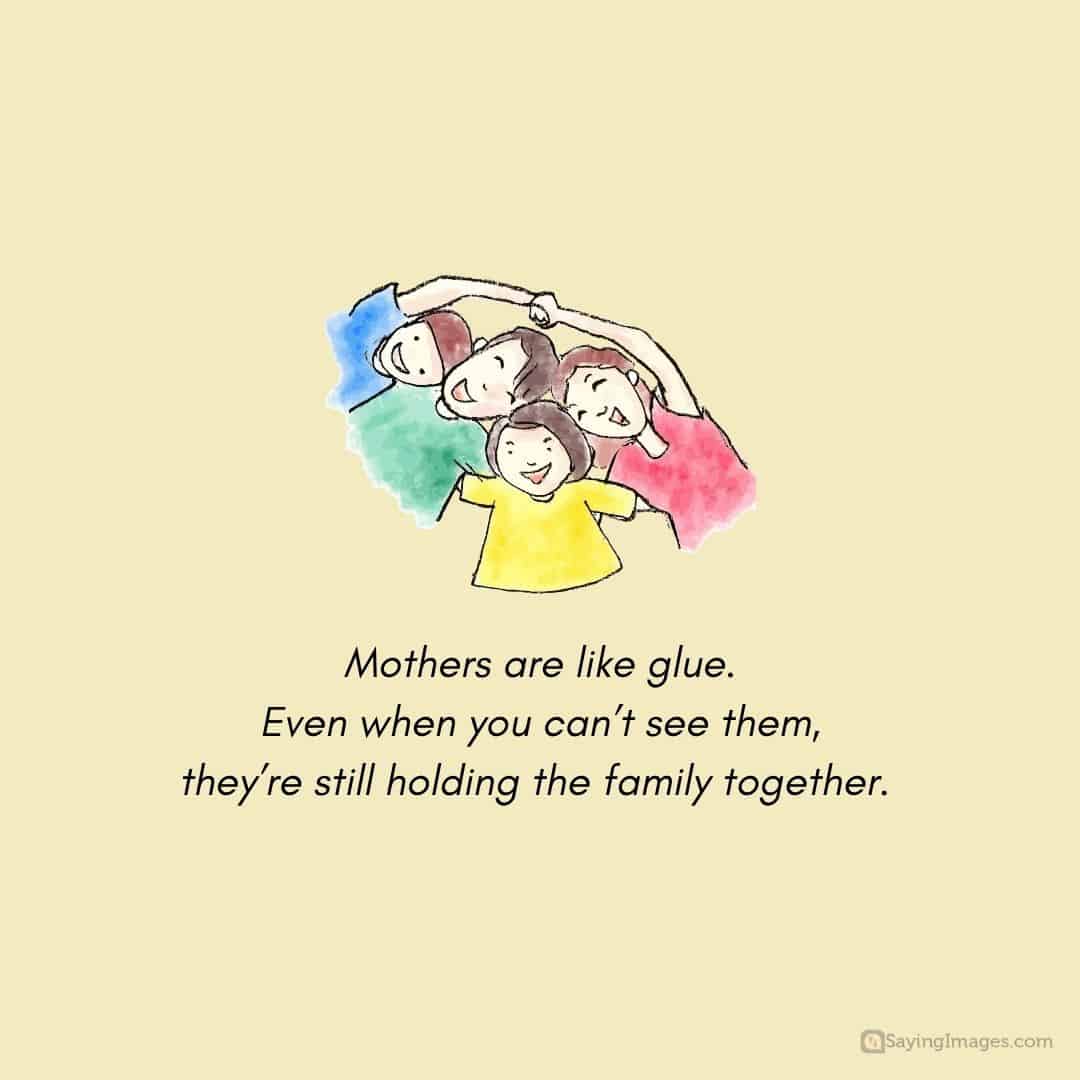 Mothers are like glue. Even when you can't see them, they're still holding the family together. – Susan Gale
There ought to be a hall of fame for mamas / Creation's most unique and precious pearl / And heaven help us always to remember / That the hand that rocks the cradle rules the world. – Glen Campbell
It's about getting the kids up and fed, getting one to school, getting the other down for a nap, going to the grocery store, picking one up from school, getting the other one down for another nap, cooking dinner. – Jennifer Garner
I see myself as a mom first. I'm so lucky to have that role in life. The world can like me, hate me, or fall apart around me and at least I wake up with my kids and I'm happy. – Angelina Jolie
I am a mom. My house is always loud and messy and that's okay. Because one day, it will be spotless and lonely.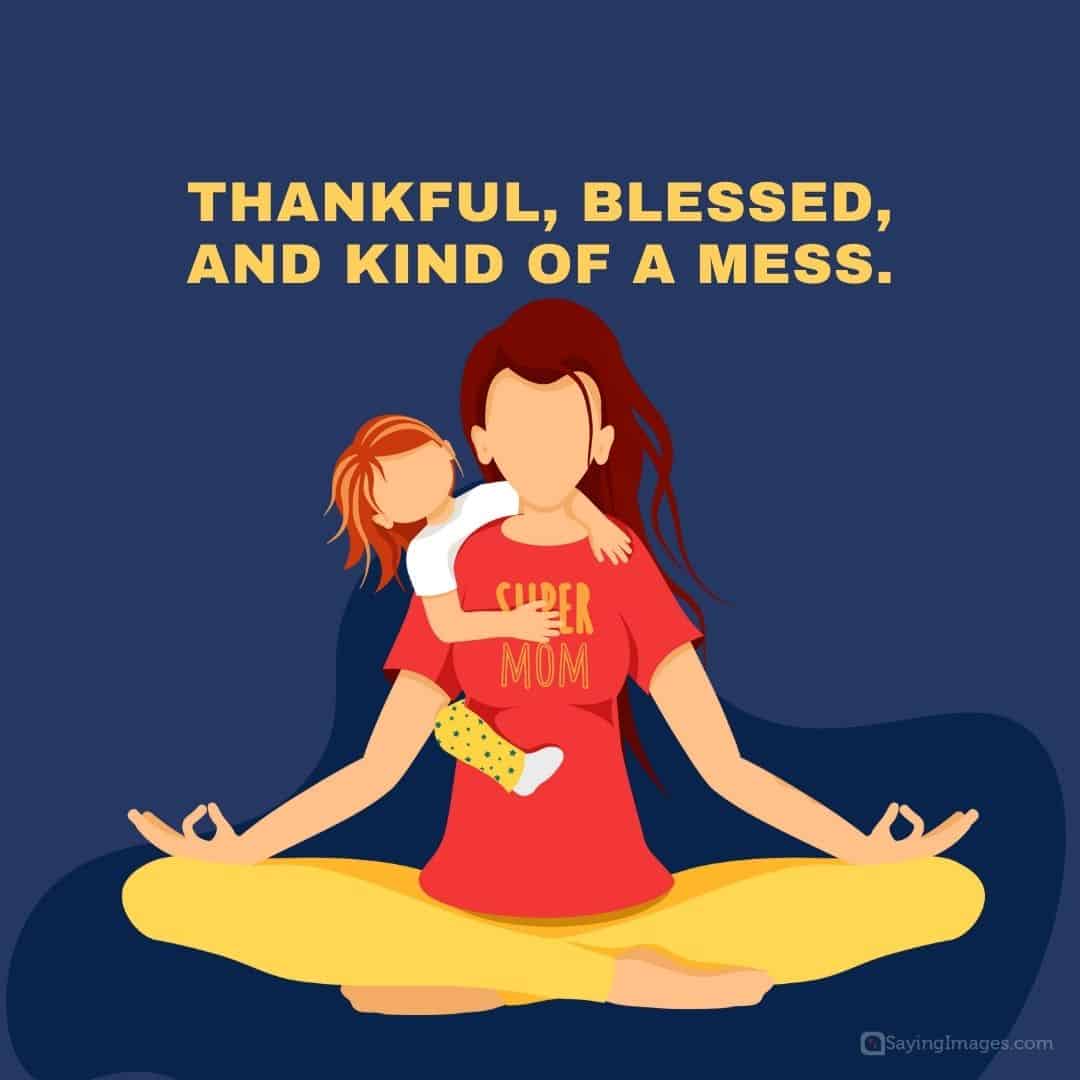 Thankful, blessed, and kind of a mess.
The most important work you will ever do will be within the walls of your own home. – Harold B. Lee
I want my children to have all the things I couldn't afford. Then I want to move in with them. – Phyllis Diller
Keep calm and respect SAHMS.
Kids don't stay with you if you do it right. It's the one job where, the better you are, the more surely you won't be needed in the long run. – B. Kingsglover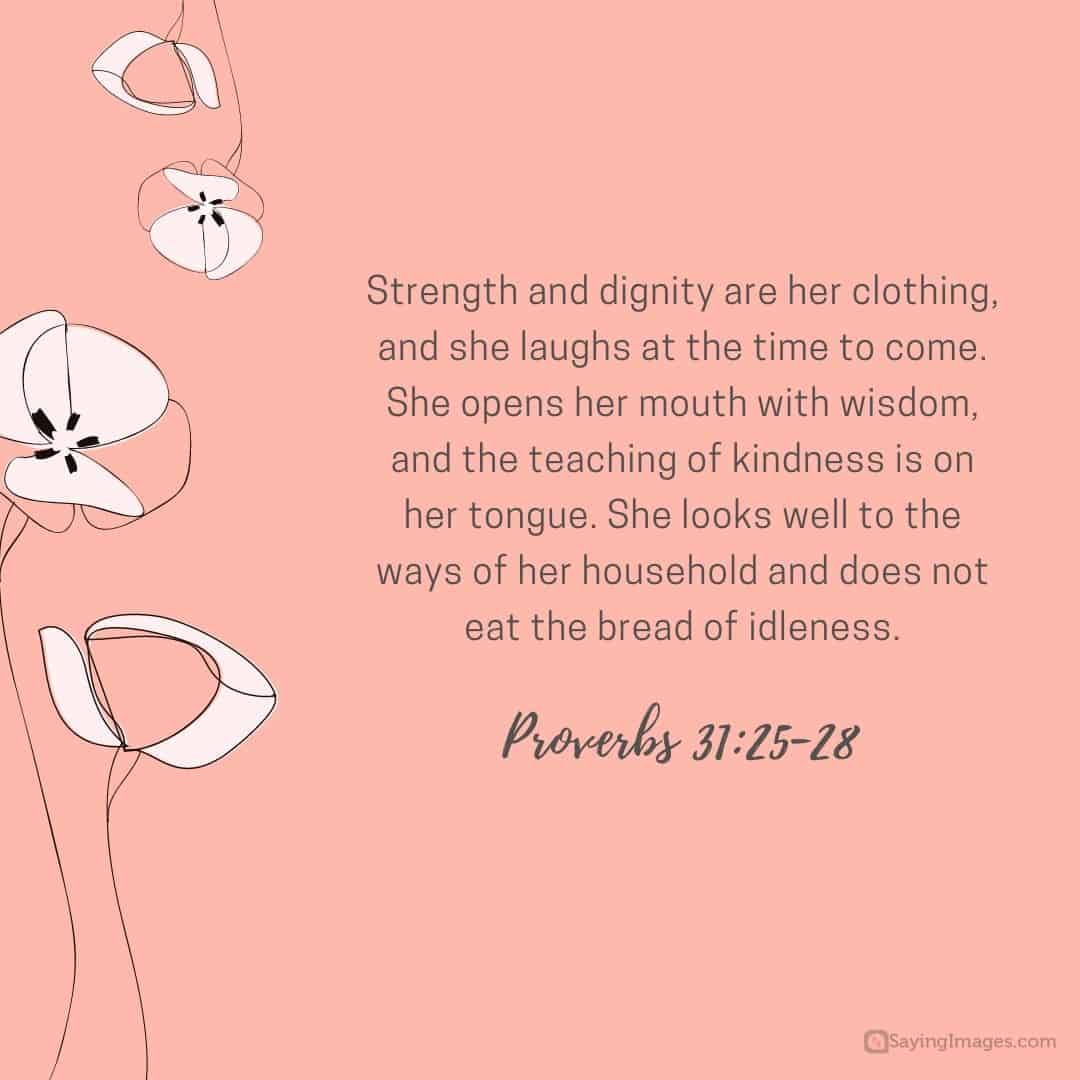 Strength and dignity are her clothing, and she laughs at the time to come. She opens her mouth with wisdom, and the teaching of kindness is on her tongue. She looks well to the ways of her household and does not eat the bread of idleness. – Proverbs 31:25-28
Don't judge, assume, or criticize. Simply trust that she's doing her best.
The best place to cry is on a mother's arms. – Jodi Picoult, 'House Rules'
This is my circus, these are my monkeys.
Some days she has no idea how she'll do it, but every single day, it still gets done.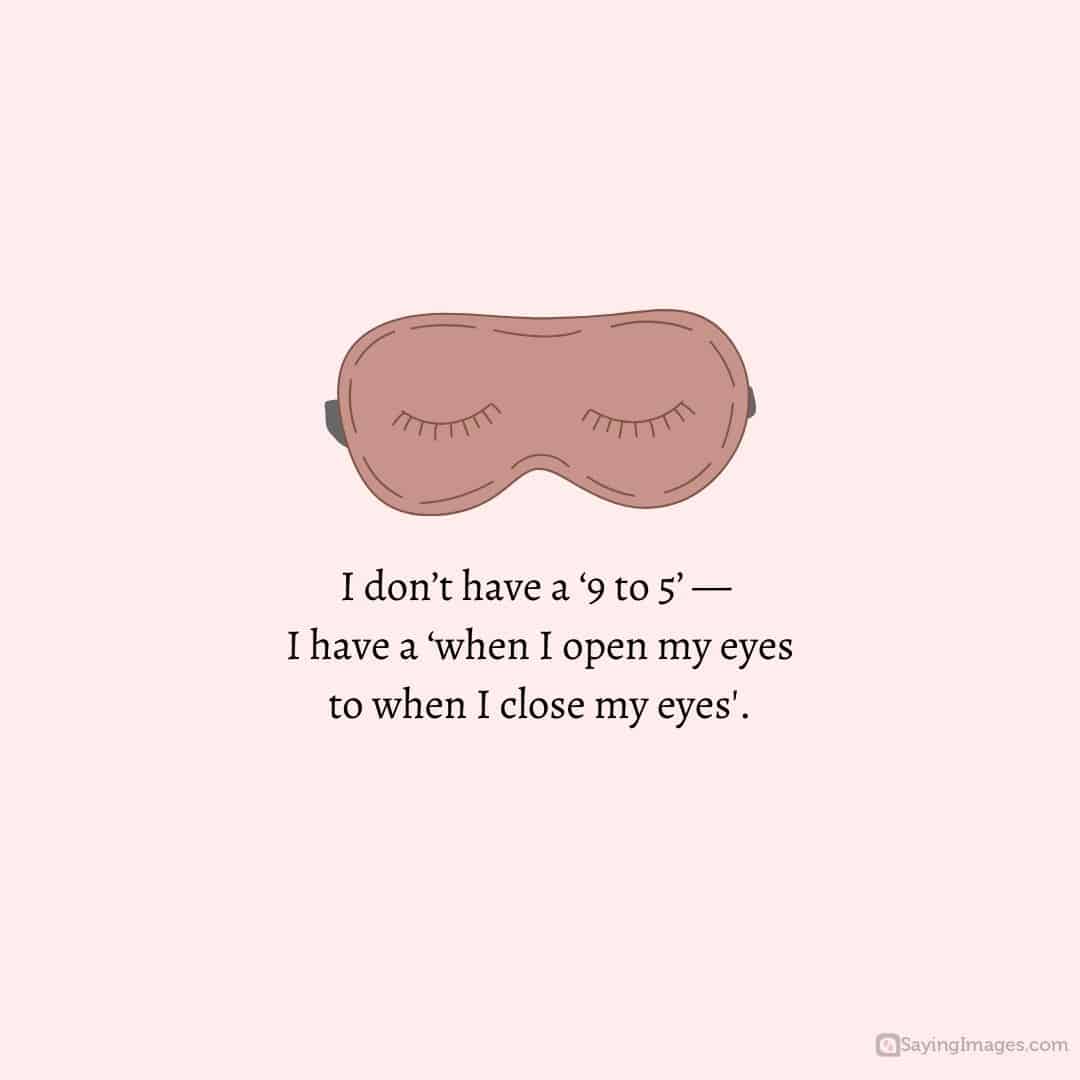 I don't have a '9 to 5' — I have a 'when I open my eyes to when I close my eyes.
Every single day I'm alive or you're alive, we're choosing this life and this persona. We choose to be the stay-at-home mom who loves baking and Pilates. We choose to be a hipster who loves coffee shops and artisan goods. We choose to be a lawyer who runs marathons and only eats organic. – Rachel Hollis
My workday is done. I'm finally off work! I'm done for the day!' – said no stay at home mom ever.
I realized when you look at your mother, you are looking at the purest love you will ever know. – Mitch Albom, 'For One More Day'
Whether you are a stay-at-home mom, or on the red carpet, or in Afghanistan, the better you feel, the better you do your job. – Bobbi Brown
You will never look back on life & think 'I spent too much time with my kids.'
We can't afford a full-time chef, accountant, nanny, housekeeper, pet sitter, etc. so I'm a stay at home mom.
Motherhood: losing my sanity and my sleep, all in the name of love.
If she wasn't careful, she'd slide without a ripple into the gently flowing stream of her old life, pulled back under
the current without a whimper of protest. Another housewife lost in the flow. – Kristin Hannah, 'On Mystic Lake'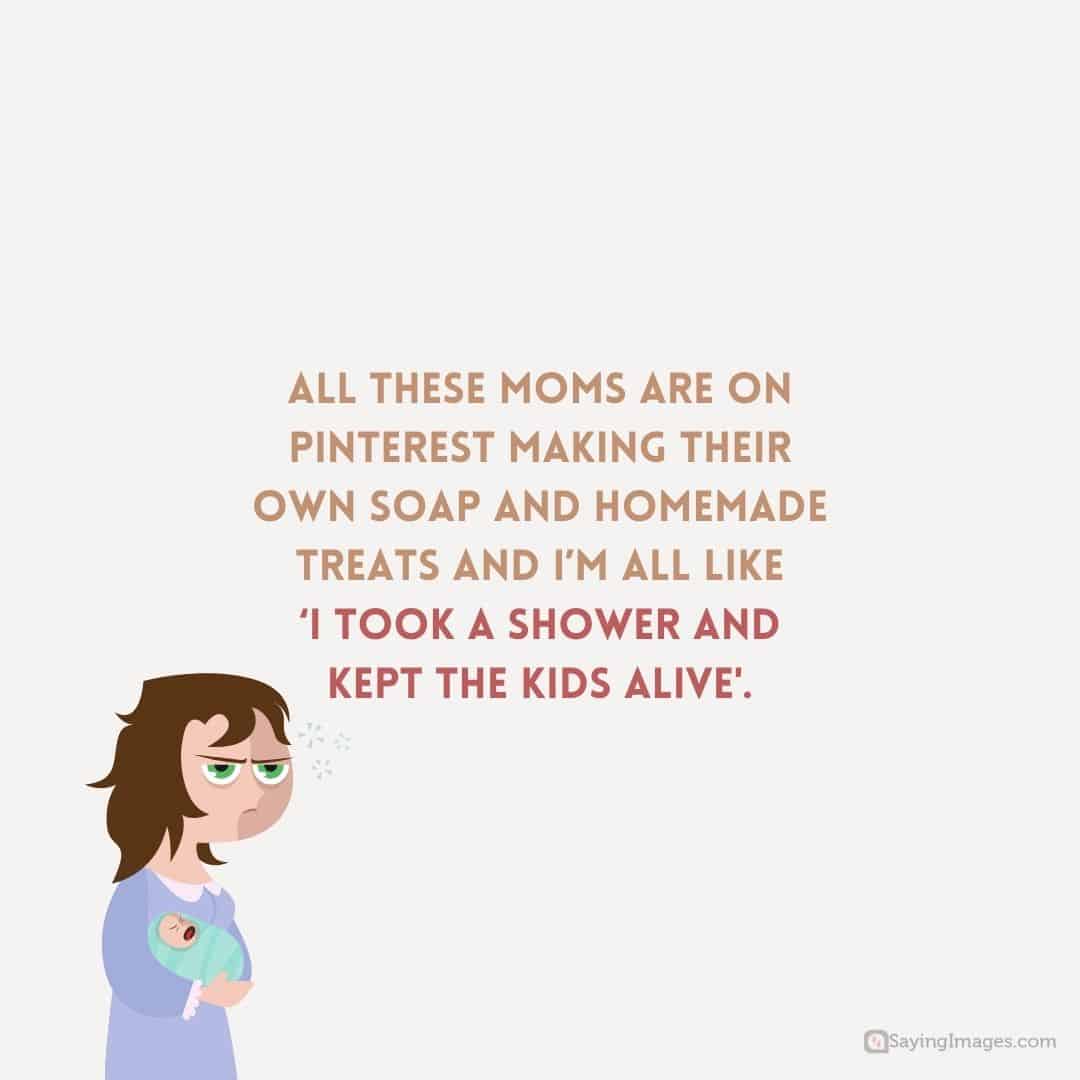 All these moms are on Pinterest making their own soap and homemade treats and I'm all like 'I took a shower and kept the kids alive.
Things may seem crazy right now. But someday, you'll miss this.
Children are not a distraction from more important work. They are the most important work. – C.S. Lewis
There is no way to be a perfect mother, but a million ways to be a good one.
Growing up, my mom was a stay-at-home mom. I knew that her entire world revolved around us, and she relished being involved in every school project and every craft.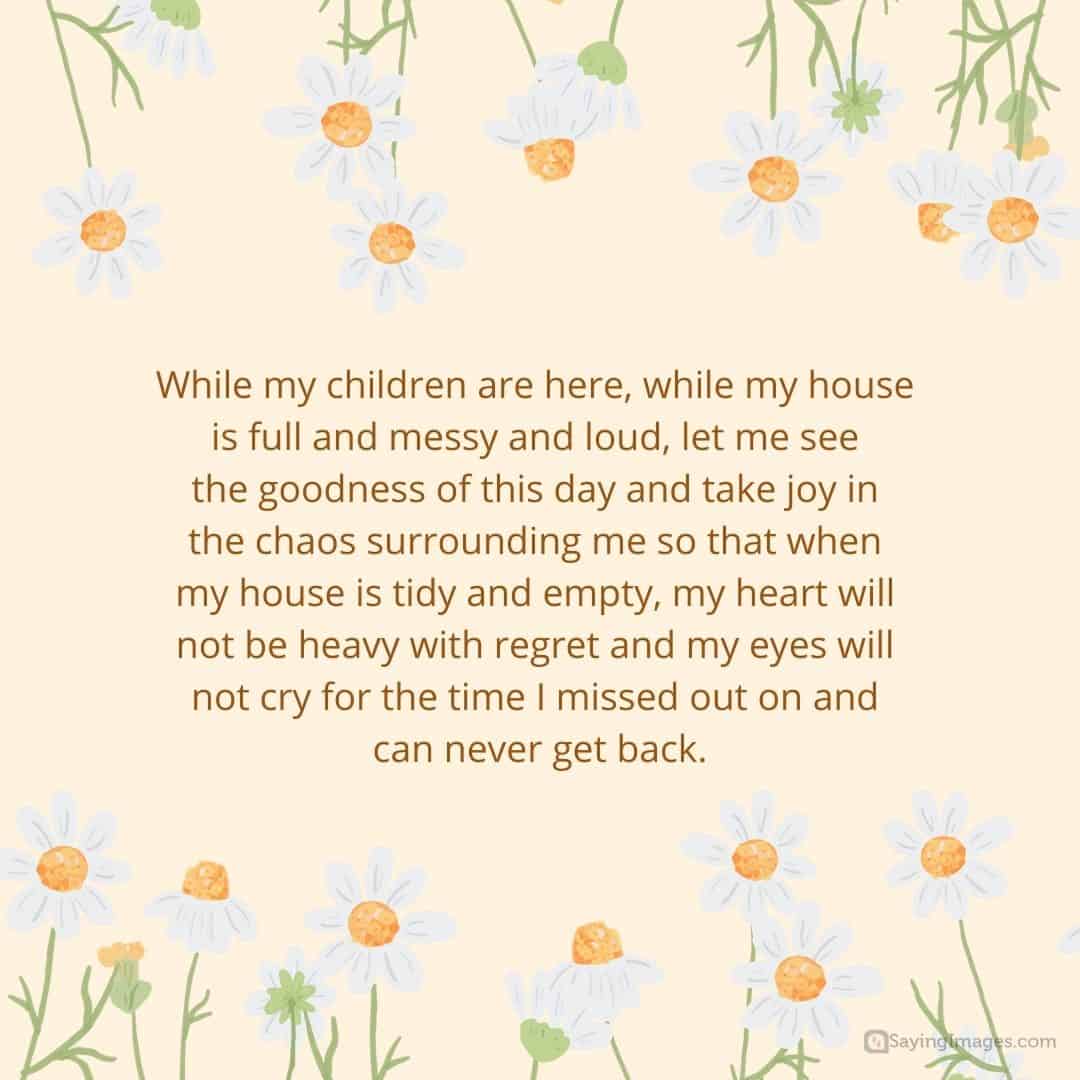 While my children are here, while my house is full and messy and loud, let me see the goodness of this day and take joy in the chaos surrounding me so that when my house is tidy and empty, my heart will not be heavy with regret and my eyes will not cry for the time I missed out on and can never get back.
The homemaker has the ultimate career. All other careers exist for one purpose only – to support the ultimate career. – C.S. Lewis
May your coffee be stronger than your toddler.
My mother was a working woman, and I was alone a lot. So I wanted to be a stay-at-home mom. – Donna Karan
Working moms, stay-at-home moms, they're both extremely hard jobs. – Hilary Rosen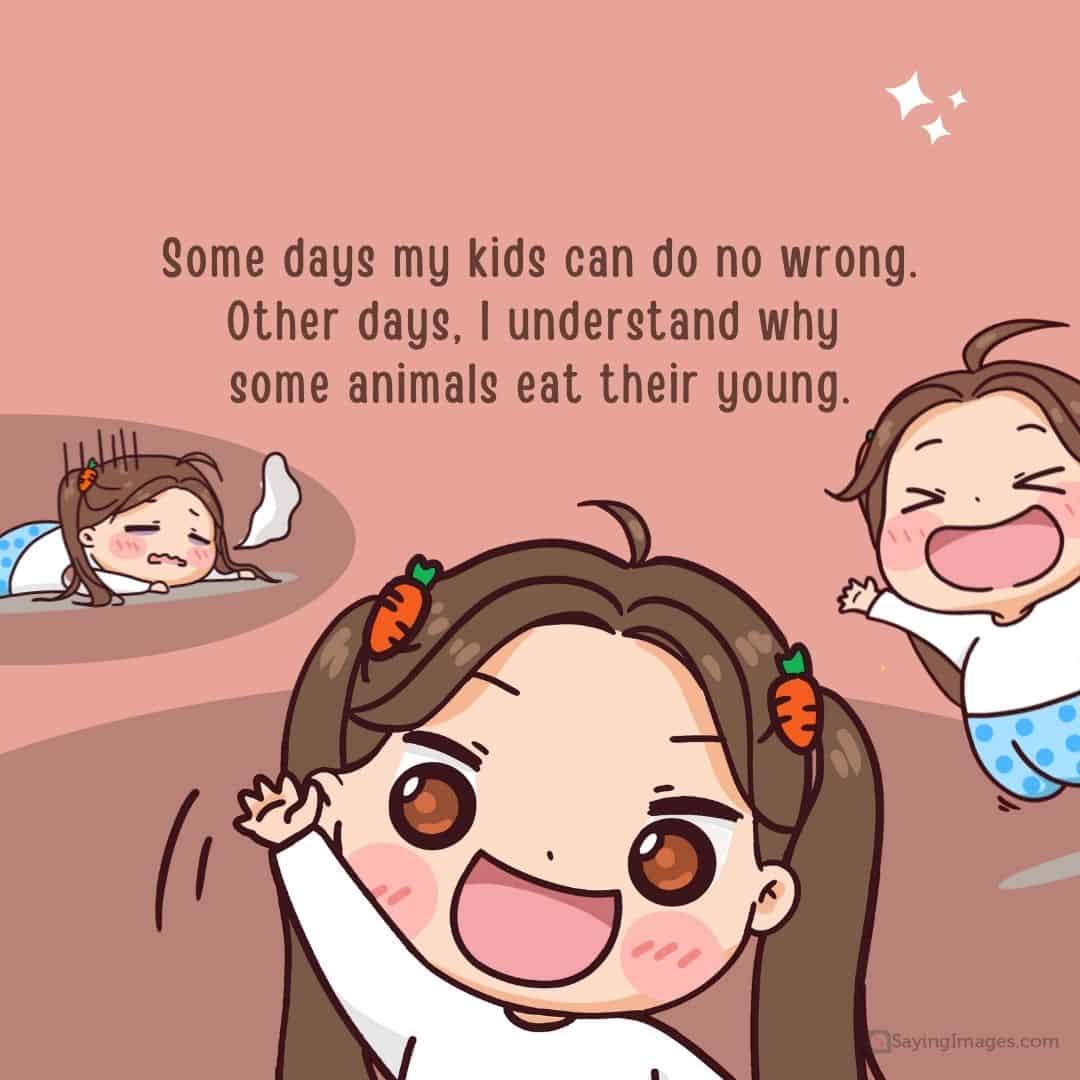 Some days my kids can do no wrong. Other days, I understand why some animals eat their young. – Toni Hammer
I think women should have choices and should be able to do what they like, and I think it's a great choice to stay at home and raise kids, just as it's a great choice to have a career. – Will Schwalbe, 'The End of Your Life Book Club'
I used to have functioning brain cells, but I traded them in for children.
There is one gift that trumps all other talents—being an excellent parent. If you can successfully raise a child in this day in age to have integrity then you have left a legacy that future generations will benefit from. – Shannon L. Alder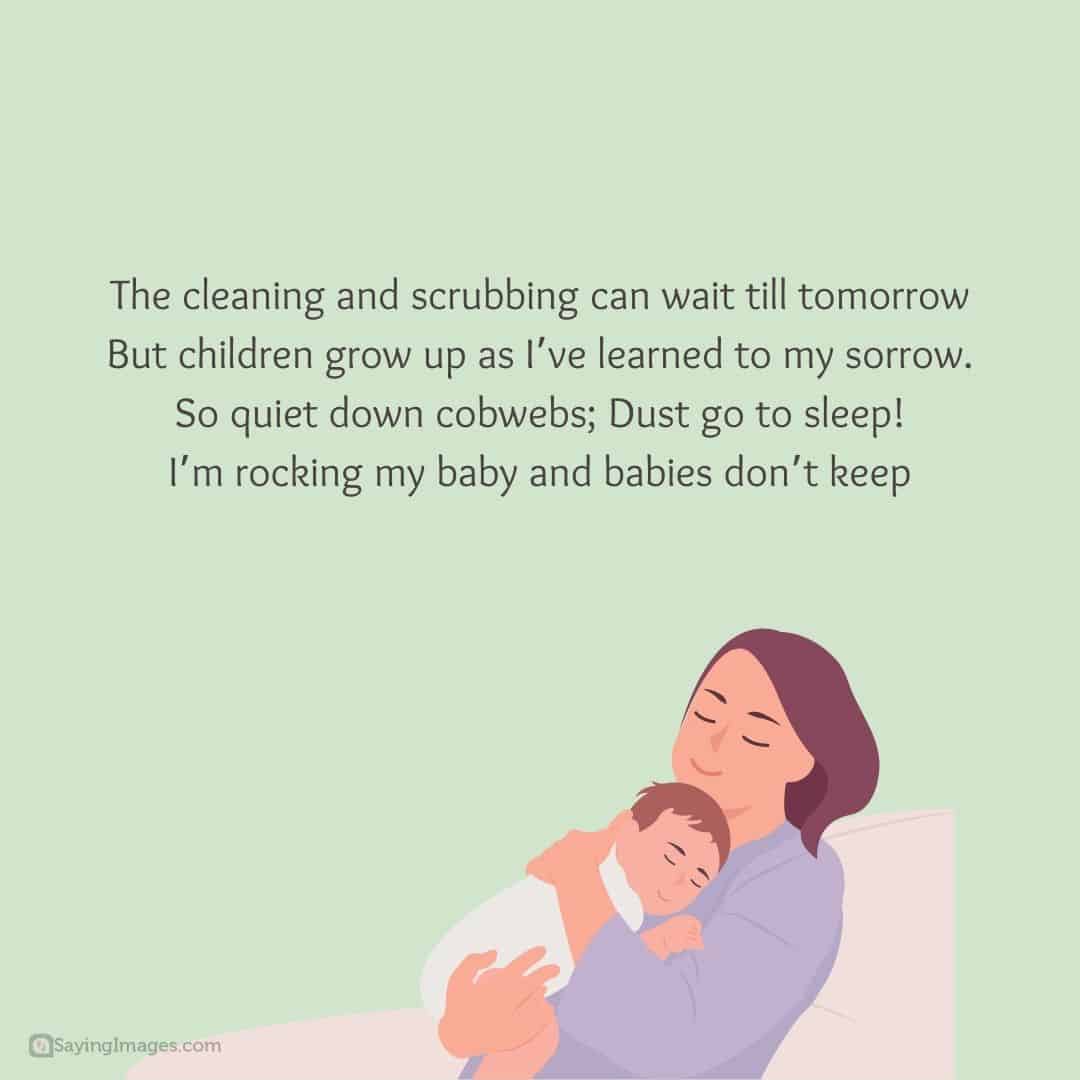 The cleaning and scrubbing can wait till tomorrow
But children grow up as I've learned to my sorrow.
So quiet down cobwebs; Dust go to sleep!
Having kids — the responsibility of rearing good, kind, responsible human beings — is the biggest job anyone can embark on. – Maria Shriver
I tried being a stay-at-home mom for eight weeks. I like the stay-at-home part. Not too crazy about the mom aspect. – Ali Wong
Just a mom? I hope karma hits you and you have to take care of 5 screaming kids, your husband, 3 pets, and a dirty house.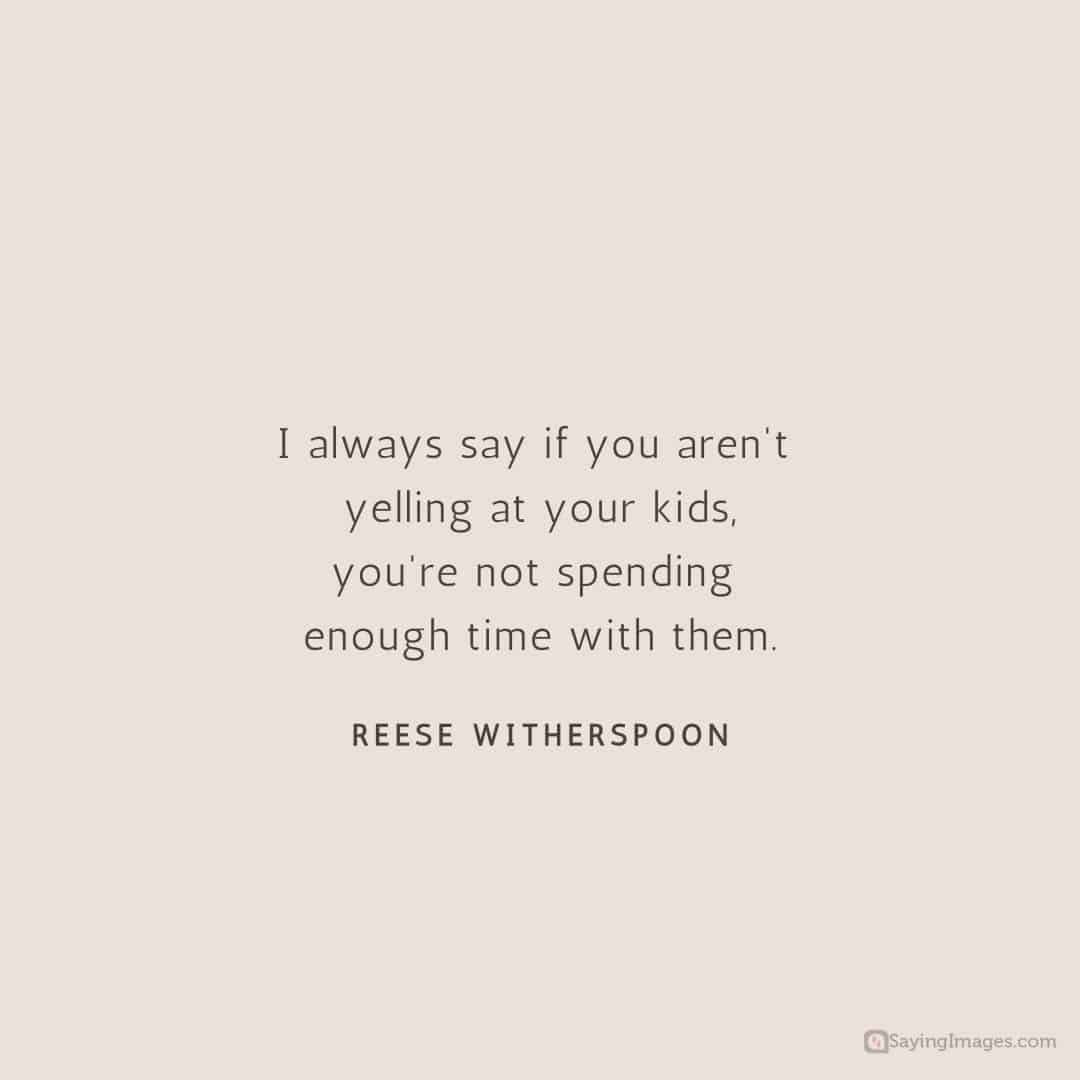 I always say if you aren't yelling at your kids, you're not spending enough time with them. – Reese Witherspoon
My mother was a stay-at-home mom until I was about 11, when she got a job – and it was like a light came on inside her. It's not wrong to be passionate about your career. When you love what you do, you bring that stimulation back to your family. – Allison Pearson
No man is poor who has a godly mother. – Abraham Lincoln
To describe my mother would be to write about a hurricane in its perfect power. Or the climbing, falling colors of a rainbow. – Maya Angelou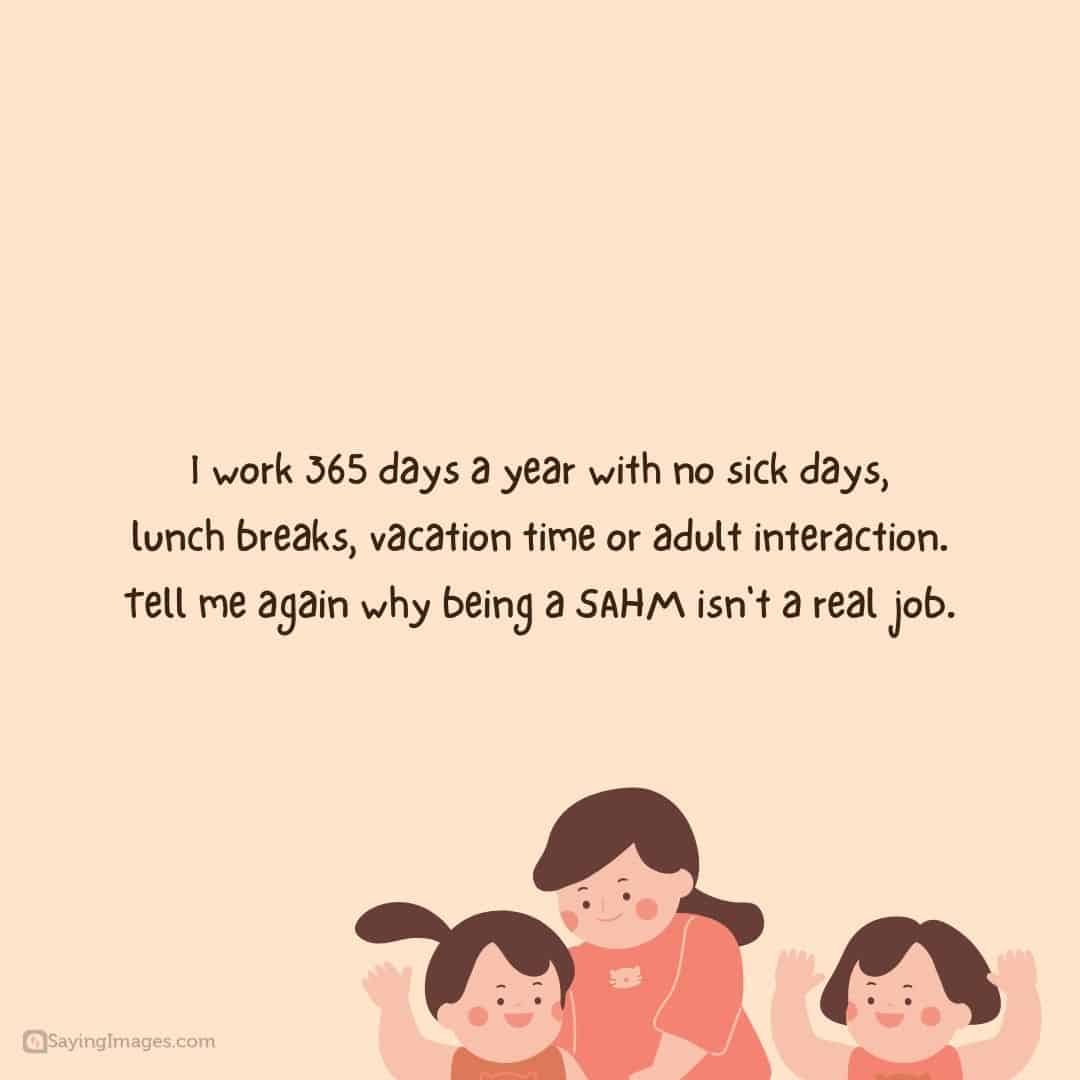 I work 365 days a year with no sick days, lunch breaks, vacation time or adult interaction. Tell me again why being a SAHM isn't a real job.
A person who abandons a career in order to stay home and raise children is considered not to be living up to his potential- as if a job title and salary are the sole measure of human worth. – Bill Watterson
On being a stay at home mom: Half of the time, I feel like I'm running an insane asylum… the other half, I feel I belong in one.
You may be surprised to learn that being a stay-at-home job does not include sitting on my ass eating bon-bons all day.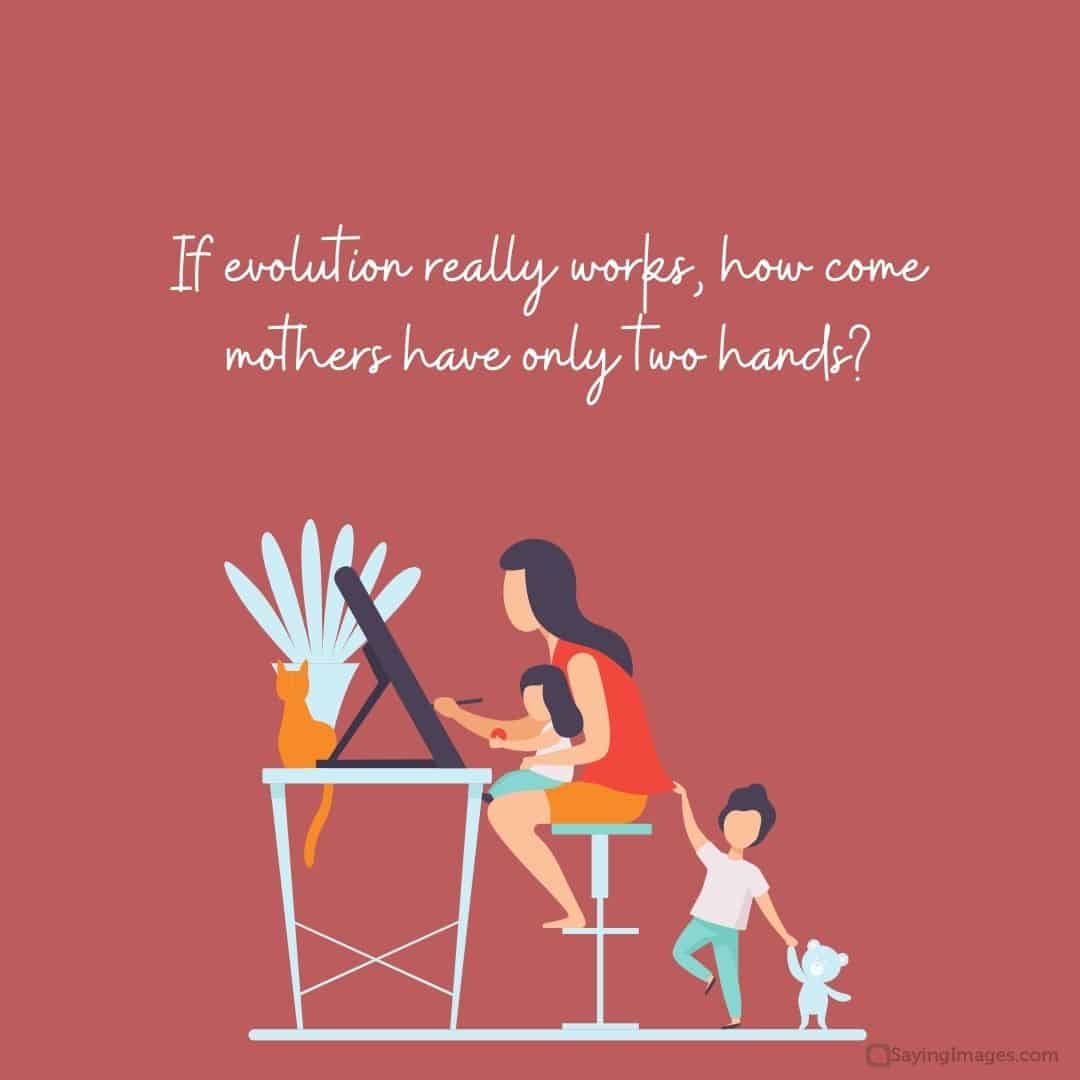 If evolution really works, how come mothers have only two hands? – Milton Berle
I didn't have kids so others could take care of them while I enjoy life. Everything can wait. I have a child that needs a mom. My priority. My responsibility. My life.
To the Mom who feels hopeless. You are not alone!
A stay-at-home mom is a working mom. Being a stay-at-home mom is a job. – Cobie Smulders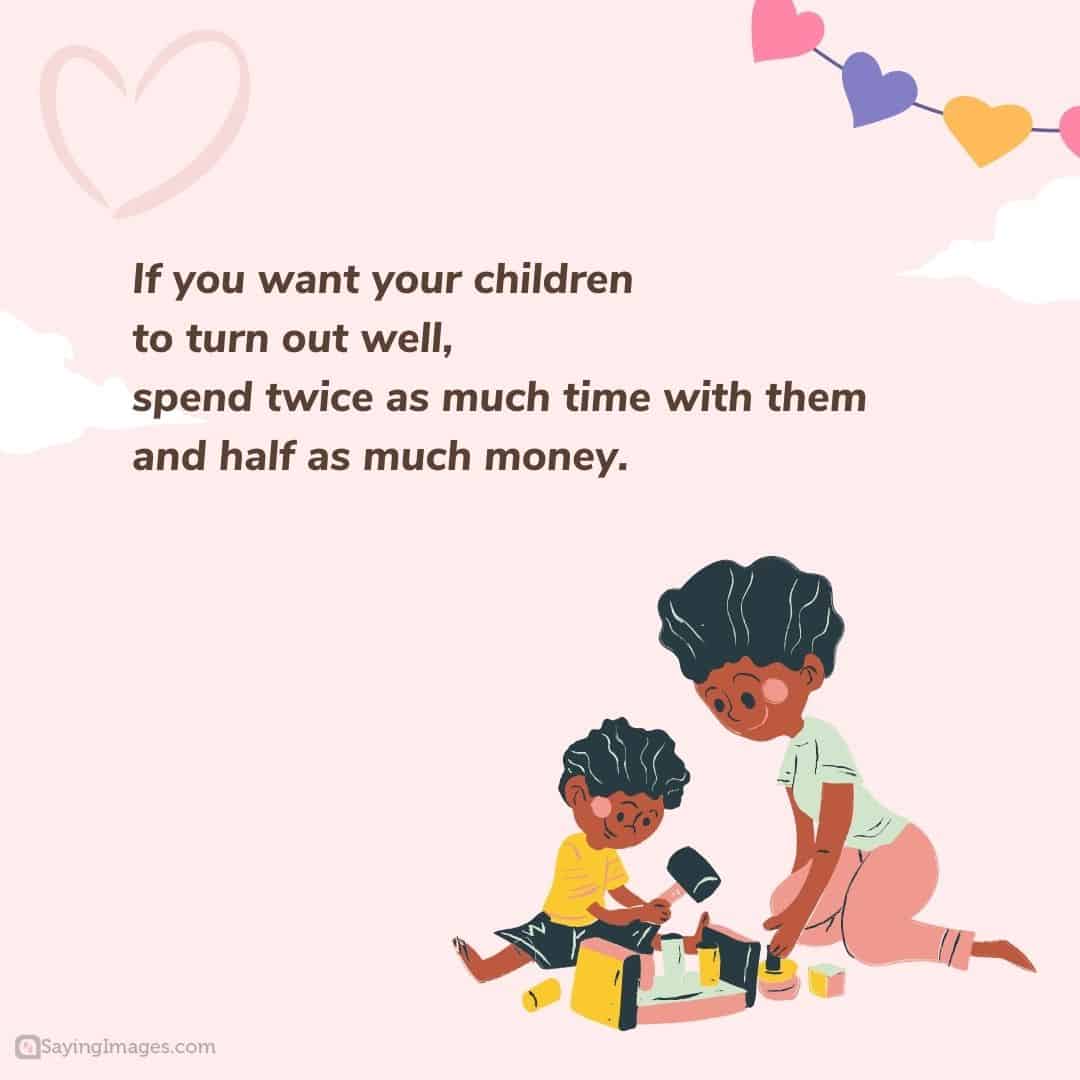 If you want your children to turn out well, spend twice as much time with them and half as much money.
Motherhood – no matter if you're a working mom or stay at home mom – is really tough sometimes. It can really leave us each day with a sense of wondering if we're doing it right. – Lysa TerKeurst
I have found being a mother has made me emotionally raw in many situations. Your heart is beating outside your body when you have a baby. – Kate Beckinsale
I think it's a tough road if you're a stay-at-home mom, a working mom, if you have a partner, if you don't. It's the best job in the world, and the toughest job in the world all at the same time. – Angela Kinsey
The time spent on family is not a sacrifice. You are living a life with choices; when you make the right ones, you have a good life. – Laura Schlessinger