As kids, one of our childhood dreams is to travel. Our best memories are probably going to Disney World and going on extended family vacations. In our twenties and thirties, we get a taste of traveling for work and leisure.
Surprisingly, as the years go by, the longing for the solid comfort of home starts to creep in. The more comforting and warm our home is (both house and the people we love who inhabit it), the more intense our feelings of homesickness becomes.
Read our quotes on homesickness, and see which you agree with the most.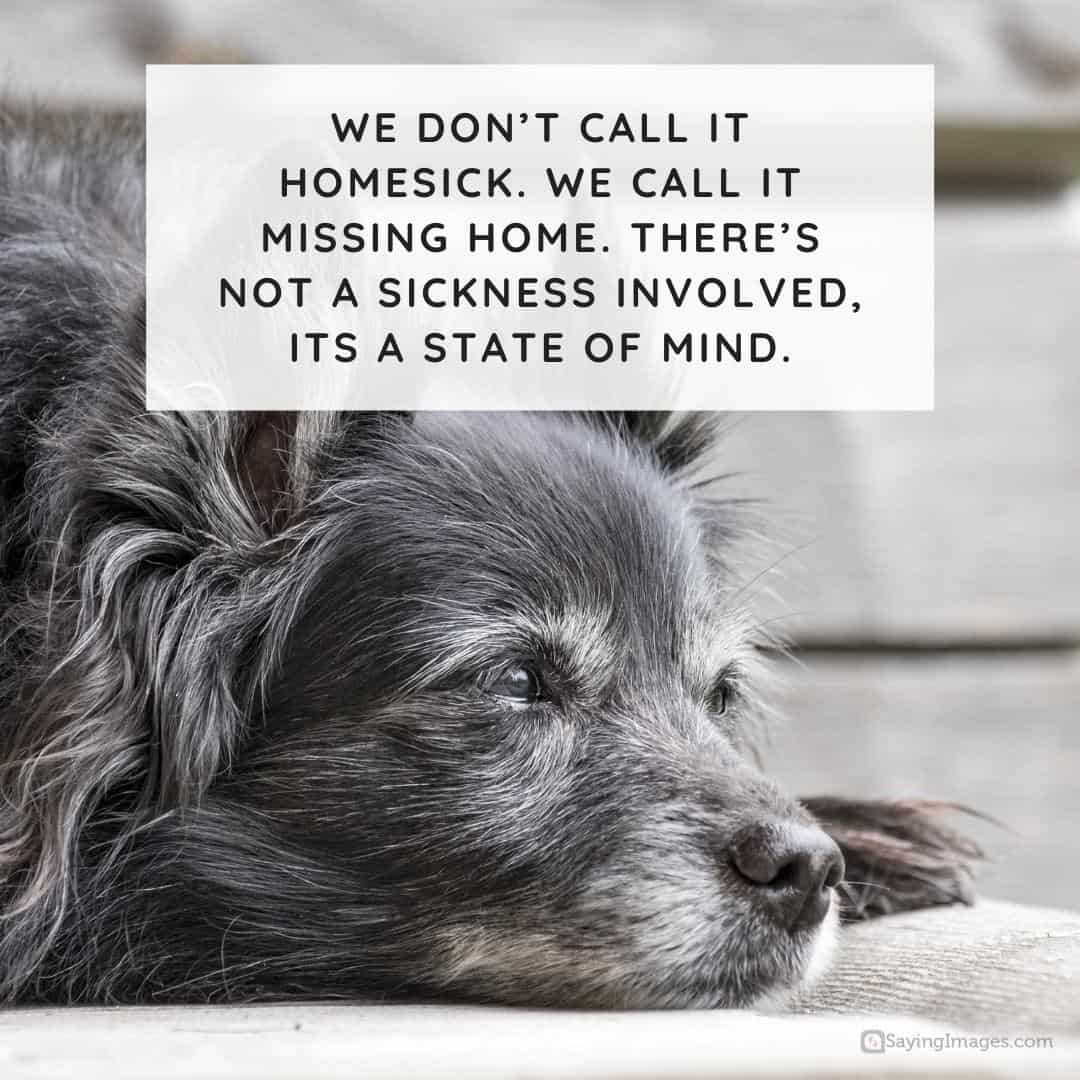 We don't call it homesick. We call it missing home. There's not a sickness involved, its a state of mind. – John Litten
My mother and I were born in Mieres, Asturias, the most beautiful region you'll ever see in Europe and the home of Cabrales, a great blue cheese made in the Asturian mountains. When I was young, we moved to Barcelona.
Whenever my mother was homesick for Asturias, she'd eat a little piece of Cabrales to bring her closer to Mieres. – Jose Andres
The ache for home lives in all of us. The place where we can go as we are and not be questioned. – Maya Angelou
There is no sickness of spirit like homesickness. When what you are sick for has never been seen or heard. In this world, or even remembered except as a smear of bleached light. Opening, closing beyond any alphabet's Recall. –Charles Wright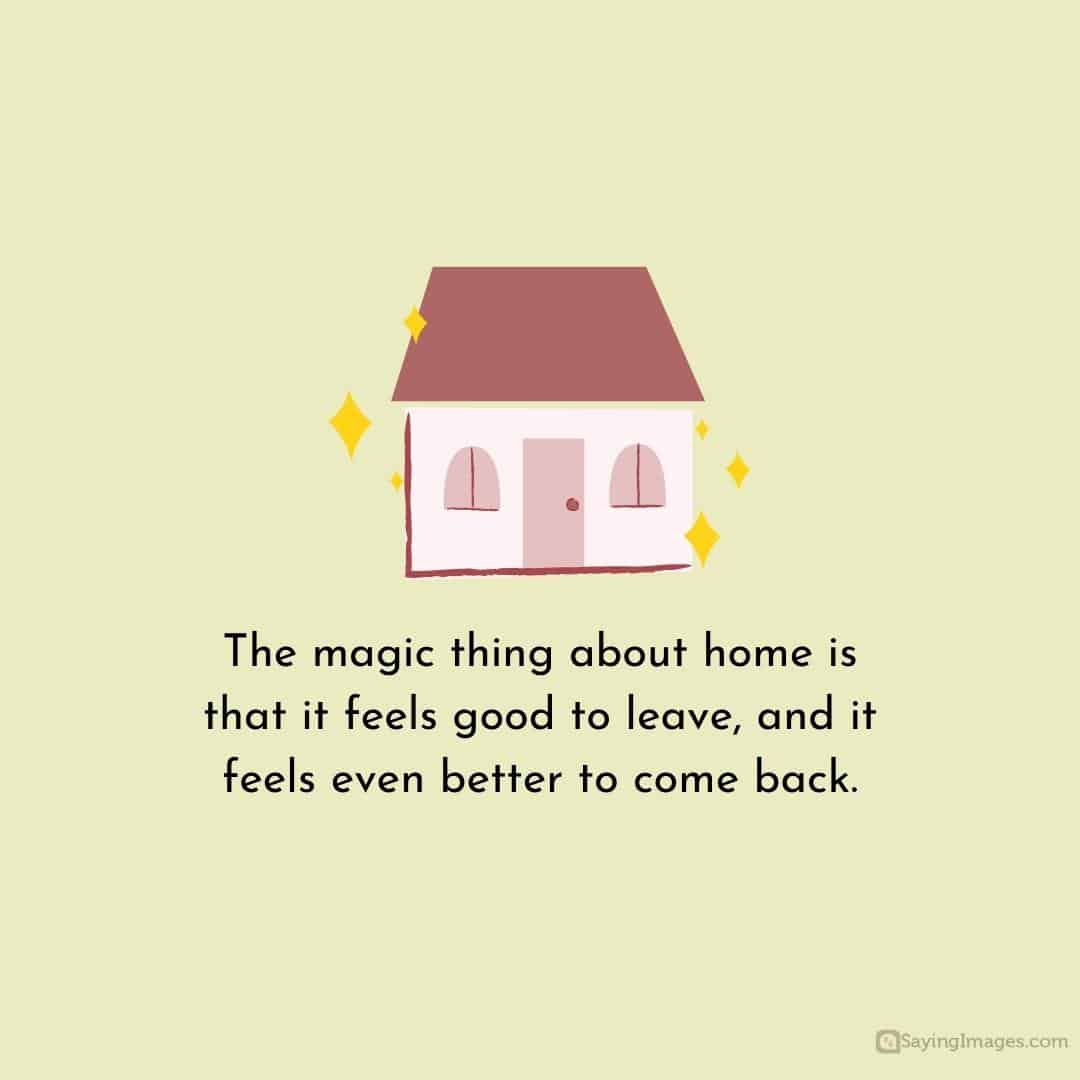 The magic thing about home is that it feels good to leave, and it feels even better to come back. – Wendy Wunder
I long, as does every human being, to be at home wherever I find myself. – Maya Angelou
We are torn between nostalgia for the familiar and an urge for the foreign and strange. As often as not, we are homesick most for the places we have never known. – Carson McCullers
Touring can be really tiring. I can get homesick, and I spend a lot of time on my phone. – Paolo Nutini
Home is not where you live but where they understand you. – Christian Morgenstern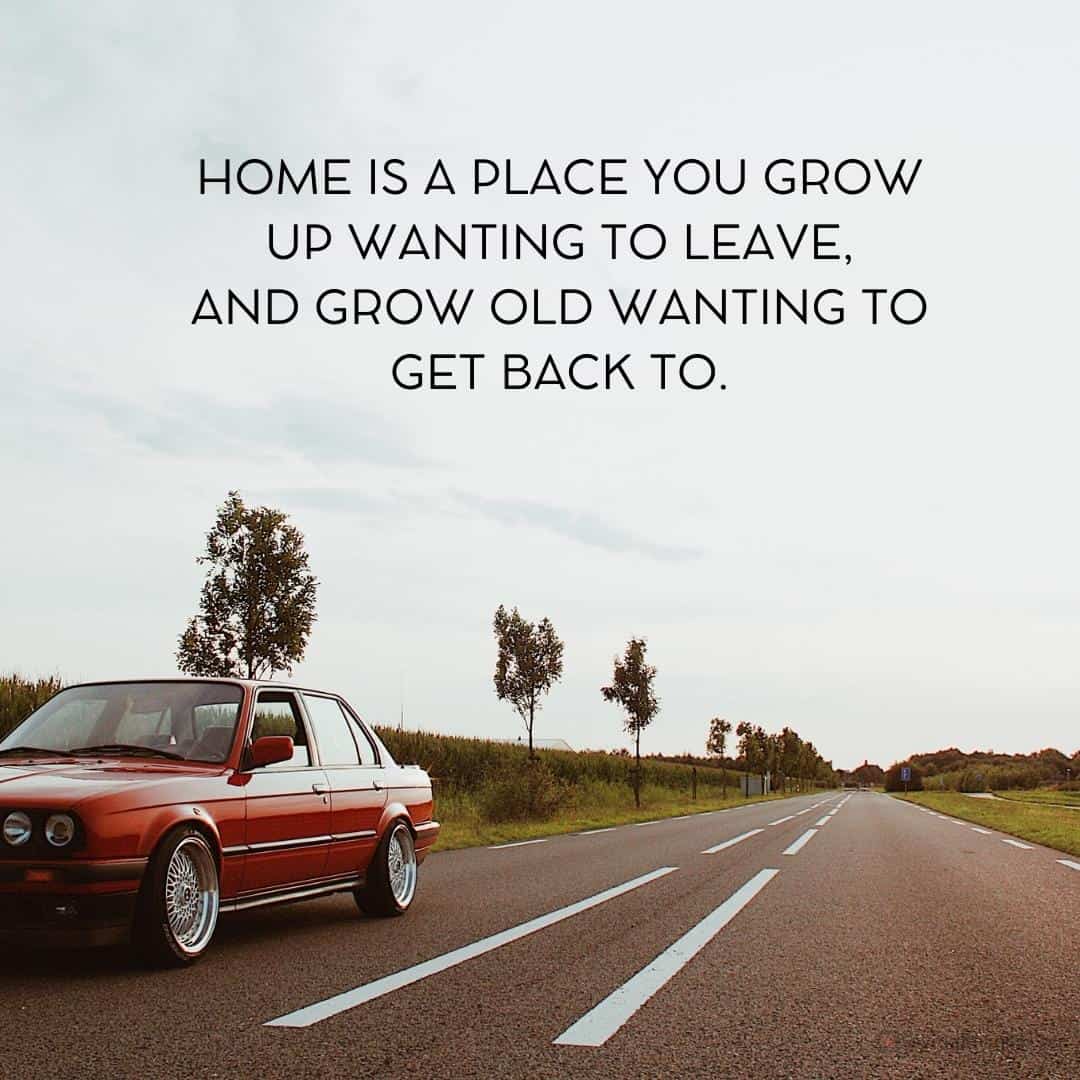 Home is a place you grow up wanting to leave, and grow old wanting to get back to. – John Ed Pearce
That's one of the damnedest things I ever found out about human emotions and how treacherous they can be – the fact that you can hate a place with all your heart and soul and still be homesick for it. Not to speak of the fact that you can hate a person with all your heart and soul and still long for that person. – Joseph Mitchell, Joe Gould's Secret
Home is a name, a word, it is a strong one. – Charles Dickens
I'm homesick all the time. I miss my animals. I miss my family. I miss my friends. – Brittany Howard
I am so homesick every day of the week. – Tanya Saracho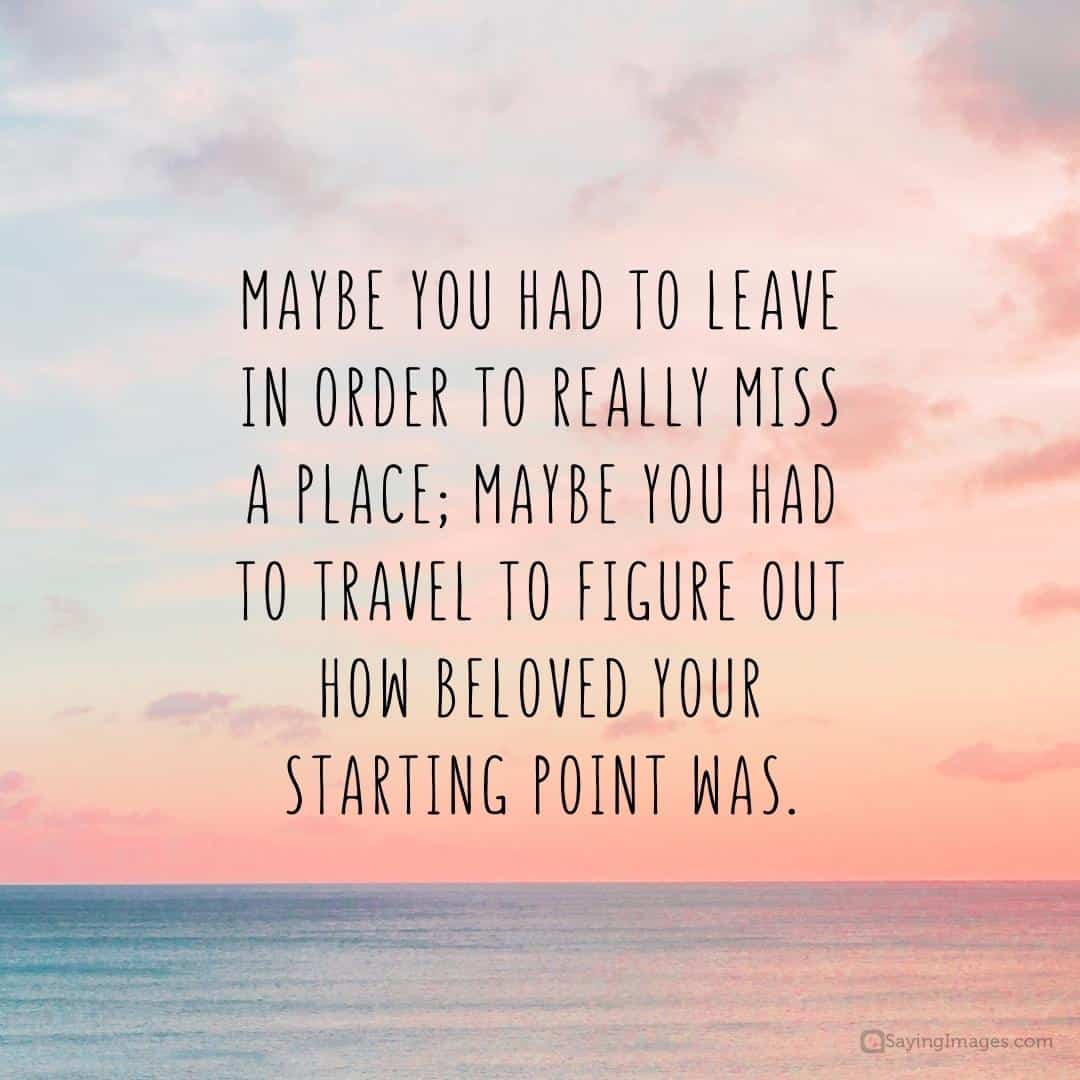 Maybe you had to leave in order to really miss a place; maybe you had to travel to figure out how beloved your starting point was. – Jodi Picoult
So here you are too foreign for home and too foreign for here. Never enough for both.
I'd heard of homesickness, but I hadn't known that one could experience it prior to actually leaving a place. – Daniel Thorman, Chaos in the Caravan
Nobody has seen the trekking birds take their way towards such warmer spheres as do not exist, or rivers break their course through rocks and plains to run into an ocean which is not to be found. For God does not create a longing or a hope without having a fulfilling reality ready for them. But our longing is our pledge, and blessed are the homesick, for they shall come home – Isak Dinesen
And I longed for the rock isles and algae pools of my own land. We are part of our homes and I think there will always be a feeling of loss and ache within when we cannot long actively communicate with our own special places. – Andre Norton, The Mark of the Cat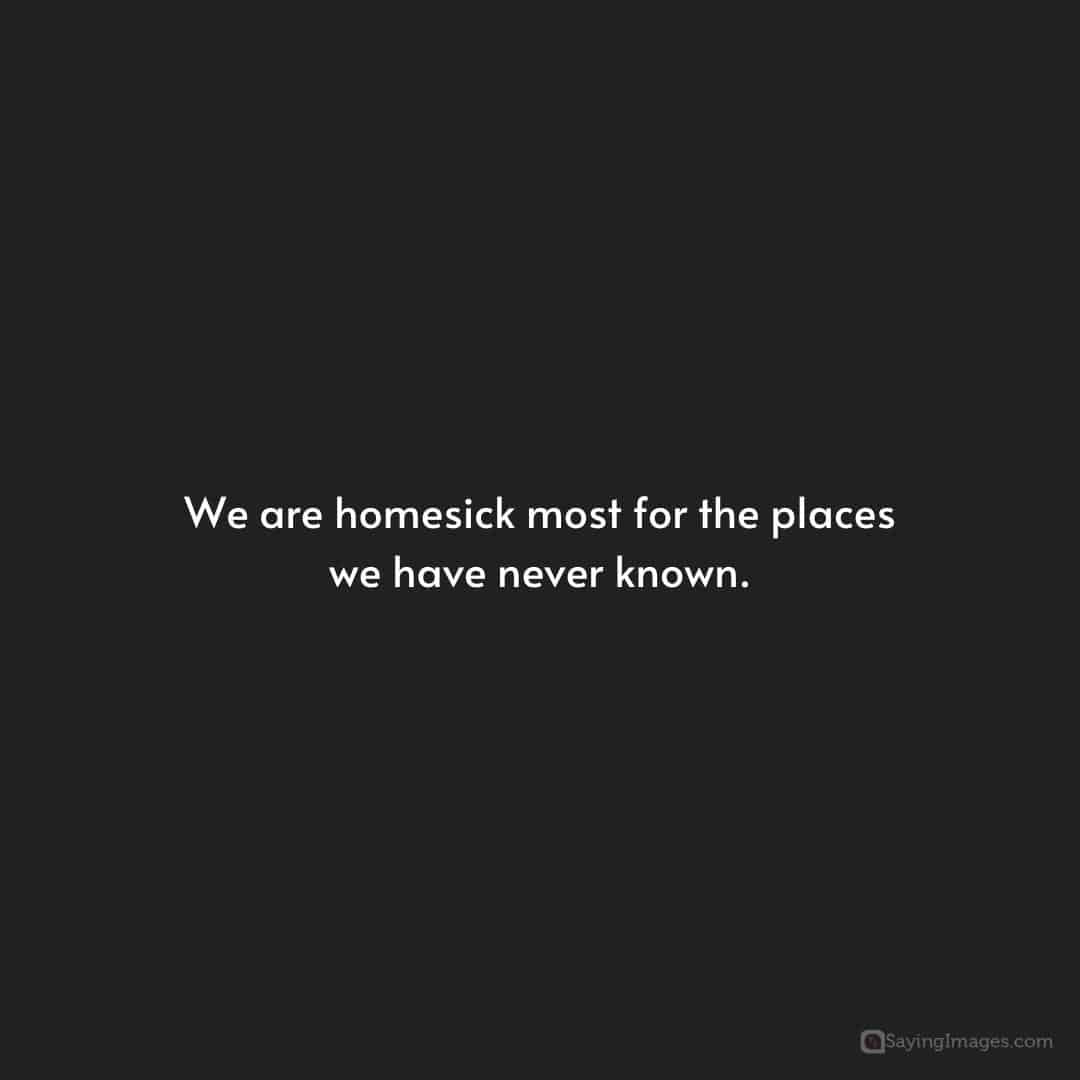 We are homesick most for the places we have never known. – Carson McCullers
Homesickness is a sickness of the heart, not of the mind. It is deeply subjective and belongs, inarguably, to the sufferer alone. – Kate Mulgrew
Do not make homes out of people. This will leave you homesick and sad. – K. Michelle
Why do you go away? So that you can come back. So that you can see the place you came from with new eyes and extra colors. And the people there see you differently, too. Coming back to where you started is not the same as never leaving. – Terry Pratchett, A Hat Full of Sky
That still feels like the most accurate description – I felt homesick, but I was home. – Sarah Silverman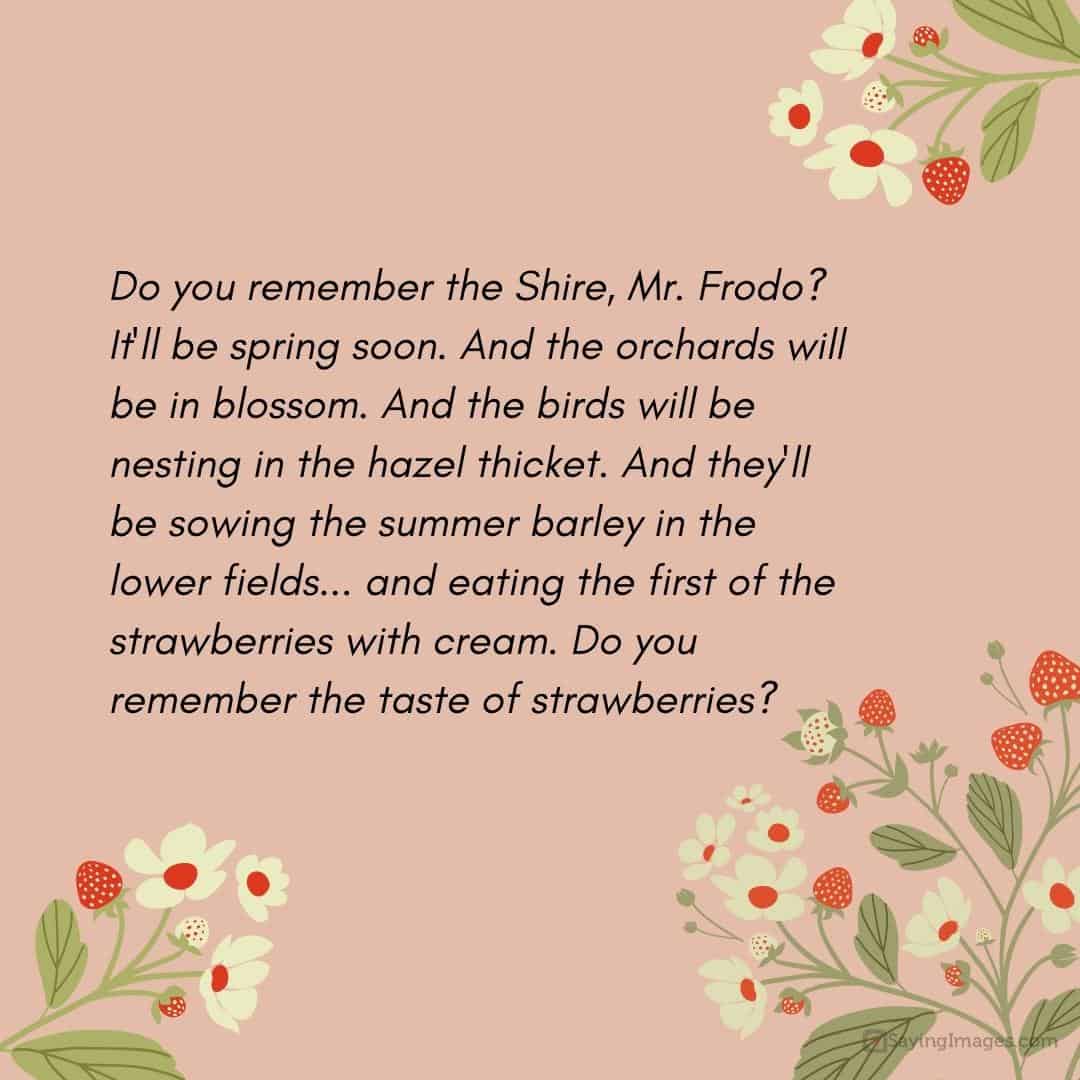 Do you remember the Shire, Mr. Frodo? It'll be spring soon. And the orchards will be in blossom. And the birds will be nesting in the hazel thicket. And they'll be sowing the summer barley in the lower fields… and eating the first of the strawberries with cream. Do you remember the taste of strawberries? – J.R.R. Tolkien, The Return of the King
Where we love is home, home that our feet may leave, but not our hearts. – Oliver Wendell Holmes
If you've ever been homesick or felt exiled from all the things and people that once defined you, you'll know how important welcoming words and friendly smiles can be. – Stephen King
Most of the people are homesick anyway, and a little lonely, and they hide themselves in their hair and are turned into flowers. – Tove Jansson
Homesickness is not always a vague, nostalgic, almost beautiful emotion, although that is somehow that way we always seem to picture it in our mind. It can be a terribly keen blade. It can change the way one looks at the world. – Stephen King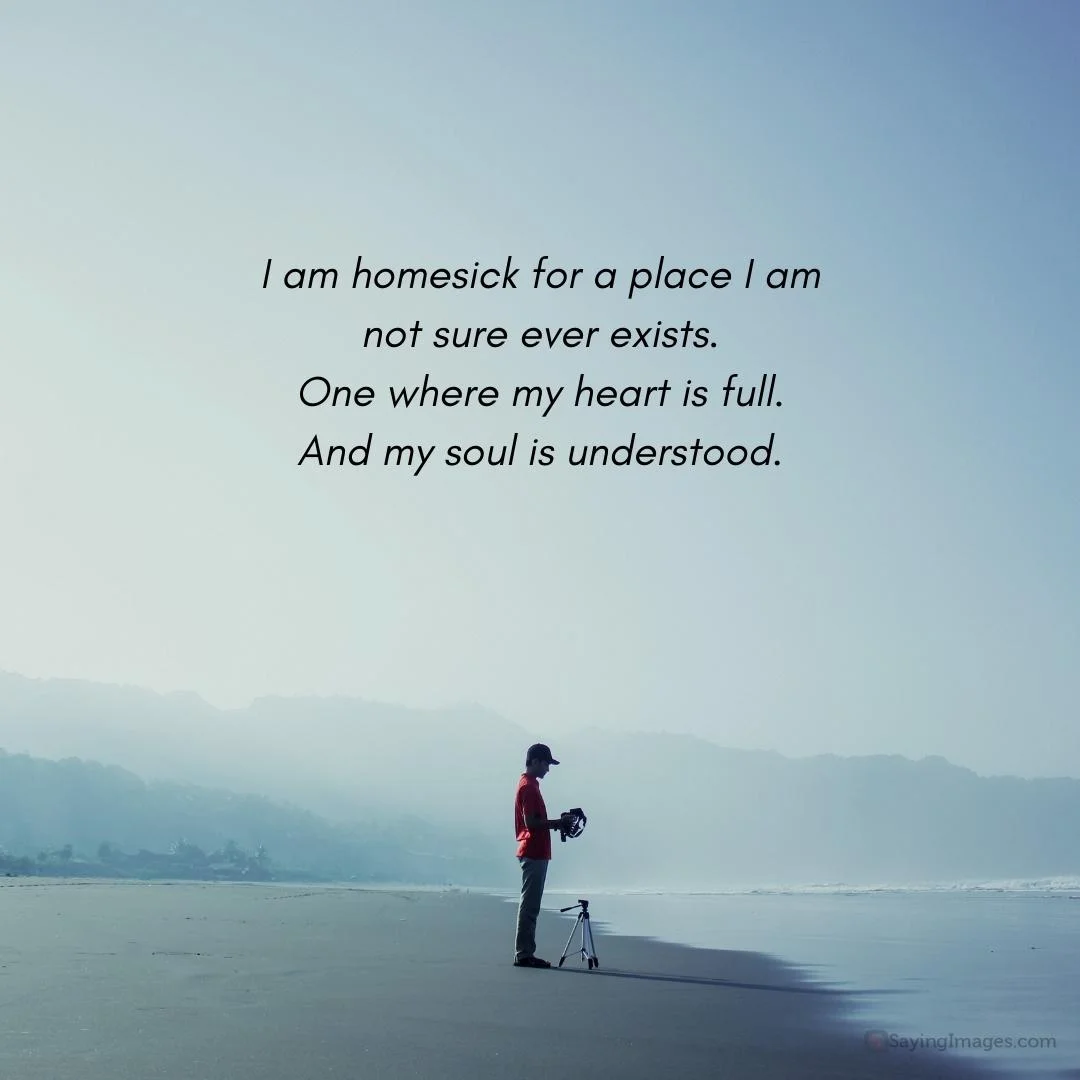 I am homesick for a place I am not sure ever exists. One where my heart is full. And my soul is understood.
You can never go home again, but the truth is you can never leave home, so it's all right. – Maya Angelou
We are homesick for places, we are reminded of places, it is the sounds and smells and sights of places which haunt us and against which we often measure our present. – Alan Gussow
How phenomenal we, humans, are – the further we are from our beloved home, the stronger our connection becomes. – Tamuna Tsertsvadze, Galaxy Pirates
I get homesick. – Larry Bird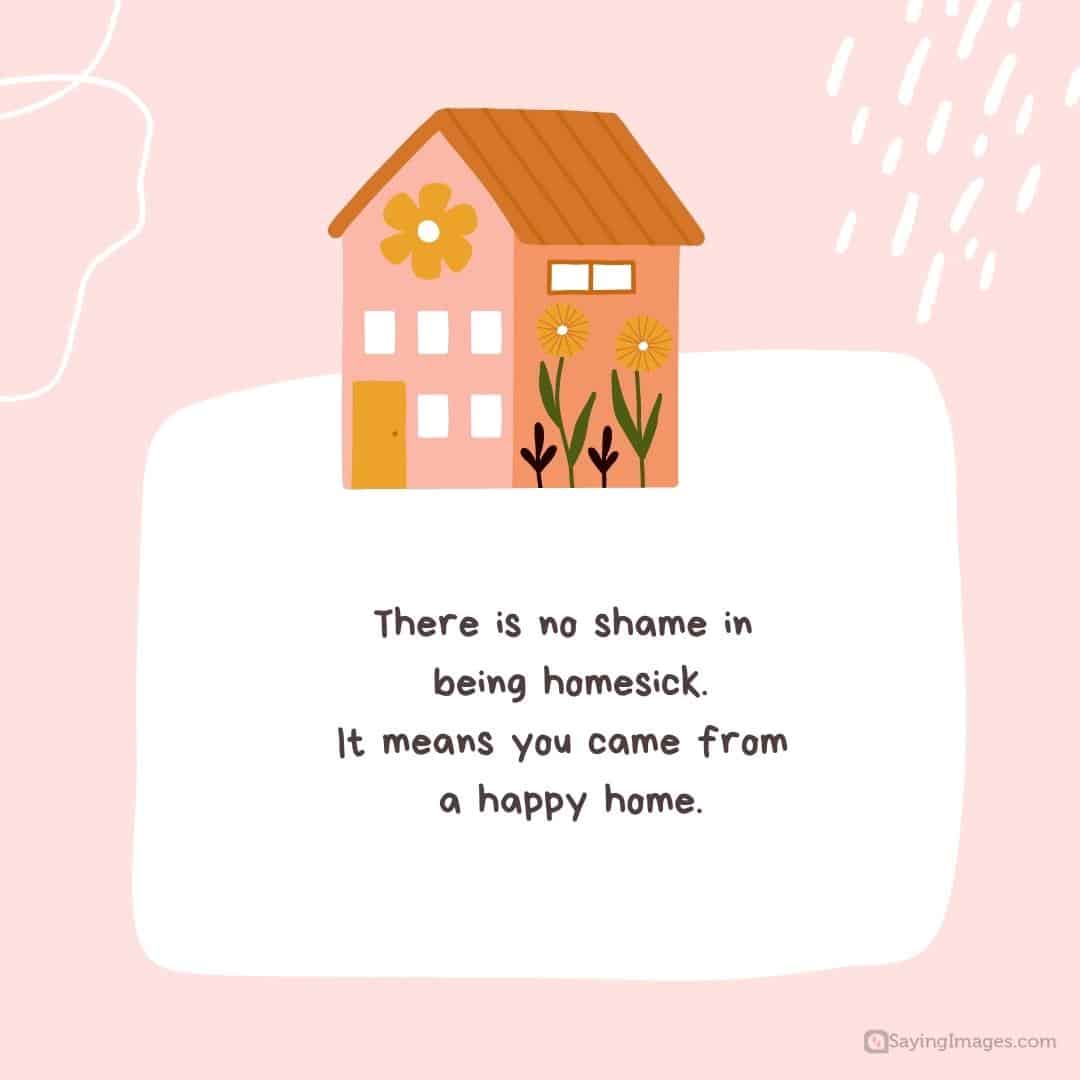 There is no shame in being homesick. It means you came from a happy home. – Mrs. Hughes, Downton Abbey
Oh, London is a man's town, there's power in the air;
And Paris is a woman's town, with flowers in her hair;
And it's sweet to dream in Venice, and it's great to study Rome;
But when it comes to living there is no place like home.
– Henry Van Dyke
Homesickness is . . . absolutely nothing. Fifty percent of the people in the world are homesick all the time. . . . You don't really long for another country. You long for something in yourself that you don't have, or haven't been able to find. – John Cheever
Every traveler has a home of his own, and he learns to appreciate it the more from his wandering. – Charles Dickens
When people hear good music, it makes them homesick for something they never had, and never will have. – E.W.Howe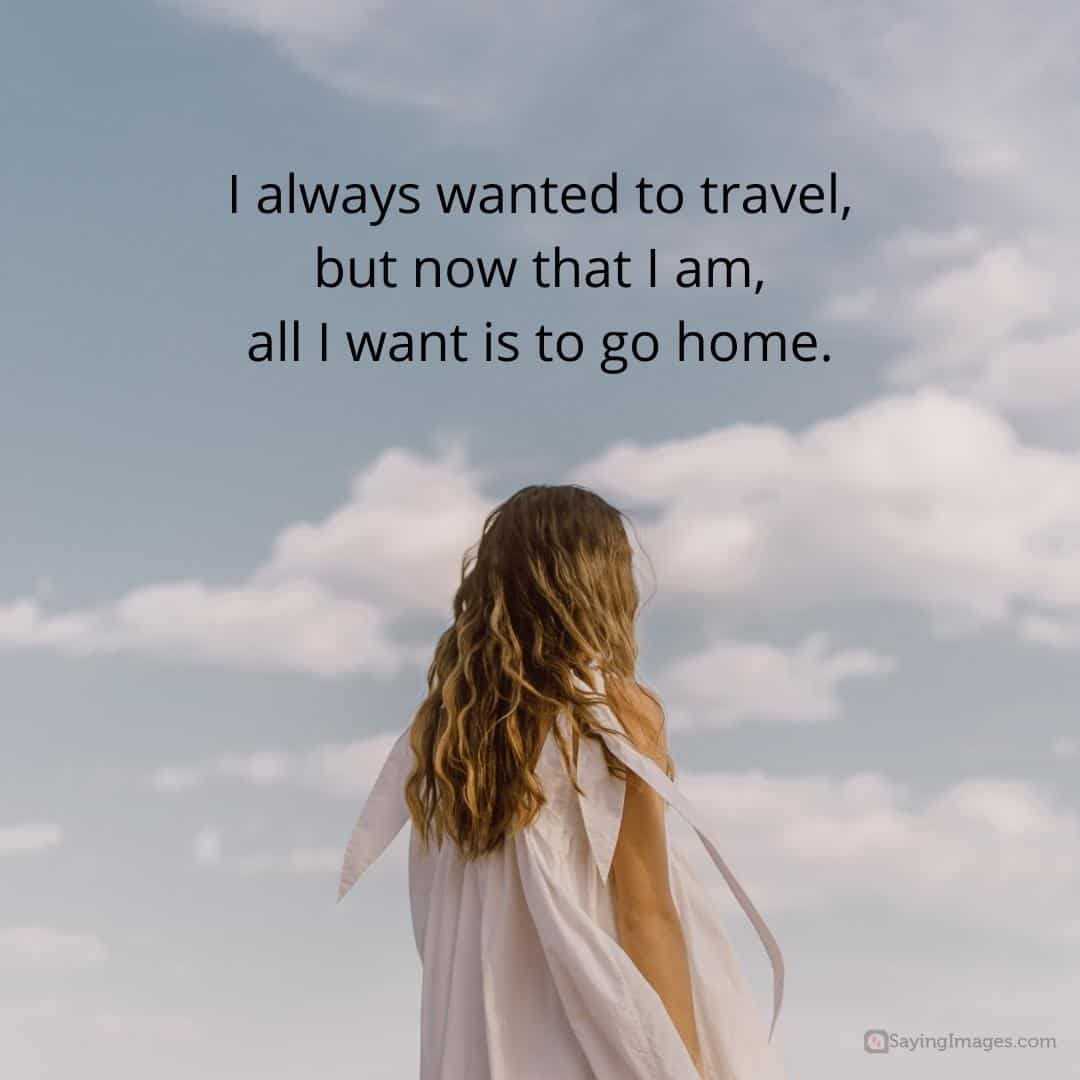 I always wanted to travel, but now that I am, all I want is to go home. – Rehan Khan
I am lucky because I can feel at home anywhere, I don't get homesick. – Mario Kempes
My soul comes from better worlds and I have an incurable homesickness of the stars. – Nikos Kazantzakis
The worst feeling in the world is the homesickness that comes over a man occasionally when he is at home. – E. W. Howe
Heart thoughts are profound, hindsight aches and hope is obscure. I'm craving a great adventure — one that leads me back home. – Donna Lynn Hope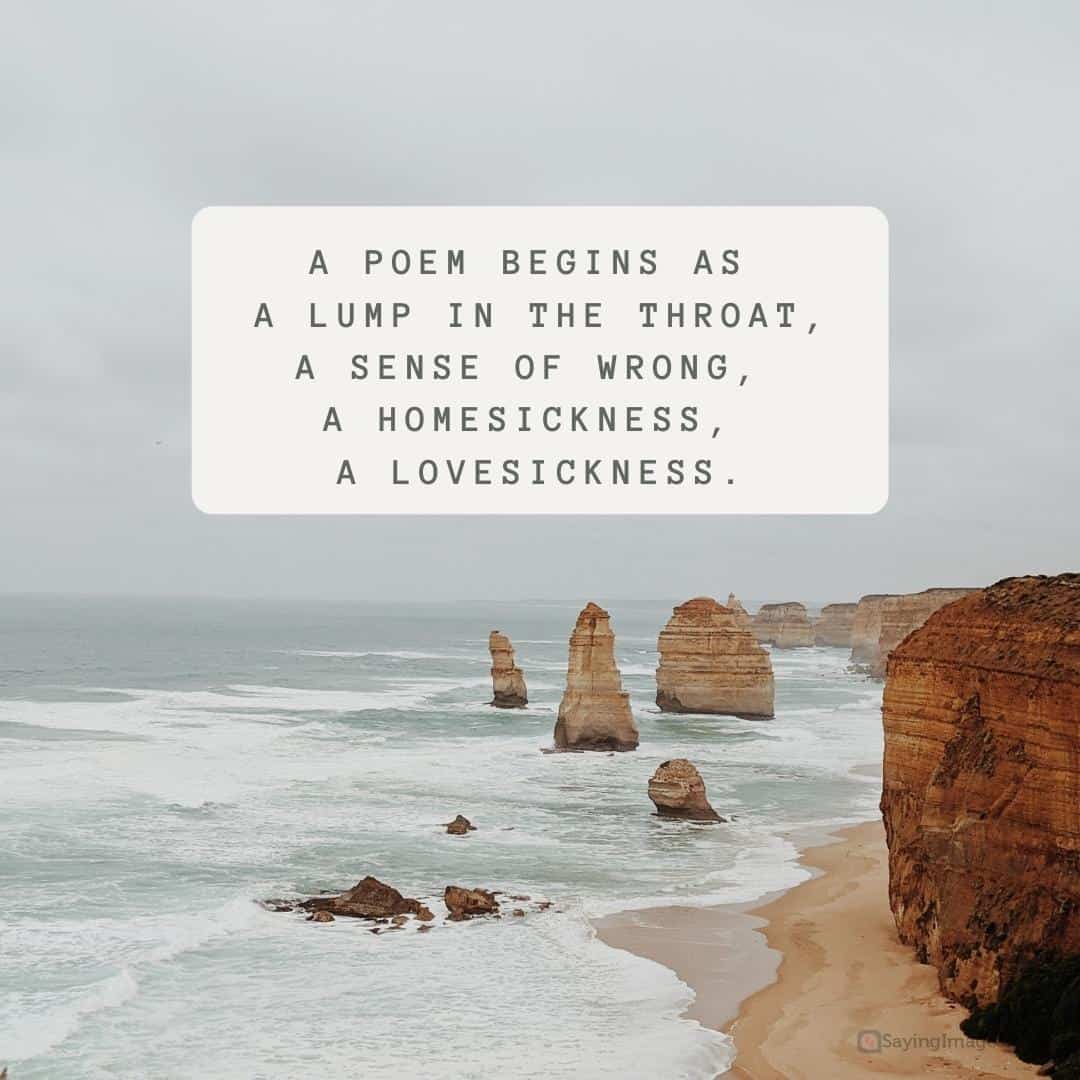 A poem begins as a lump in the throat, a sense of wrong, a homesickness, a lovesickness. – Robert Frost
I get really homesick inside. – Arnel Pineda
Nothing is better than going home to family and eating good food and relaxing. – Irina Shayk
If you go anywhere, even paradise, you will miss your home. – Malala Yousafzai
My father says you remember the smell of your country no matter where you are but only recognize it when you're far away. – Aglaja Veteranyi, Warum das Kind in der Polenta kocht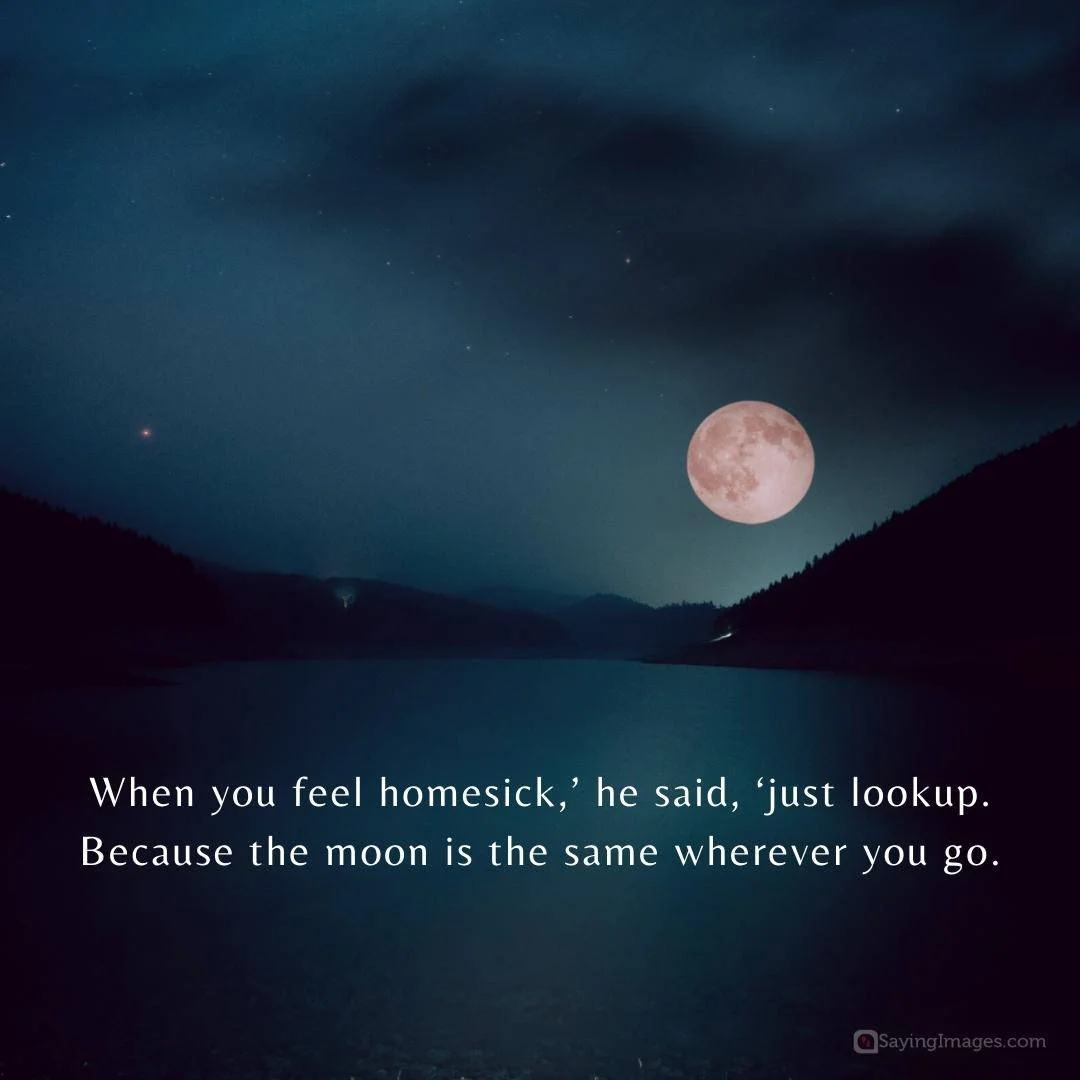 When you feel homesick,' he said, 'just lookup. Because the moon is the same wherever you go. – Donna Tartt, The Goldfinch
How often have I lain beneath rain on a strange roof, thinking of home. – William Faulkner
We are homesick most for the places we have never known. – Carson McCullers
I get homesick – I could be in the sunniest place, but I need to see normality, and normal, for me, is London. – Stefflon Don
One never reaches home, but wherever friendly paths intersect the whole world looks like home for a time. – Hermann Hesse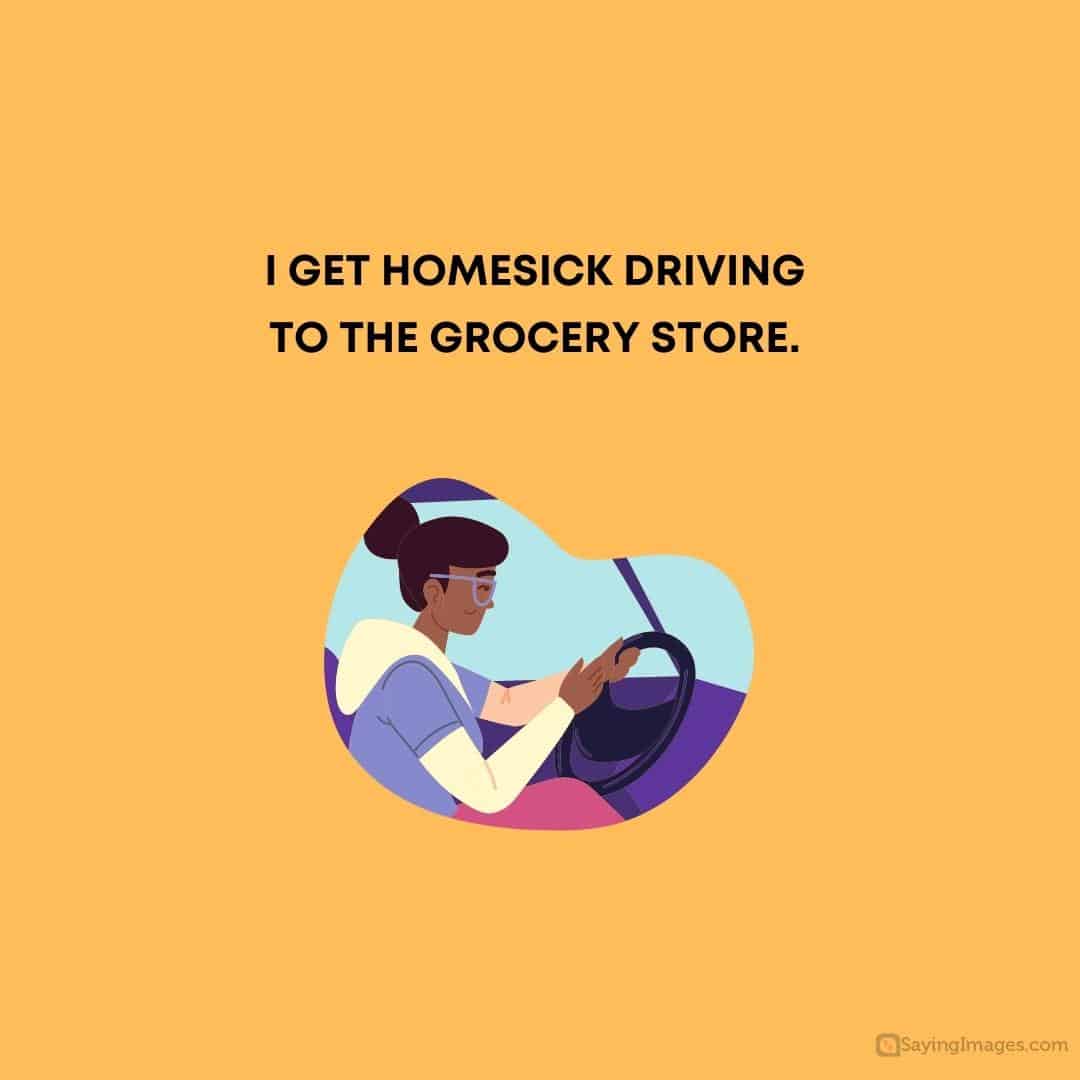 I get homesick driving to the grocery store. – Flying Lotus
Perhaps the ache of homesickness was a fair price to pay for having so many good people in her life. – Becky Chambers
We have to stumble through so much dirt and humbug before we reach home. And we have no one to guide us. Our only guide is our homesickness. – Hermann Hesse
I suppose everybody must be always just a little homesick. – Joseph Conrad
I never wanted to go away, and the hard part now is leaving you all. I'm not afraid, but it seems as if I should be homesick for you even in heaven. – Louisa May Alcott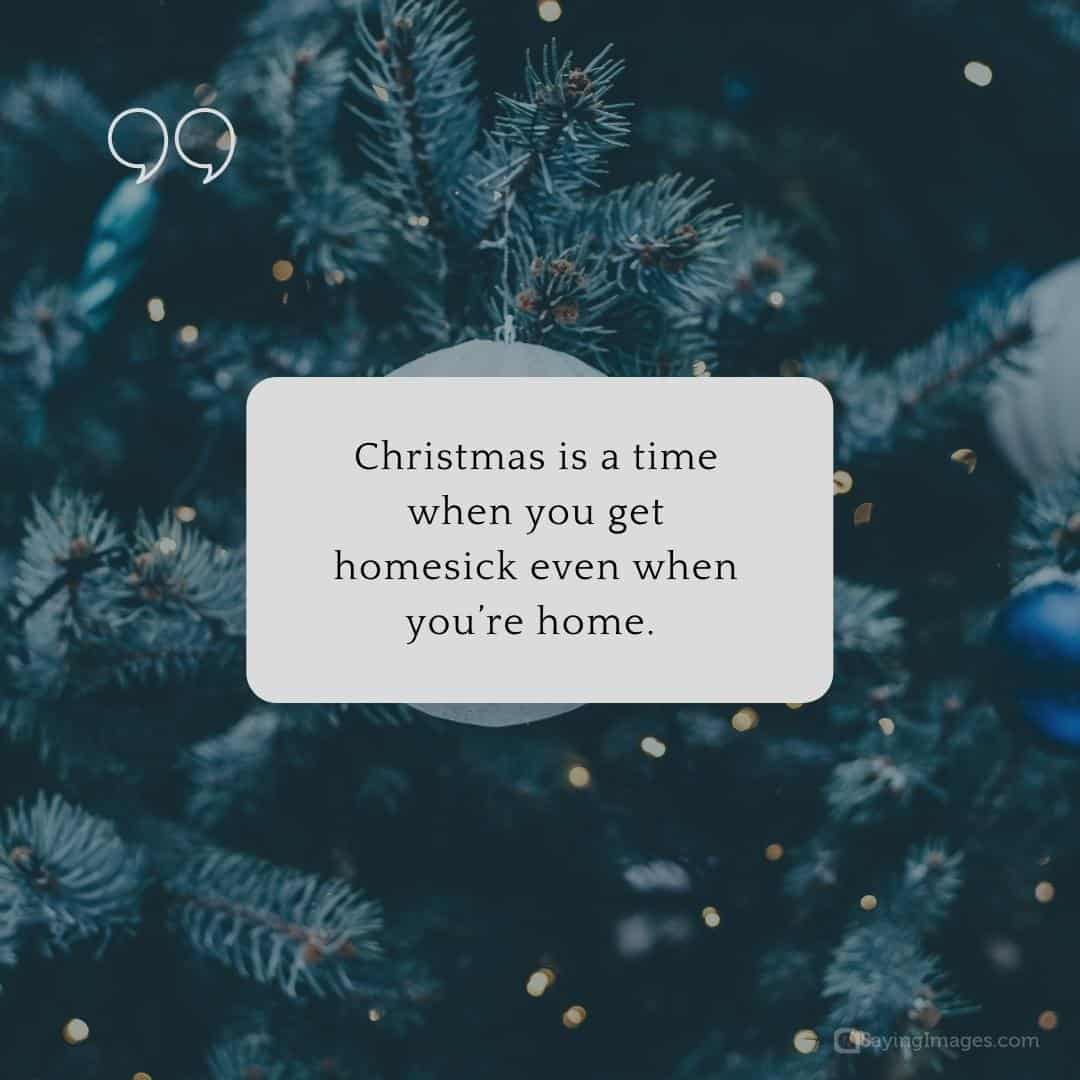 Christmas is a time when you get homesick even when you're home. – Carol Nelson
Maybe home is nothing but two arms holding you tight when you're at your worst. – Yara Bashraheel
I suspected, however, that I wasn't homesick for anything I would find at home when I returned. The longing was for what I wouldn't find: the past and all the people and places there were lost to me – Alice Steinbach
Happiness is being at home.
Paris is one of the most beautiful places in all the world. Unfortunately, I was so homesick I couldn't appreciate its beauty. – Tyra Banks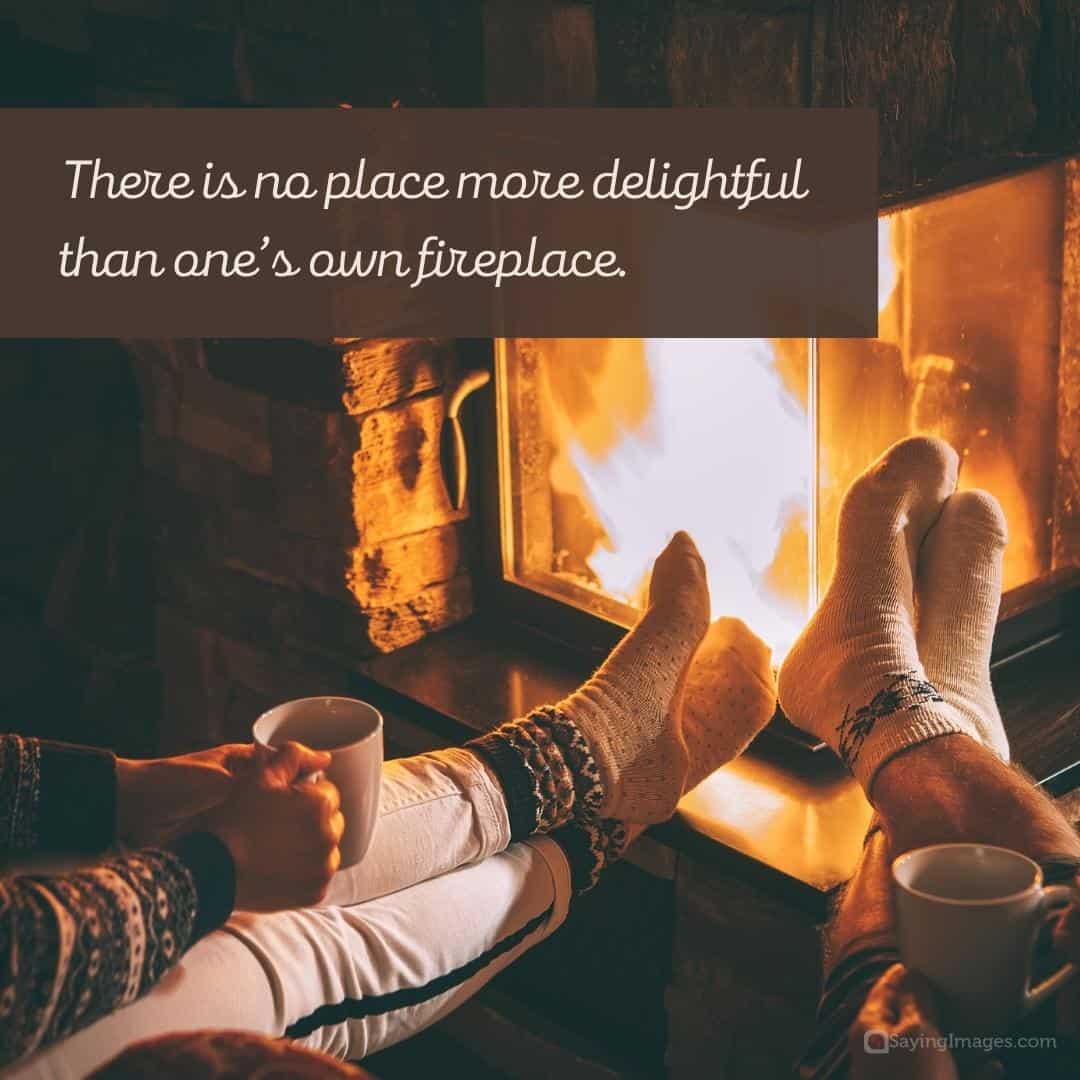 There is no place more delightful than one's own fireplace. – Cicero
The soul hardly ever realizes it, but whether he is a believer or not, his loneliness is really a homesickness for God. – Hubert Van Zeller
And then she knew that you could be homesick for people too.
No, she felt homesick, not for a place, but for a time. Maybe it wasn't homesickness at all. Maybe it was time sickness. She just missed those days when she was younger – seven, six, five, four years old – when she didn't know so much about the world. She missed, most of all, her mother. – Matt Haig, The Girl Who Saved Christmas
After you leave home, you may find yourself feeling homesick, even if you have a new home that has nicer wallpaper and a more efficient dishwasher than the home in which you grew up. – Lemony Snicket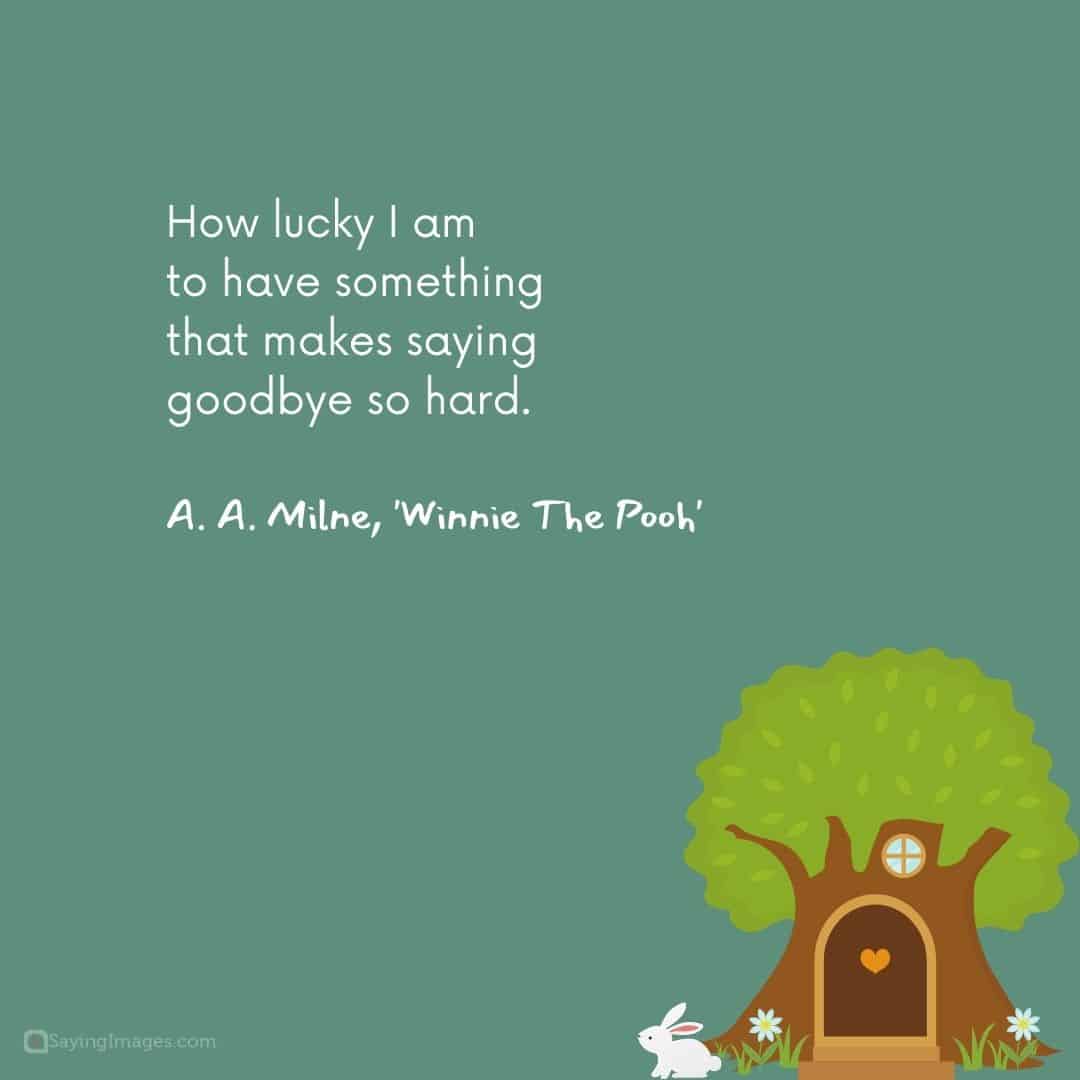 How lucky am I to have something that makes saying goodbye so hard. – Winnie the Pooh
At the end of the day, our hearts just want to be home. But our homes aren't always where we rest our heads.
She used to suffer these intense bouts of homesickness in her own bedroom. When she was very small, she would wake up tearing at her bedspread and shrieking, 'I wanna go home! I wanna go home!' Which was distressing to all of us, of course, because she was home. – Karen Russell
I get homesick a lot. That can make me so emotional that I sometimes feel like crying- but never in front of anyone. No way! – Nick Carter
Life takes you to unexpected places. Love brings you home.
Home, the spot of earth supremely blest, a dearer, sweeter spot than all the rest. – Robert Montgomery