Nowadays, it seems everybody and their next-door neighbor are in the middle of either a divorce or a break-up.
If you've been through one, it's easy to feel jaded and to discount the concept of love.
That is, till you see an old couple walking ahead of you in the street hand in hand. Or you go to a concert and see an elderly couple enjoying the music bolstered by each other's company. This gives one pause to think, okay, there might be something to this eternal love thing.
Don't give up on love. Find your happy ever after. Keep hope aglow with these sweet quotes on eternal love.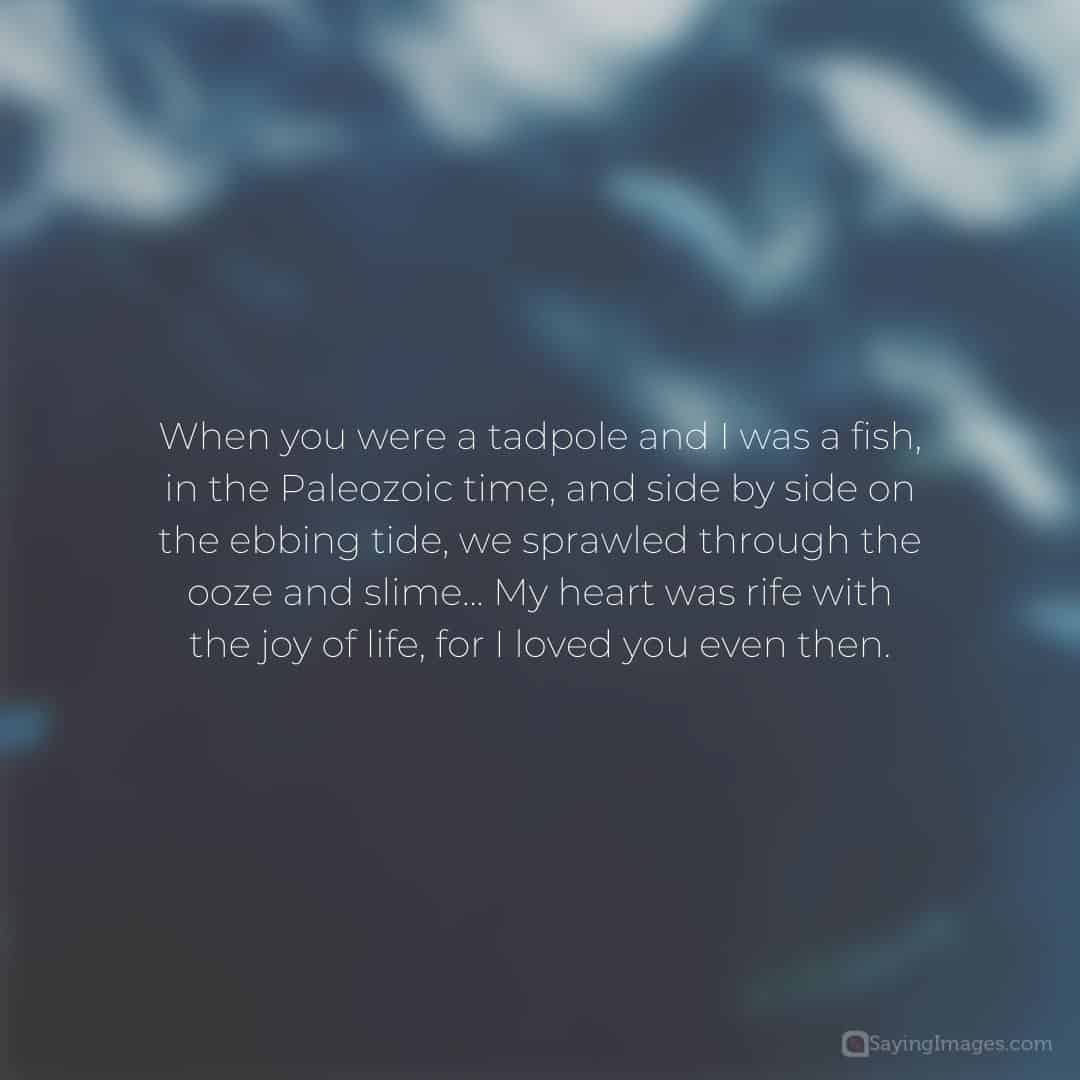 When you were a tadpole and I was a fish, in the Paleozoic time, and side by side on the ebbing tide, we sprawled through the ooze and slime… My heart was rife with the joy of life, for I loved you even then. – Langdon Smith
True love is eternal, infinite, and always like itself. It is equal and pure, without violent demonstrations; it is seen with white hairs and is always young in the heart. – Honore de Bazac
If you live to be a hundred, I want to live to be a hundred minus one day so I never have to live without you. – A.A. Milne, Winnie the Pooh
The only way to have eternal love is to never let your heart forget what it's like to live without it. – Sherrilyn Kenyon
I'm sure that love exists, even infinite, eternal love. – Kylie Minogue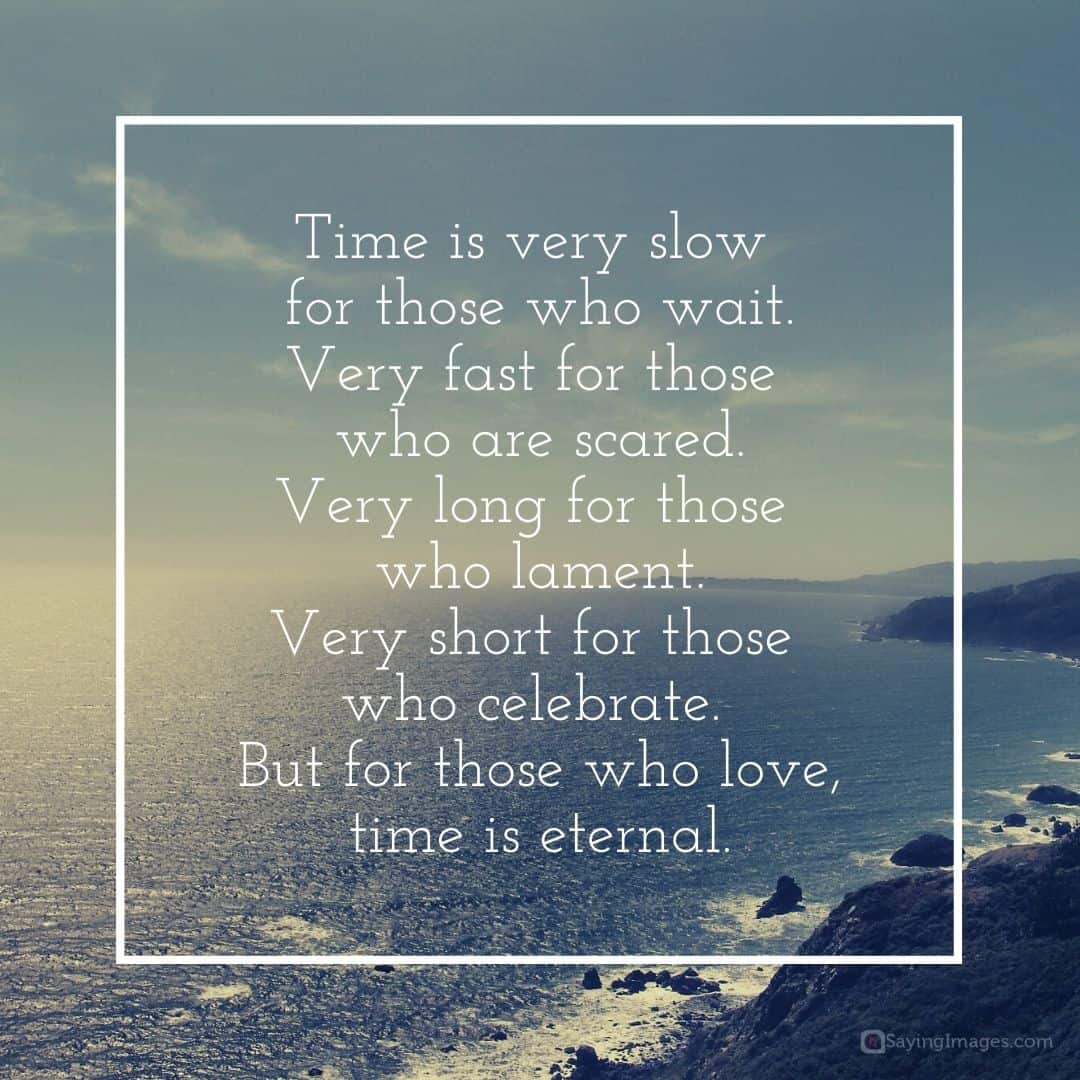 Time is very slow for those who wait. Very fast for those who are scared. Very long for those who lament. Very short for those who celebrate. But for those who love, time is eternal. – William Shakespeare
If you live to be 100, I hope I live to be 100 minus one day, so I never have to live without you. – Ernest H. Shephard
I didn't find you in the last lifetime, I found you in this one. But I'll love you into the next, of that there is no doubt.
I love you and I will until the end of time. And just as she said the words, two bright stars drifted past them overhead and disappeared into the night sky together. – Danielle Steel
The only love that won't disappoint you is one that can't change, that can't be lost, that is not based on the ups and downs of life or of how well you live. It is something that not even death can take away from you. God's love is the only thing like that. – Timothy Keller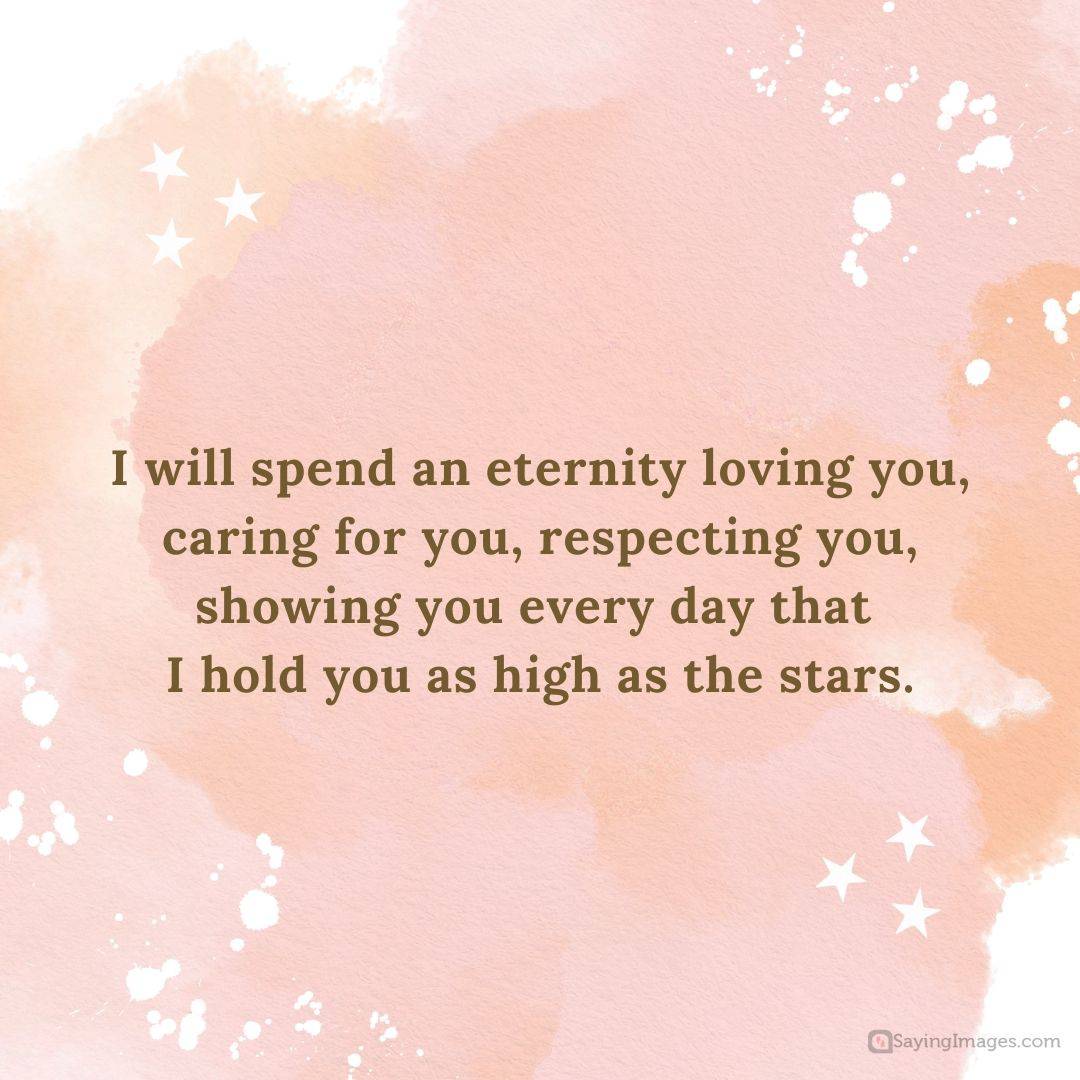 I will spend an eternity loving you, caring for you, respecting you, showing you every day that I hold you as high as the stars. – Dr. Steve Maraboli
I love you and I will love you until I die and if there is an afterlife i will love you even then. – Peter Luther
Death may indeed be final but the love we share while living is eternal. – Donald E. Williams, Jr.
The best and most beautiful things in this world cannot be seen or even heard, but must be felt with the heart. – Helen Keller
When two hearts become one, it cannot be undone. A promise has been made and cannot be broken or swayed. For this love will last an eternity and will not fade. – Charlene M. Martin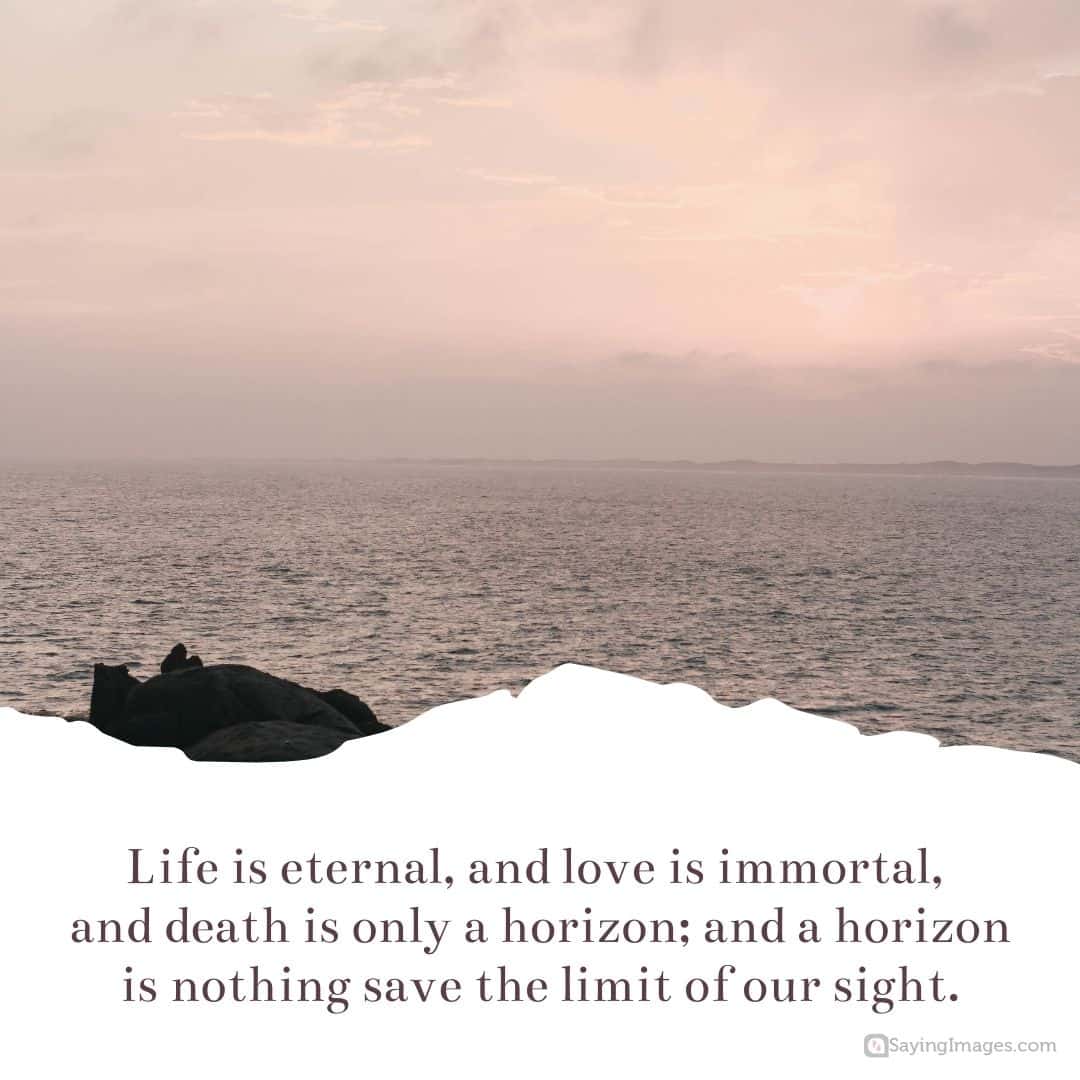 Life is eternal, and love is immortal, and death is only a horizon; and a horizon is nothing save the limit of our sight. – Rossiter W. Raymond
Love is eternal, the aspect may change, but not the essence. – Vincent Van Gogh
They say love is eternal. They say love is enduring. It always protects, always trust,a lways hopes, always perseveres. Love never fails. It is one of my favorite passages in the bible. There is a quality about that kind of love that transcends our mortal understanding. – K.J. Kilton
Love is neither a fairy tale nor a book. Love is neither a signature on a paper nor what a couple say of each other. Love is a tree with branches reaching far beyond time into eternity and roots set deep in eternal life. – Rumi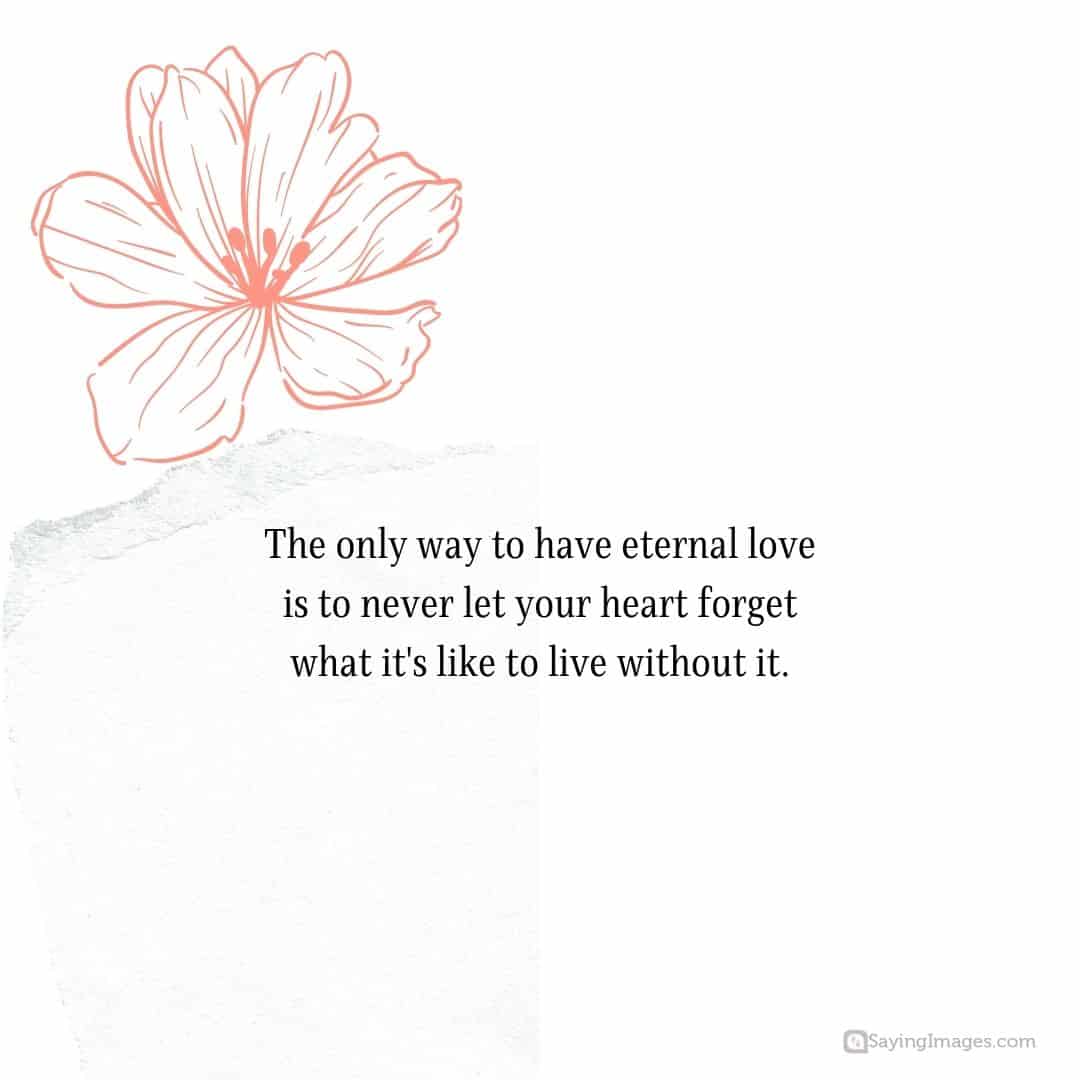 The only way to have eternal love is to never let your heart forget what it's like to live without it. – Sherrilyn Kenyon
Love is an eternal fame that will keep on burning.
I want to show him that he has not been loved before. I want him to feel, with one kiss, how I can make love to his soul for eternity. – S. L.
Eternal truth, eternal righteousness, eternal love; these only can triumph, for these only can endure. – Joseph Barber Lightfoot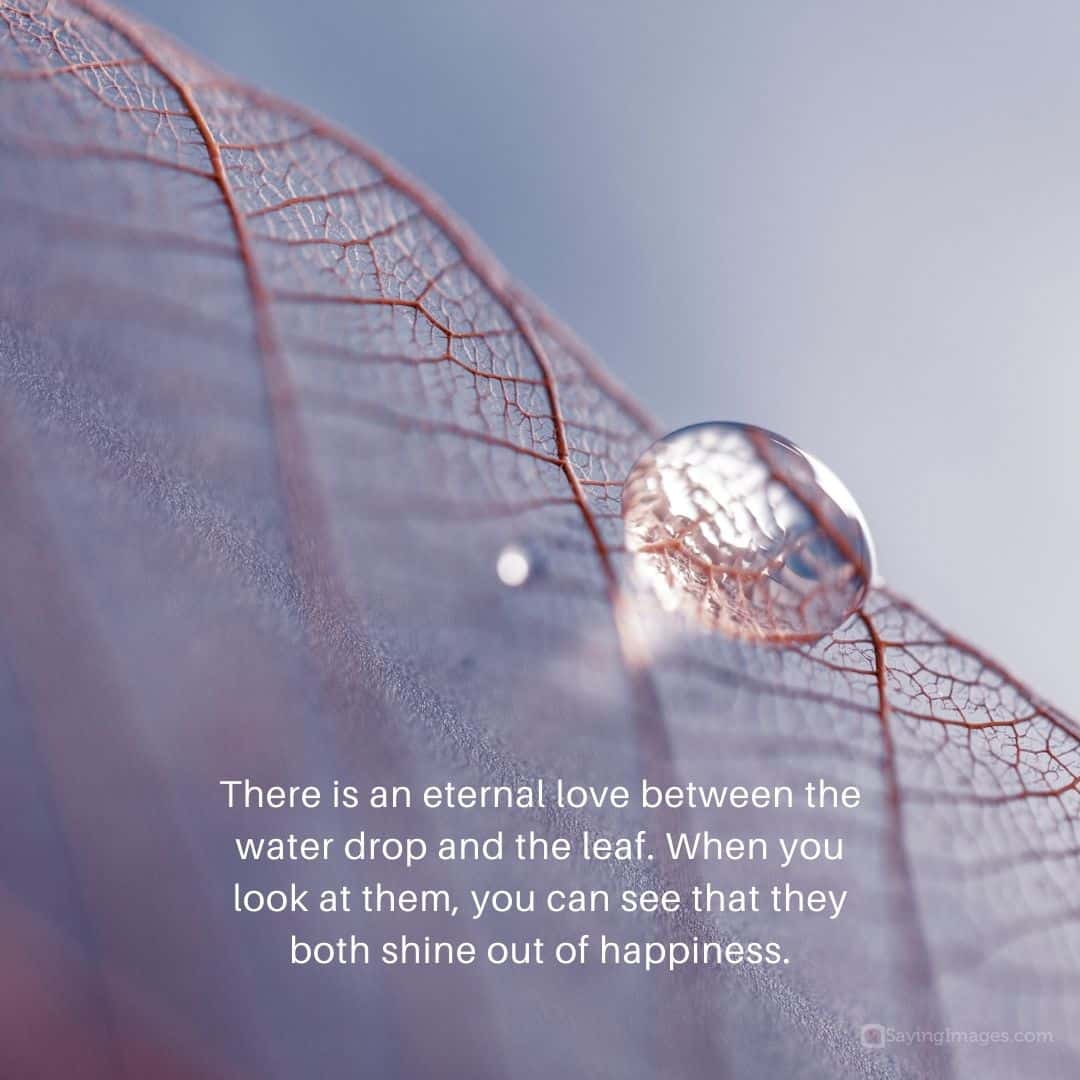 There is an eternal love between the water drop and the leaf. When you look at them, you can see that they both shine out of happiness. – Mehmet Murat Ildan
It was love at first sight, at last sight, at ever and ever sight. – Vladimir Nabokov
Eternal love, is a myth, but we make our myths, and we love them to death. – Natalie Angier
I want you today, tomorrow, next week, and for the rest of my life.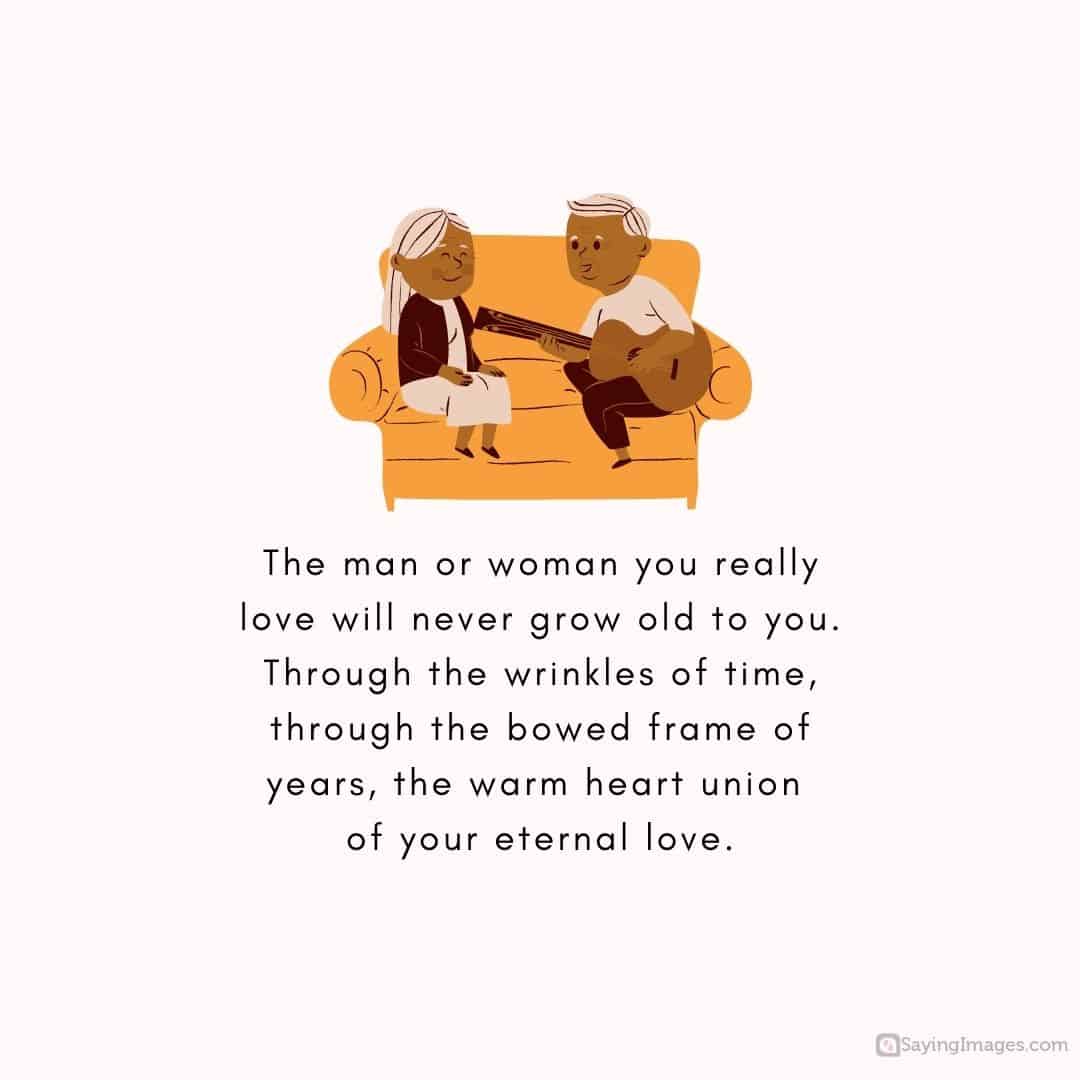 The man or woman you really love will never grow old to you. Through the wrinkles of time, through the bowed frame of years, the warm heart union of your eternal love. – Alfred Montapert
I could spend the rest of my sunsets with you.
When two hearts are meant for each other, no distance is so far. No time is so long and no other love can break them apart.
If you love someone, love them completely.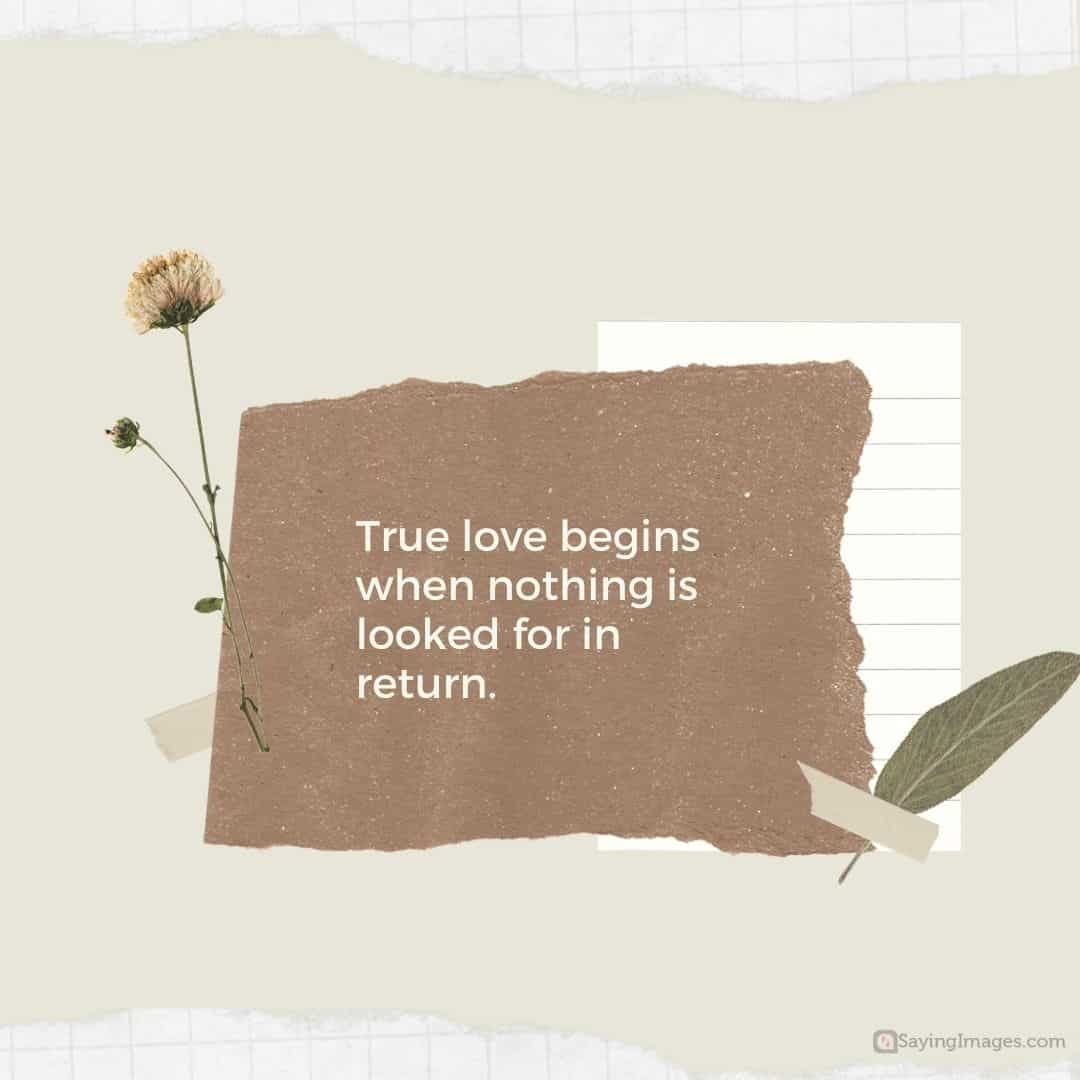 True love begins when nothing is looked for in return. – Antoine de Saint-Exupery
No man may be so cursed by priest or pope but what the eternal love may still return while any thread of green lives on in hope. – Dante Alighieri
Love is like an eternal flame — once it is lit, it will continue to burn for all time. – Kamila
I would rather live and love where death is king than have eternal life where love is not. – Robert G. Ingersoll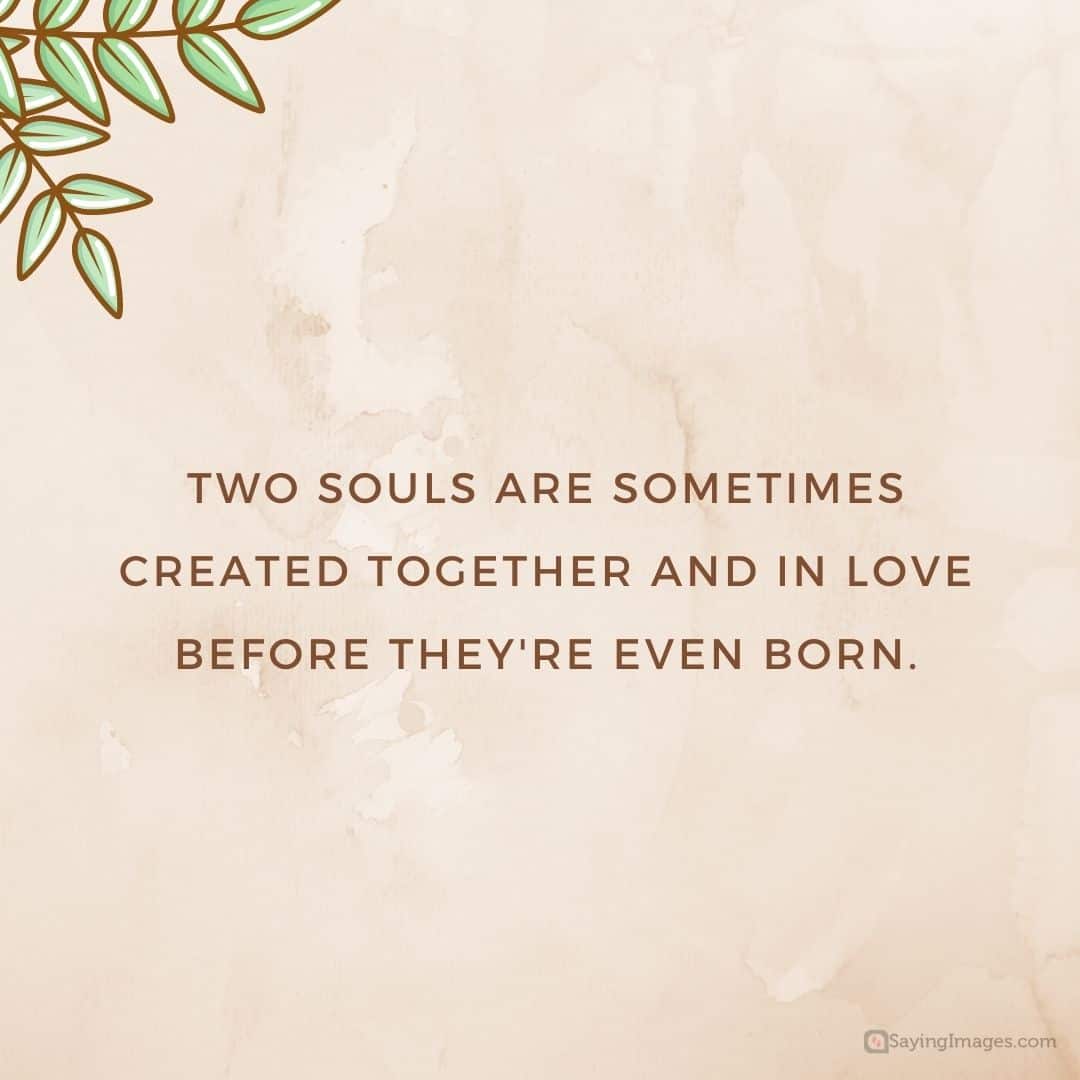 Two souls are sometimes created together and in love before they're even born. – F. Scott Fitzgerald
I look at you and see the rest of my life in front of my eyes.
Love is a beautiful journey where every step is a destination & every moment eternity. – Apoore Dubey
I want you forever. I will always be with you. I will always love you. I will love, honor and cherish you for all eternity. – Katrina D. Miller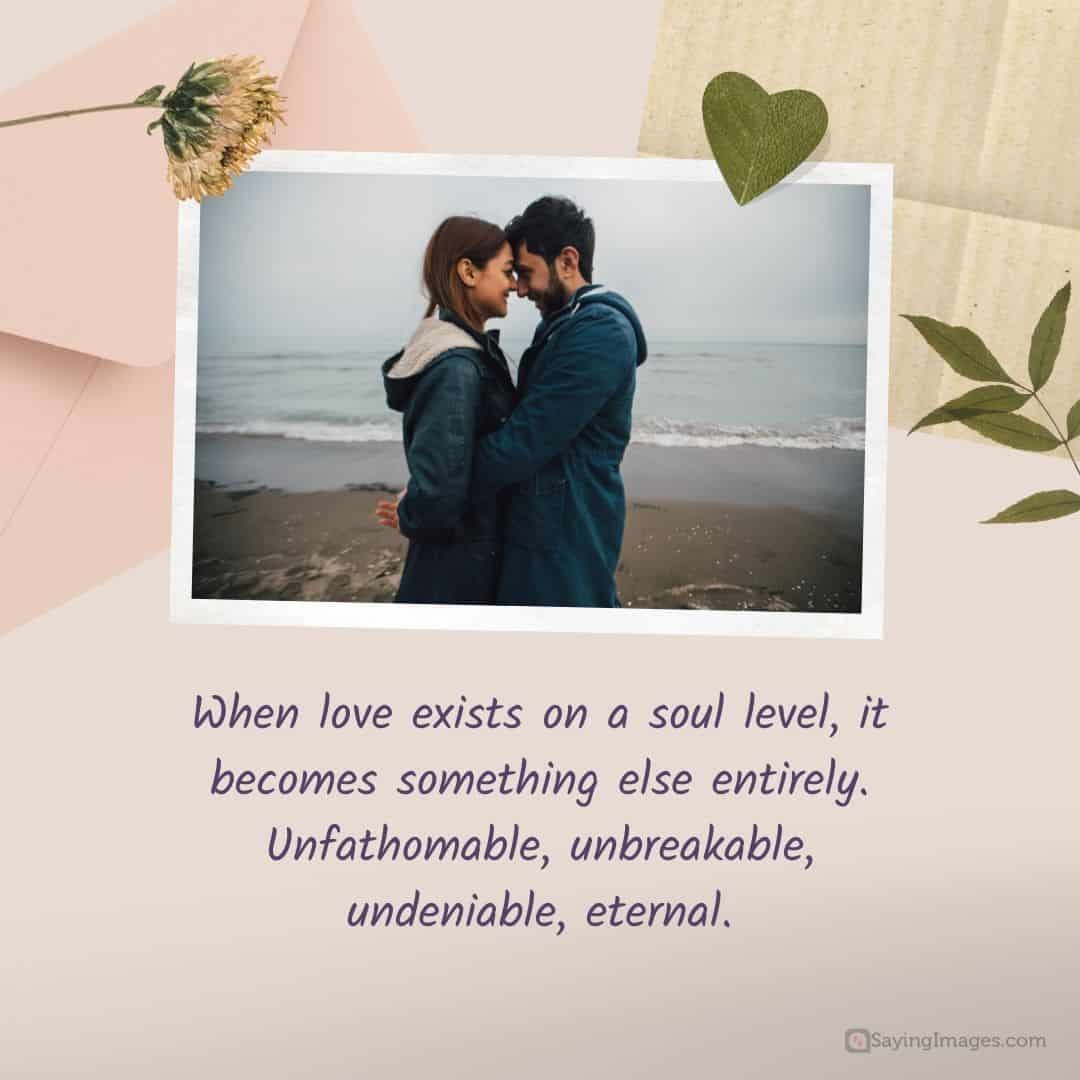 When love exists on a soul level, it becomes something else entirely. Unfathomable, unbreakable, undeniable, eternal.
I want you forever, forever and always through the good and the ugly. We'll grow old together, and always remember whether happy or sad or whatever, we'll still love each other forever and always.
I want all my tomorrows with you.
He was her soul's eternal mate.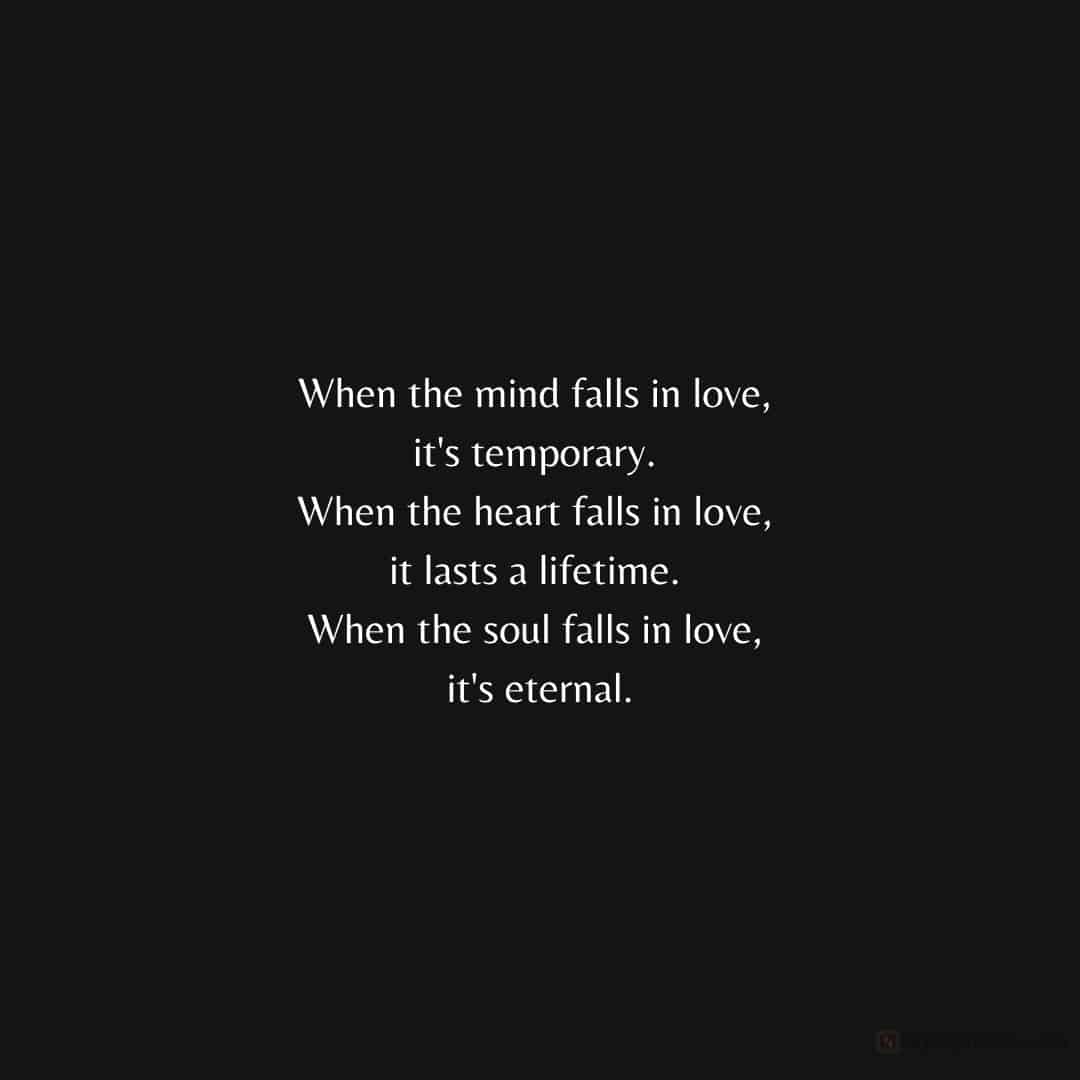 When the mind falls in love, it's temporary. When the heart falls in love, it lasts a lifetime. When the soul falls in love, it's eternal.
God can use the fear that grips the hearts of men today to point them to eternal truths- the truth of God's eternal judgment, and the truth of His eternal love. – Billy Graham
What you are to me has no ending, unless you can understand what forever and infinity really mean. – A. R. Asher
Those who love deeply never grow old; they may die of old age, but they die young. – Sir Arthur Wing Pinero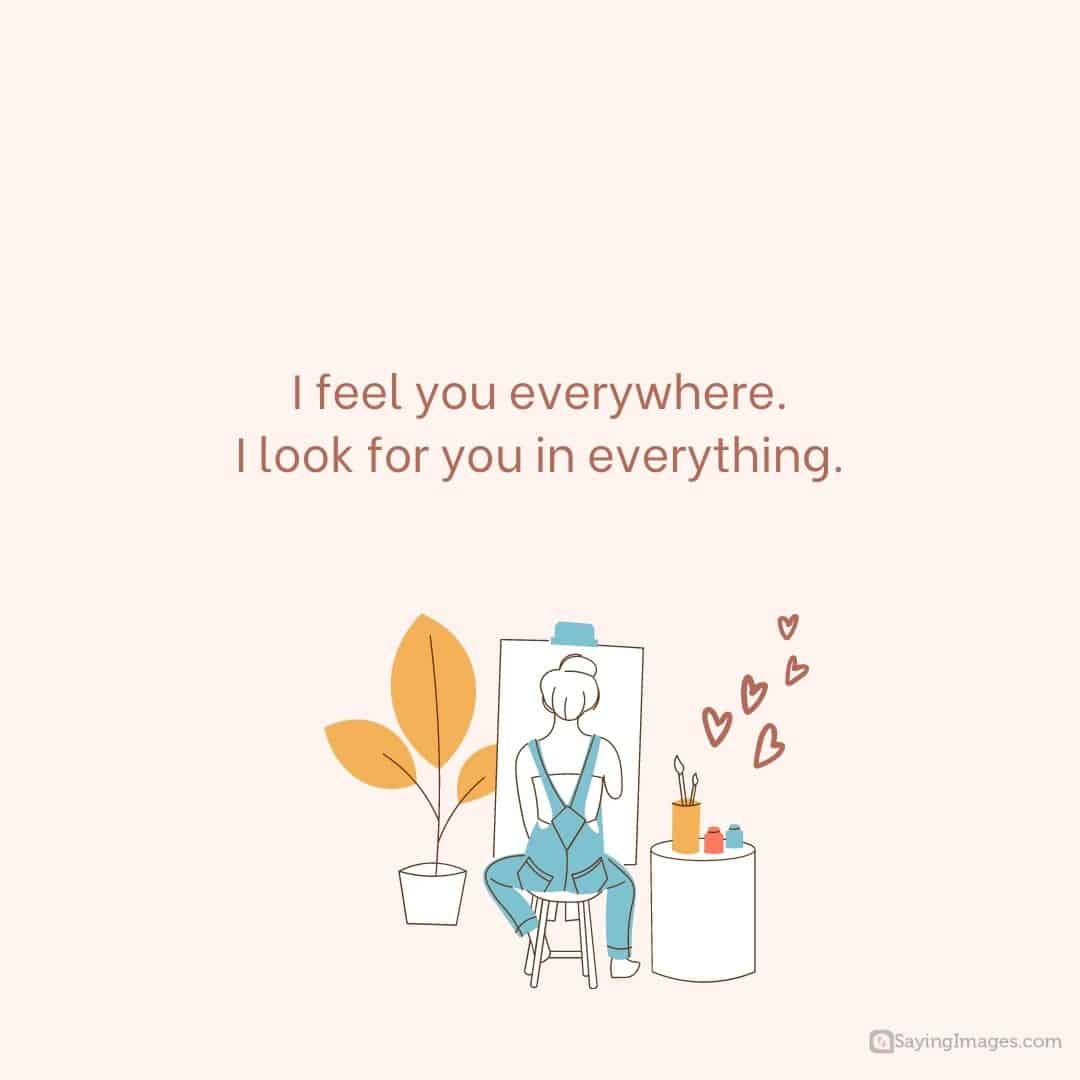 I feel you everywhere. I look for you in everything. – Butterflies Rising
I believe that two people are connected at the heart, and it doesn't matter what you do, or who you are, or where you live; there are no boundaries or barriers if two people are destined to be together. – Julia Roberts
Love has no age, no limit; and no death. – John Galsworthy
The highest proof of the spirit is love. Love the eternal thing which can already on earth possess as it really is. – Albert Schweitzer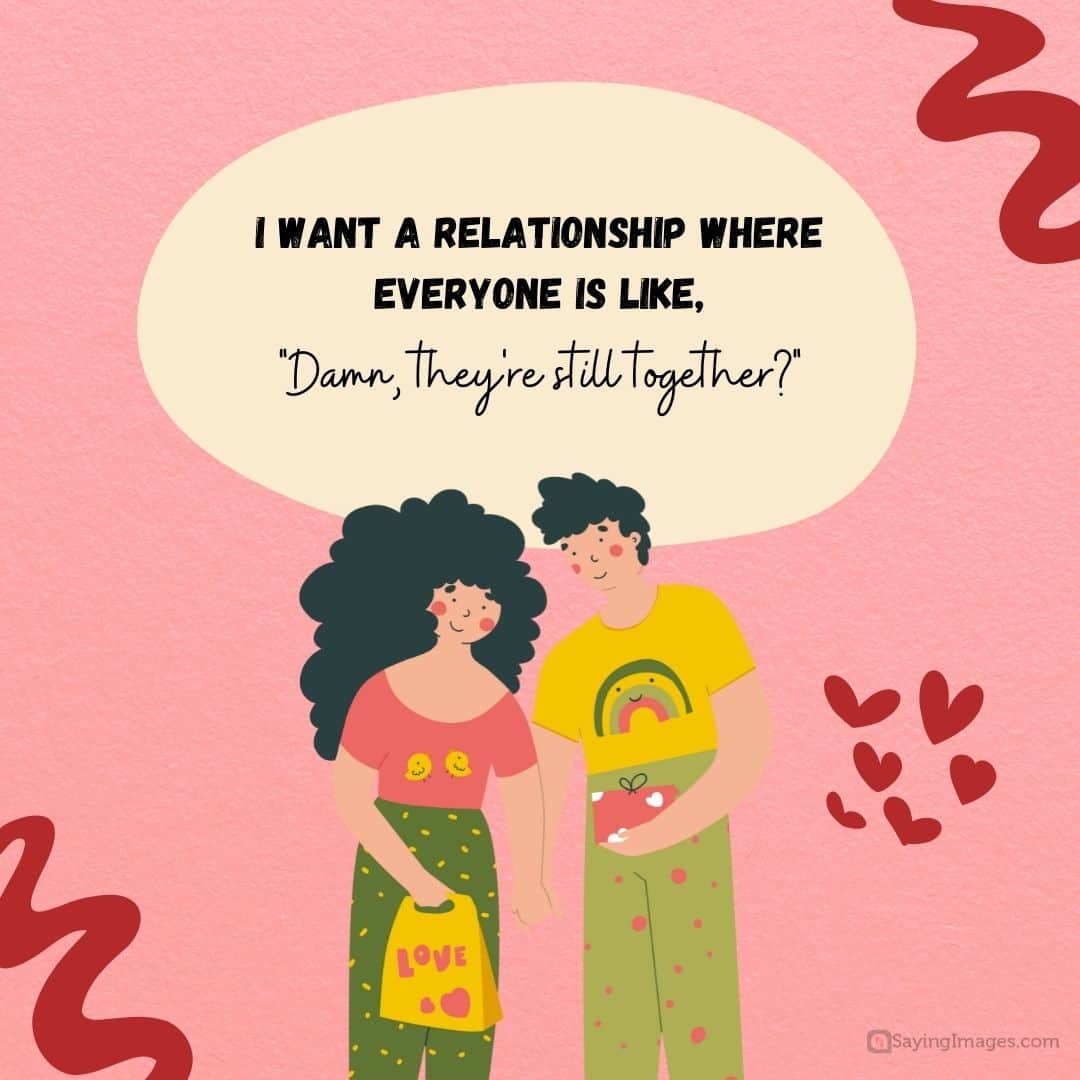 I want a relationship where everyone is like, "Damn, they're still together?"
I will keep on loving you until eternity comes to make me love you more. – Munia Khan
Beyond everything else, that's one of the things that kept us going, that keeps me going, you know, the eternal love, knowing that I am in the love of the all and all love is in me. – Jimmy Cliff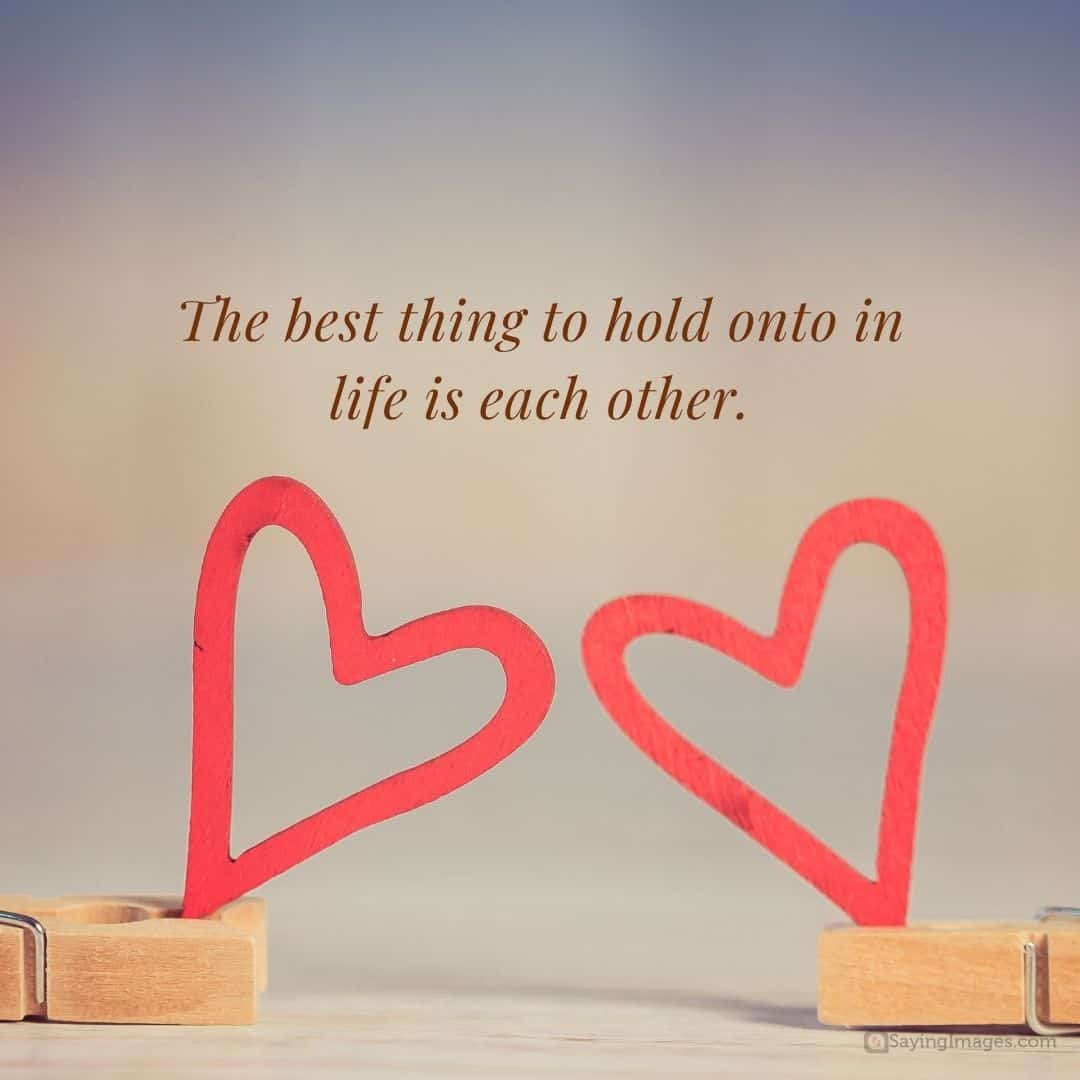 The best thing to hold onto in life is each other. – Audrey Hepburn
Be my love, be my life, be my happiness, be my wife, be my sadness, be my tear, be my sorrow, be my fear, be my everything, not now nor later. But from yesterday till forever. – John Lee Delan
Love is energy: it can neither be created nor destroyed. It just is and always will be, giving meaning to life and direction to goodness… love will never die. – Bryce Courtney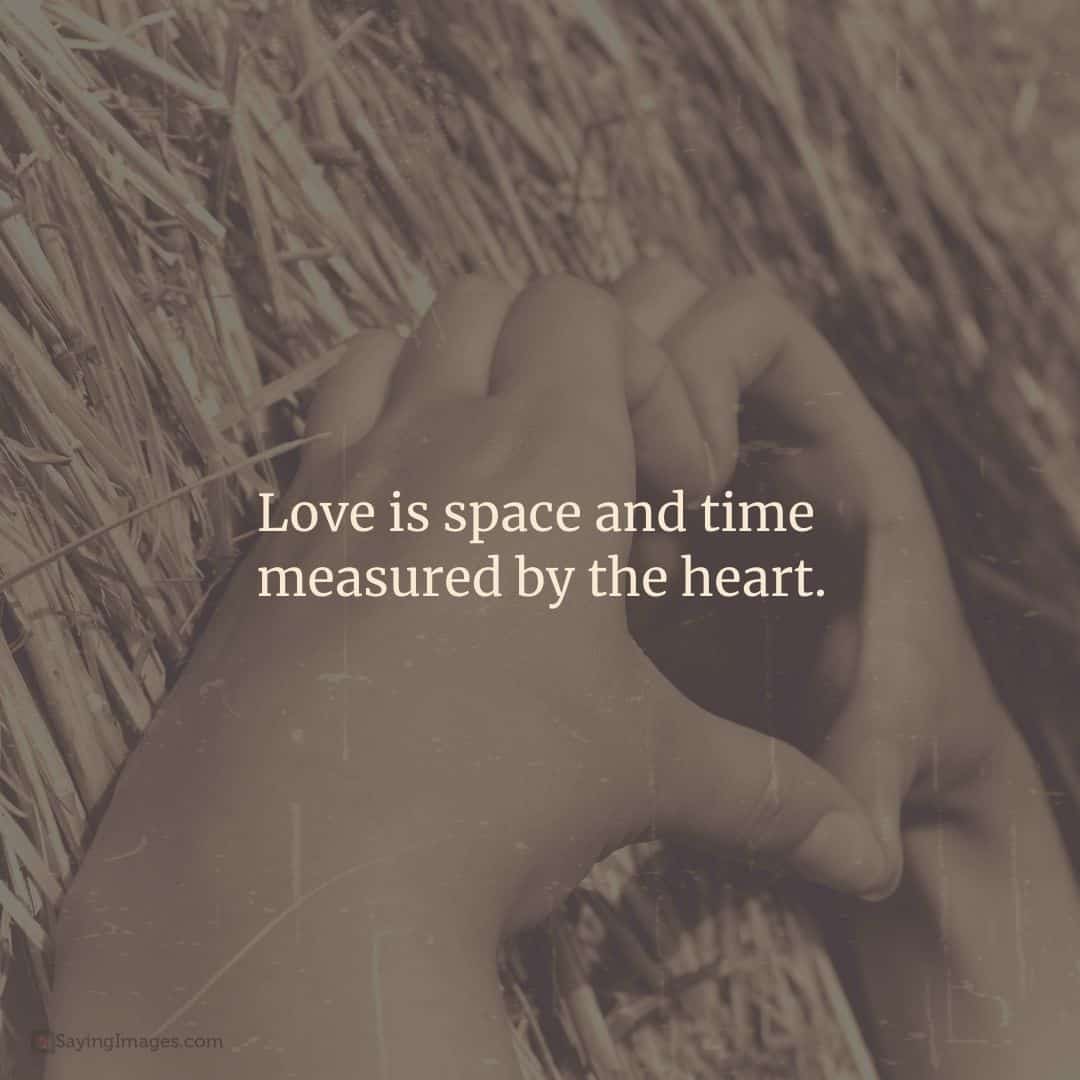 Love is space and time measured by the heart. – Marcel Proust
I love you. You annoy me more than I ever thought possible, but… I want to spend every irritating minute with you. – Scrubs
It isn't possible to love and to part. You will wish that it was. You can transmute love, ignore it, muddle it, but you can never pull it out of you. I know by experience that the poets are right: Love is eternal. – E. M. Foster
Eternal love made me. – Dante Alighieri