Palm Sunday is a beautiful day to celebrate. It marks the arrival of Jesus in the town of Jerusalem astride a donkey.
Hundreds of people shouted His name and laid palm branches across the road. And while one may think that it is the first step to his death, we can also think of it as the first step towards His resurrection and grandest gesture towards mankind. 
Let's celebrate this special day with these beautiful and hopeful Palm Sunday quotes.
We curated passages from the Bible as well as inspiring messages from laymen.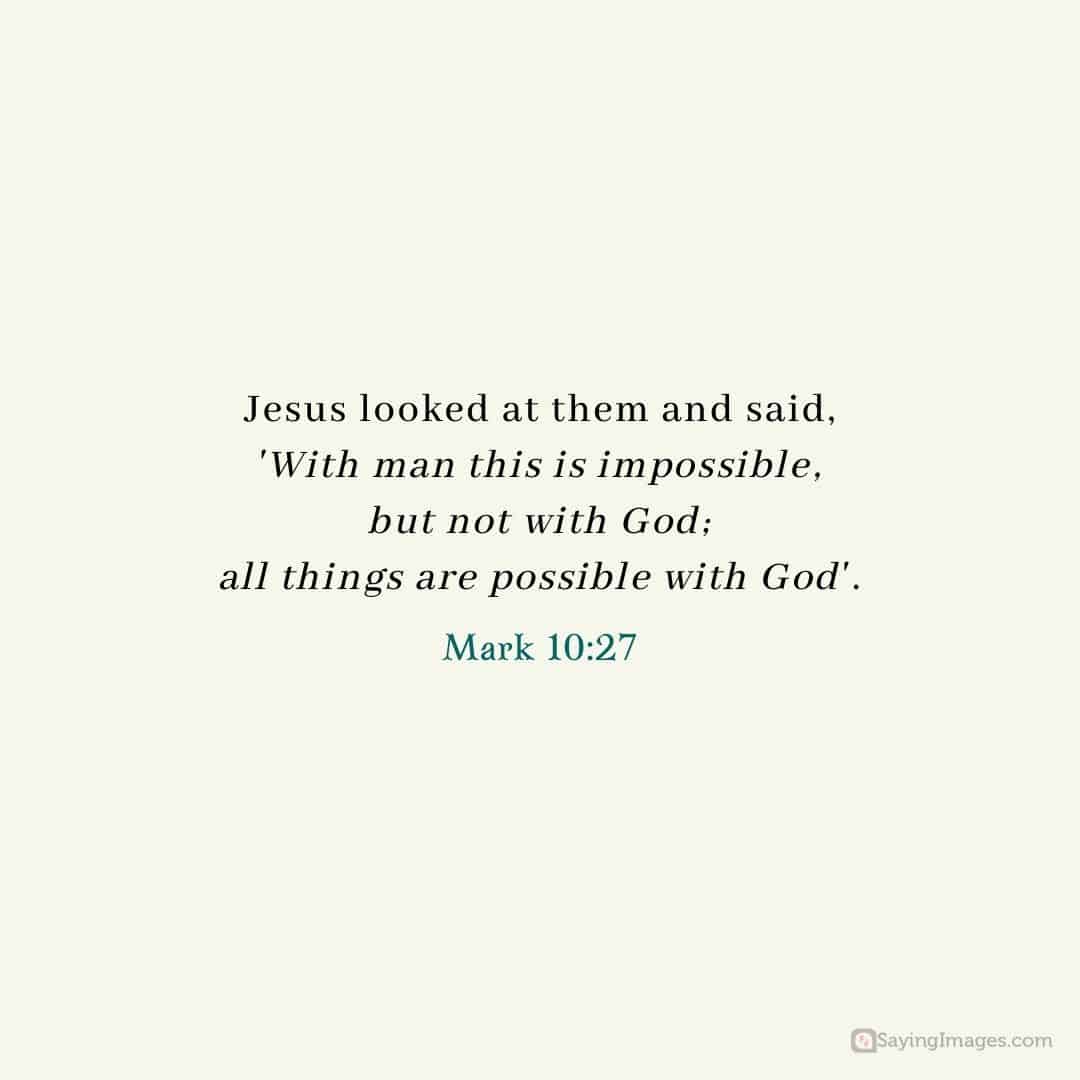 Jesus looked at them and said, 'With man this is impossible, but not with God; all things are possible with God.' – Mark 10:27
And being found in appearance as a man, he humbled himself by becoming obedient to death—even death on a cross! – Philippians 2:8
Life is a miracle and every breath we take is a gift from Jesus our Savior.
Palm Sunday's thought; Life is full of ups and downs. Glorify God during the ups and fully trust in Him during the downs.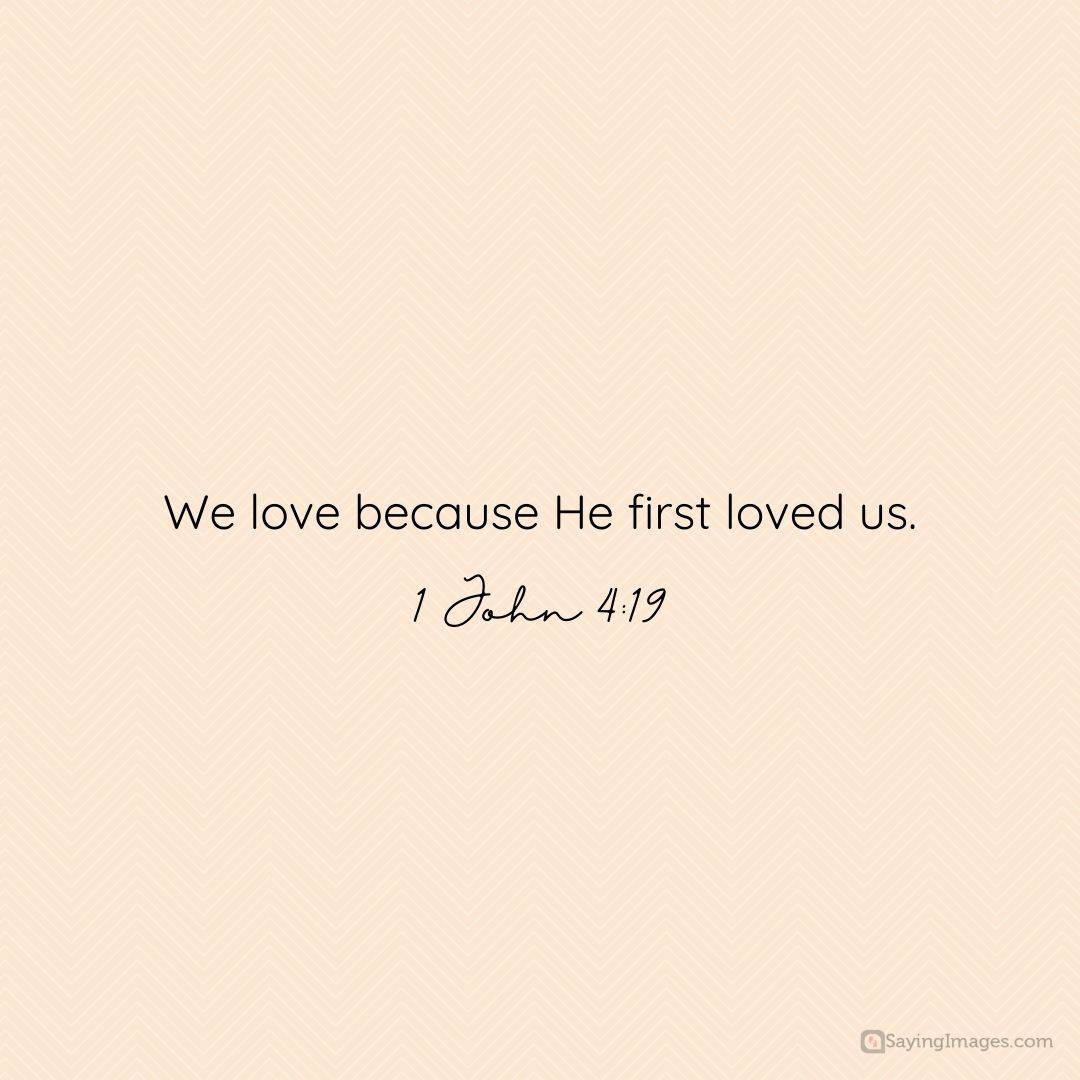 We love because he first loved us. – 1 John 4:19
The next day the large crowd that had come to the feast heard that Jesus was coming to Jerusalem. So they took branches of palm trees and went out to meet him, crying out, 'Hosanna! Blessed is he who comes in the name of the Lord, even the King of Israel!' – John 12:9-19
Lord, we lift up your name. With hearts full of praise; Be exalted, O Lord my God! Hosanna in the highest! – Carl Tuttle
They quickly took their cloaks and spread them under him on the bare steps. Then they blew the trumpet and shouted, 'Jehu is king!' – 2 Kings 9:13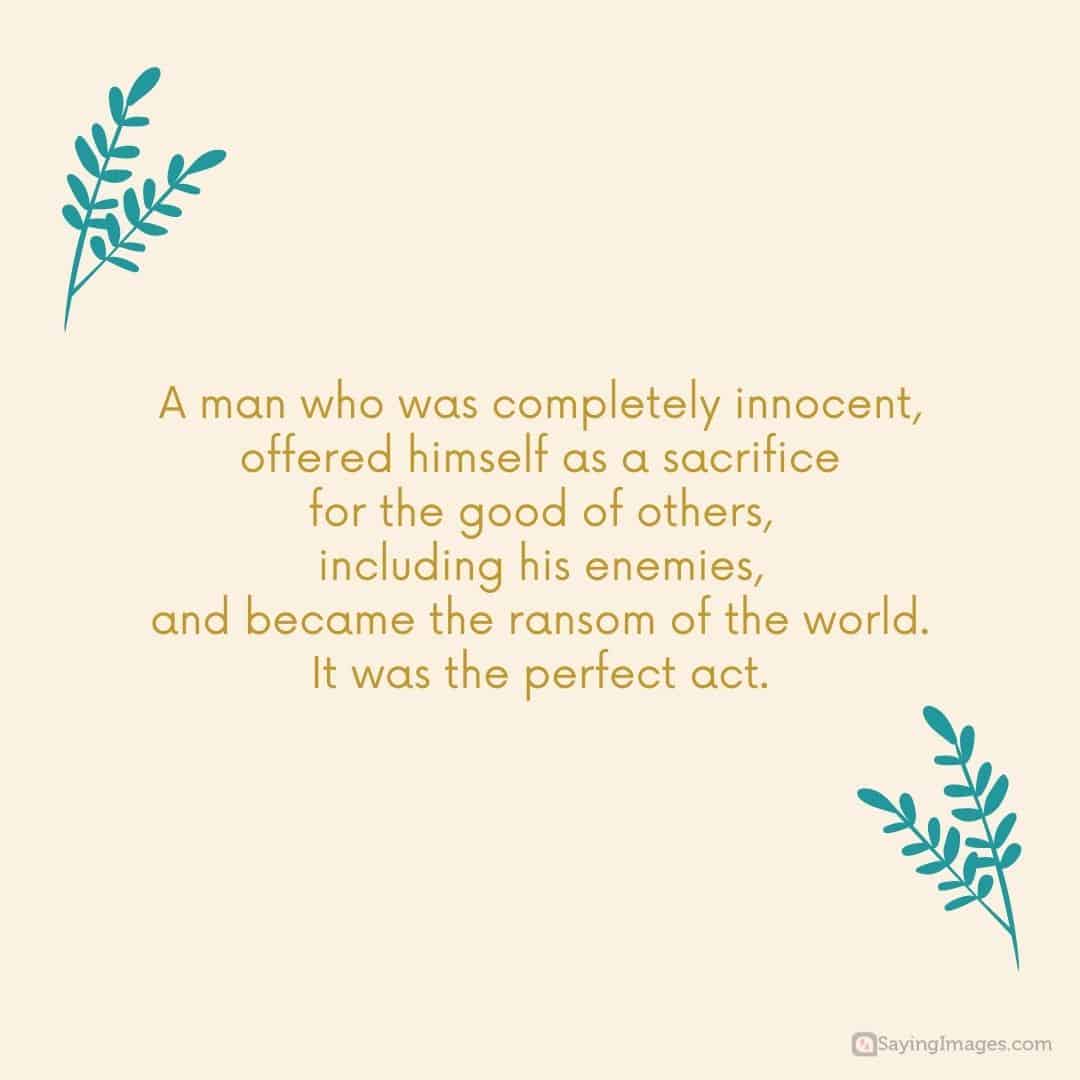 A man who was completely innocent, offered himself as a sacrifice for the good of others, including his enemies, and became the ransom of the world. It was the perfect act. – Mahatma Gandhi
If just as we are, we would lay ourselves on the altar of service of Jesus Christ, there is no saying what Christ could do with us and through us. – William Barclay
He exerted when he raised Christ from the dead and seated him at his right hand in the heavenly realms. – Ephesians 1:20
Today, whatever is good for your soul, do that.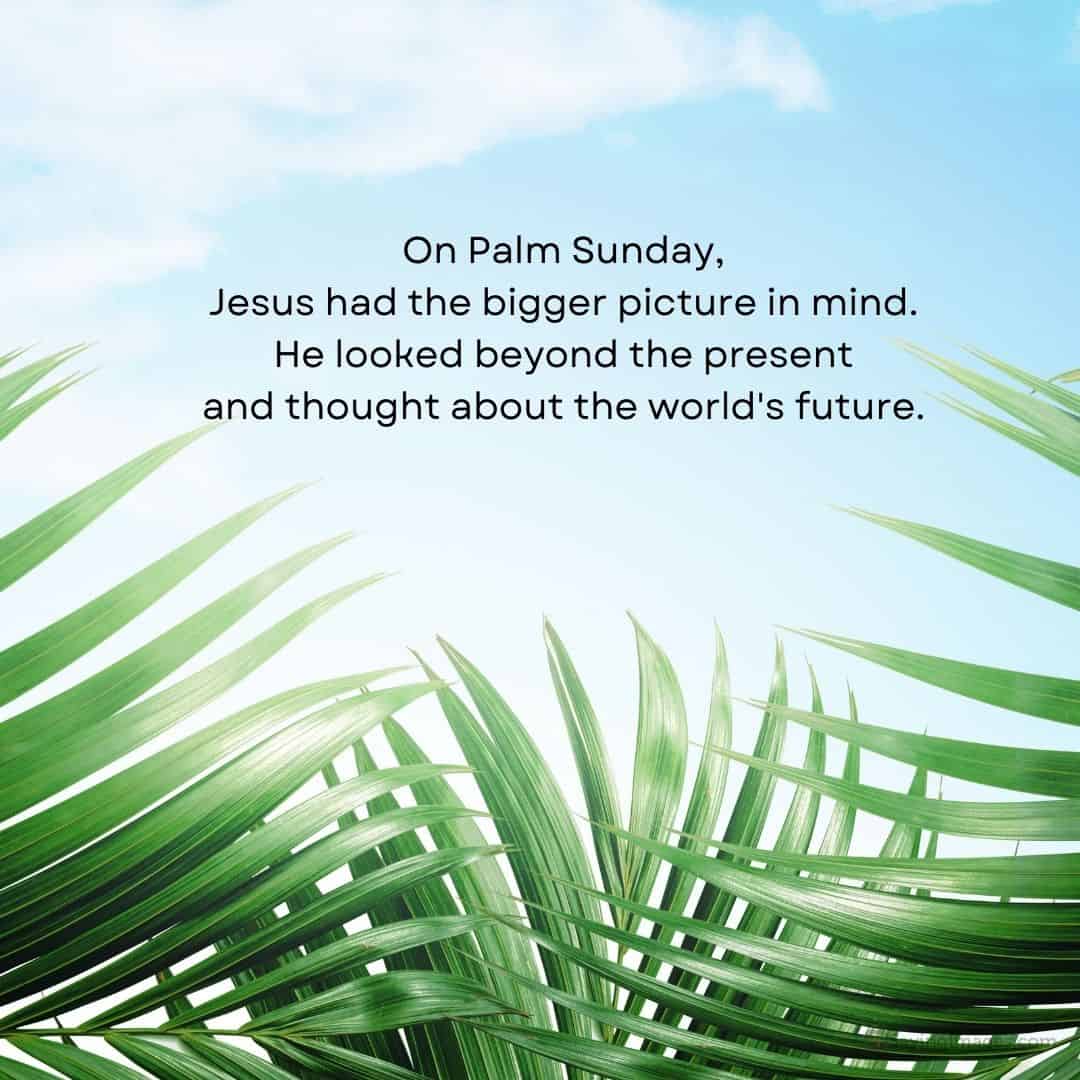 On Palm Sunday, Jesus had the bigger picture in mind. He looked beyond the present and thought about the world's future. – Toby Mac
Be strong, and let your heart take courage, all you who wait for the Lord! – Psalm 31:24
Rejoice greatly, O daughter of Zion! Shout aloud, O daughter of Jerusalem! Behold, your king is coming to you; righteous and having salvation is he, humble and mounted on a donkey, on a colt, the foal of a donkey. – Zechariah 9:9
Blessed is the king who comes in the name of the Lord! Peace in heaven and glory in the highest! – Luke 19:38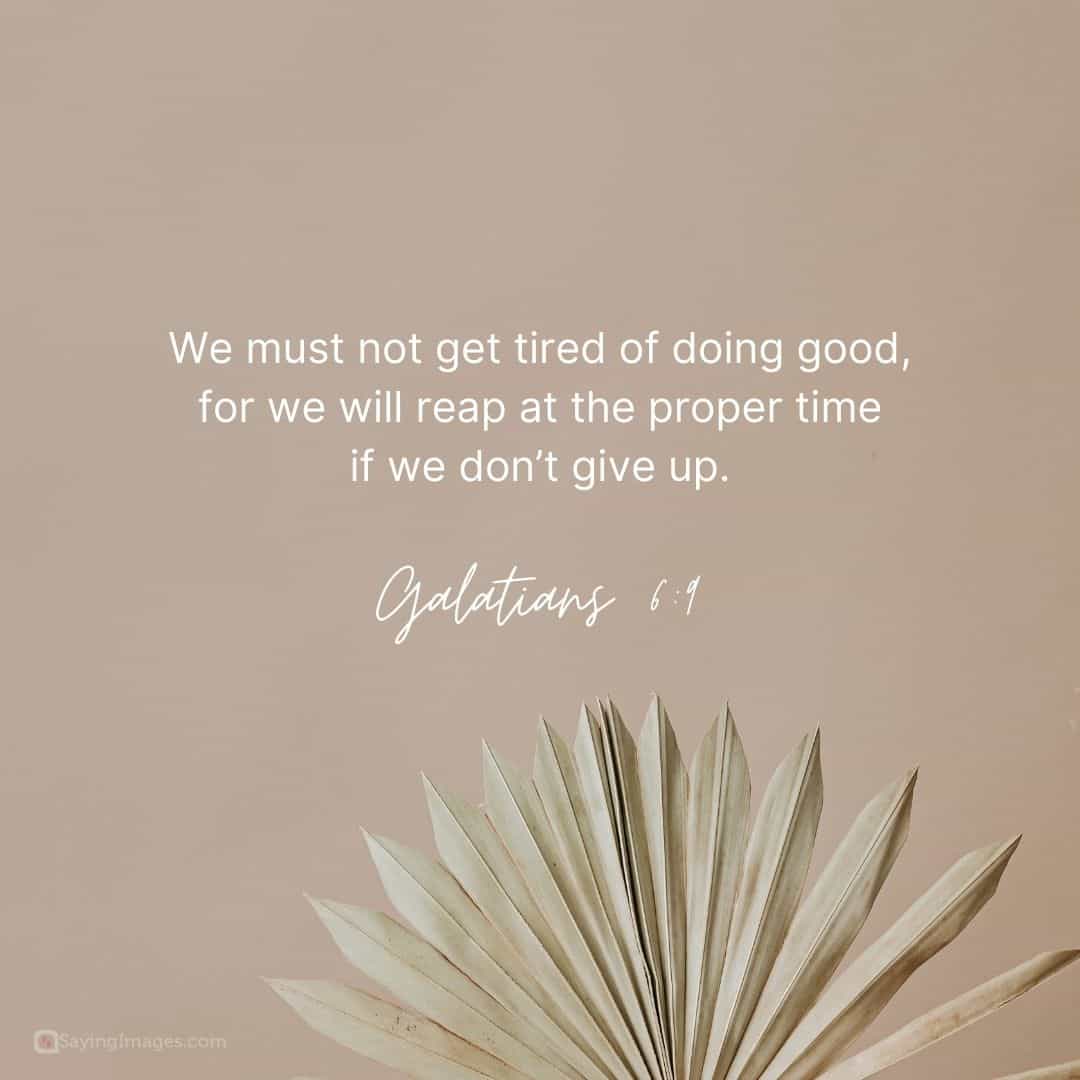 We must not get tired of doing good, for we will reap at the proper time if we don't give up. – Galatians 6:9
Finally, be strong in the Lord and in the strength of his might. – Ephesians 6:10
Jesus found a donkey and sat upon it, as Scripture says: Do not fear, city of Zion! See, your king is coming, sitting on the colt of a donkey! – John 12:14
As he was drawing near—already on the way down the Mount of Olives—the whole multitude of his disciples began to rejoice and praise God with a loud voice for all the mighty works that they had seen. – Luke 19:37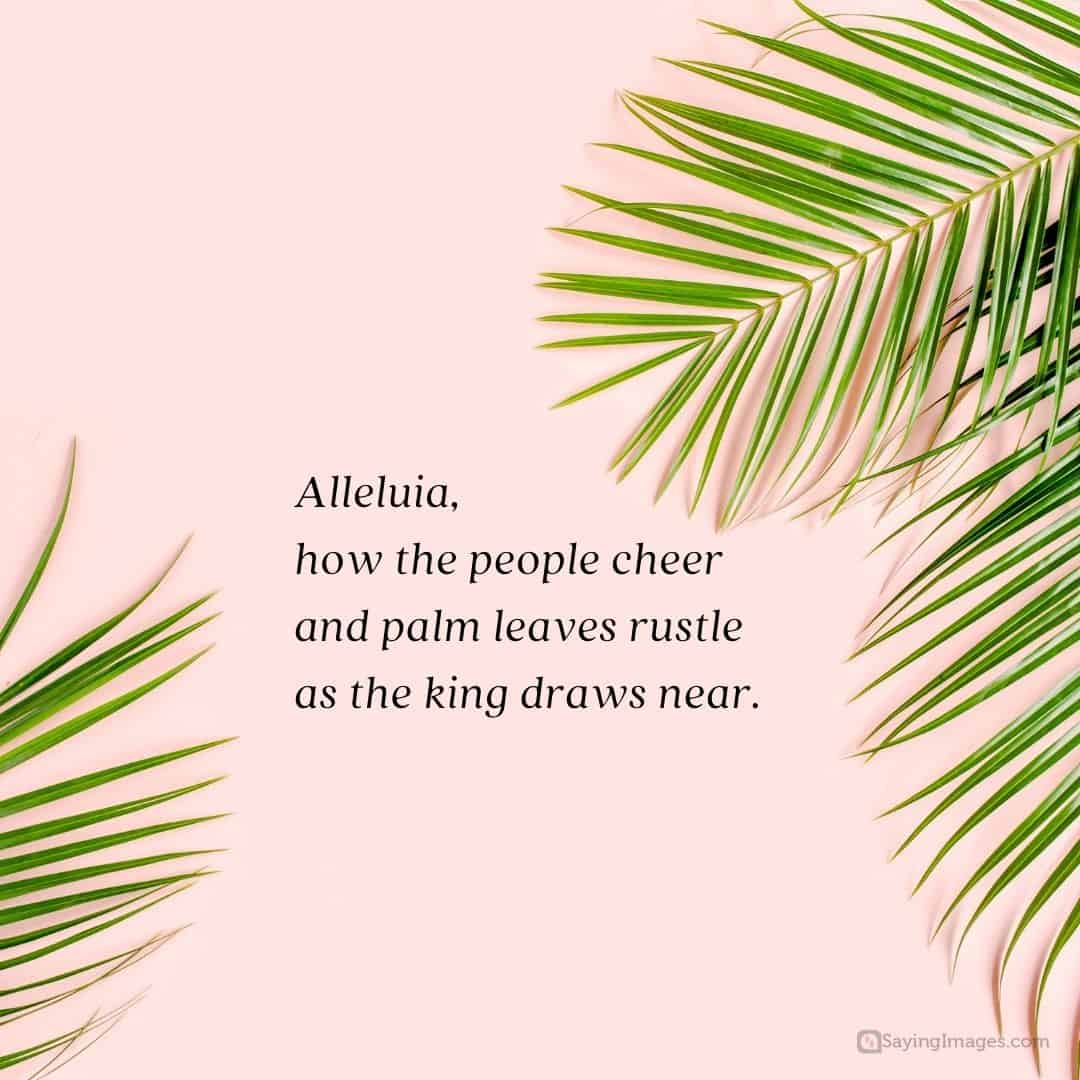 Alleluia, how the people cheer and palm leaves rustle as the king draws near. – John Beavis
For God did not send his Son into the world to condemn the world, but to save the world through him. – John 3:16-17
And Peter said to them, 'Repent and be baptized every one of you in the name of Jesus Christ for the forgiveness of your sins, and you will receive the gift of the Holy Spirit. – Acts 2:38
Let every man and woman count himself immortal. Let him catch the revelation of Jesus in his resurrection. Let him say not merely, 'Christ is risen,' but 'I shall rise.' – Phillips Brooks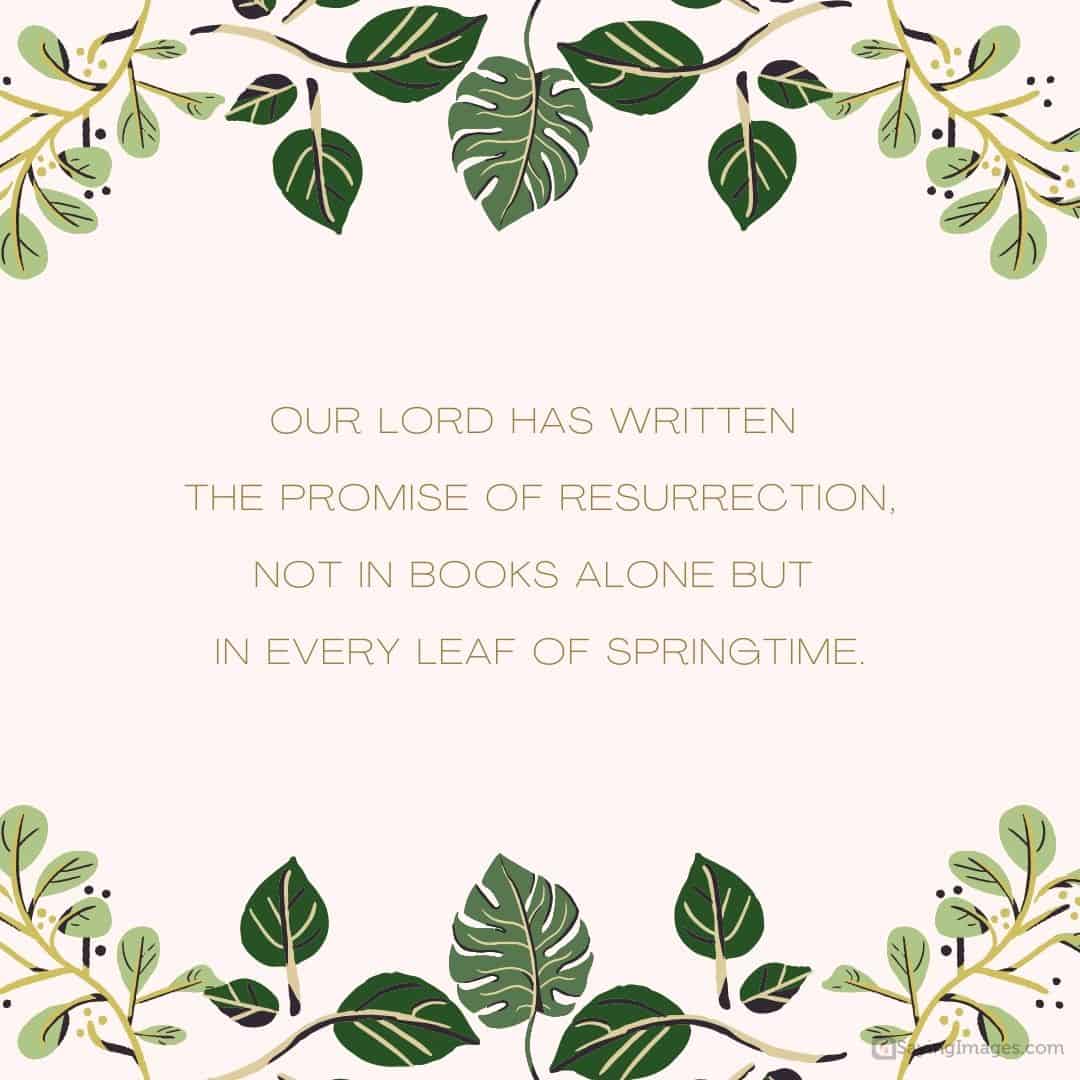 Our lord has written the promise of resurrection, not in books alone but in every leaf of springtime. – Martin Luther
But Palm Sunday tells us that…it is the cross that is the true tree of life. – Pope Benedict XVI
It is a trustworthy statement, deserving full acceptance, that Christ Jesus came into the world to save sinners, among whom I am foremost of all. – 1 Timothy 1:15
When Jesus entered Jerusalem, the whole city was stirred and asked, 'Who is this?' The crowds answered, 'This is Jesus, the prophet from Nazareth in Galilee.' – Matthew 21:10-11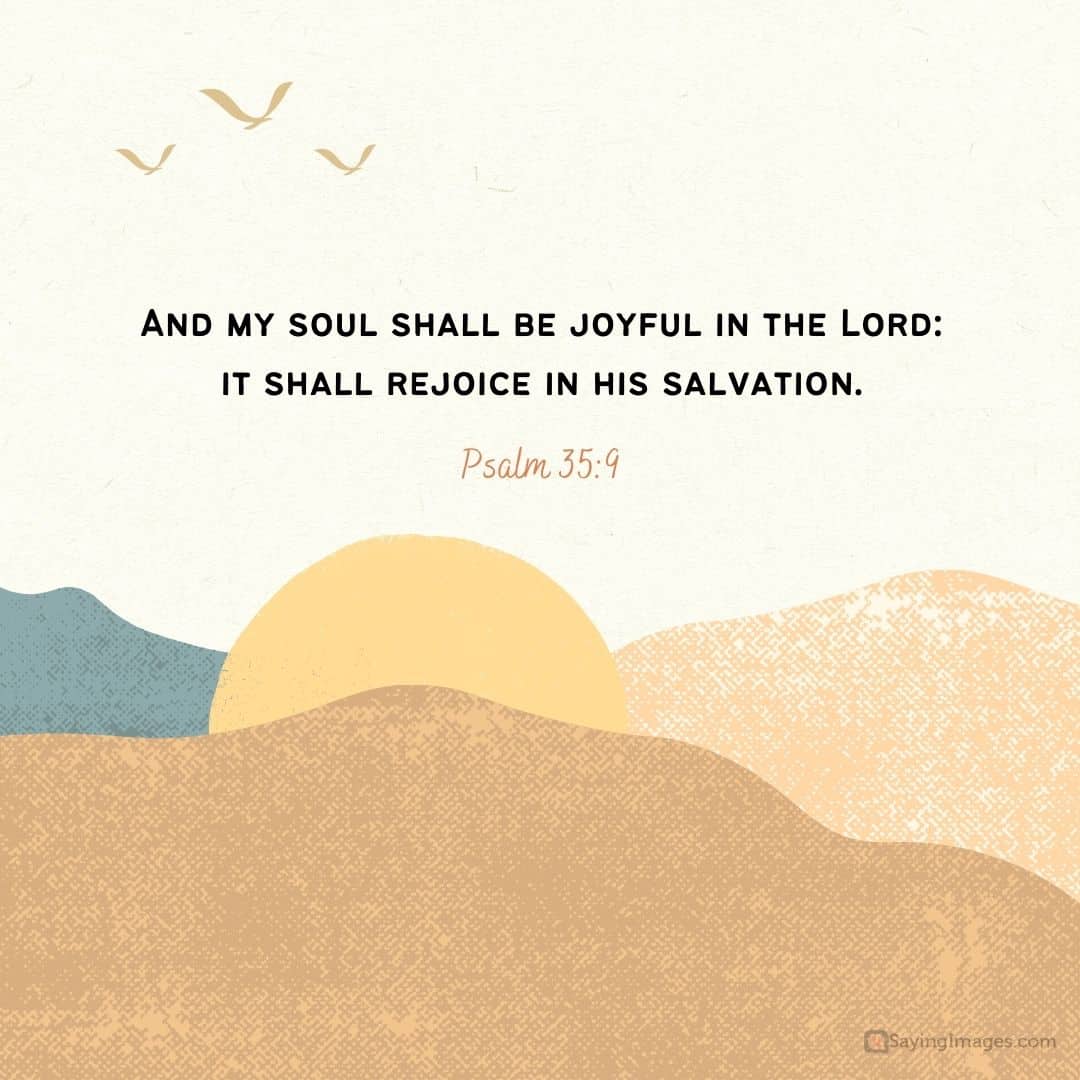 And my soul shall be joyful in the Lord: it shall rejoice in his salvation. – Psalm 35:9
Therefore I will give him a portion among the great, and he will divide the spoils with the strong, because he poured out his life unto death, and was numbered with the transgressors. For he bore the sin of many, and made intercession for the transgressors. – Isaiah 53:12
Palm Sunday is a chance to stop the routine of everyday life, to worship, pray, share in communion and celebration together.
See, your king comes to you, righteous and having salvation, gentle and riding on, a donkey. – Zechariah 9:9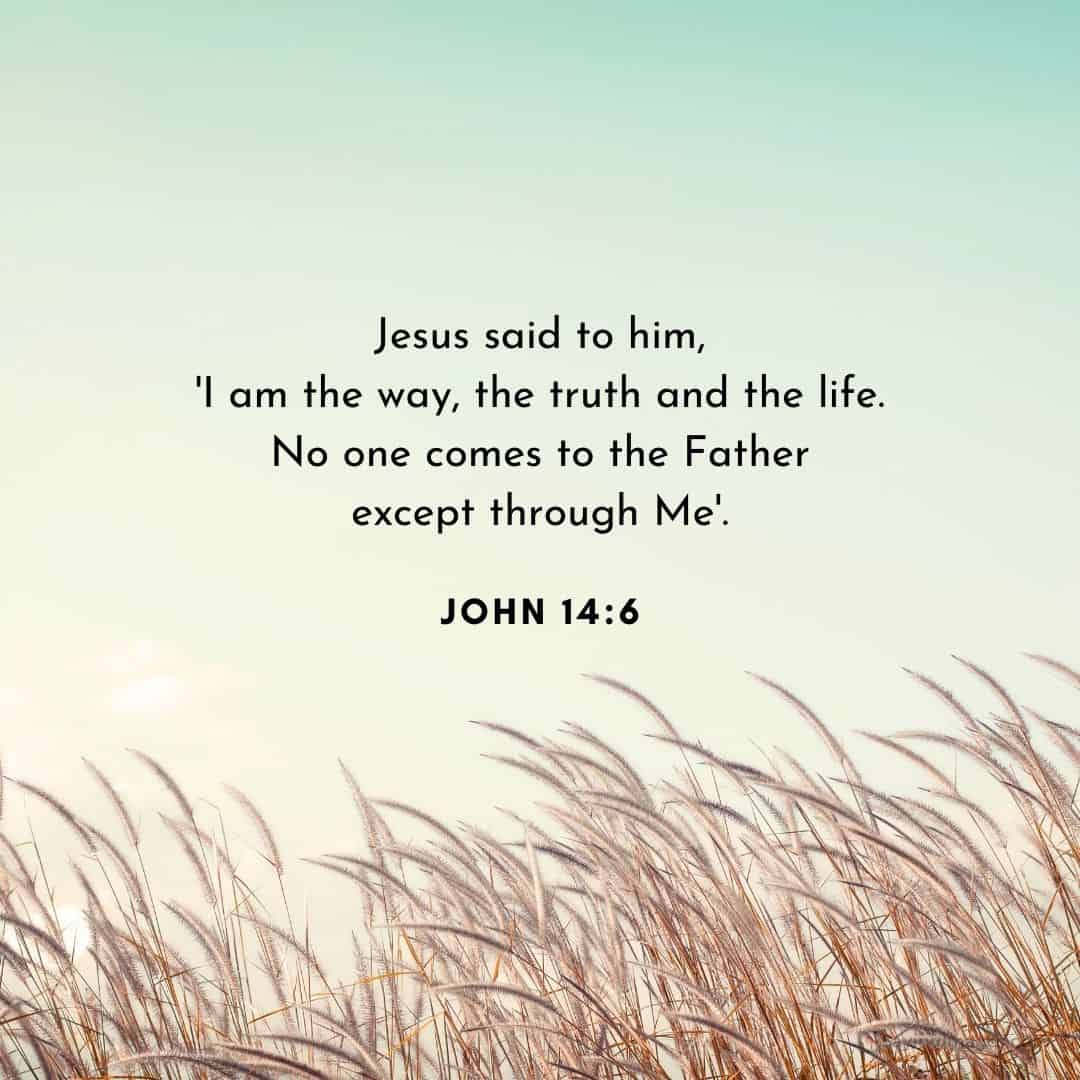 Jesus said to him, 'I am the way, the truth and the life. No one comes to the Father except through Me. – John 14:6
Because he poured out his soul to death and was numbered with the transgressors; yet he bore the sin of many, and makes intercession for the transgressors. – Isaiah 53:12
May the spirit of this holy occasion, the warmth of the season make your heart bloom with joy and happiness. Have a blessed Palm Sunday.
God proved His love on the Cross. When Christ hung, and bled, and died, it was God saying to the world, 'I love you. – Billy Graham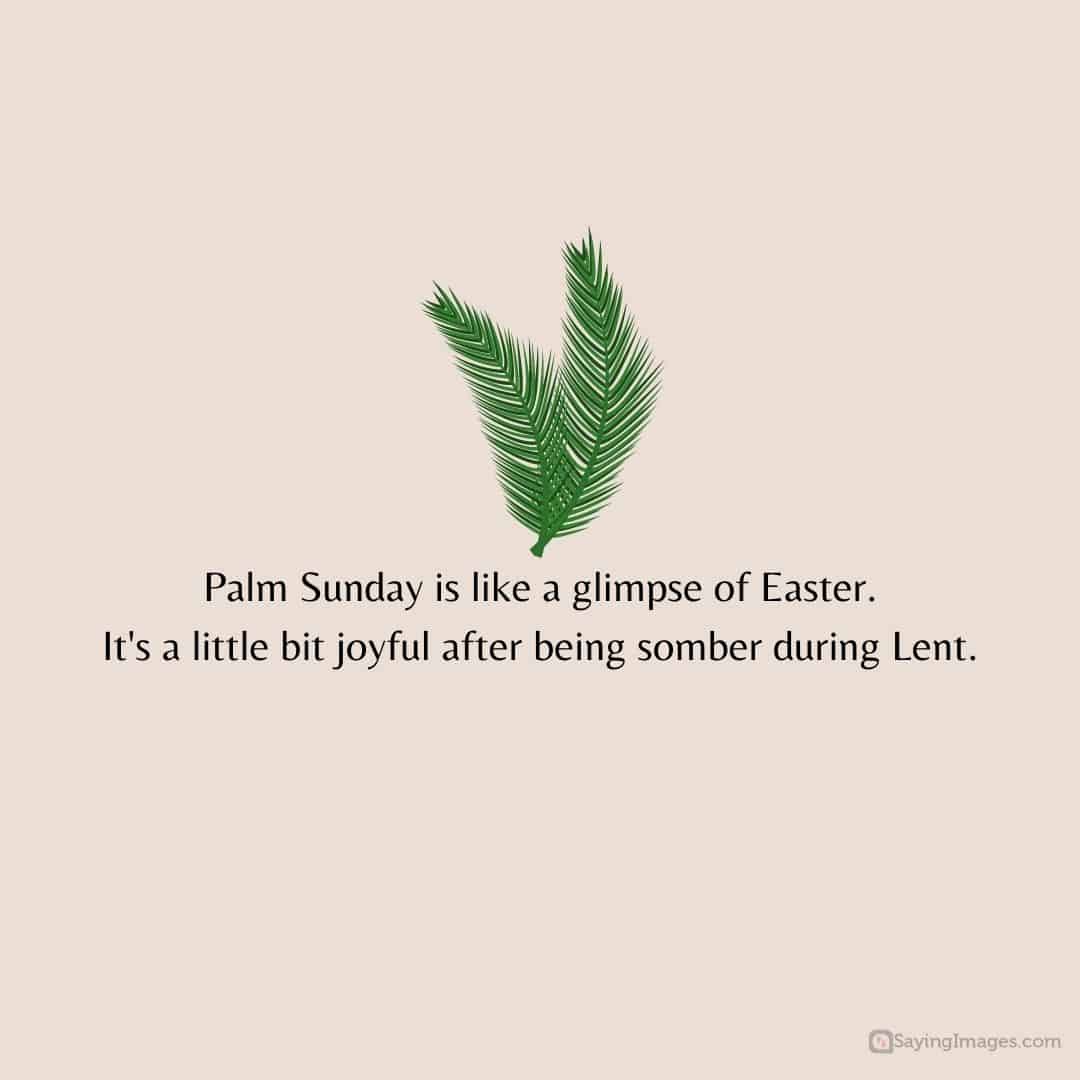 Palm Sunday is like a glimpse of Easter. It's a little bit joyful after being somber during Lent. – Laura Gale
Ride on, ride on in majesty! In lowly pomp ride on to die; O Christ, thy triumphs now begin O'er captive death and conquered sin. – Henry Hart Milman
No pain, no palm; no thorns, no throne; no gall, no glory; no cross, no crown. – William Penn
Remember finally, that the ashes that were on your forehead are created from the burnt palms of last Palm Sunday. New beginnings invariably come from old false things that are allowed to die. – Richard Rohr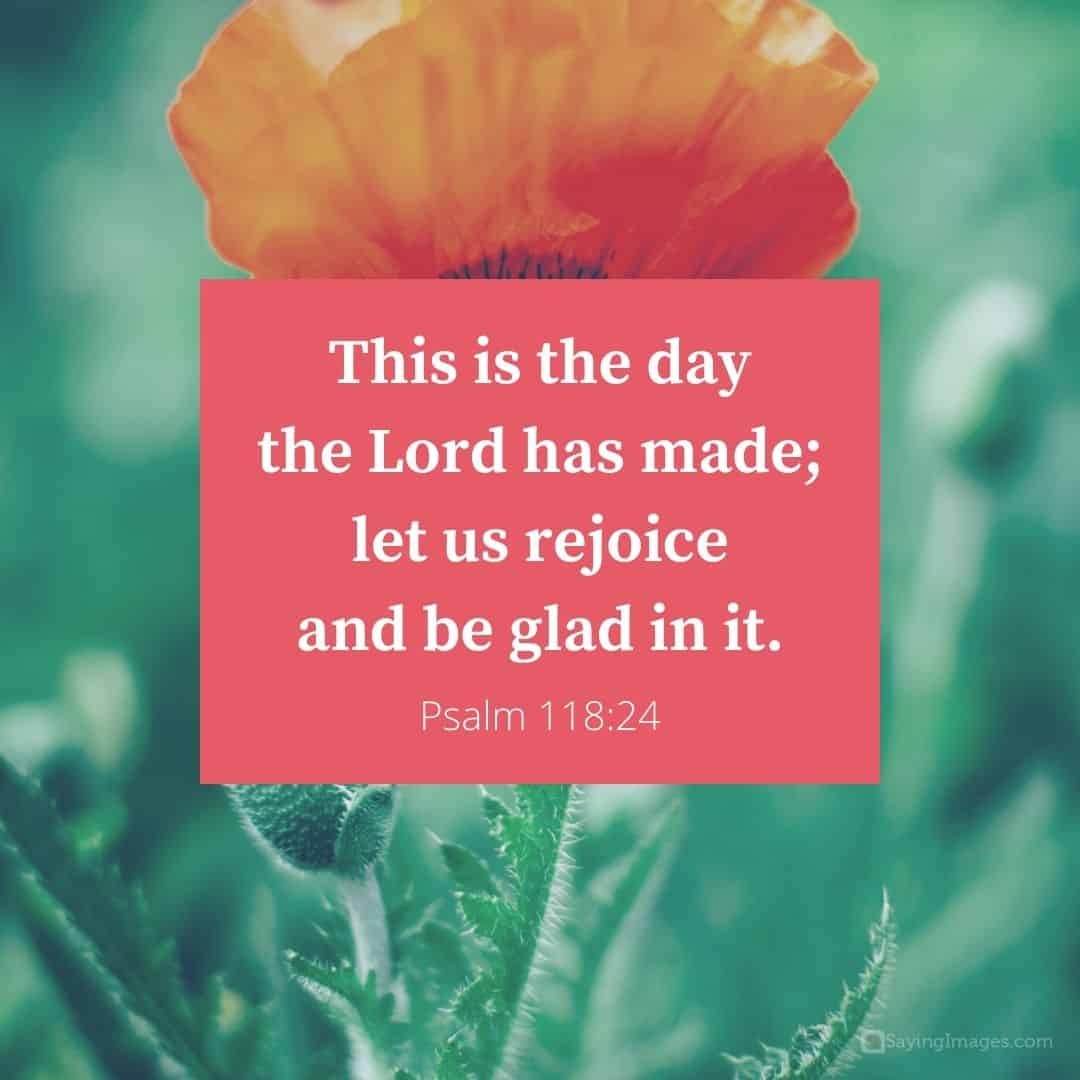 This is the day the Lord has made; let us rejoice and be glad in it. – Psalm 118:24
Here is a trustworthy saying that deserves full acceptance: Christ Jesus came into the world to save sinners—of whom I am the worst. – 1 Timothy 1:15.
I saw heaven standing open and there before me was a white horse, whose rider is called Faithful and True. With justice he judges and wages war. – Revelation 19:11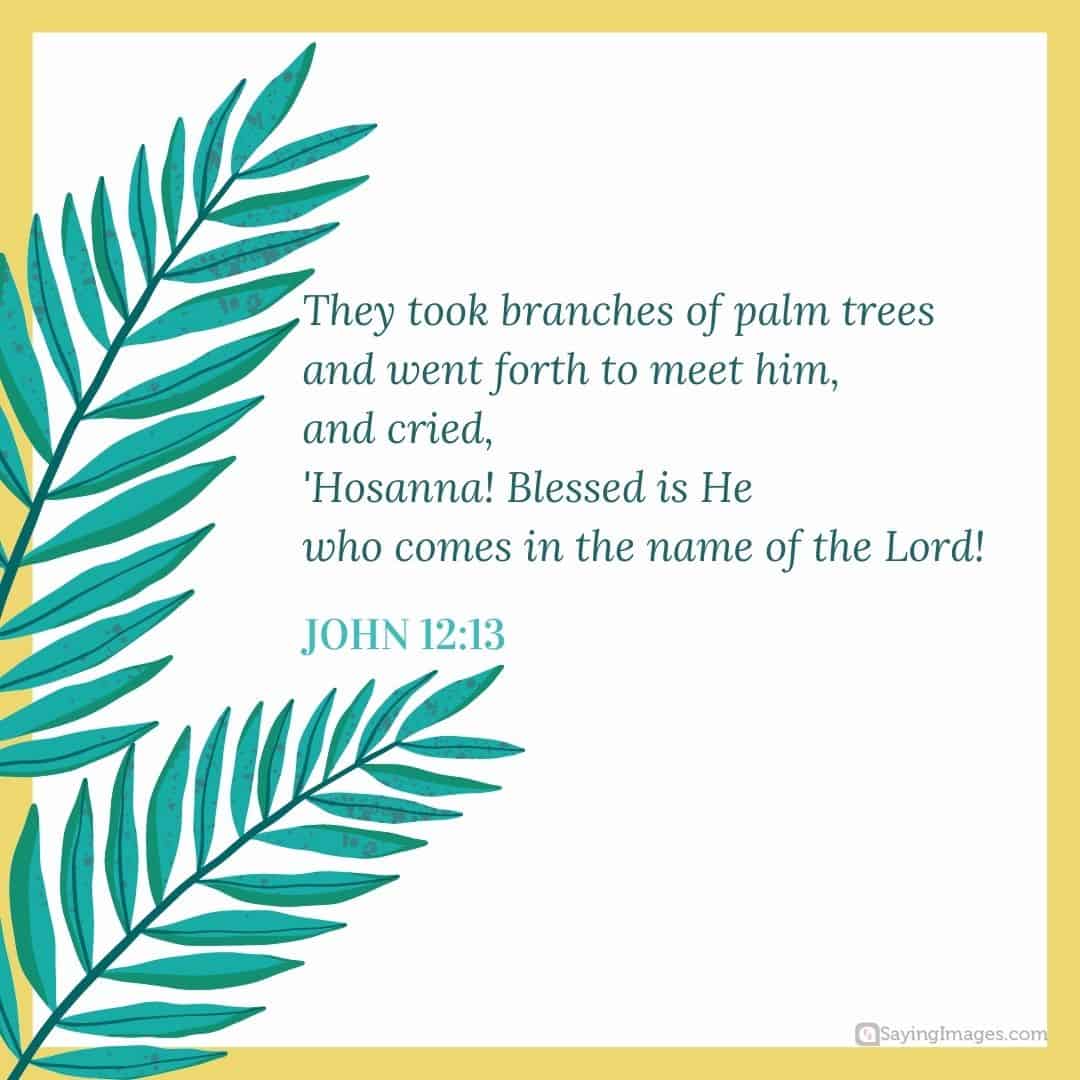 They took branches of palm trees and went forth to meet him, and cried, Hosanna! Blessed is he who comes in the name of the Lord! – John 12:13
I believe in one God, the first and great cause of goodness. I also believe in Jesus Christ, the rebirth of the world. I also believe in the Holy Ghost, the comforter. – Daniel Morgan
They found the stone rolled away from the tomb, but when they entered, they did not find the body of the Lord Jesus. – Luke 24:2-3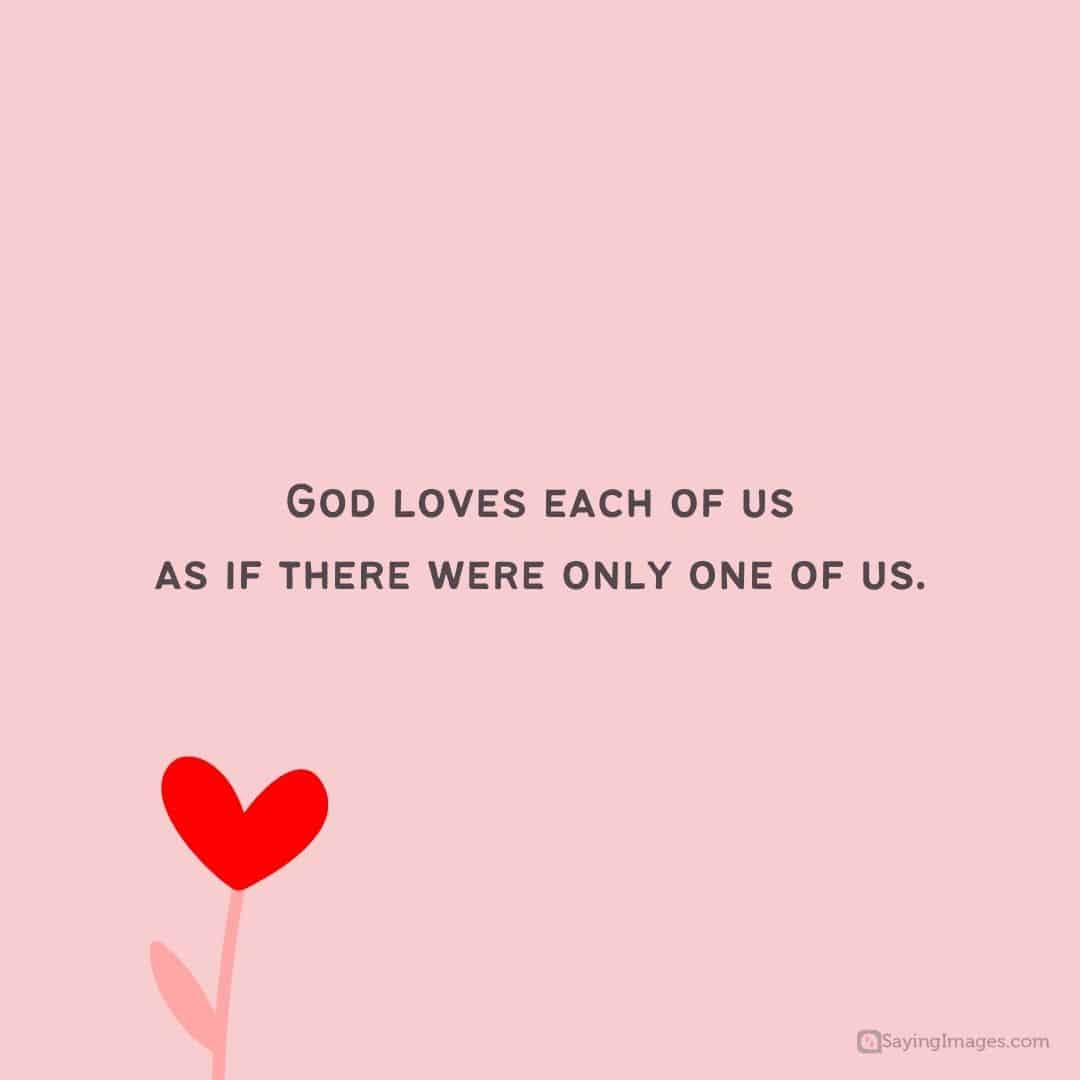 God loves each of us as if there were only one of us. – Saint Augustine
Therefore, if anyone is in Christ, the new creation has come: The old has gone, the new is here! – 2 Corinthians 5:17
We understand and acknowledge that the Resurrection has placed a glorious crown upon all of Christ's sufferings! – A.W. Tozer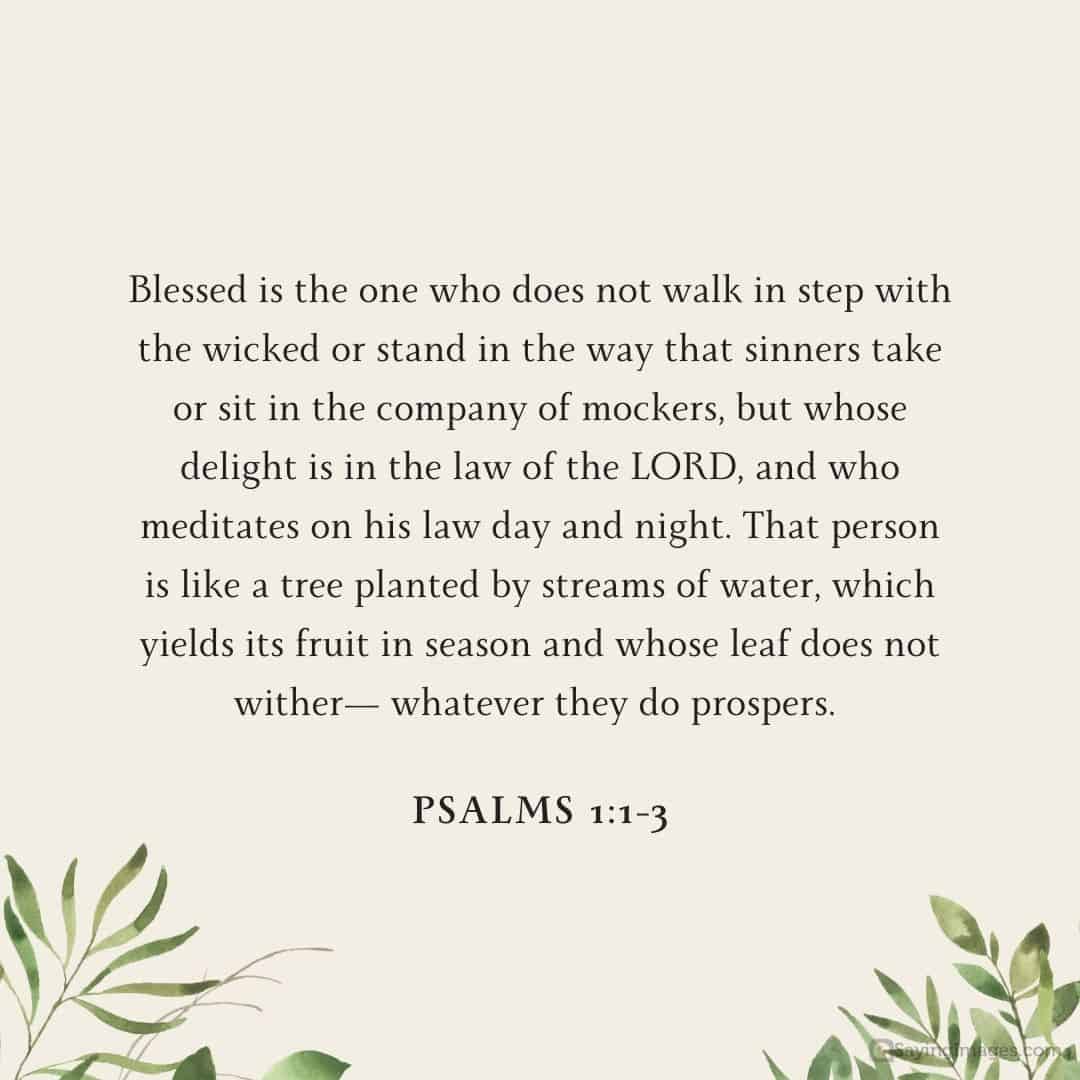 Blessed is the one who does not walk in step with the wicked or stand in the way that sinners take or sit in the company of mockers, but whose delight is in the law of the LORD, and who meditates on his law day and night. That person is like a tree planted by streams of water, which yields its fruit in season and whose leaf does not wither— whatever they do prospers – Psalm 1:1-3
Therefore what God has joined together, let no one separate. – Mark 10:9
With great power the apostles continued to testify to the resurrection of the Lord Jesus. And God's grace was so powerfully at work in them all. – Acts 4:33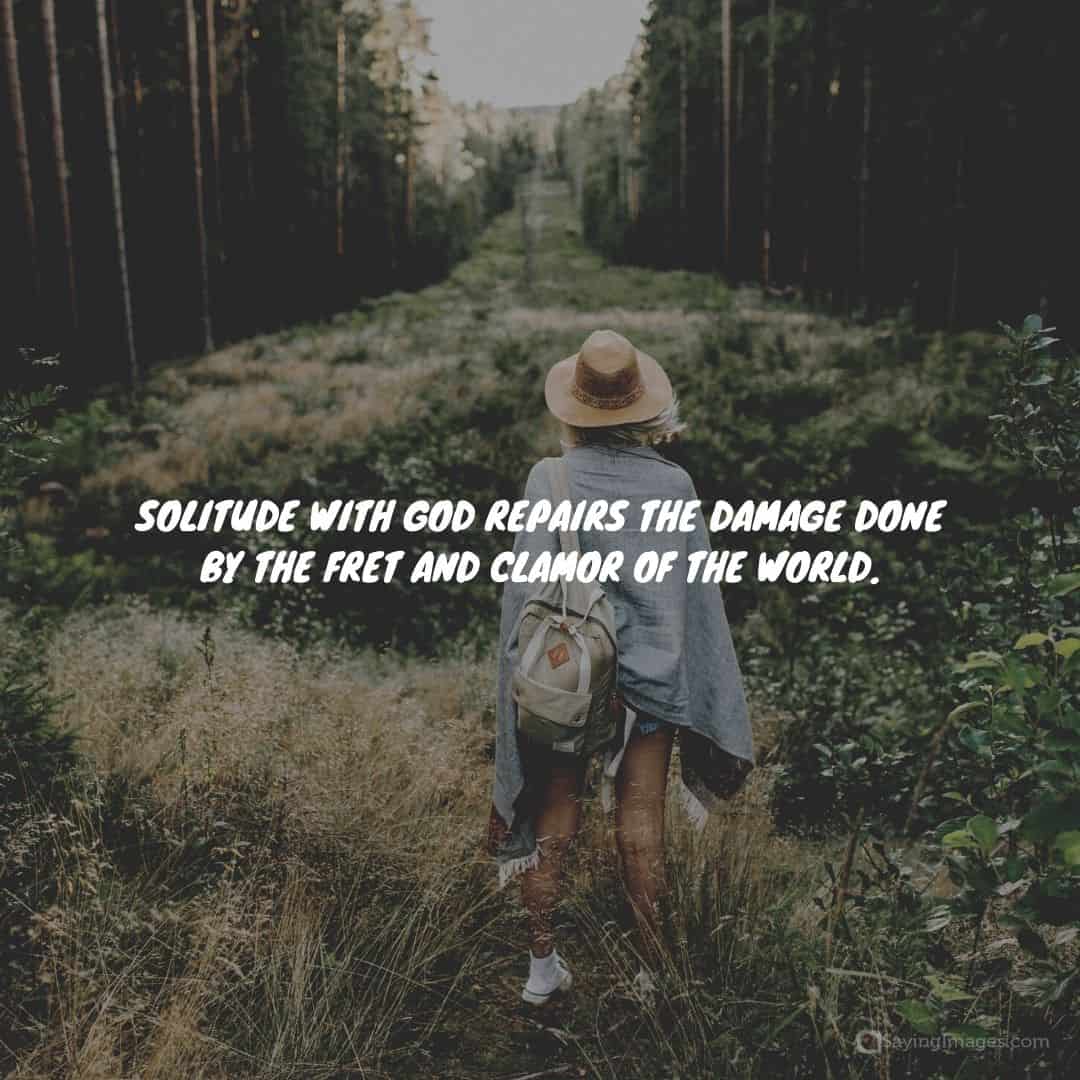 Solitude with God repairs the damage done by the fret and clamor of the world. – Oswald Chambers
Jesus said to her, 'I am the resurrection and the life. Whoever believes in me, though he die, yet shall he live. – John 11:25
Bear with each other and forgive one another if any of you has a grievance against someone. Forgive as the Lord forgave you. – Colossians 3:13