They say quitters are losers, and they're not wrong. For a lot of things that we value or hold meaning for us, the struggle and the passionate effort to overcome is all part of the process.
It is normal to feel like you're about to break or that you can't take any more. Imagine this as the peak of a cresting wave that you need to survive. Others call it a crucial turning point. So, hang in there, and keep your head up.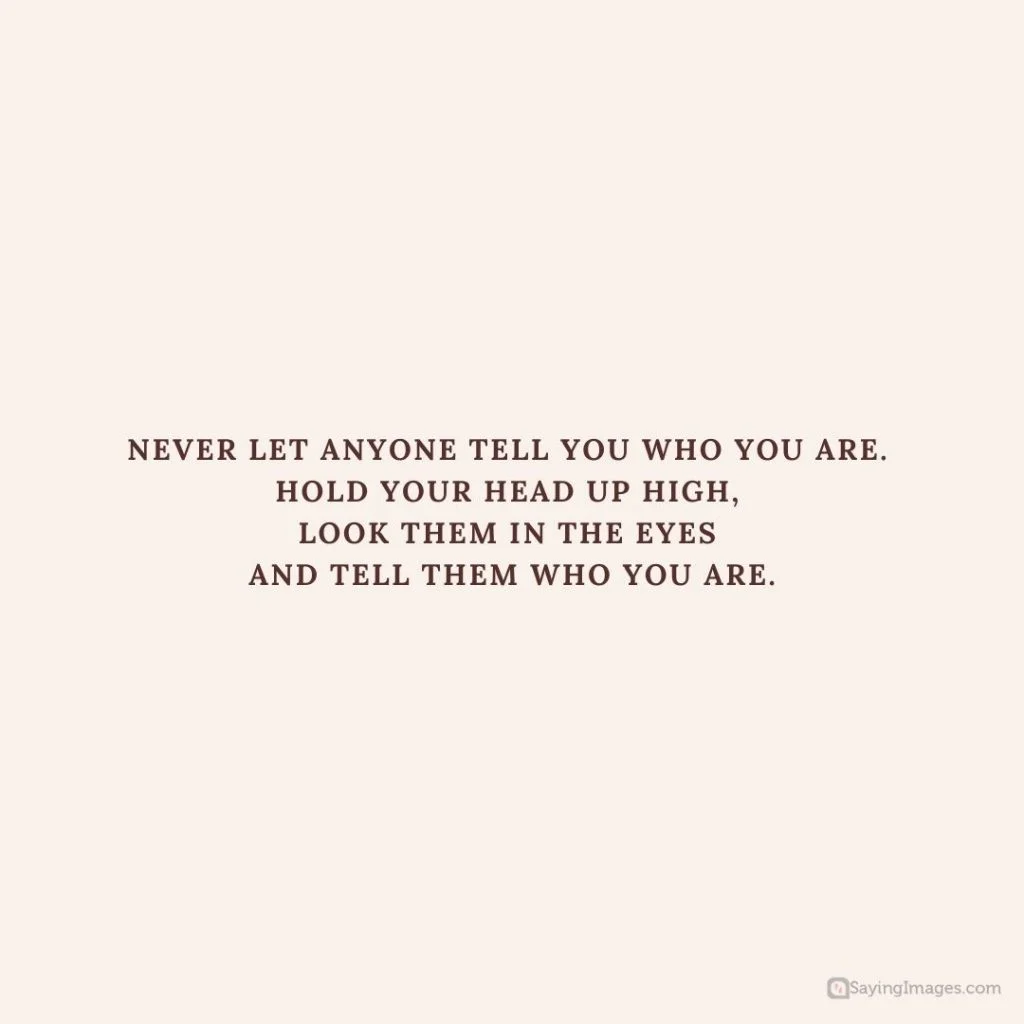 Never let anyone tell you who you are, hold your head up high, look them in the eyes and tell them who you are. – Sonya Parker
Never let your head hang down. Never give up and sit down and grieve. Find another way. And don't pray when it rains if you don't pray when the sun shines. – Satchel Paige
Keep your head up.
Don't quit. Keep your head up.
Sometimes life hits you in the head with a brick. Don't lose faith. – Steve Jobs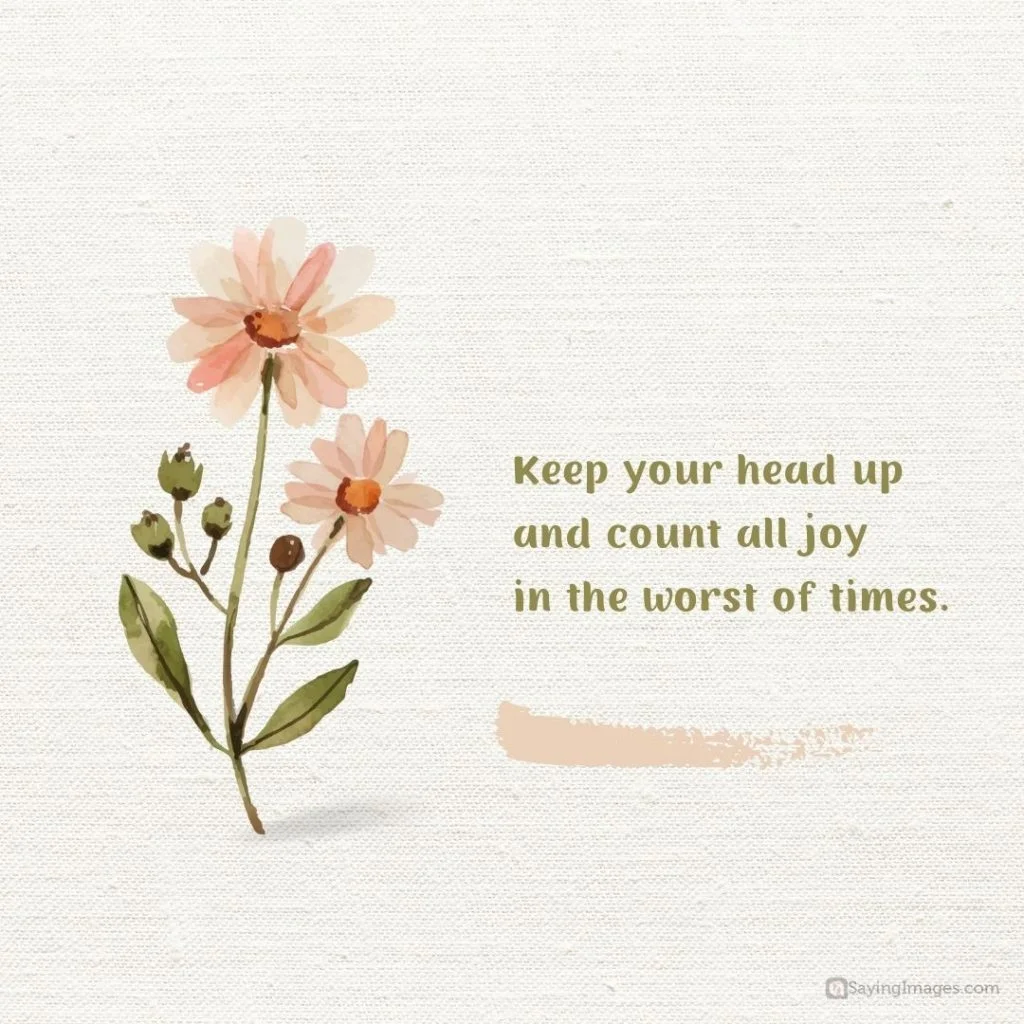 Keep your head up and count all joy in the worst of times. – Robert L. Caldwell
You have to lift your head out of the mud and just do it. – Teri Garr
I know you're fed up ladies, but keep your head up. – Tupac Shakur, 'Song: Keep Ya Head Up', 1993
Lift your head up high, and scream to the world "I know I am someone", and let the truth unfurl. – Michael Jackson
"Always remember:
Keep your head up.
Take your time.
Be proud of yourself.
You're right where you're supposed to be."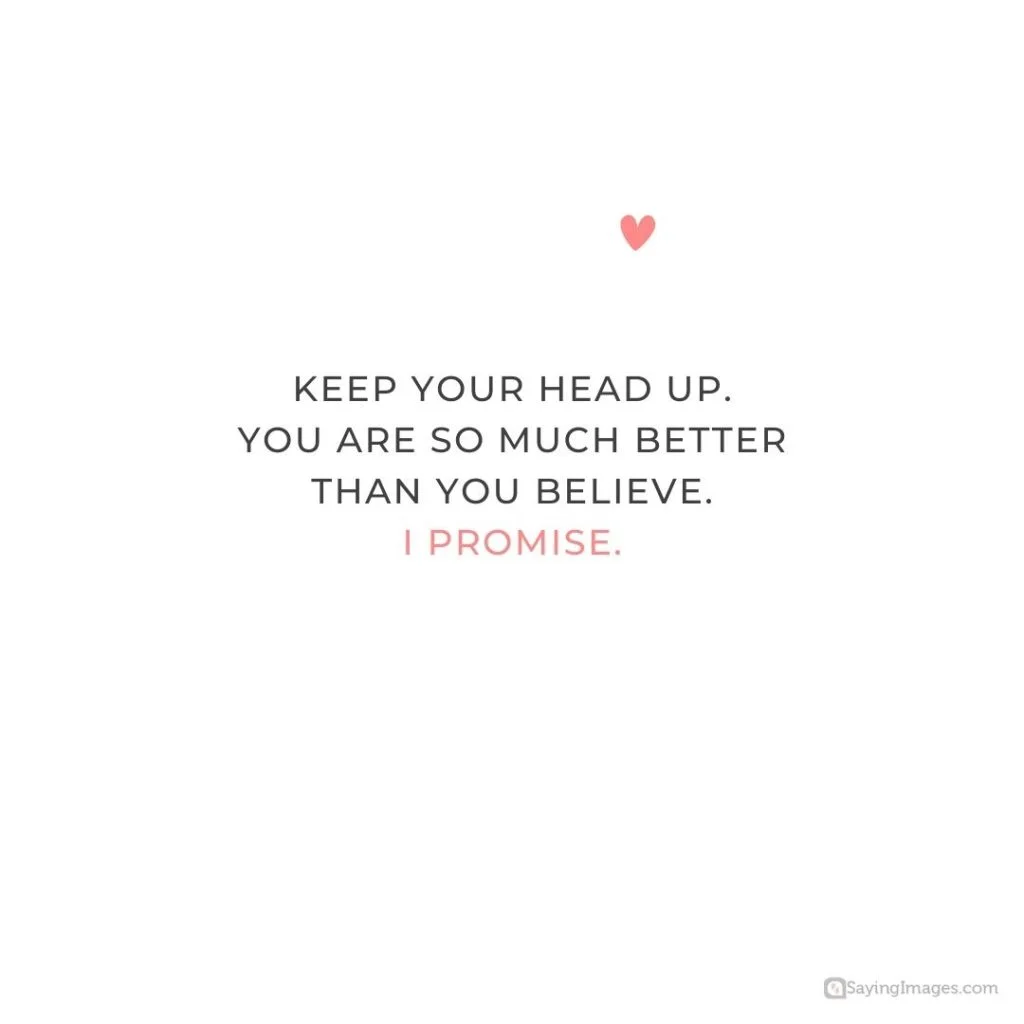 Keep your head up. You are so much better than you believe. I promise.
Don't let anyone knock you down. Keep your head up. – Greyson Chance
Stand Tall, Stand Proud. Know that you are unique and magnificent. You do not need the approval of others. – Jonathan Lockwood Huie
Keep your head up, Legs closed, Eyes open. – Tupac Shakur
Keep your head up even if sometimes all you would want to do is hide away. Remember that it always gets easier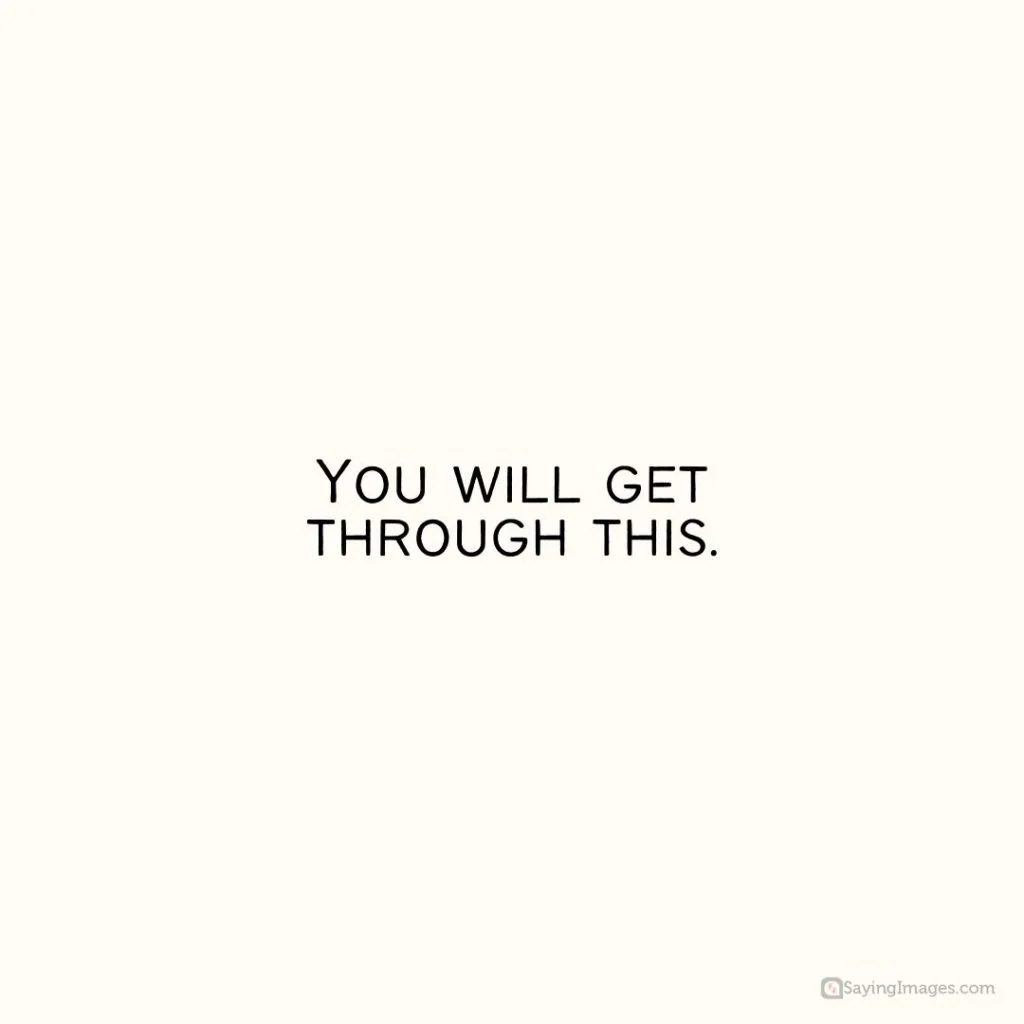 You will get through this.
Keep your head up because one day one person will fight like hell for you, the same as you would for them, and it will be a deep love. So, keep your head up. – Carlos Salinas
Anyone can hide. Facing up to things, working through them, that's what makes you strong. – Sarah Dessen
Never think about something wrong you did in the past, always look forward with your head up high; have no regrets. – Jared Leto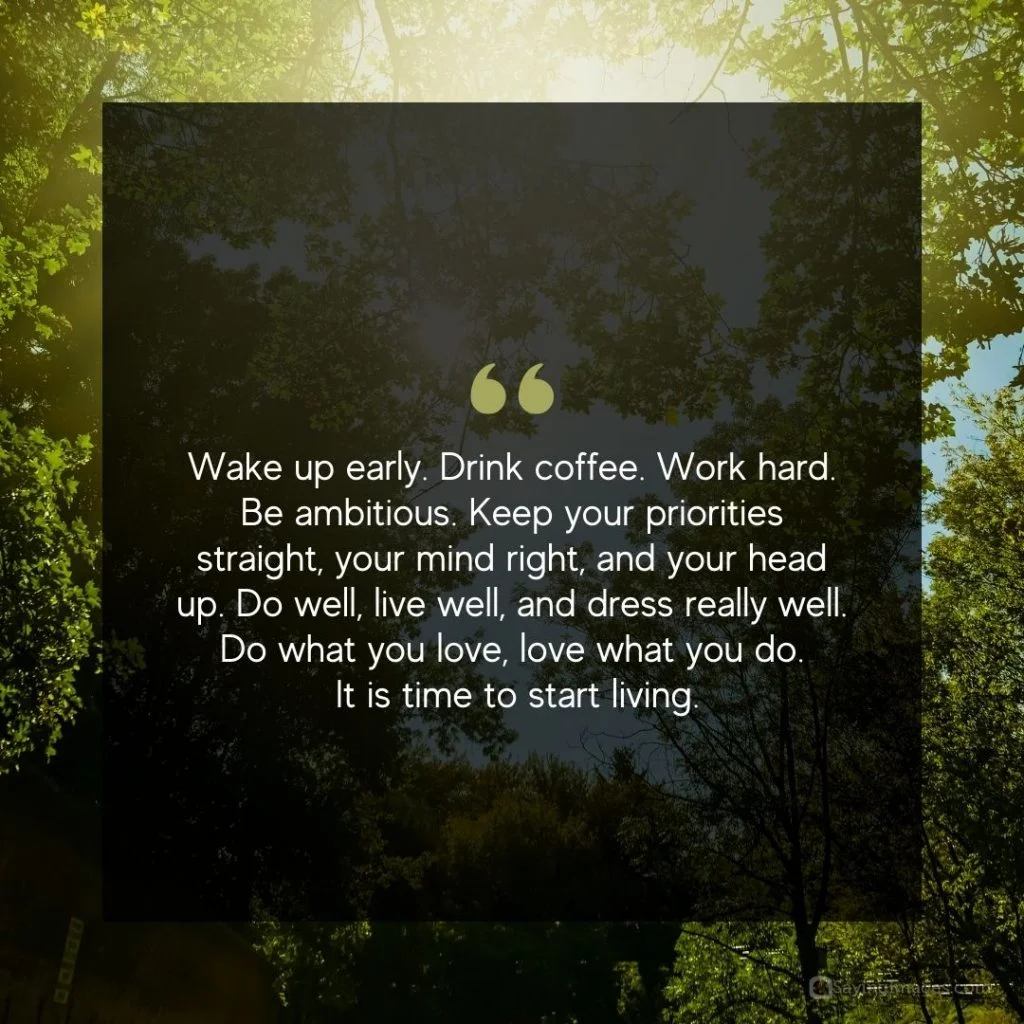 Wake up early. Drink coffee. Work hard. Be ambitious. Keep your priorities straight, your mind right, and your head up. Do well, live well, and dress really well. Do what you love, love what you do. It is time to start living.
Keep your head up and be patient. – A. J. McLean
Someone once asked me how I hold my head up so high after all I've been through. I said, it's because no matter what, I am a survivor. Not a victim. – Patricia Buckley
Off you pop, then, and keep your chin up. – Jason Wilson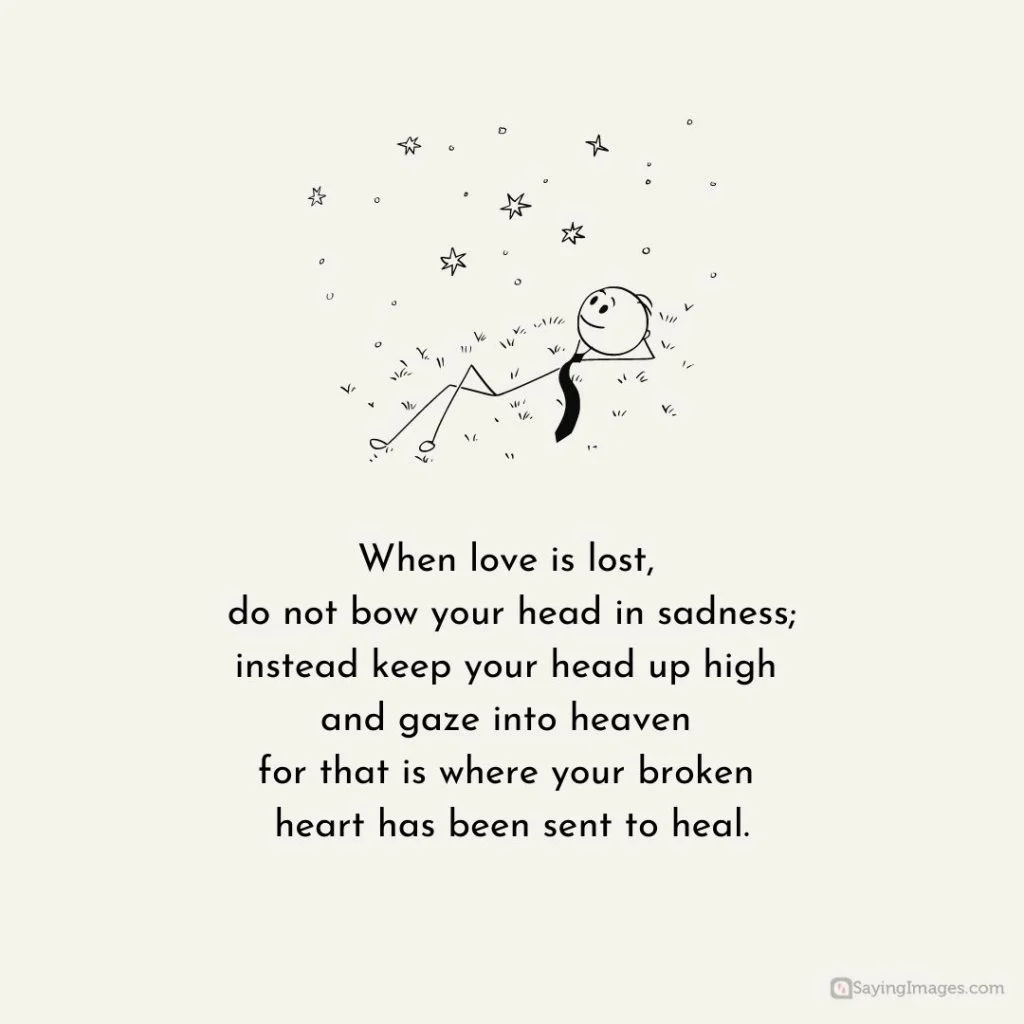 When love is lost, do not bow your head in sadness; instead keep your head up high and gaze into heaven for that is where your broken heart has been sent to heal.
I think my mind blown, I barely feel my feet. I'mma hold my head high even in defeat. – Rick Ross
Giving up on a purposeful journey of life is as deadly as death! When you pursue with tenacity, and strive through the adversities and the vicissitudes of life with a mind of fortitude and get to the end of the journey, you shall surely see life. Awake! Arise and go! Never ever give up!!! – Ernest Agyemang Yeboah
Don't cry. Dry your eyes. Never let up. Forgive but don't forget. Girl, keep your head up.
Keep your heels, head and standards high. – Coco Chanel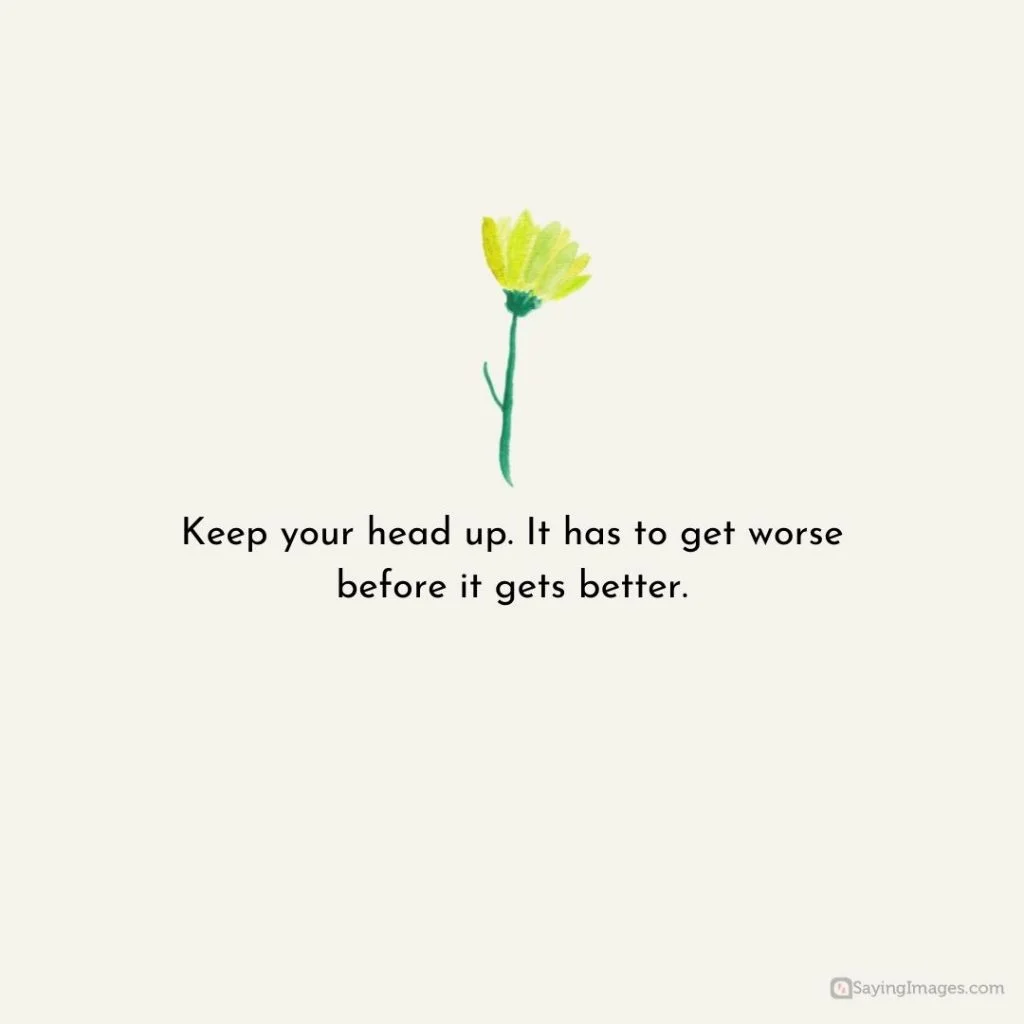 Keep your head up. It has to get worse before it gets better.
"You fall, you rise, you make mistakes,
you live, you learn.
You're human, not perfect.
You've been hurt, but you're alive.
Think of what a precious privilege it is to be alive—
to breathe, to think, to enjoy,
and to chase the things you love.
Sometimes there is sadness in our journey,
but there is also lots of beauty.
We must keep putting one foot in front of the other
even when we hurt,
for we will never know what is waiting for us
just around the bend…"
Let the stress go and let the blessings flow. Keep your head up and keep pushing forward. God has a plan.
We stay strong. We stay positive, keep our heads up, love one another, spread love. The Devil can't win when you have God on your side. – Mavis Staples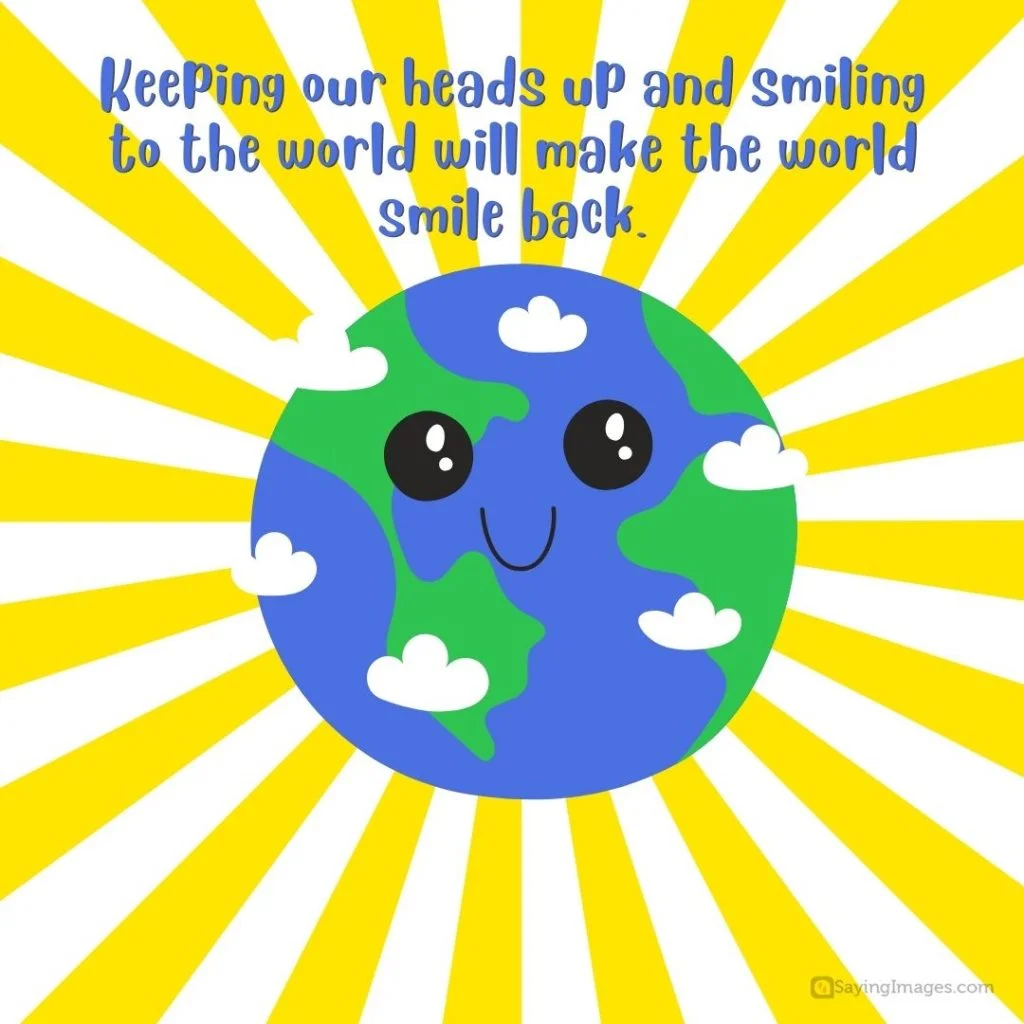 Keeping our heads up and smiling to the world will make the world smile back.
Small daily improvements over time lead to stunning results. – Robin Sharma
No matter how much it hurts, you have to hold your head up and keep going. – Brooke Addison
Keep your head up because if it's down, you won't see the blessings that are already in your life.
Abundance is a direct reflection of your preparation to live abundantly. People who are ready for abundance keep their heads up, their eyes open and give thanks for everything they get. – Iyanla Vanzant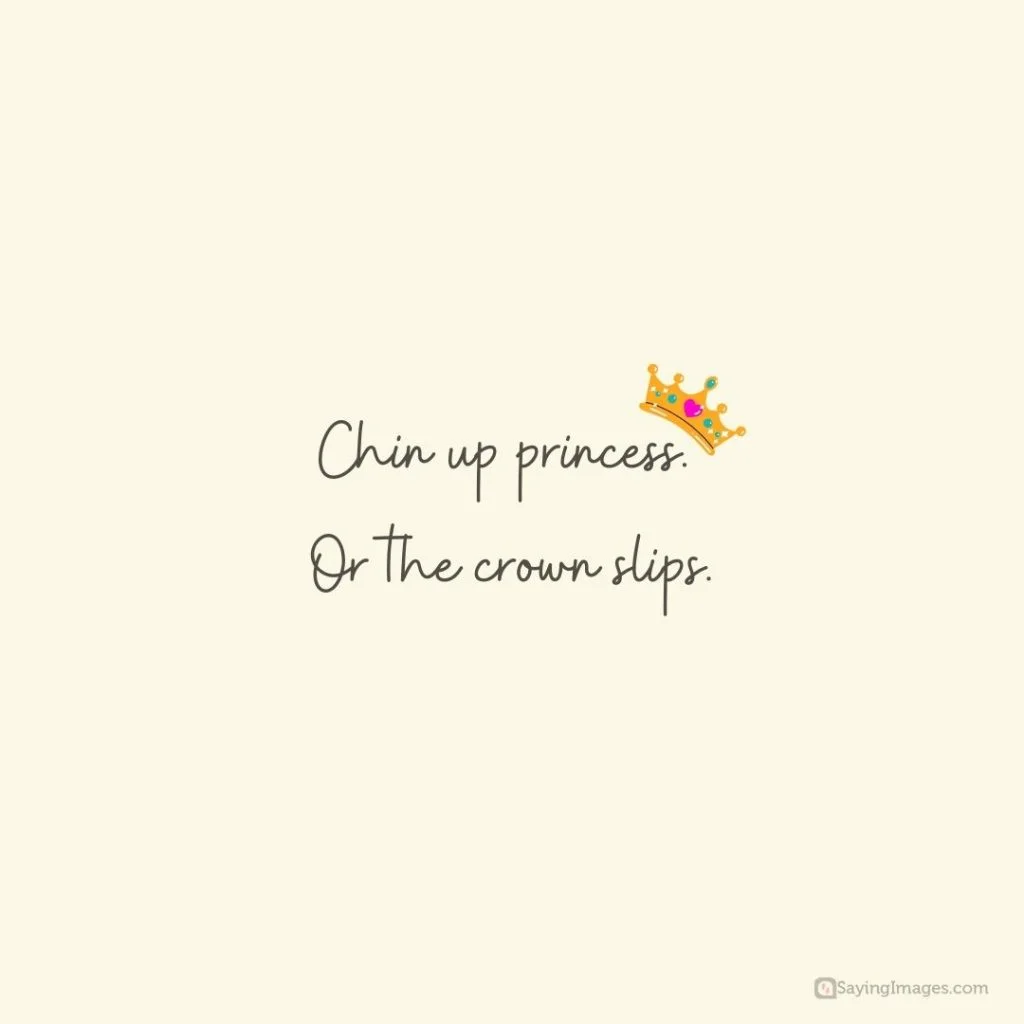 Chin up princess. Or the crown slips.
Keep your head up and smile, because someone somewhere wants to see you fail. – Burnell Taylor
Whenever you feel yourself losing strength, think of all your toxic relatives. Grit your teeth and keep your head up.
Hold your head high, stick your chest out. You can make it. It gets dark sometimes but morning comes…. Keep hope alive. – Jesse Jackson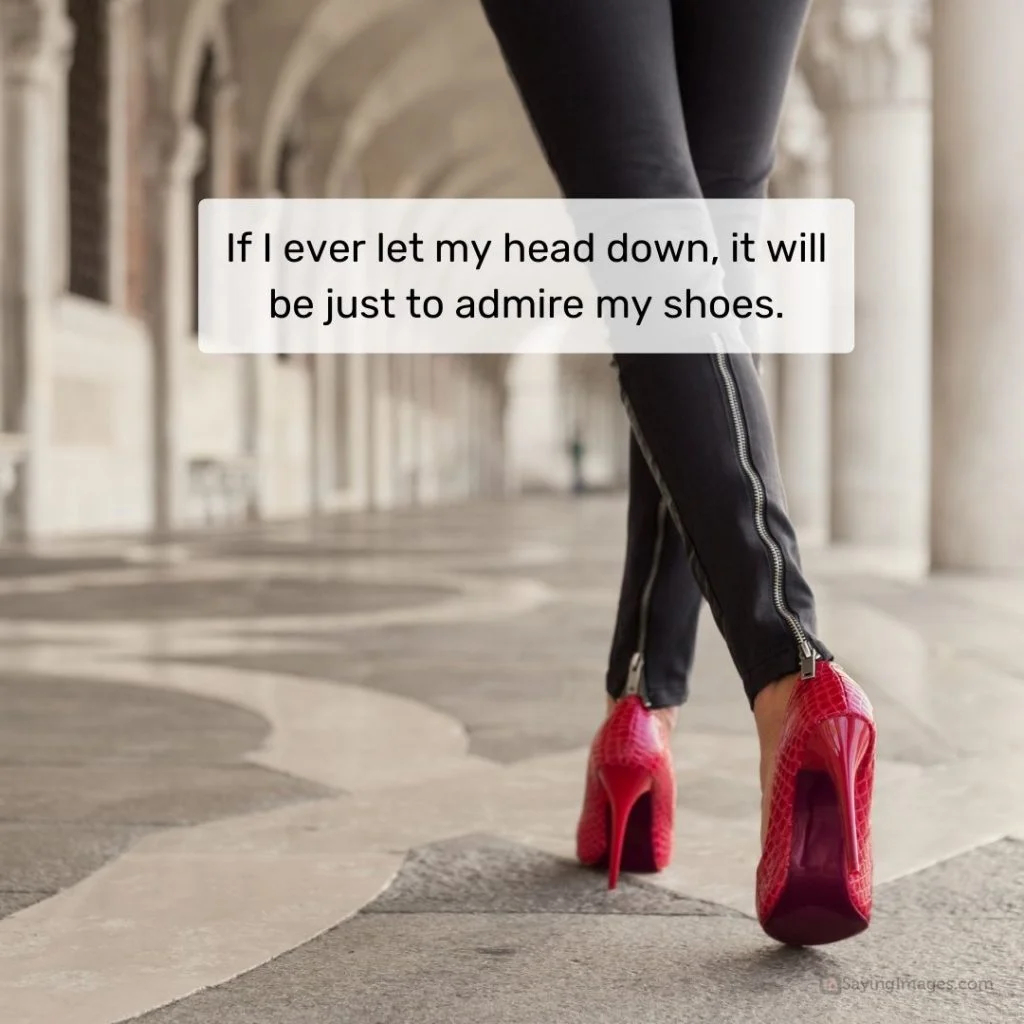 If I ever let my head down, it will be just to admire my shoes.
So keep your head high, keep your chin up, and most importantly, keep smiling, because life's a beautiful thing and there's so much to smile about. – Marilyn Monroe
Keep your head held high because the floor isn't very interesting to look at.
Come on, you know, chin up, chest out, and best foot forward. – Fred Astaire
Keep your head up, your heart open, stay on a positive path, and the right people will come along and join you on it.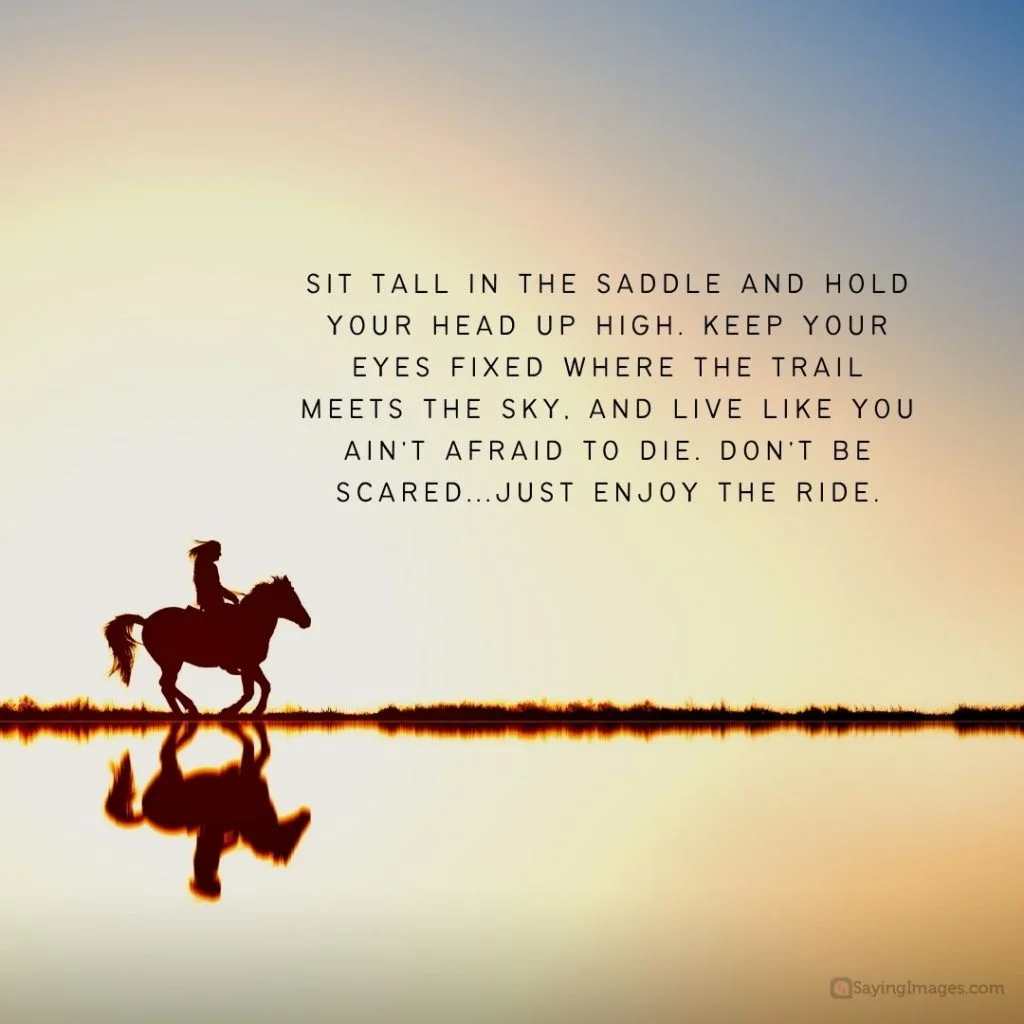 Sit tall in the saddle and hold your head up high. Keep your eyes fixed where the trail meets the sky, and live like you ain't afraid to die. Don't be scared…just enjoy the ride. – Chris LeDoux
It is important to keep your head up and follow what you believe is right. – Ajay Naidu
He who is silent and bows his head dies every time he does so. He who speaks aloud and walks with his head held high dies only once. – Giovanni Falcone
God knows your value; He sees your potential. You may not understand everything you are going through right now. But hold your head up high, knowing that God is in control and he has a great plan and purpose for your life. – Joel Osteen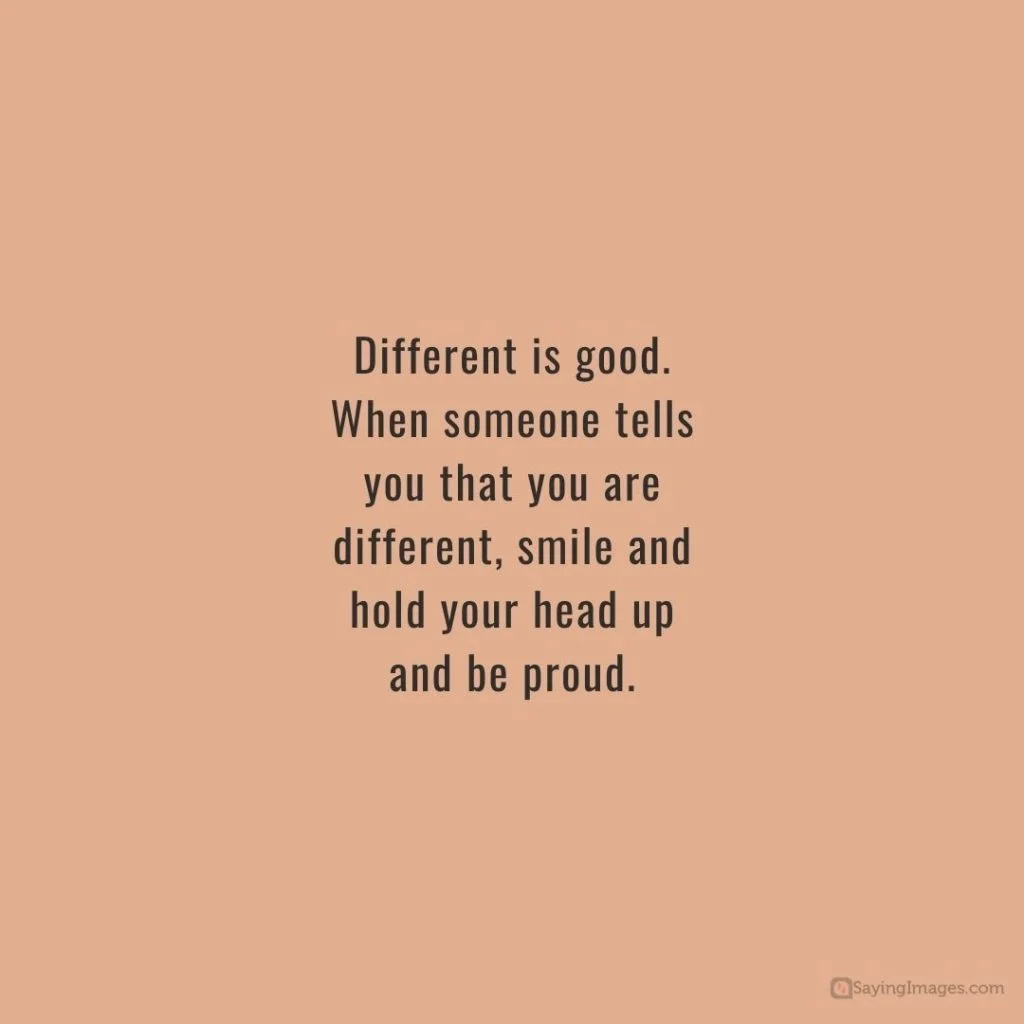 Different is good. When someone tells you that you are different, smile and hold your head up and be proud. – Angelina Jolie
To everyone battling a difficulty or under attack right now, smile, keep your head up, keep moving and stay positive, you'll get through it. – Germany Kent
Never bend your head. Always hold it high. Look the world straight in the eye. – Helen Keller, 'To Love this Life: Quotations', 2000
Be strong because things will get better. It may be storm now but it never rains forever.
Always keep your mind strong with positive thoughts and your head up with full confidence, because you truly have greatness in you. – Edmond Mbiaka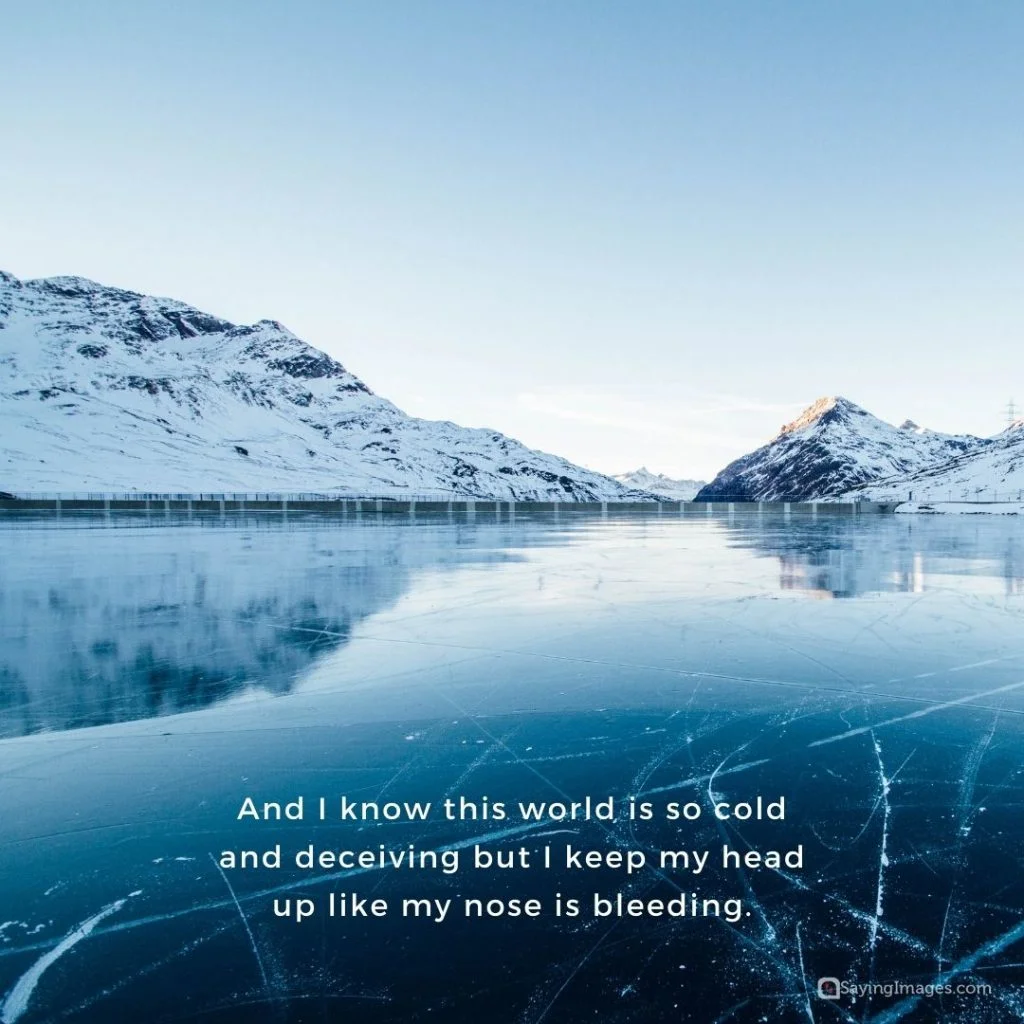 And I know this world is so cold and deceiving but I keep my head up like my nose is bleeding. – Lil Wayne
Keep your head up in failure and your head down in success. – Jerry Seinfeld
I think, head up and shoulders back. Not only does it make you look taller and thinner but it gives you confidence and boosts your self-esteem. – Shelley Long
So hold your head high, gorgeous. People would kill to see you fall.
If we let our head drop, our heart drops with it. Keep your head up, and your body is capable of amazing feats. – Chrissie Wellington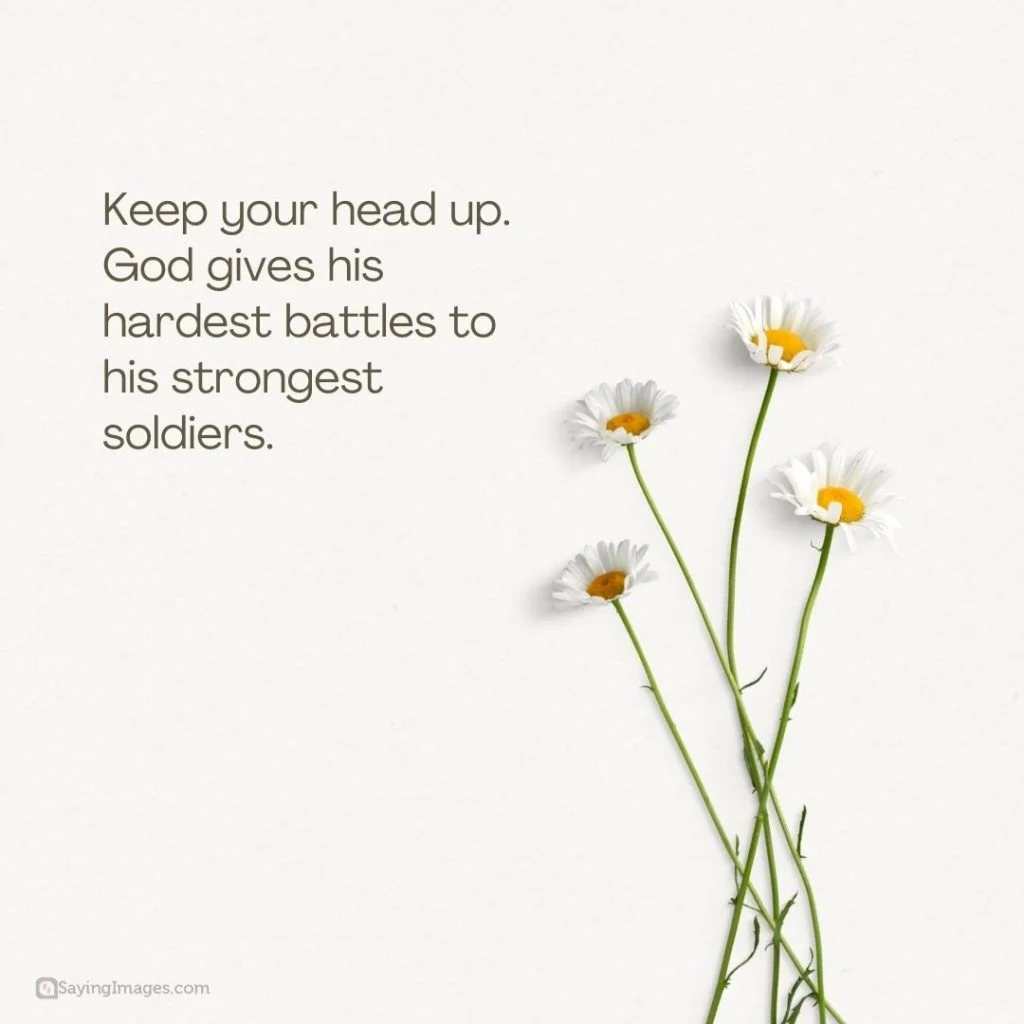 Keep your head up. God gives his hardest battles to his strongest soldiers.
Keep your head up. Keep your heart strong.
It seems to me that the secret of true happiness in life is to know what you are and then be content to be that, in style, head up and proud, and not yearn to be something else. – Robert A. Heinlein
You've got keep your head up, keep fighting, and do the best you can. – Pablo Sandoval
Hold your head high, stick your chest out. You can make it. It gets dark sometimes but morning comes…. Keep hope alive. – Jesse Jackson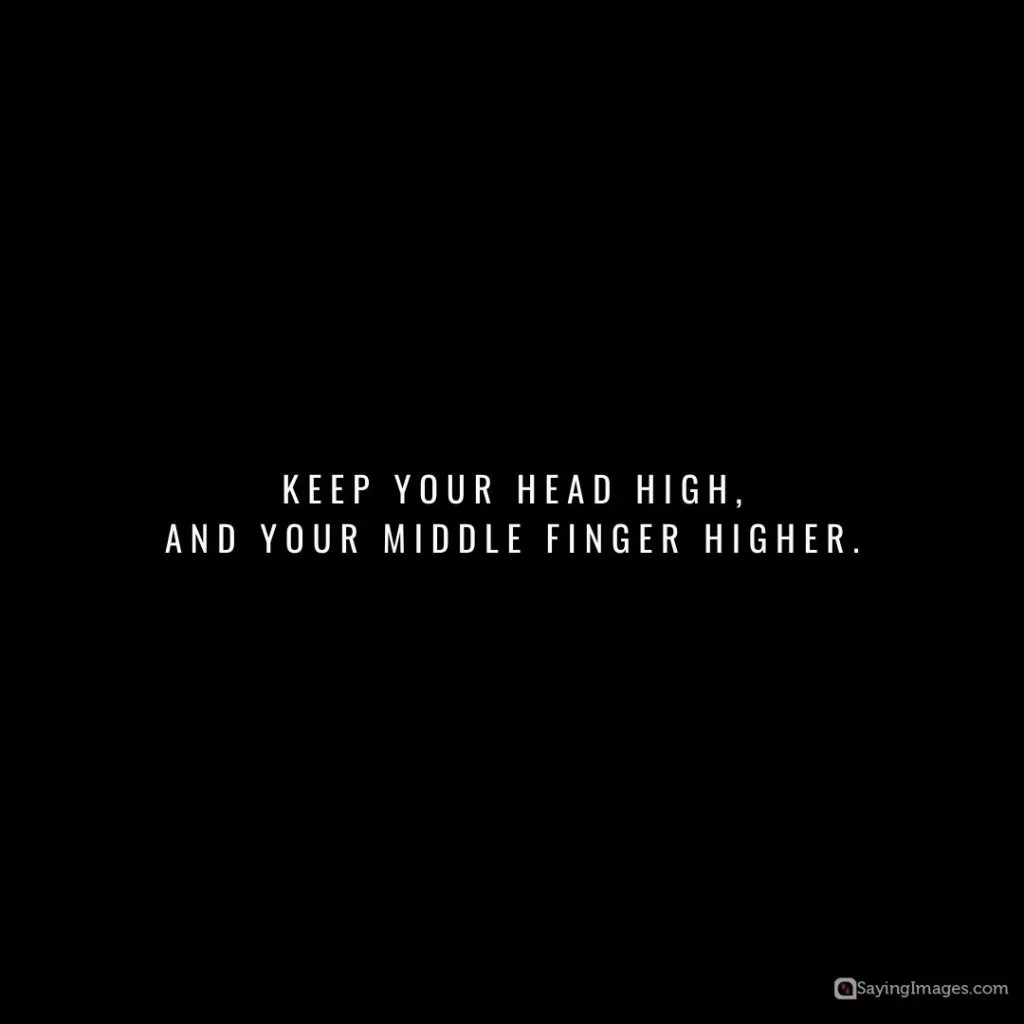 Keep your head high, and your middle finger higher.
Our greatest glory is not in never falling, but in rising every time we fall. – Confucius
It takes someone strong to leave with their head held high. It takes someone stronger to stay with their head held higher. – Isabella Poretsis
If things don't work out the way you want, hold your head up high and be proud. And try again. And again. And again! – Sarah Dessen
Don't wait on approval, validation and likes from others – always give yourself the highest of approval ratings and work from there. Hold your head up and be fabulous no matter what! – Jody Watley