Whether you call it football or soccer, there's no doubt how much this sport can unite and inspire fans during game seasons. The world's most popular sport, football can make small talks interesting and family dinner conversations even more enjoyable.
Because it's not just a sport – for the players in the field, it's their greatest passion. It tests their perseverance, sportsmanship, and discipline. That's what makes it admirable. For the audience, it's a way for encouragement and recognition that hard work ultimately pays off.
It's also a way to build rapport with others and further connect with the people we love. There's nothing like hanging out with friends over a game or two, or a father and a son bonding and cheering for their favorite team. And seeing how hundreds of millions from all over the world tune in for that epic finals is proof that despite our diversity, we are one.
To inspire you to do your best at any endeavor, we've collected football quotes that can empower you, most of them even spoken by some of the world's greatest players.
Famous Football Quotes
I prefer to win titles with the team ahead of individual awards or scoring more goals than anyone else. I'm more worried about being a good person than being the best football player in the world. – Lionel Messi
Sometimes in football, you have to hold your hand up and say, yeah, they're better than us. – Alex Ferguson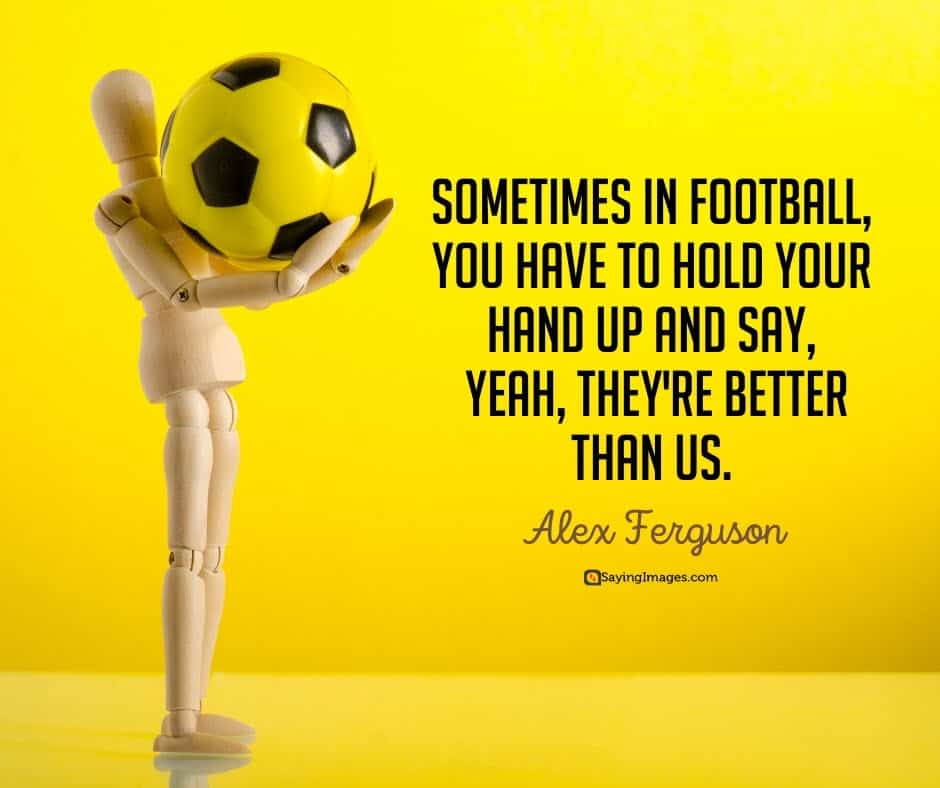 Remember, once you set a goal, it's all about how hard you're willing to work, how much you're willing to sacrifice and how badly you truly want it. – J.J. Watt
Being a champion has nothing to do with sports, it's a mindset. A skill of looking at challenges that seem impossible, and rising up to overcome. – Jeremy Coates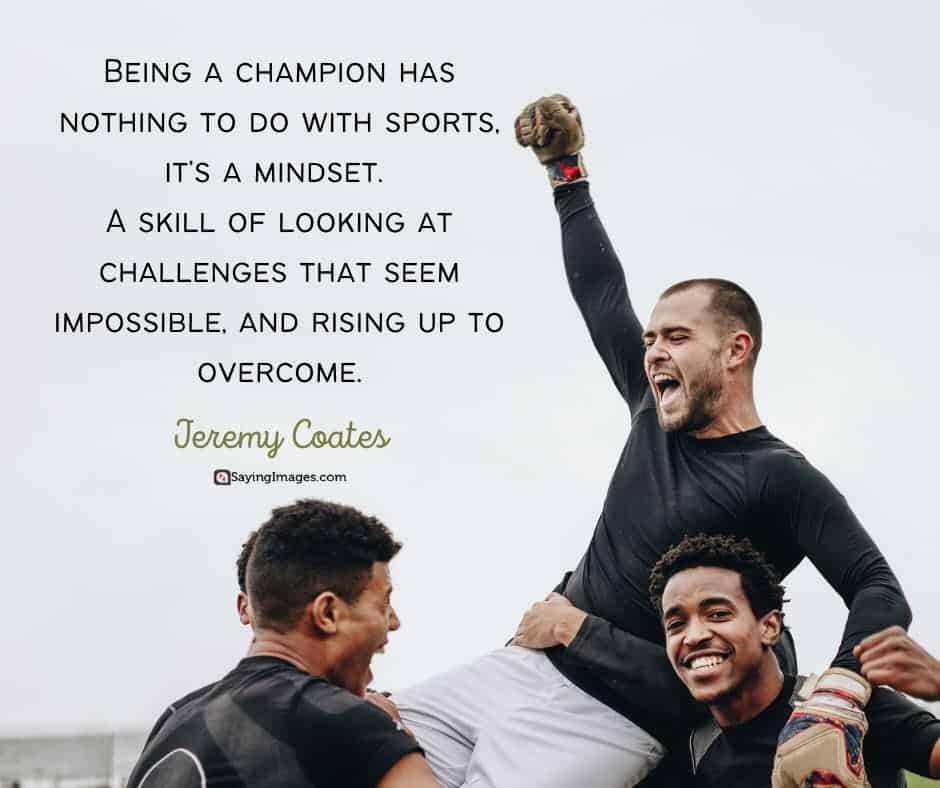 Football is about joy. It's about dribbling. I favour every idea that makes the game beautiful. Every good idea has to last. – Ronaldinho
Ability is what you're capable of doing. Motivation determines what you do. Attitude determines how well you do it. – Lou Holtz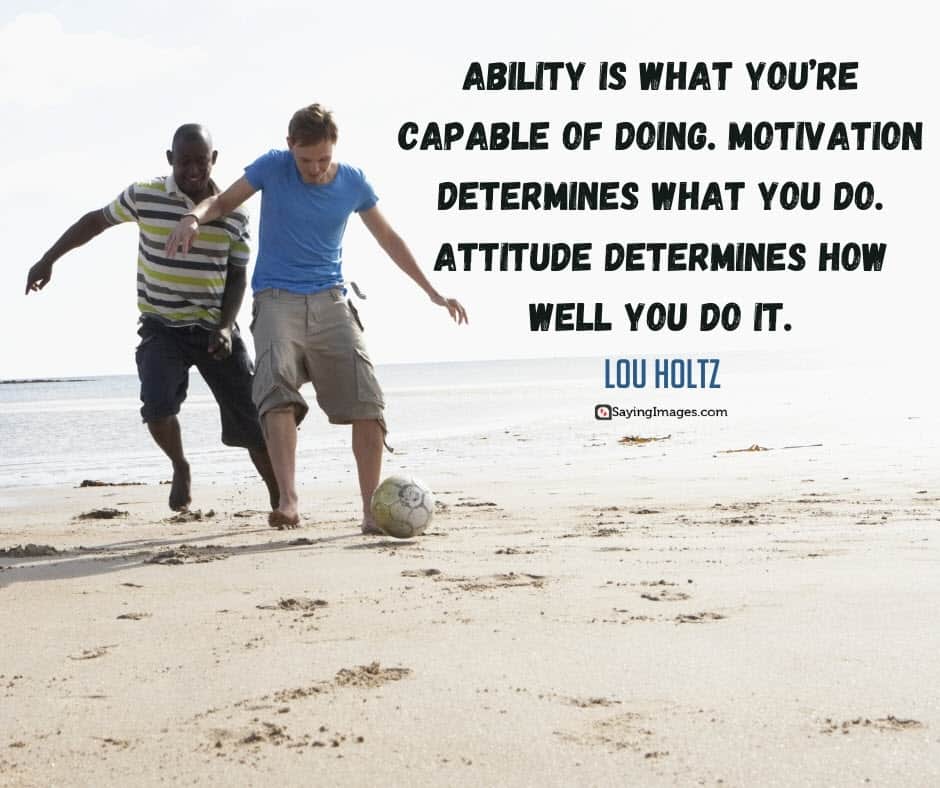 I was lucky to come from a difficult area. It teaches you not just about football but also life. There were lots of kids from different races and poor families. People had to struggle to get through the day. – Zinedine Zidane
In football everything is complicated by the presence of the opposite team. – Jean-Paul Sartre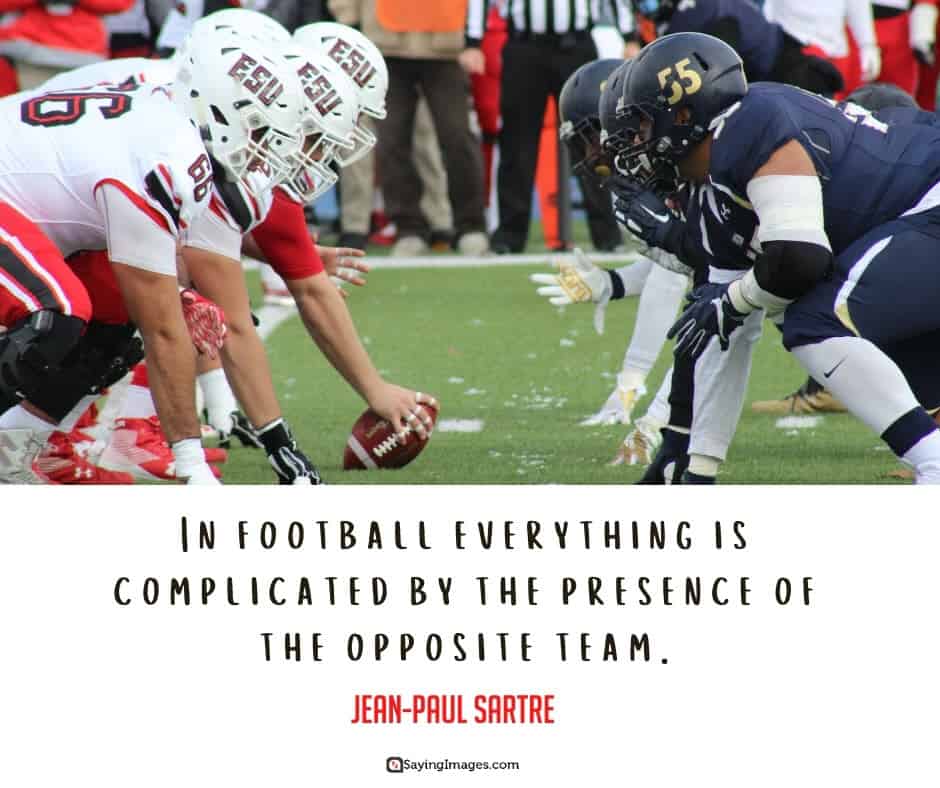 There's never been completion in my football career because I've always been striving for that next thing. – Ryan Giggs
I don't believe skill was, or ever will be, the result of coaches. It is a result of a love affair between the child and the ball. – Roy Keane
Leadership is a matter of having people look at you and gain confidence. If you're in control, they're in control. – Tom Landry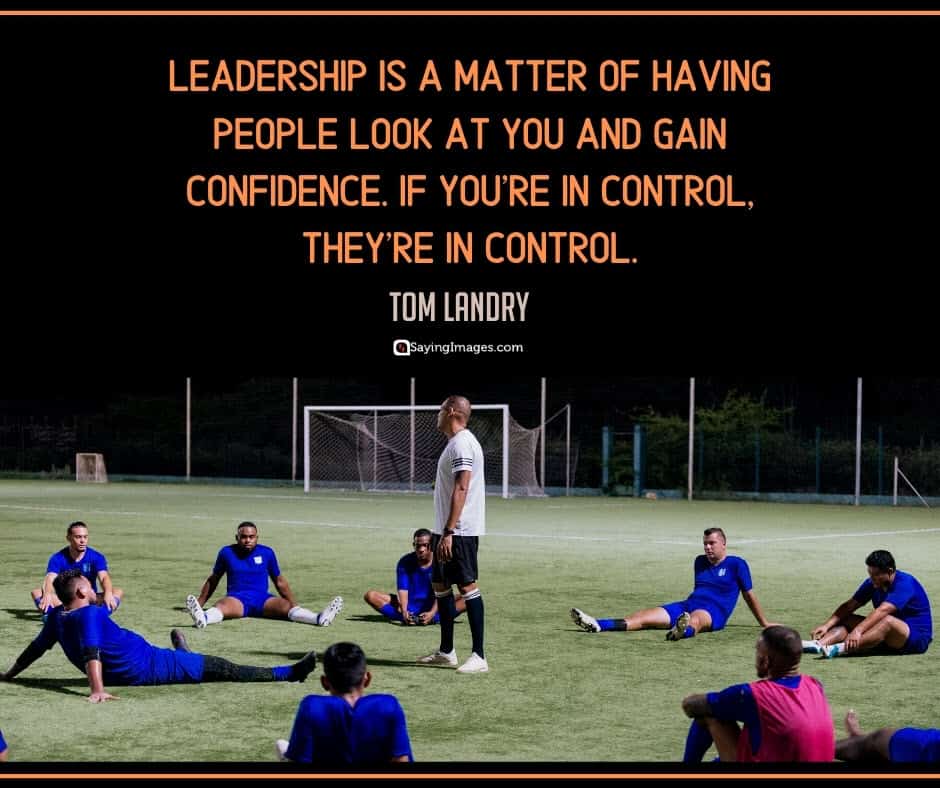 I always had a philosophy which I got from my father. He used to say, 'Listen. God gave to you the gift to play football. This is your gift from God. If you take care of your health, if you are in good shape all the time, with your gift from God no one will stop you, but you must be prepared.' – Pele
Football is all very well as a game for rough girls, but is hardly suitable for delicate boys. – Oscar Wilde
There is no harm in dreaming of becoming the World's best player. It's all about trying to be the best. I will keep working hard to achieve it, but it is within my capabilities. – Cristiano Ronaldo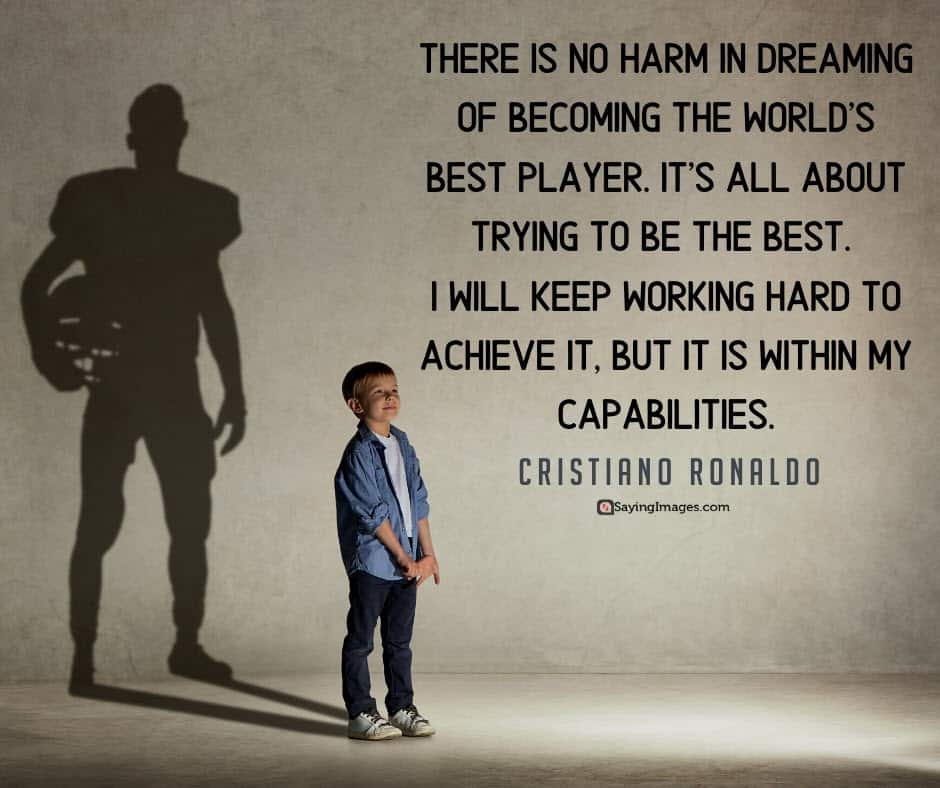 You have to fight to reach your dream. You have to sacrifice and work hard for it. – Lionel Messi
Excuses are the tools of the incompetent. – Mike Tomlin
Once you learn to quit, it becomes a habit. – Vince Lombardi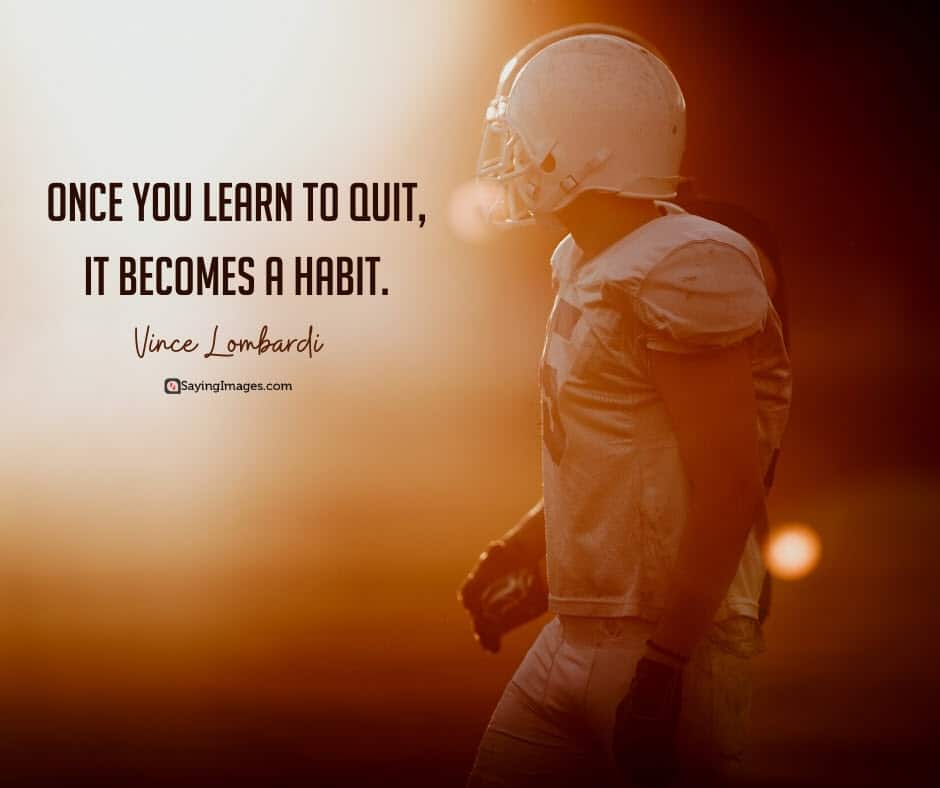 A lot of football success is in the mind. You must believe you are the best and then make sure that you are. – Bill Shankly
Football is an art, like dancing is an art – but only when it's well done does it become an art. – Arsene Wenger
The day you think there is no improvements to be made is a sad one for any player. – Lionel Messi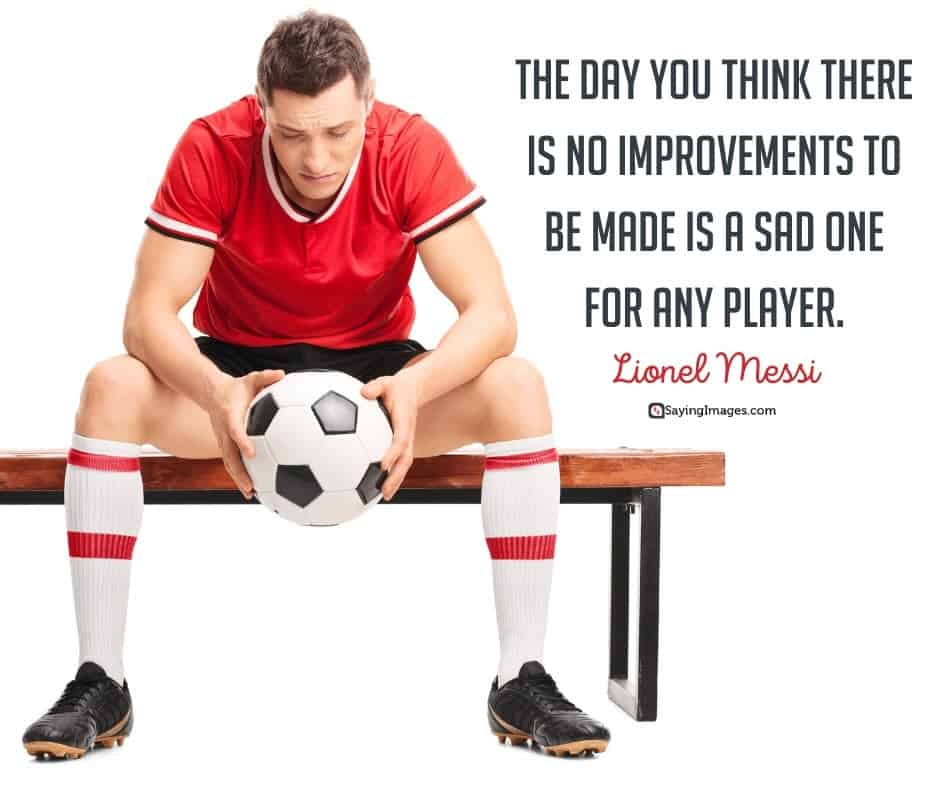 Football is a game of mistakes. Whoever makes the fewest mistakes wins. – Johan Cruyff
When it's too hard for them it's just right for us! – Marv Levy
In football, the good thing is things can change in a second. – Didier Drogba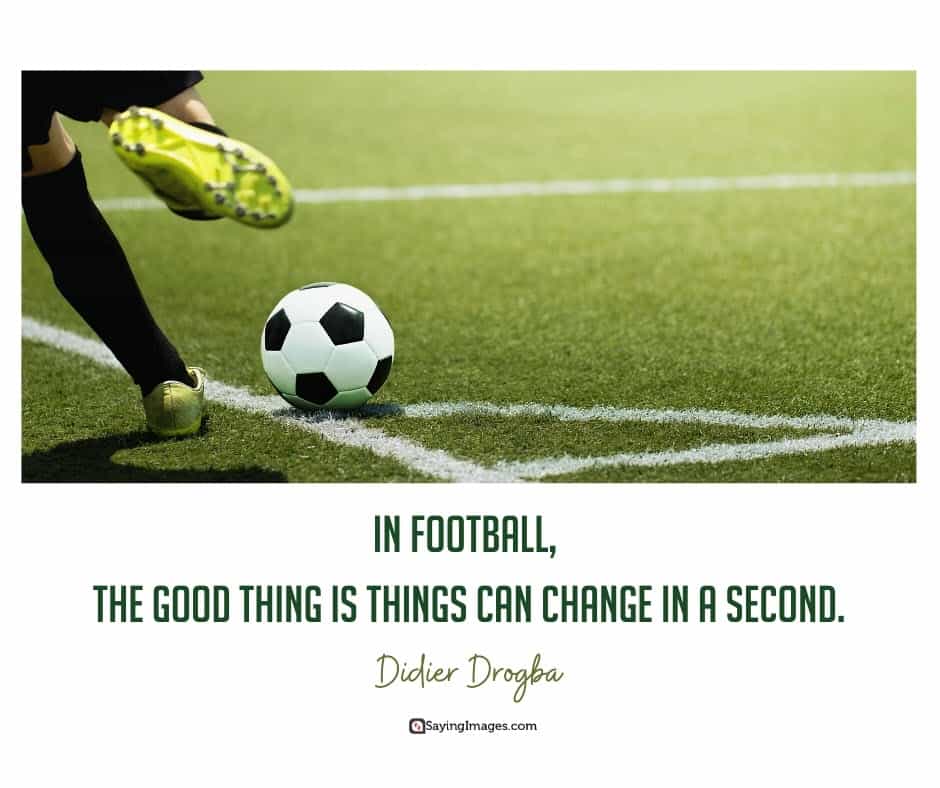 You fail all of the time. But you aren't a failure until you start blaming someone else. – Bum Phillips
I am not a perfectionist, but I like to feel that things are done well. More important than that, I feel an endless need to learn, to improve, to evolve, not only to please the coach and the fans, but also to feel satisfied with myself. It is my conviction that there are no limits to learning, and that it can never stop, no matter what our age. – Cristiano Ronaldo
Football is like life. It requires perseverance, self-denial, hard work, sacrifice, dedication, and respect for authority. – Vince Lombardi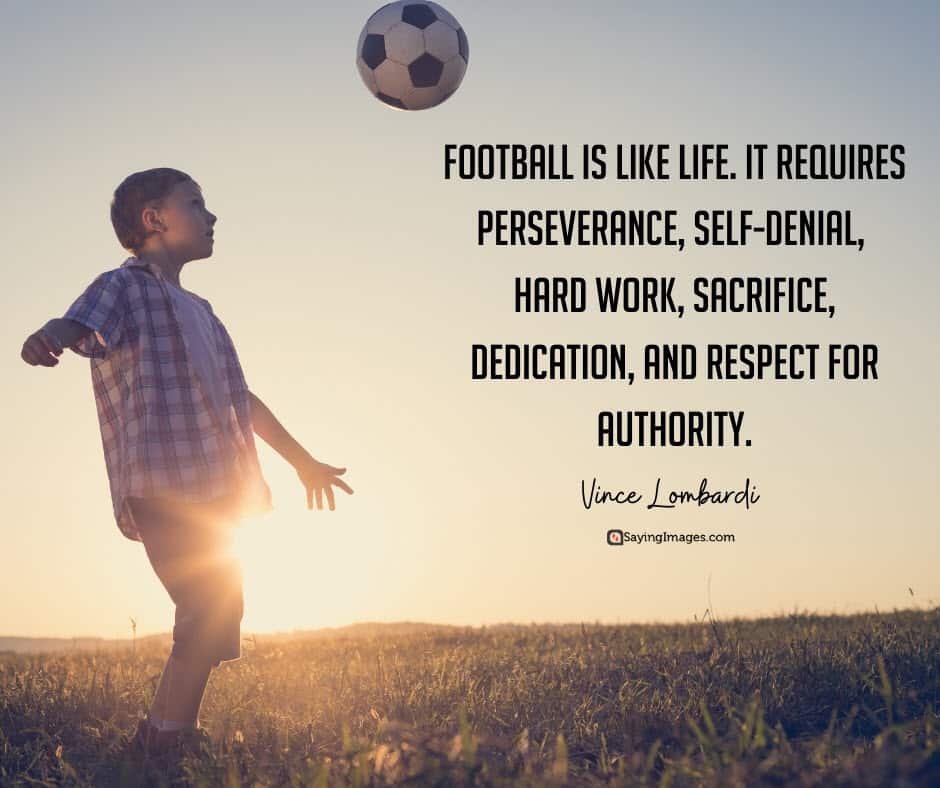 Football is a team sport and not an individual sport. We win as a team, and every individual is better if we are part of the team. – Fernando Torres
Sometimes in football you deserve to win but lose. Other times you deserve to lose or draw but you win. That is the game, and it's why I've always said you should never try to predict anything in football, especially in Europe. – Mario Balotelli
The most valuable player is the one who makes the most players valuable. – Peyton Manning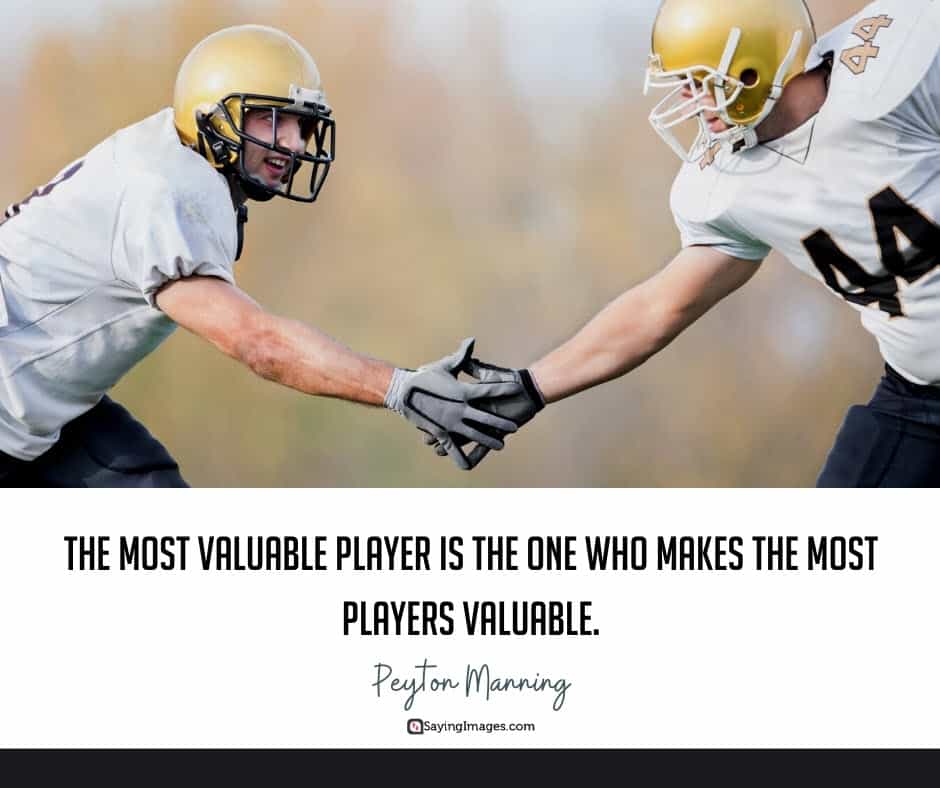 As a footballer, you always want to test yourself against the best. – David Beckham
I developed a mechanism so that whatever mistakes I made, I would bounce straight back. Whatever was happening off the pitch, I could put it to one side and maintain my form. Call it mental resilience or a strong mind, but that is what we mean when we talk about experience in a football team. – Gary Neville
You have to perform at a consistently higher level than others. That's the mark of a true professional. – Joe Paterno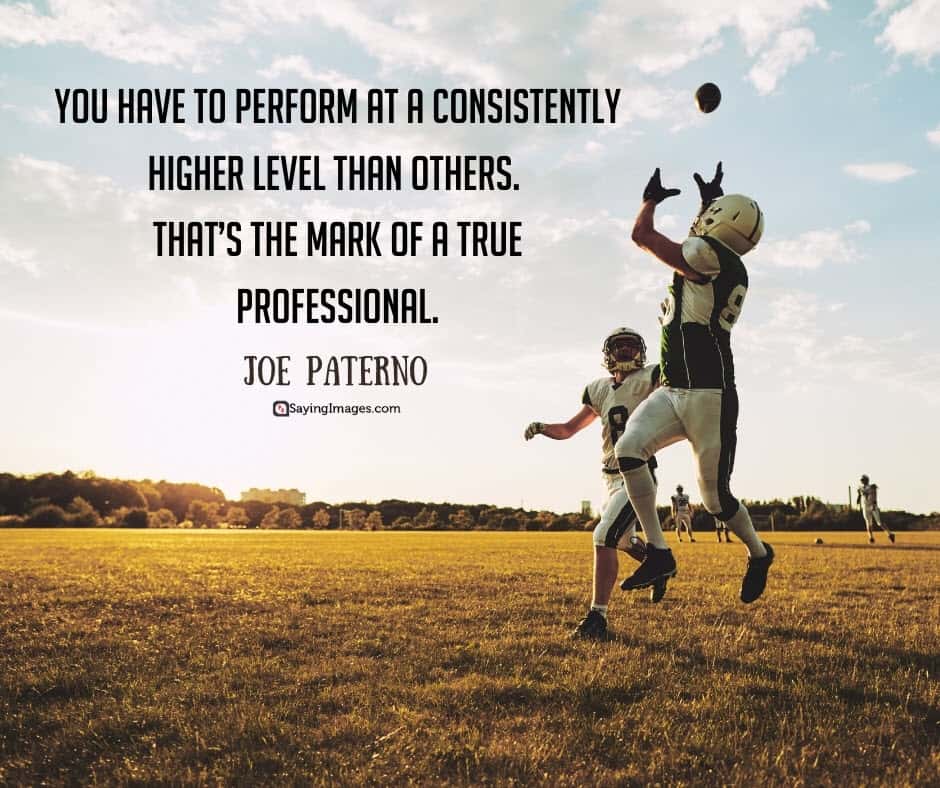 If you have only one passion in life – football – and you pursue it to the exclusion of everything else, it becomes very dangerous. When you stop doing this activity it is as though you are dying. The death of that activity is a death in itself. – Eric Cantona
There is no pressure when you are making a dream come true. – Neymar Santos
Winning isn't getting ahead of others. It's getting ahead of yourself. – Roger Staubach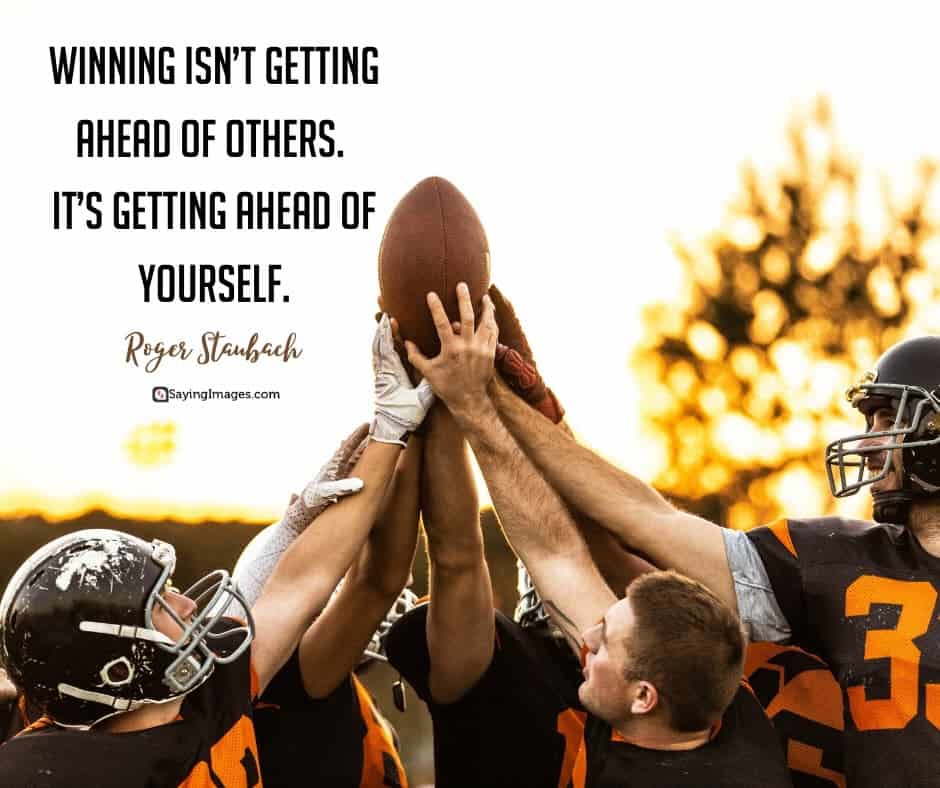 Football management is such a pressurised thing – horseracing is a release. I'm also learning to play the piano – I'm quite determined – it's another release from the pressure of my job. – Alex Ferguson
I am constantly being asked about individuals. The only way to win is as a team. Football is not about one or two or three star players. – Pele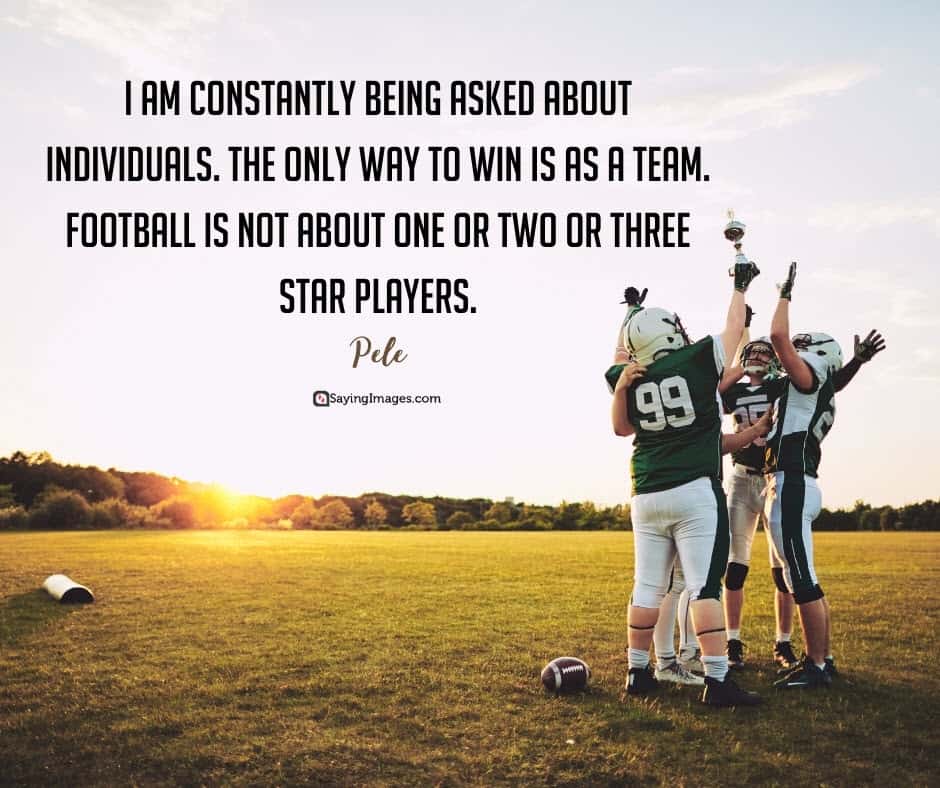 The Enemy of the best is the good. If you're always settling with what's good, you'll never be the best. – Jerry Rice
Success is no accident. It is hard work, perseverance, learning, studying, sacrifice and most of all, love of what you are doing or learning to do. – Pele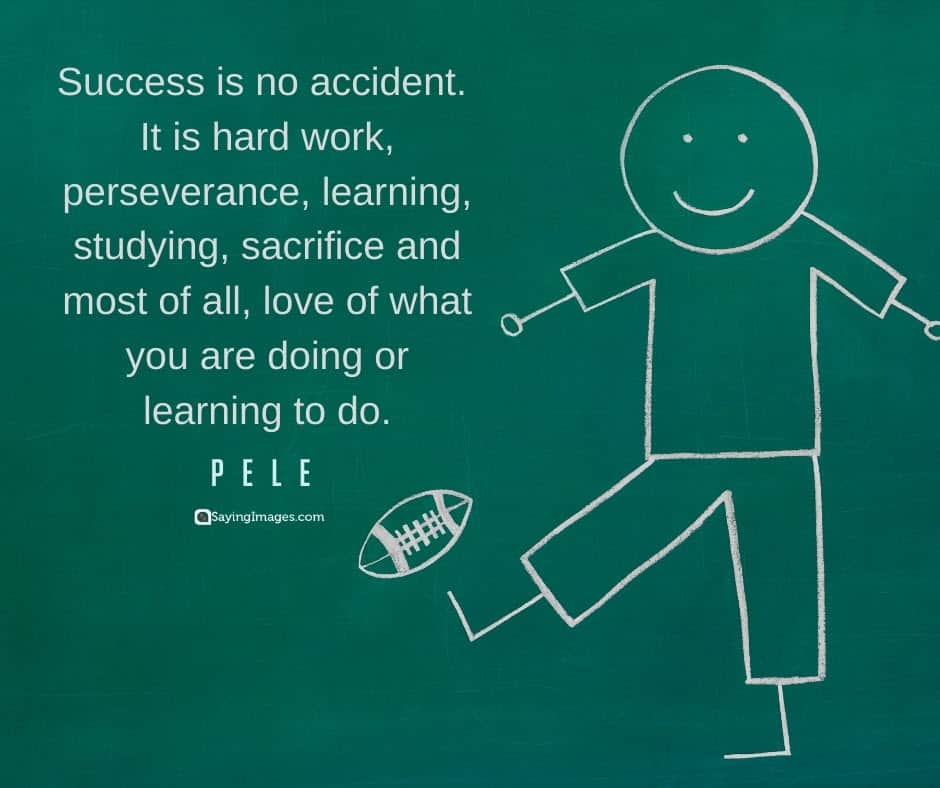 Football is a great love because I was born into a family of players and therefore born into football. I'm fortunate to have a style of play that a lot of people like. It's a privilege to be able to do what I like best and in my own way, but I'm fortunate that people like it, and that motivates me even more. – Ronaldinho
Share these 40 football quotes for all the football fans out there!