Sometimes, families need to separate to be able to function better. It's not the most ideal situation but it's sometimes the best for everybody involved.
There are a lot of challenges and one of them is co-parenting. To get along well with the person we realized is not our happy ending may sound close to impossible for some couples who separated with feelings of anger or resentment.
Regardless, getting along well is a necessary hurdle to overcome for everybody involved especially the young ones. If you need some advice, read these motivational co-parenting quotes.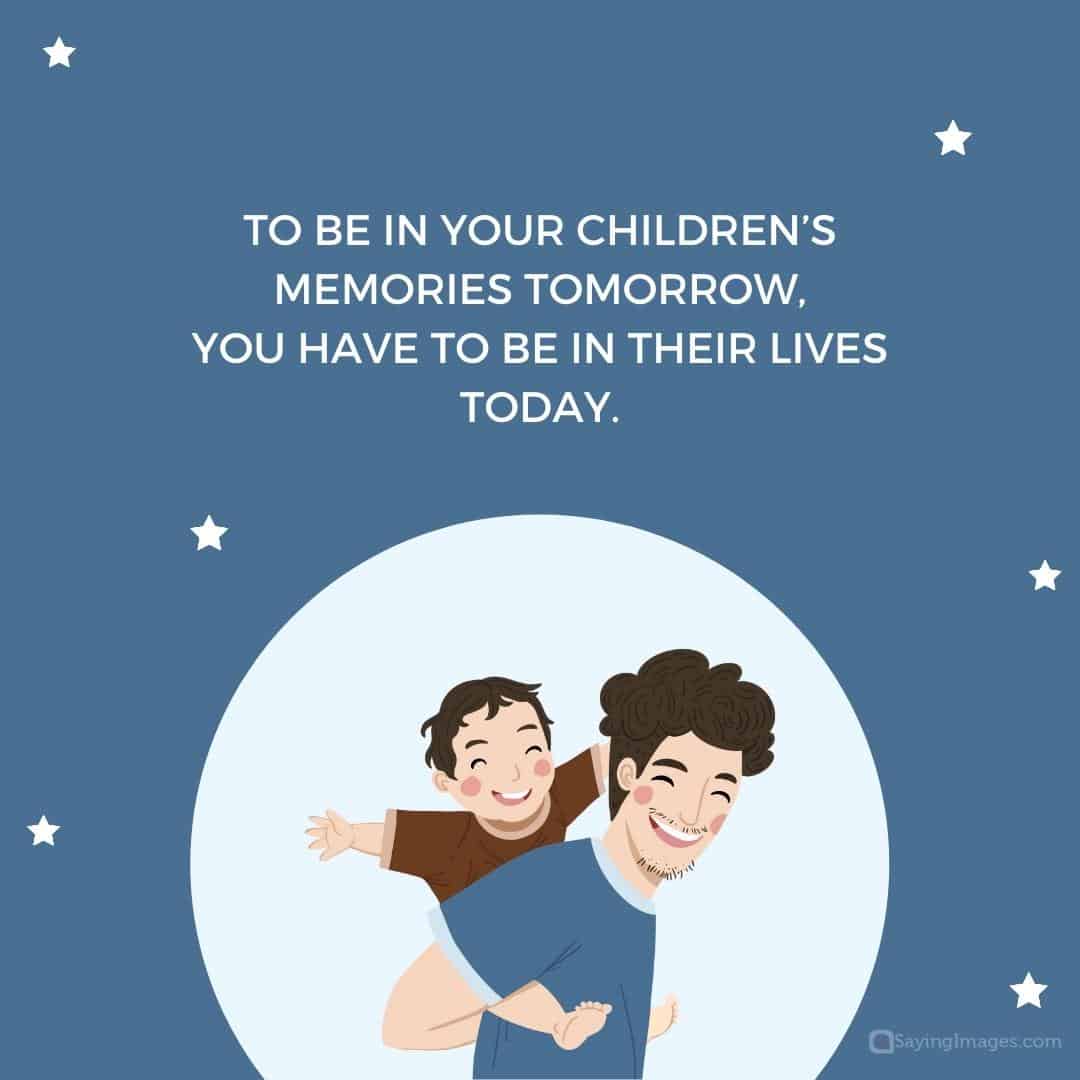 To be in your children's memories tomorrow, you have to be in their lives today. – Barbara Johnson
I have pictures up of me and Wiz in [our son's] room so he can always come in and see us being happy together. We try to have family days with him, even though we're not together. Kids want to see their parents together and if you can't be together in a relationship, you've got to come together as friends for your baby. – Amber Rose
Effective parenting has nothing to do with pointing out our faults and everything to do with working out solutions. – L.R. Knost
Instead of raising children who turn out okay despite their childhood, let's raise children who turn out extraordinary because of their childhood. – L.R. Knost
Never make your children feel scared to ask about the people they love.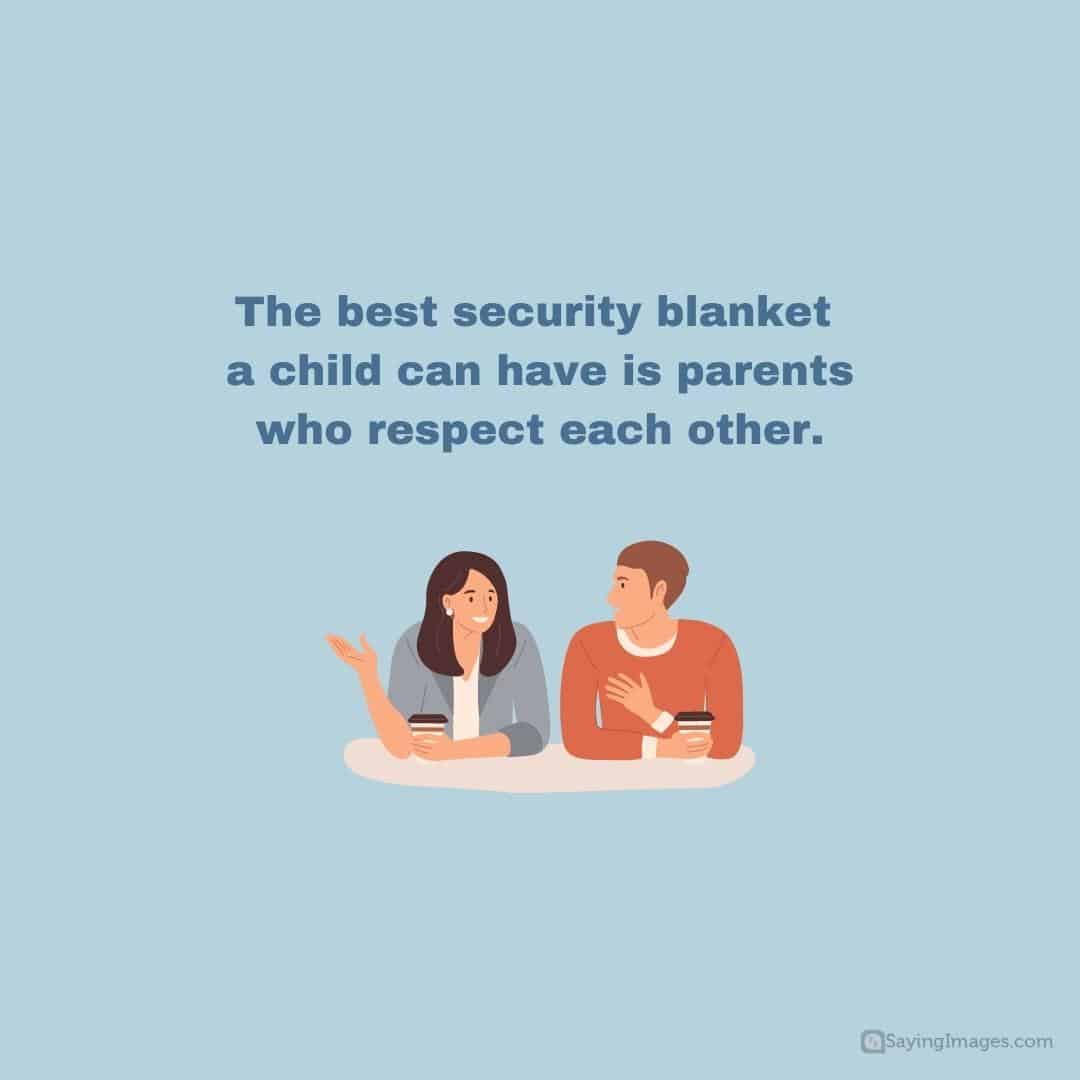 The best security blanket a child can have is parents who respect each other. – Jane Blaustone
But at the end of the day, we've got a great kid who's got two parents who love him very much. And we're finding a way to navigate this while still remaining friends and still being kind to one another. – Chris Pratt
Co-parents need to suck it up and become a collaborative team for the sake of the child. – Sherrill Ellsworth
We do bedtime every day. We felt like as much togetherness as possible would be ideal, and fortunately, we really love each other and are best friends, and so that works. – Sienna Miller
In family life, love is the oil that eases friction, the cement that binds closer together, and the music that brings harmony. – Friedrich Neitzche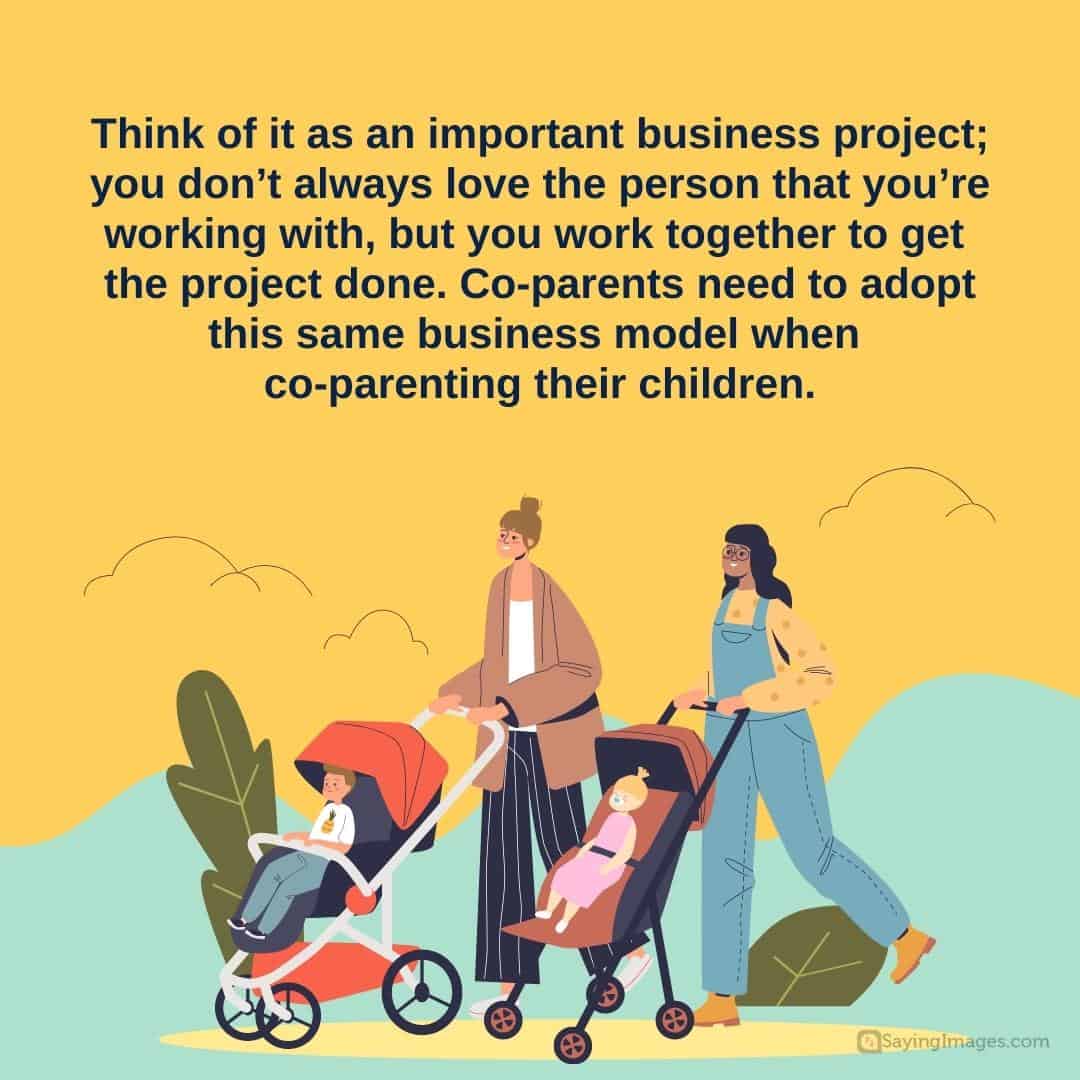 Think of it as an important business project; you don't always love the person that you're working with, but you work together to get the project done. Co-parents need to adopt this same business model when co-parenting their children. – Kela Price
If you work together as a team, the arrangement can be positive and beneficial to all involved.
Kids need parents, not a part-time visitor with a checkbook.
The blended family isn't just an ordinary family times two. It's a special kind of family with special needs. – Maxine Marsolin
Your children need your presence more than your presents. – Jesse Jackson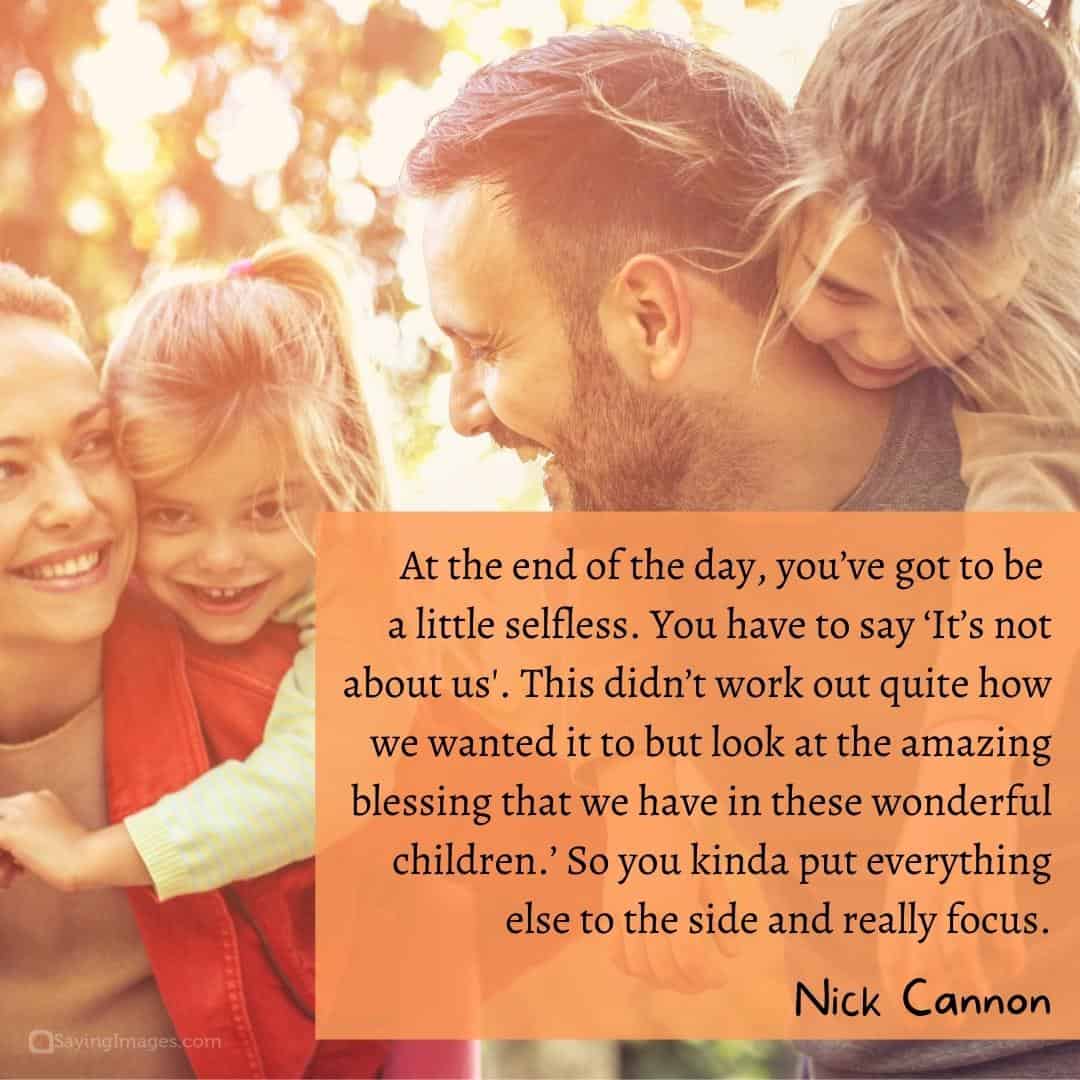 At the end of the day, you've got to be a little selfless. You have to say 'It's not about us. This didn't work out quite how we wanted it to but look at the amazing blessing that we have in these wonderful children.' So you kinda put everything else to the side and really focus. – Nick Cannon
It is easier to build strong children than to repair broken men. – Frederick Douglass
Parents are the ultimate role models for children. Every word, every movement, and action affects. No other person or outside force has a greater influence on a child than a parent. – Bob Keeshan
This is probably one of the most difficult challenges any parent could face, learning to love the other parent enough to make the children first. – Iyanila Vanzant
I don't think it matters how many parents you've got, as long as those who are around make their presence a good one. – Elizabeth Wurtzel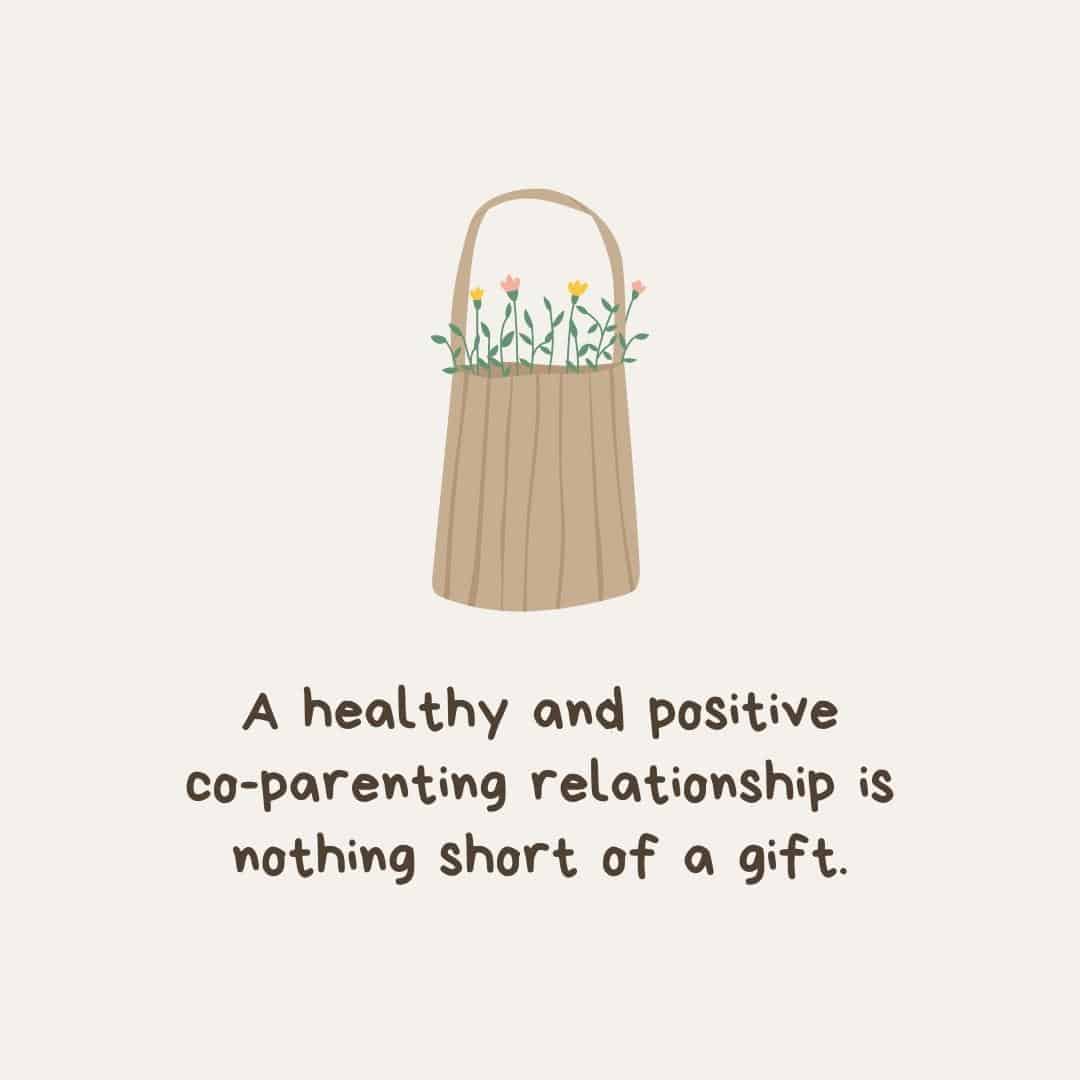 A healthy and positive co-parenting relationship is nothing short of a gift.
I don't think children's inner feelings have changed. They still want a mother and father in the very same house; they want places to play. – Beverly Cleary
You have to get to that point as a divorced parent, as any parent, where you're not putting yourself first. You want the kids' experience to be its own and not like, 'Well, I need to have my time!' We have been very good about that. – Ryan Phillippe
If Matt and I had a great relationship, we would still be together, but we chose to move on because we had different visions of how we wanted to live our lives. That doesn't mean, though, that we can't rebuild something that would be the best thing for the kids. – Kate Hudson
Remember you are not managing an inconvenience. You are raising a human being. – Kittie Frantz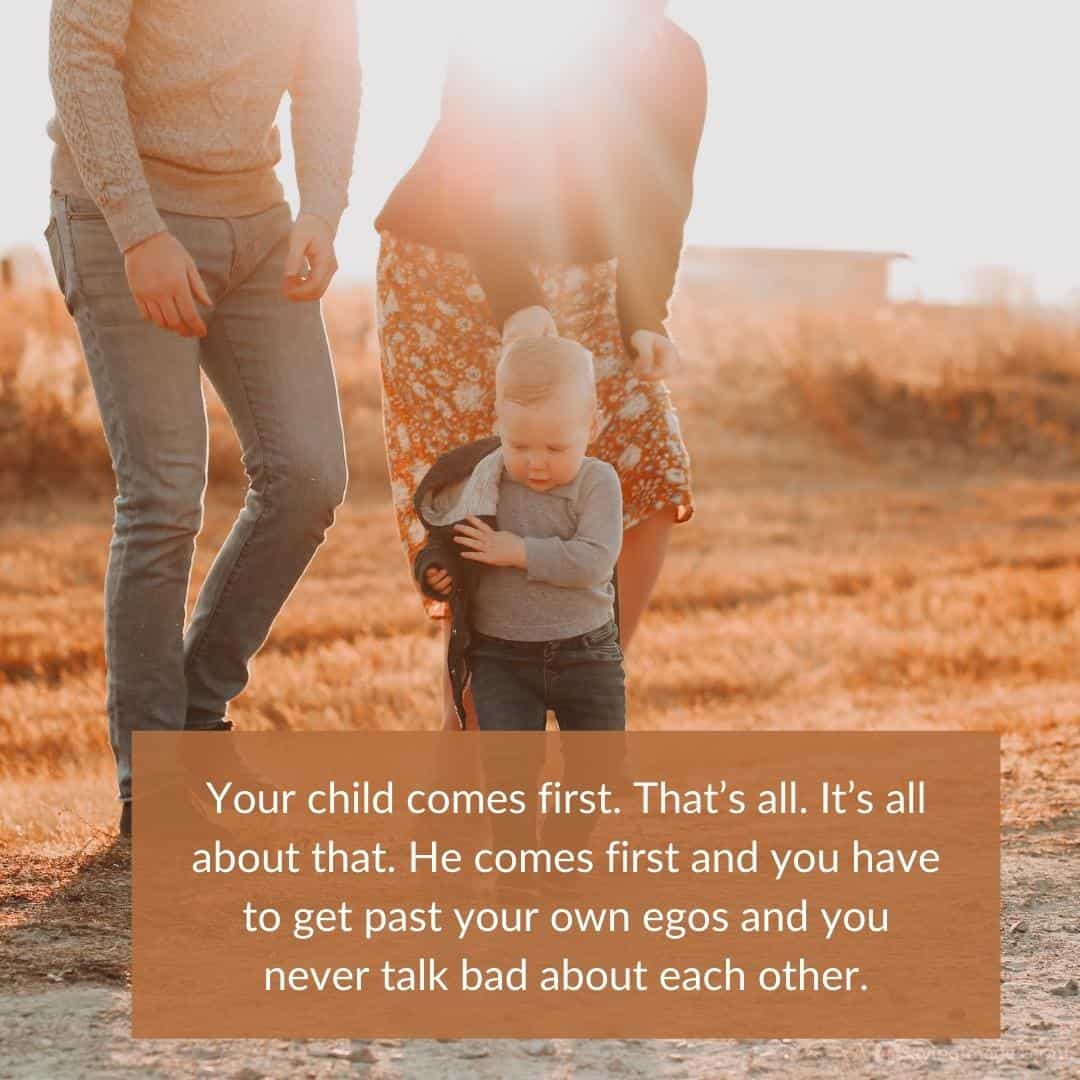 Your child comes first. That's all. It's all about that. He comes first and you have to get past your own egos and you never talk bad about each other. – Idina Menzel
We are both totally committed to raising our son and being in love with our son… It's a concept that's fairly new, particularly in the psychology of raising a child in divorce. And the idea is, it's really not the child's fault that you got divorced. It's your fault and therefore it should not be the child's problem to go back and forth between two different homes. – Josh Lucas on the "bird nesting" co-parenting arrangement
Children deserve both parents. They deserve to know that their parents respect each other, if nothing else. So that really helps me set the standard of how I try and behave. – Jewel Kilcher
When you tell a child you hate their other parent, you are telling them you hate half of who they are.
We both realise that we're parents and we're in it for our kid, and that's made it really easy. – Pete Wentz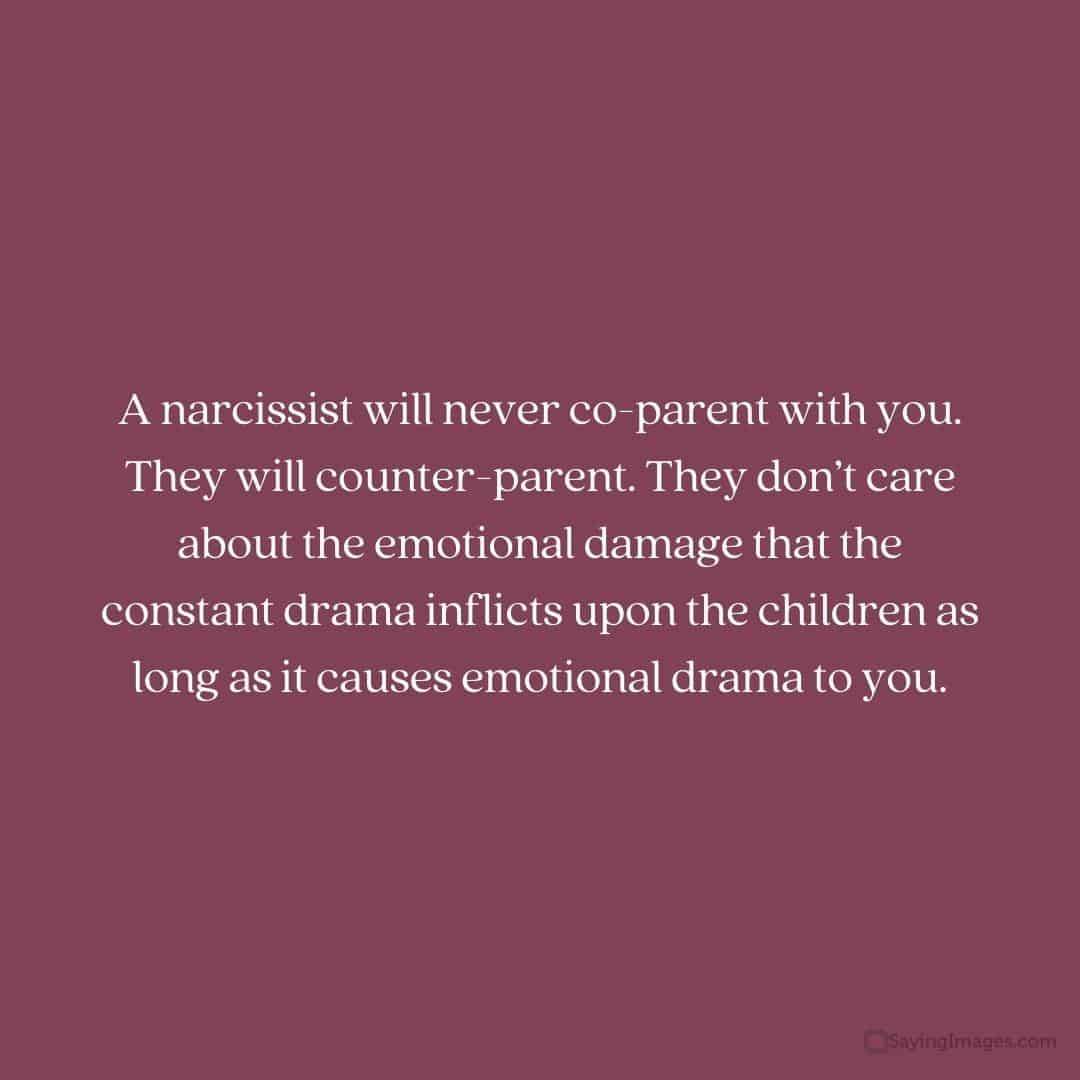 A narcissist will never co-parent with you. They will counter-parent. They don't care about the emotional damage that the constant drama inflicts upon the children as long as it causes emotional drama to you. – A. Price
If you love your child more than you hate your ex, you can solve most co-parenting problems. – Helen Fried
At the end of the day, the most overwhelming key to child's success is the positive involvement of the parents. – Jane D. Hull
Co-parenting is not about asking permission. It's about discussing your child's needs and wants and deciding what's best.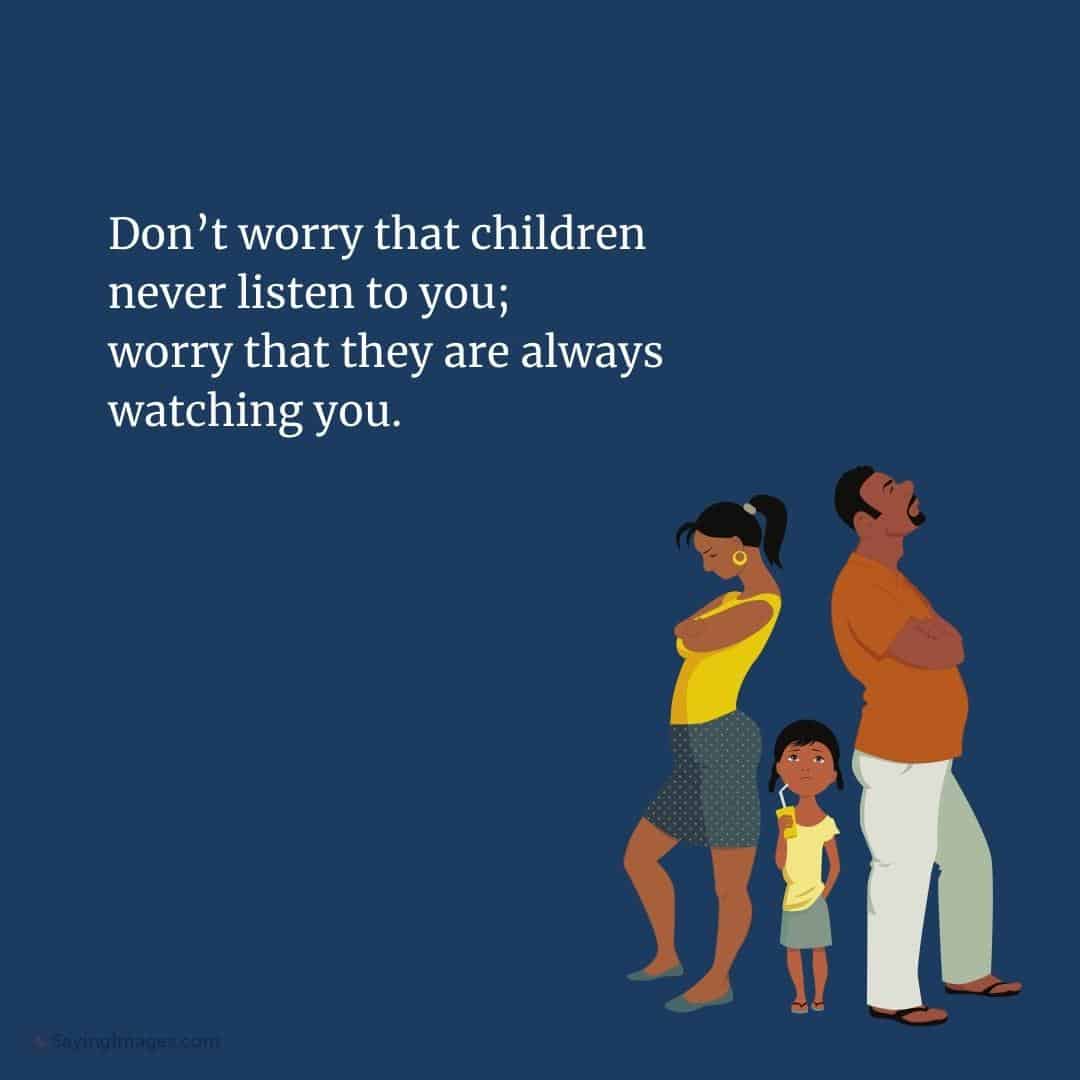 Don't worry that children never listen to you; worry that they are always watching you. – Robert Fulghum
I find co-parenting really easy. Scott and I communicate all the time. You have to keep discussing what's going on because as the children grow older, the rules need to be renegotiated. – Kourtney Kardashian
I'm really fortunate because my ex and I are very good friends and I talk to him every day. Our daughter is growing up seeing two people who care about each other. We may not be a traditional family on paper but we are a family and I tell her that families come in all shapes and sizes, but [a family is] love and I see her really flourishing because she sees two people treating each other with respect. – Angela Kinsey
The sign of a great parent is not the behavior of the children. The sign of a truly great parent is the behavior of the parent. – Andy Smithson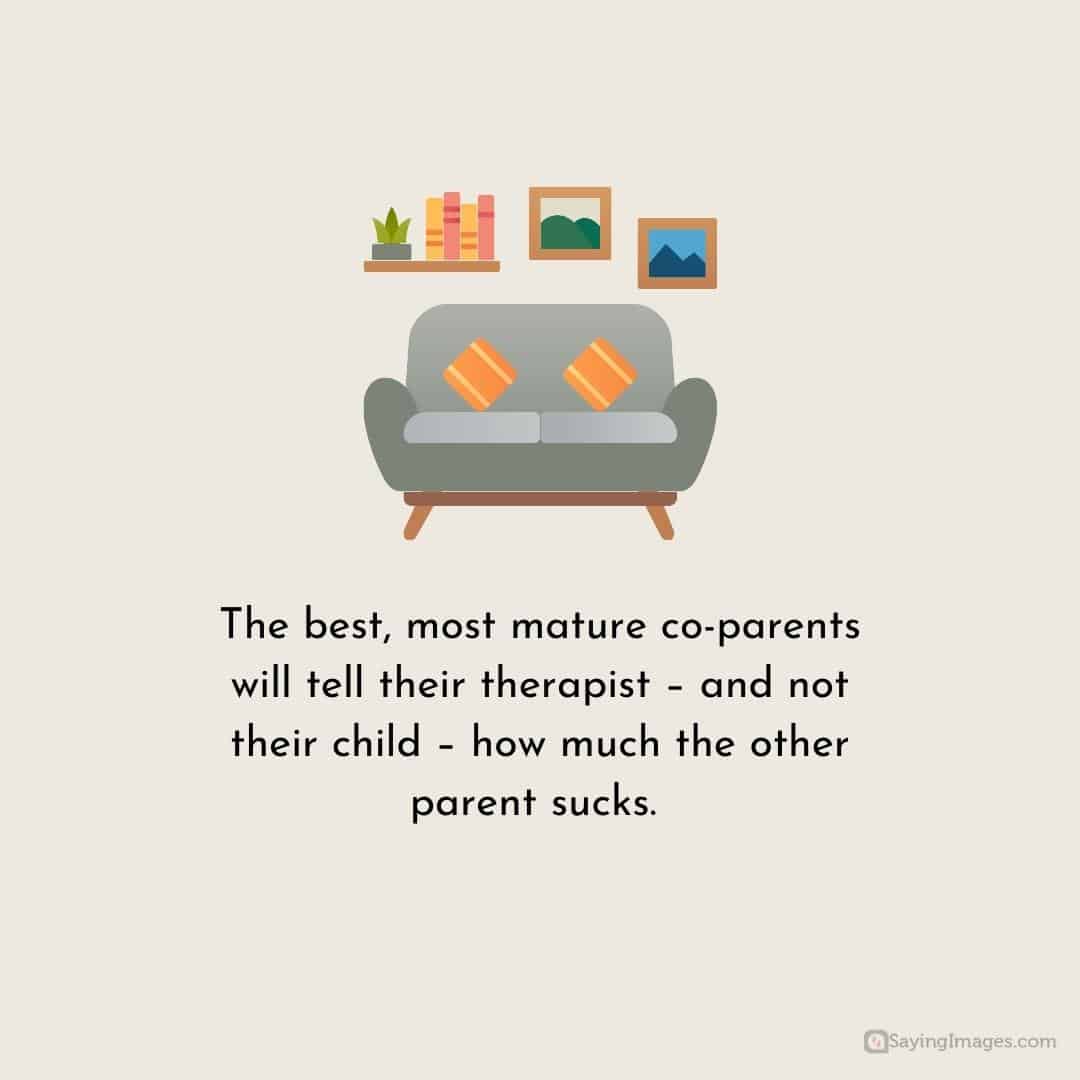 The best, most mature co-parents will tell their therapist – and not their child – how much the other parent sucks. – Hayley Gallagher
Co-parenting. It's not a competition between two homes. It's a collaboration of parents doing what is best for the kids. – Heather Hetchler
It takes a lot of communication to help a child feel comfortable in two homes.
I'm very fortunate because we're committed to co-parenting our children together. – Elle Macpherson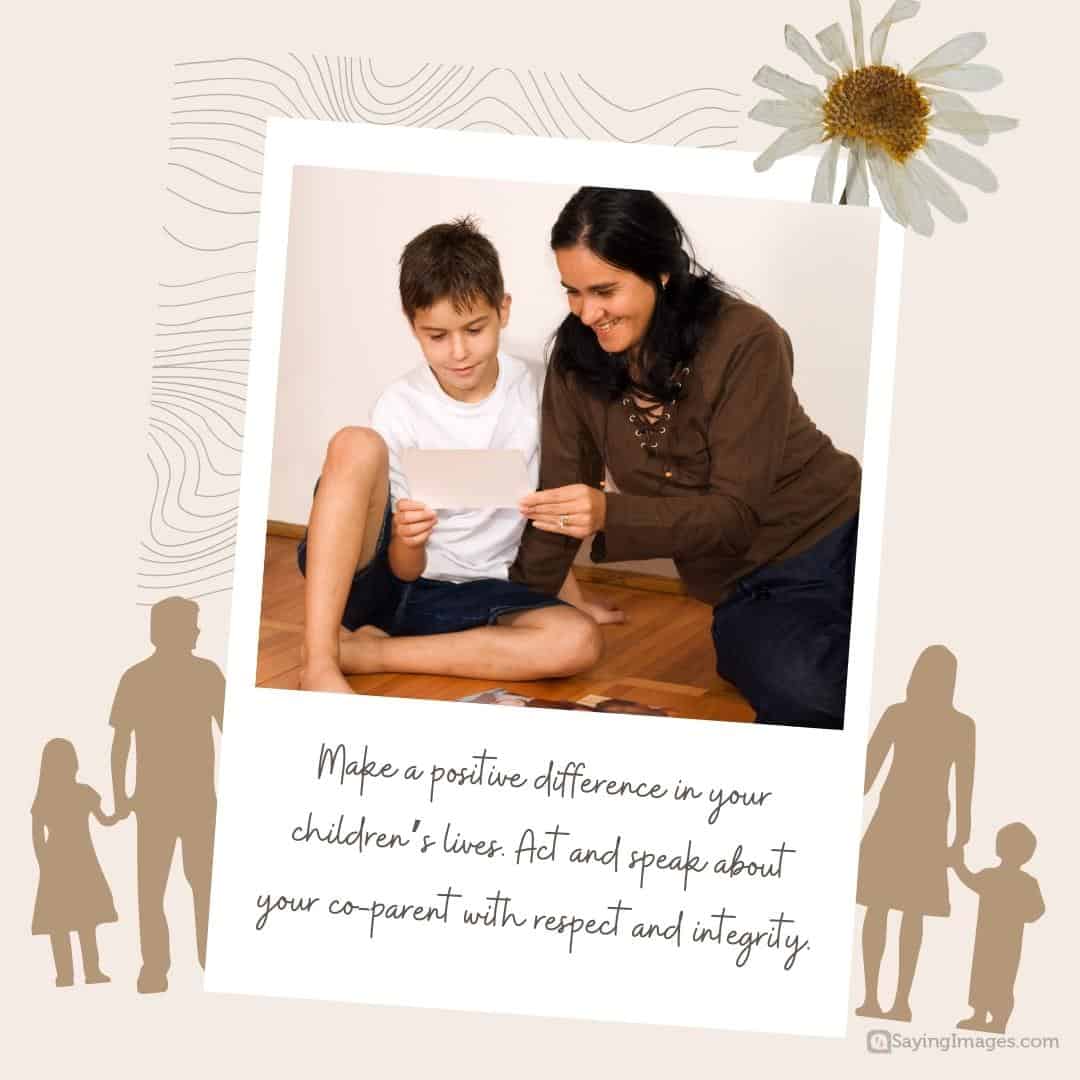 Make a positive difference in your children's lives. Act and speak about your co-parent with respect and integrity. – Allison Pescosolido
We care for each other and care about our family, and we are both working towards the same goal. – Angelina Jolie
We decided as a family it was the right decision for Flynn, so Orlando and I both relocated, and we live five minutes from each other… Everything revolves around my son and his welfare. – Miranda Kerr
Co-parenting is not hard. You just have to worry about your child and not the other parent's business.