To have a brother is knowing that you have someone to rely on no matter what. Growing up with them may not always be fun and easy, but that's the joy of families. You experience and get through challenges together, not to mention get over petty fights. Brothers may even tease you or act like they're too cool to care but they're actually looking out for you, every step of the way. As much as parents do everything in their power to keep you safe and happy, brothers also do the same. They just show it some other ways. The only thing that's constant is how they will always have your back, whatever happens and wherever life takes you.
Let your brother know how much you appreciate him with these 22 brother quotes.
Brother Quotes
Growing up, I had a very normal relationship with my brother and sister. But, over time, they became my best friends, and now I hang out with them all the time. I'm very close with them. – Logan Lerman
There's no other love like the love for a brother. There's no other love like the love from a brother. – Terri Guillemets
My brother is one of my true heroes. Steady and sober where I am impulsive and emotional. – Mark McKinnon
A brother shares childhood memories and grown-up dreams. 
Nothing can stop me from loving my brother. – Brandy Norwood
I wish I could say I see my little brother more. We used to fight all the time but now that I don't see him very often I cherish the time I have with him. – Zac Efron
Everyone knows that if you've got a brother, you're going to fight. – Liam Gallagher
Brothers and sisters are as close as hands and feet. – Vietnamese Proverb
A friend loveth at all times, and a brother is born for adversity. – King Solomon
To the outside world we all grow old. But not to brothers and sisters. We know each other as we always were. We know each other's hearts. We share private family jokes. We remember family feuds and secrets, family griefs and joys. We live outside the touch of time. – Clara Ortega
Brother: a person who's there when you need him, someone who picks you up when you fall, a person who sticks up for you when no one else will, a brother is always a friend.
As the younger brother, I think you always have crushes on your older brother's girlfriends. – Liam Hemsworth
If you want to know how your girl will treat you after marriage, just listen to her talking to her little brother. – Sam Levenson
Sometimes being a brother is even better than being a superhero. – Marc Brown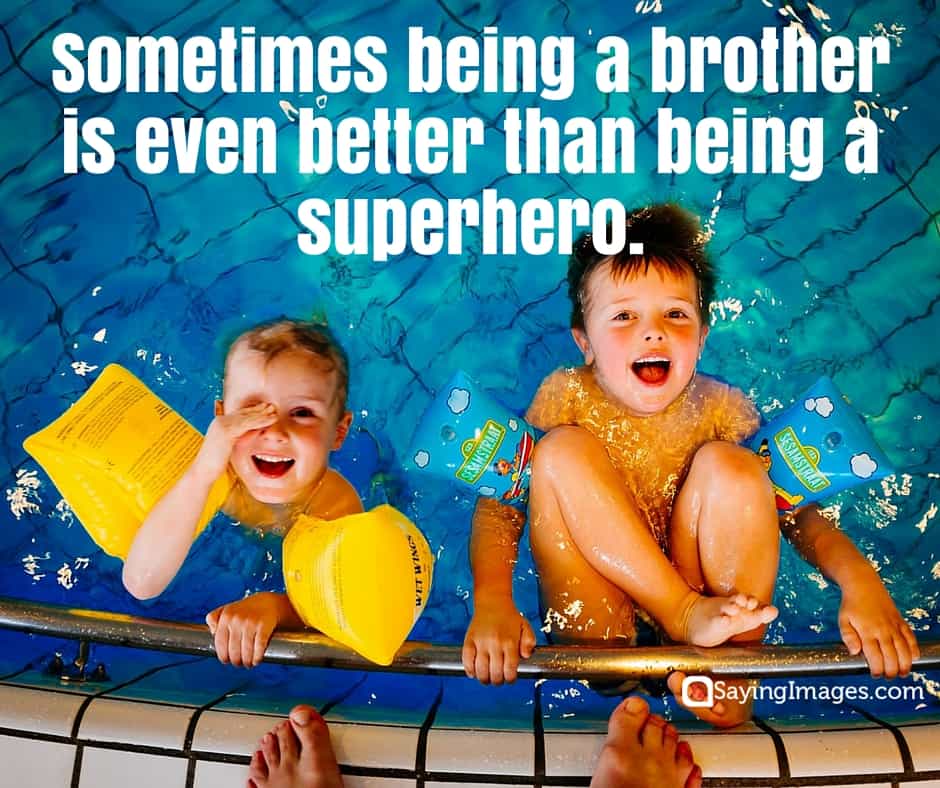 I love you, you were there for me, you protected me, and most of all, you loved me. We'd fight, scream, and argue, but, under it all, is a love. That only exists, in a brother, and a sister.
As we grew up, my brothers acted like they didn't care, but I always knew they looked out for me and were there! – Catherine Pulsifer
Help your brother's boat across, and your own will reach the shore. – Hindu Proverb
What strange creatures brothers are! – Jane Austen
Because I have a brother, I'll always have a friend.
A sympathetic friend can be quite as dear as a brother. – Homer
Brothers don't necessarily have to say anything to each other – they can sit in a room and be together and just be completely comfortable with each other. – Leonardo DiCaprio
The happiest days of my youth were when my brother and I would run through the woods and feel quite safe. – Rachel Weisz
Share these 22 brother quotes on social media to reach all the cool, loving brothers out there.