Friendship is important in life because friend might always be willing to listen to your problems, happiness and sorrow. This page will show you more than 20 quotes about friendship. Hope you enjoy these quotations.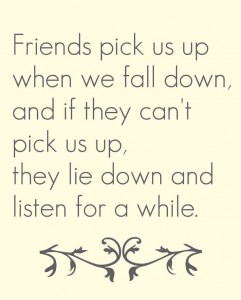 Friendship quotations
True friendship is when you walk into their house and your wifi connects automatically – Unknown
Do I not destroy my enemies when I make them my friends? – Abraham Lincoln
Friendship is not something you learn in school. But if you haven't learned the meaning of friendship, you really haven't learned anything – Muhammad Ali
Don't walk behind me; I may not lead. Don't walk in front of me; I may not follow. Just walk beside me and be my friend – Albert Camus
A friend is someone who can see the truth and pain in you even when you are foolig everyone else
A real friend is one who walks in when the rest of the world walk out – Walter Winchell
True friends will always push you towards the great possibilities of your future, false friends will always chain you to the mistakes in your past – Seth Brown
Friendship is like money, easier made than kept – Samuel Butler
Love is blind; friendship closes its eyes – Friedrich Nietzsche
Never explain yourself. Your friends do not need it and your enemies won't believe it – Belgicia Howell
If you have nothing in life but a good friend, you're rich – Michelle Kwan
Never leave a friend behind. Friends are all we have to get us through this life–and they are the only things from this world that we could hope to see in the next. – Dean Koontz
The actual secret to success: Be a better friend today than you were yesterday. ― Richelle E. Goodrich
Friendship improves happiness, and abates misery, by doubling our joys, and dividing our grief. – Marcus Tullius Cicero
Friendship is like standing on wet cement. The longer you stay, the harder it's to leave, and you can never go without leaving your footprints behind.
Friendship saying images
A strong friendship doesn't need daily conversation, doesn't always need togetherness, as long as the relationship lives in the heart, true friends will never part…
F.R.I.E.N.D
Right for you
Respect you
Include you
Encourage you
Need you
Deserve you
Stand by you
Thank you for standing by my side when times get hard, thank you for making me laugh when I didn't event want to smile
Thanks friend…
You listen when I have a problem. You catch me when I'm about to fall. You bring so much joy into my life. Thanks for being my friend through it all
You don't lose friends because real friends can never be lost. You lose people masquerading as friends and you're better for it – Mandy Hale
We hope you like these quotes and saying images, more quotes are available at 20 true friend quotes