There's nothing good that comes out of not caring. When we don't take heed of things that require our action, we start to lose our purpose and the opportunity to learn and improve. We miss the chance to cultivate friendships and other valuable relationships. When we choose ignorance and indifference, we even allow wrongdoings to continue.
Not having any causes to fight for renders us incapable of change and promoting goodness; not having any people to care for makes us incapable of love. Apathy, the lack of interest and the inaction it generates, may seem harmless on the outside, but it's this disregard for others and things happening around us that makes it an insidious threat.
Here are 20 apathy quotes that give much food for thought.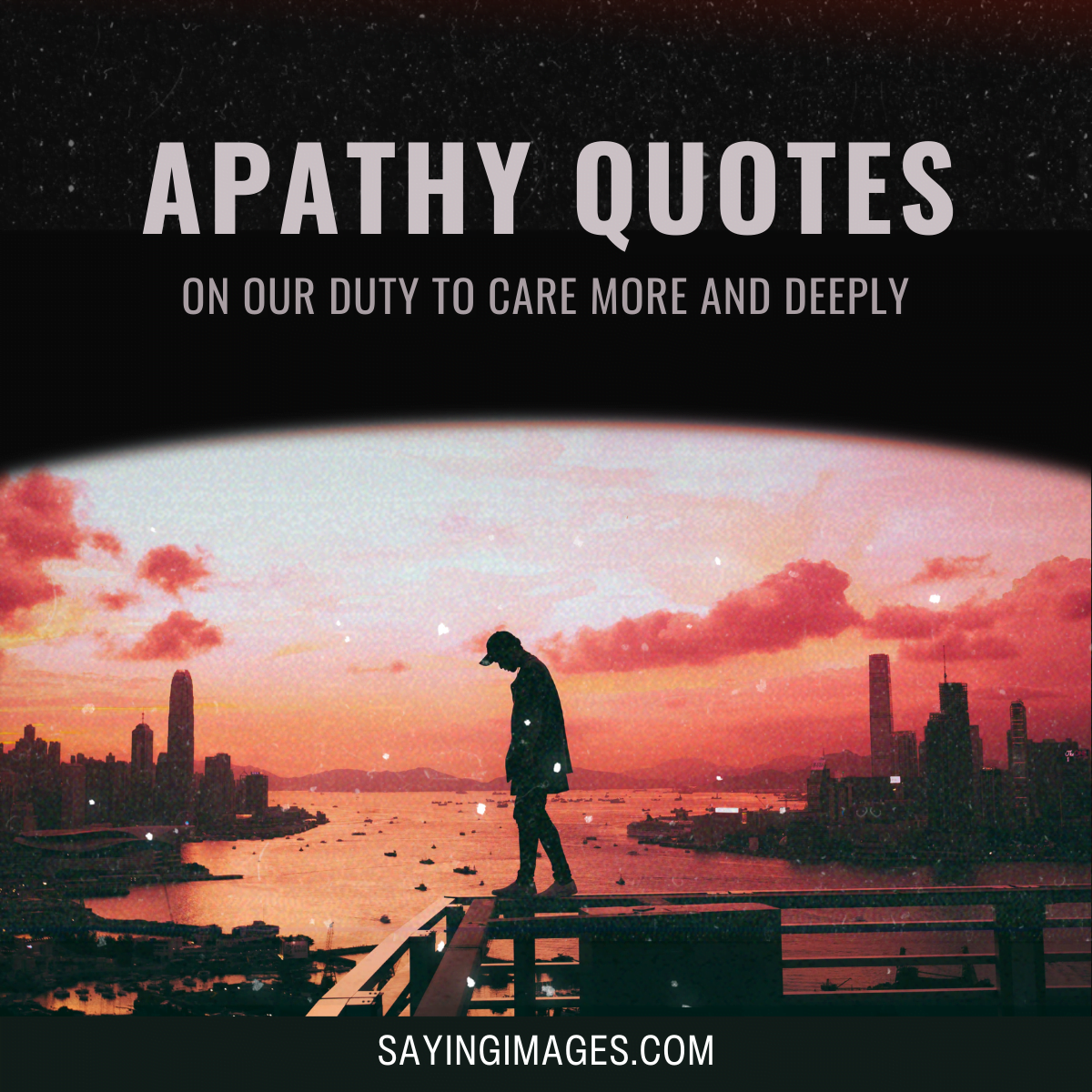 Apathy Quotes
Apathy is one of the characteristic responses of any living organism when it is subjected to stimuli too intense or too complicated to cope with. The cure for apathy is comprehension. – John Dos Passos
I have a very strong feeling that the opposite of love is not hate – it's apathy. It's not giving a damn. – Leo Buscaglia
Fear is better than apathy because fear makes us do something. – Emiliano Salinas
We may have found a cure for most evils; but we have found no remedy for the worst of them all, the apathy of human beings. – Helen Keller
Indifference is an excellent substitute for patience. – Mason Cooley
Apathy is the glove into which evil slips its hand. – Bodie Thoene
A different world cannot be built by indifferent people. – Peter Marshall
Your life begins to end the moment you start being silent about the things that matter. – Martin Luther King, Jr.
Bad people are less of a problem than indifferent people. – Gerhard Kocher
Apathy is the self-defense of the powerless. – Letty Cottin Pogrebin
Apathy is a trap. There is no challenge… so there is no reward. Remember, there is always free cheese in a mousetrap. – Steve Maraboli
To be apathetic is literally to be without passion. – Erwin Raphael McManus
Apathy is not compatible with love – Simon Tam
Only one enemy is worse than despair: indifference. In every area of human creativity, indifference is the enemy; the indifference of evil is worse than evil because it is also sterile. – Elie Wiesel
Indifference and neglect often do much more damage than outright dislike. – J.K. Rowling
The worst sin… is… to be indifferent. – George Bernard Shaw
The greatest danger to our future is apathy. – Jane Goodall
In communications, familiarity breeds apathy. – William Bernbach
Apathy is the acceptance of the unacceptable. – John Stott
By far the most dangerous foe we have to fight is apathy – indifference from whatever cause, not from a lack of knowledge, but from carelessness, from absorption in other pursuits, from a contempt bred of self-satisfaction. – William Osler
Share these 20 apathy quotes inspiring those in your network to take part in making things better.